Peaches and Cream Pie has a sweet peach filling topped with a rich cream cheese layer. Bring a taste of summer to your table all year long with this easy peach pie recipe. And the best part, it doesn't even have to be peach season for you to enjoy it!
If you love peach pie topped with fresh whipped cream, you need Peaches and Cream Pie in your life.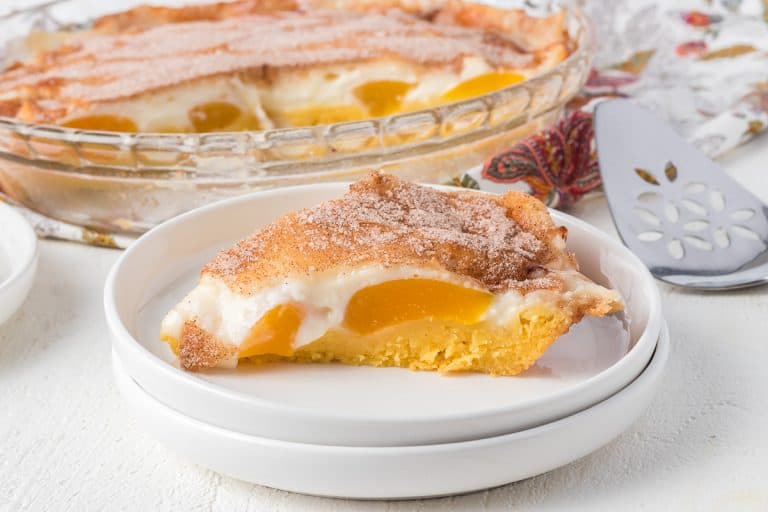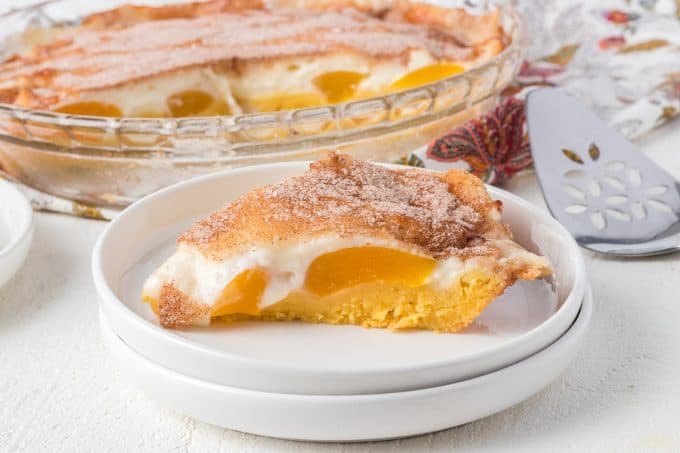 This is not your ordinary peach pie recipe.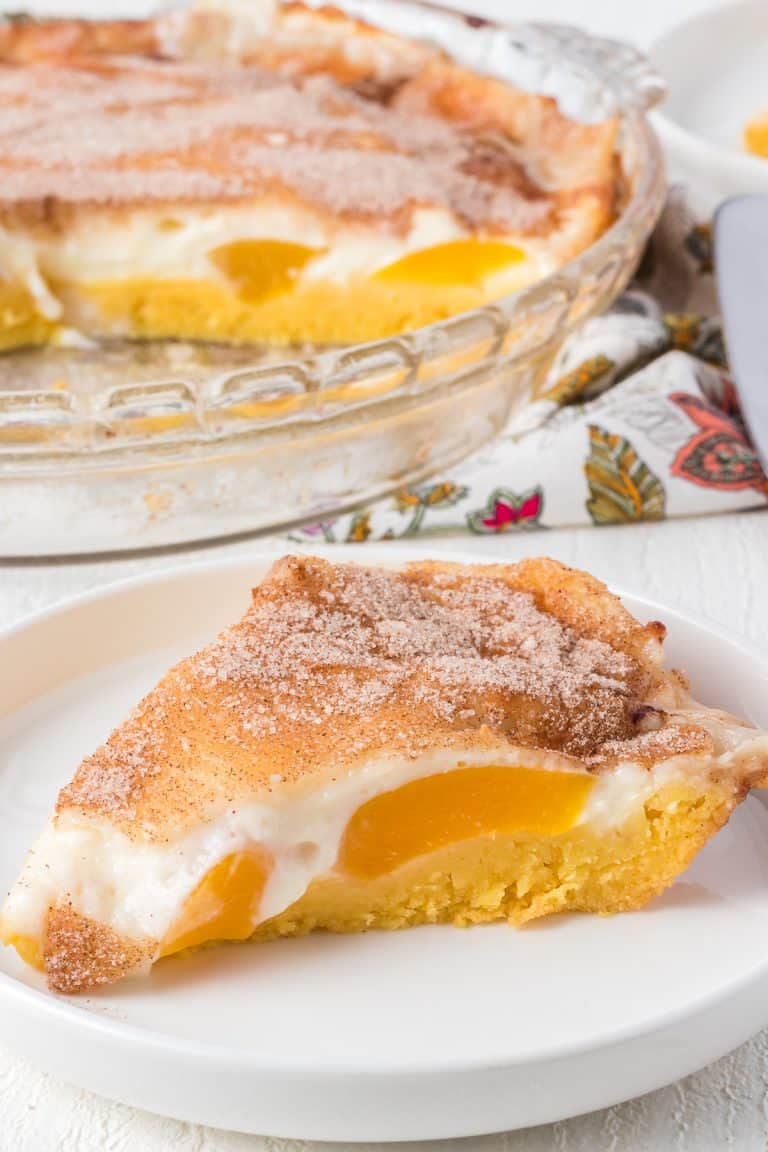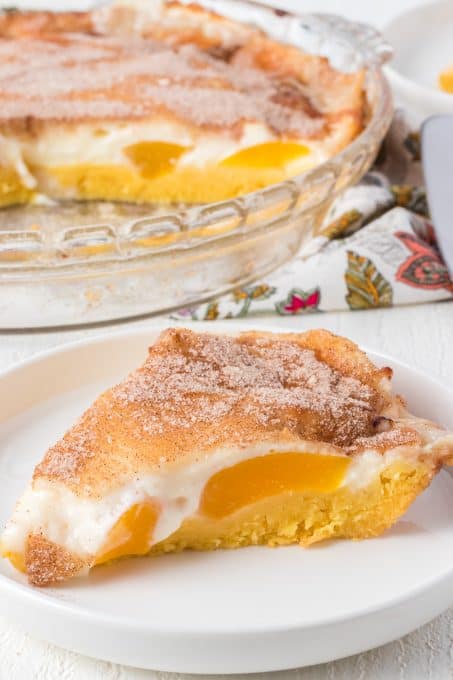 Don't get me wrong. Peaches and Cream Pie packs in all the sweet, simple goodness of the peach pies many of us grew up eating: flaky crust, soft juicy peaches in the center, and the perfect sprinkle of cinnamon for an irresistible aroma. This pie has it all.
But it also has a secret ingredient that makes it the best peach pie I've ever tasted: Cream Cheese.
Peach Pie With Cream Cheese
Cream Cheese and Peach Pie was my husband's grandmother's specialty, and has been a family favorite for years. It starts with a buttery vanilla crust and a traditional peach pie filling. Before baking, you top it with a peach-infused layer of cream cheese and cinnamon sugar.
The genius of Peaches and Cream Pie is that it captures the flavor experience of eating peach pie topped with vanilla ice cream or whipped cream. That makes it the perfect summer dessert for outdoor parties and picnics where it might not be practical to bring along a whole tub of fast-melting ice cream.
Cream cheese also adds a tangy flavor I love paired with sweet peaches. It's such a simple way to make an already mouthwatering dessert even more memorable.
Even writing about it has me craving another slice!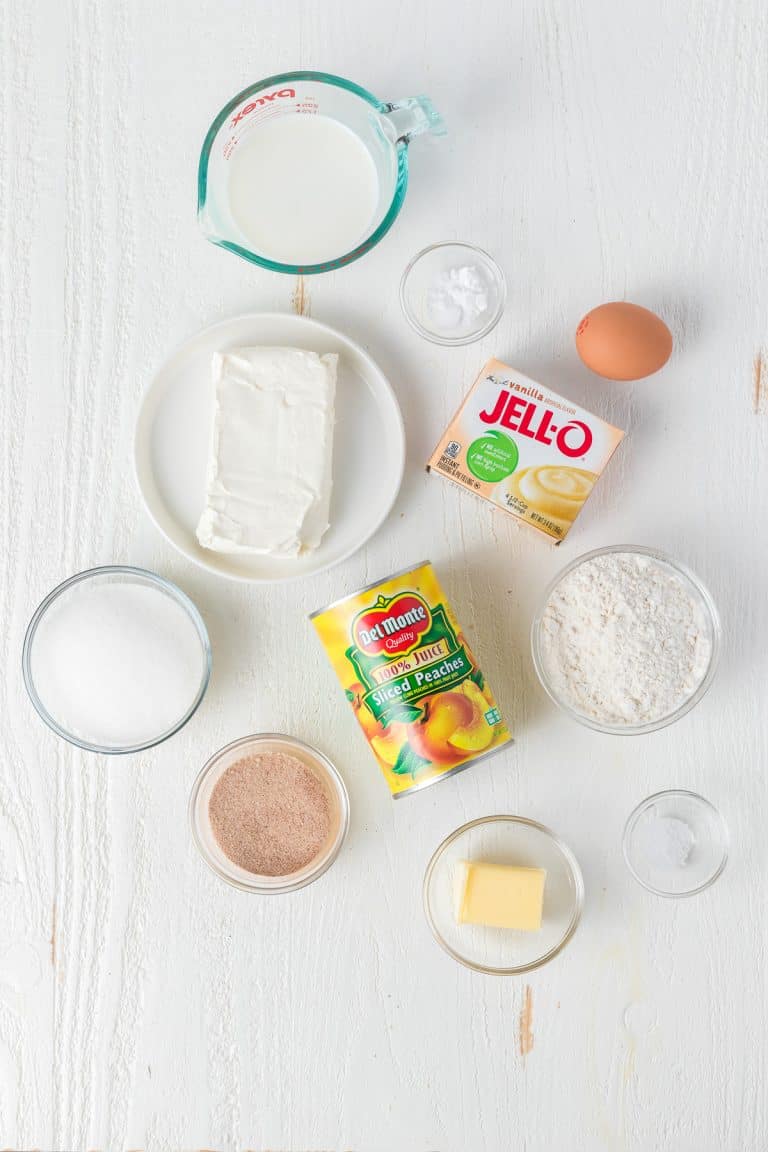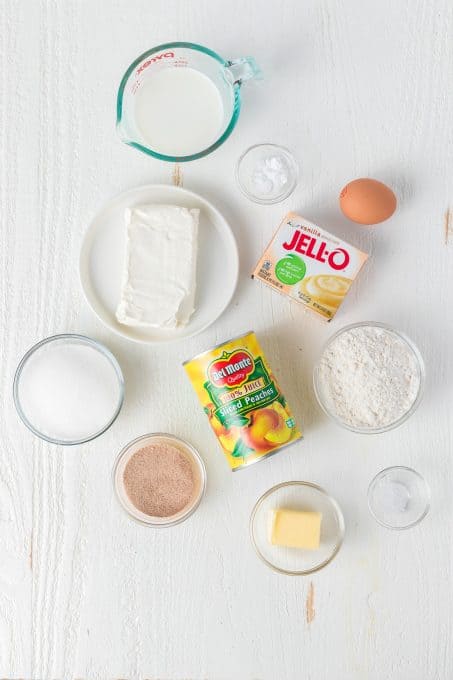 Ingredient Notes
Let's start by talking about what ingredients you need to make a Peach Pie with Cream Cheese.
Flour
Baking Powder
Kosher Salt
Instant Vanilla Pudding Mix – adds vanilla flavor and sweetness!
Melted Butter
Egg
Milk
Canned Peach Slices
Cream Cheese
Granulated Sugar – divided
Reserved Peach Juice – drained from the canned peaches.
Cinnamon
For best results, make sure to let your ingredients come to room temperature before making this pie. This is especially important for the cream cheese. It needs to be soft enough to blend with the peach juice.
Do I need to drain canned peaches to make pie?
Make sure to drain the canned peaches of all the juices before adding them to the pie. In this recipe, the juice is reserved to incorporate into the cream cheese filling.
To reserve the juices, drain peaches in a strainer or mesh sieve over a bowl. Set aside the reserved juice to add to the filling after you make the crust.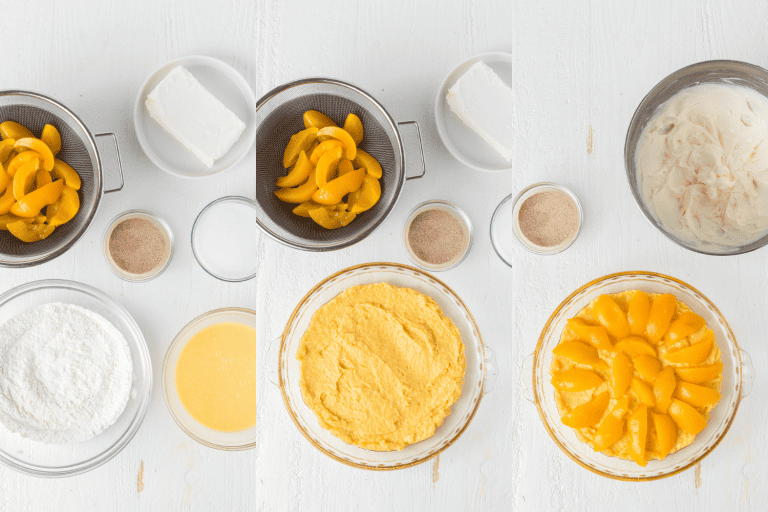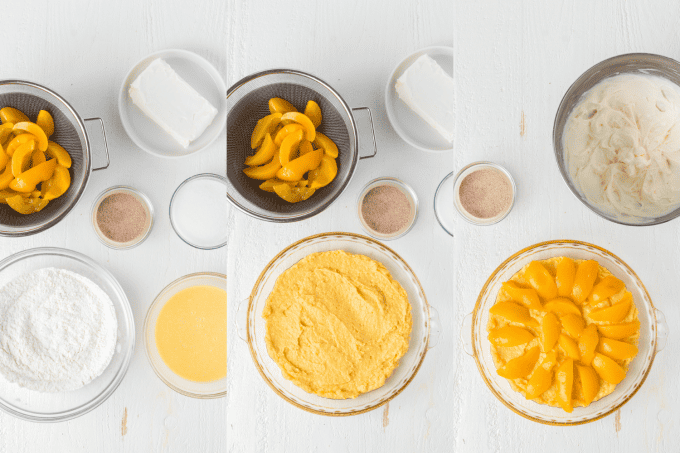 How to Make This Peach Cream Pie
First thing you're going to do is to make the pie crust. Whisk together the dry ingredients in a large mixing bowl. Add the melted butter, egg, and milk, and beat well until combined and smooth.
Pour the crust into a greased pie dish, and spread to the edges of the bottom of the pie plate. No need to worry about making the perfect pie crust for this recipe!
Now, arrange the drained sliced peaches in an even layer over the crust.
In a separate bowl, beat together the reserve peach juice with cream cheese and sugar. It should become soft, creamy and spreadable.
It's okay if the mixture doesn't totally cover the entirety of the peaches. Just try to get it within one inch of the edge of the pie plate if you can. I use my favorite rubber spatula for easier spreading or an offset spatula is super helpful, too!
Spread the cream cheese mixture over the layer of peaches.
Finally, sprinkle cinnamon sugar over the whole thing. Bake pie for 30 minutes. Remove, let cool, slice and serve!
See the complete ingredient list and detailed instructions in the recipe card below.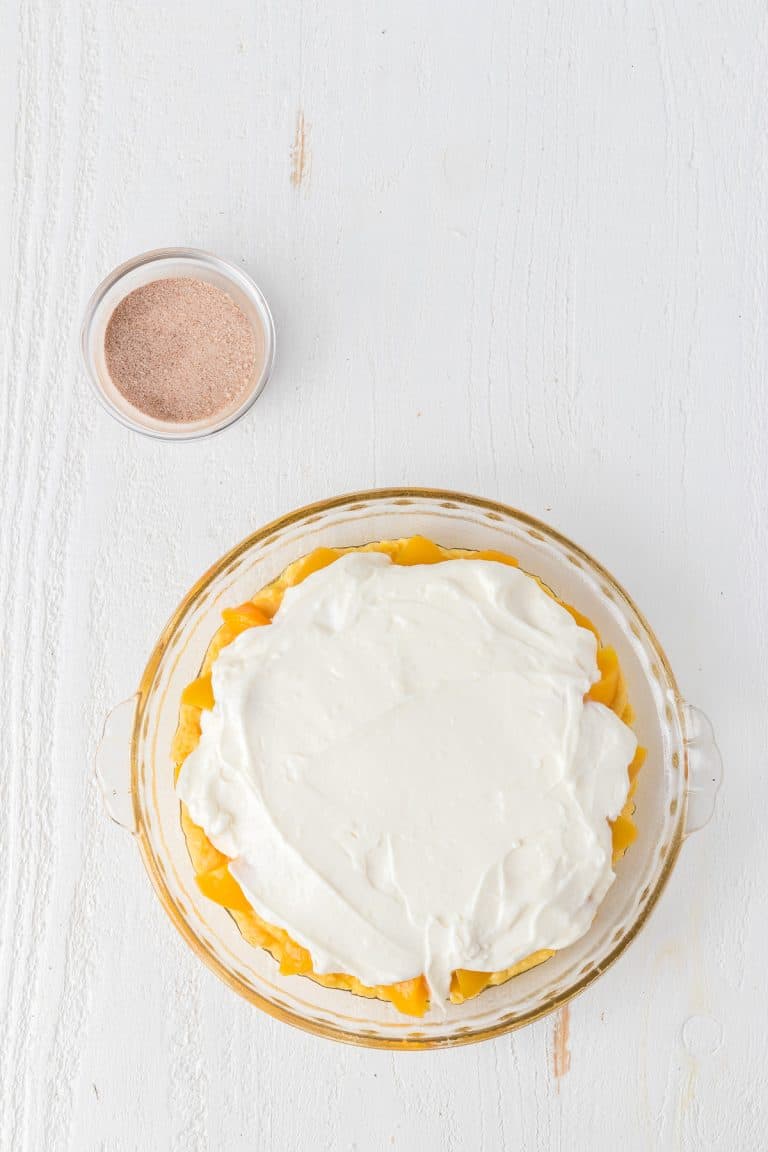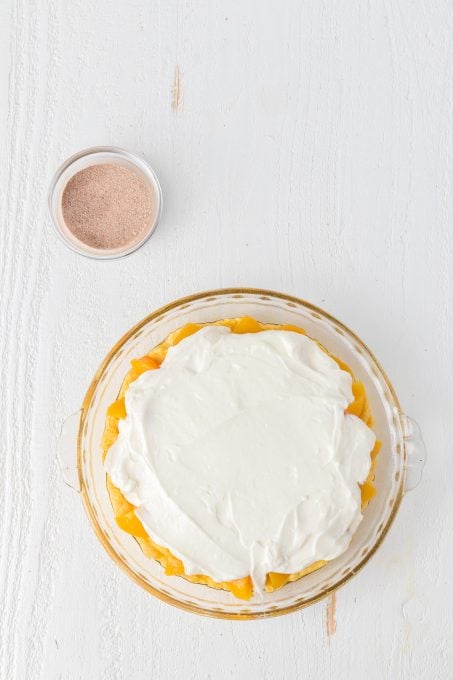 Can I make pie with fresh peaches instead of canned?
I haven't tried this recipe with fresh peaches, so I can't vouch for the results myself. Either way, you do need peach juice for mixing with the cream cheese. Using canned peaches covers both categories! It's also just so much easier and typically less expensive.
I do use fresh peaches in several of my other recipes, including Peach Scones and Easy Peaches and Cream French Toast Bake Recipe. Don't forget about this incredible Peach Cobbler, either!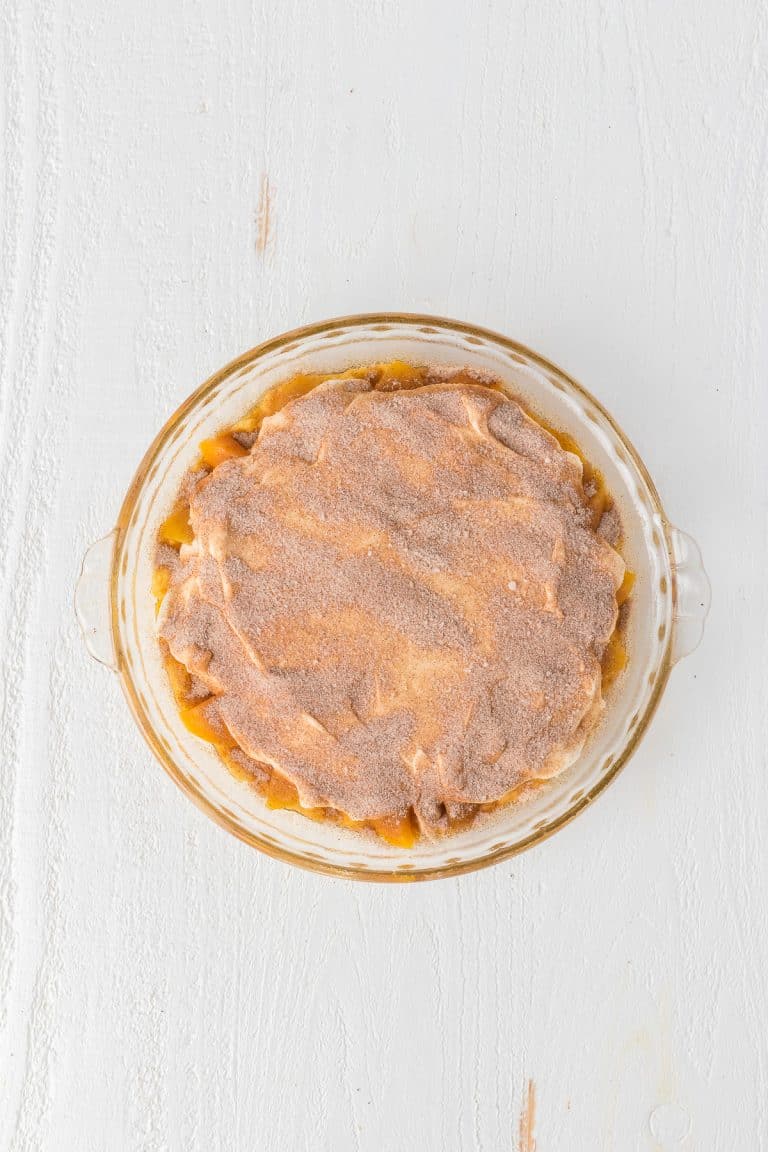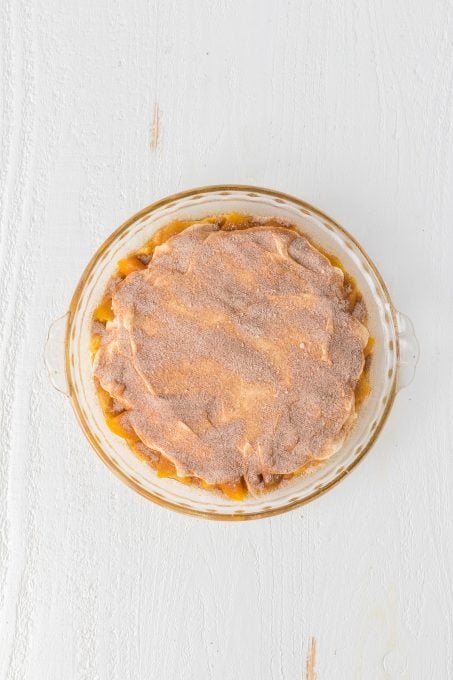 How to Store Peach Pie with Cream Cheese
Store the leftover Peaches and Cream Pie tightly covered in the refrigerator. Enjoy it within 5 days for freshest flavor.
Wondering if it should be served chilled or room temperature? That's up to you!
If you plan to serve the pie within 2 -3 hours of baking, there is no need to chill it. I love it freshly baked when it's cooled to room temperature. It also tastes sweet and refreshing served cold, straight from the fridge!
I don't recommend freezing this particular pie. Freezing and thawing can change the consistency of the vanilla crust, making it a little less tasty. Thankfully, my family never has any trouble eating the entire pie by ourselves within a matter of hours or days.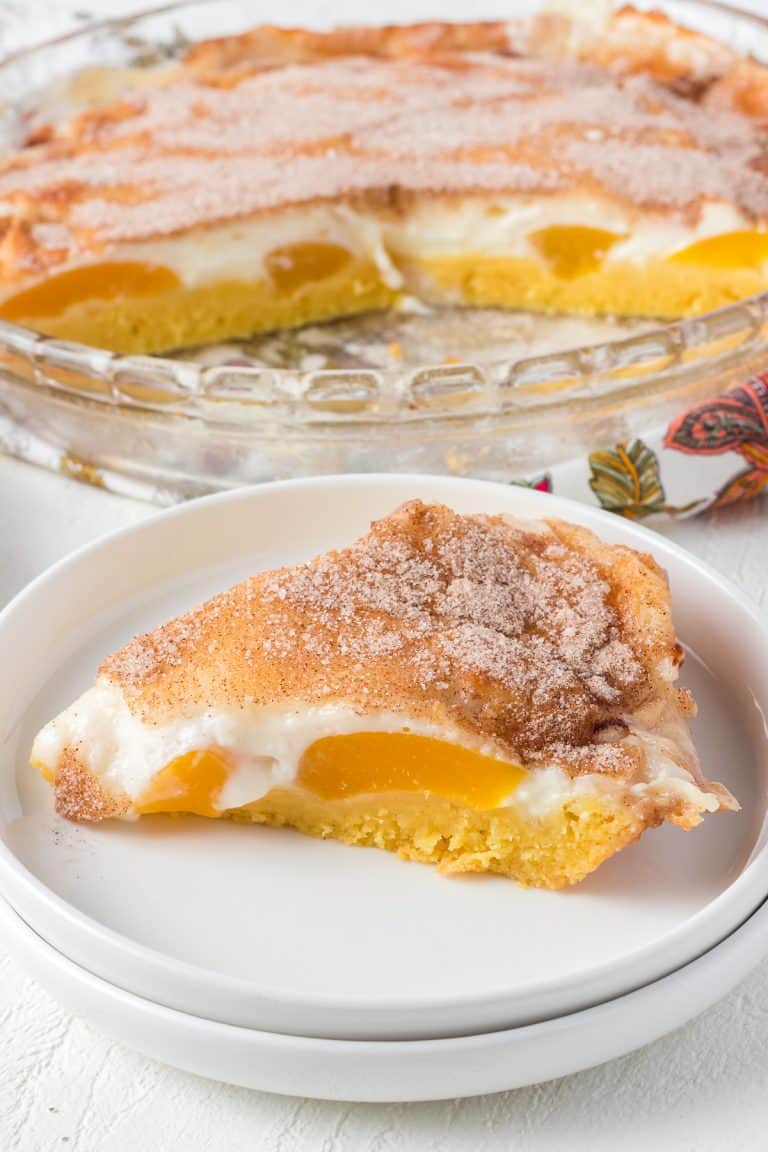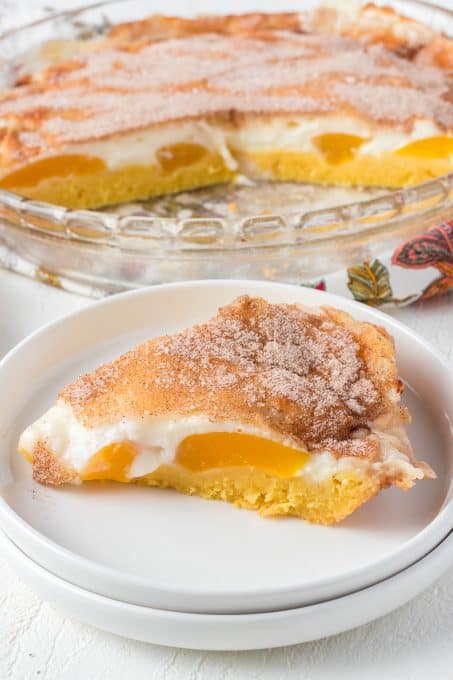 Easy Pie Recipes for Every Season
The world can never have too many pie recipes.
When the blazing summer sun makes turning on the oven unfathomable, it's No-Bake Blueberry Pie to the rescue! Tastes just like the classic you know and love, without heating up your kitchen. This Easy No Bake Oreo Pie is another option that's ideal for summer — perfect for chocolate fanatics! 

For you red berry lovers, fresh strawberries abound in this Strawberry Pretzel Pie. It's your favorite dessert salad in pie form. 
Have you ever tried pineapple as a pie filling? Pineapple Pie is made with just six ingredients and a sunny tropical flavor. I make mine with a store bought pie crust to make it even easier.
When the weather turns crisp and the leaves fall, I become obsessed with all things cranberry. My Easy Cranberry Pie Recipe started out as a holiday dessert idea, but I love it too much to just make it a couple of times a year.
Love cherry during the holidays? My Christmas Cherry Hand Pies — are single serving pies bursting with festive red cherries and cheer! You'll like these Strawberry Cream Cheese Hand Pies too. It's another winning combination of sweet fruit and rich cream cheese we can't get enough of.
In the spring, nothing brightens up my day like a slice of lemon meringue pie made with homemade Lemon Curd. It's the perfect balance of sweet and tangy, and tastes so much fresher than the canned versions.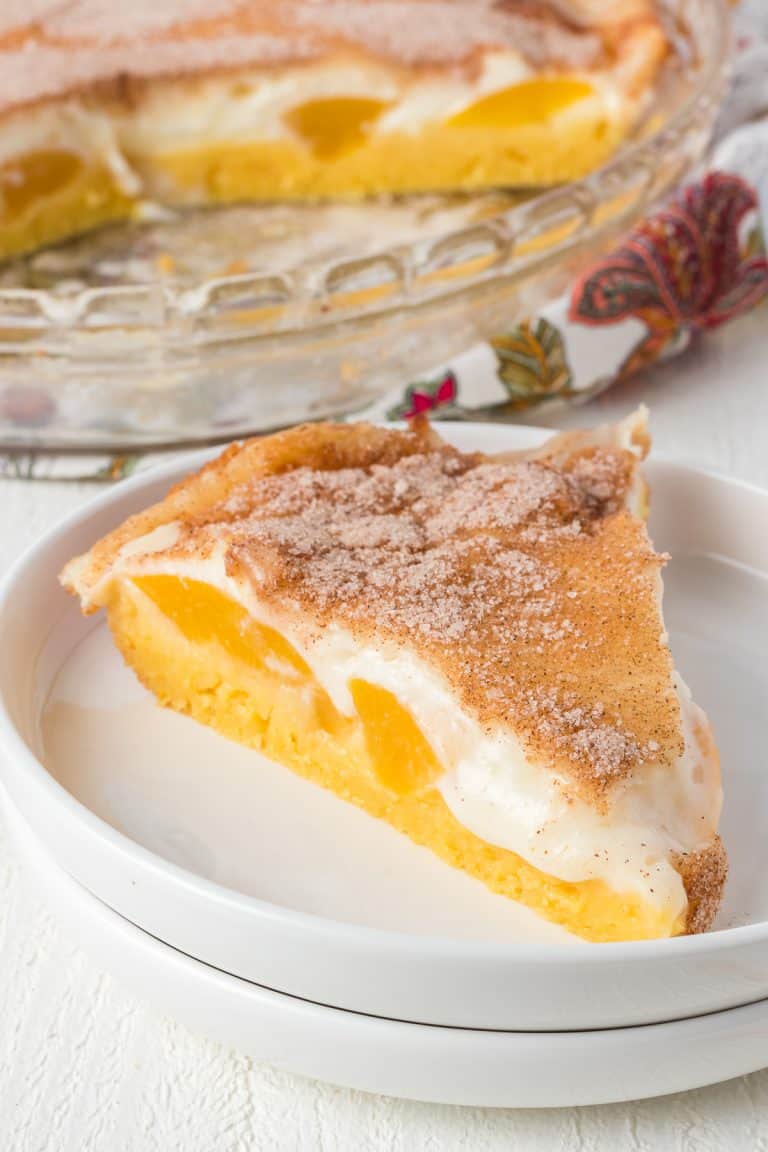 Peaches and Cream Pie combines sweet peaches and rich cream cheese in one delightfully easy-to-make dessert.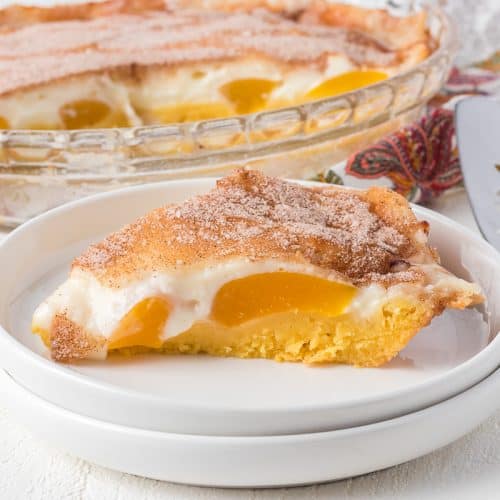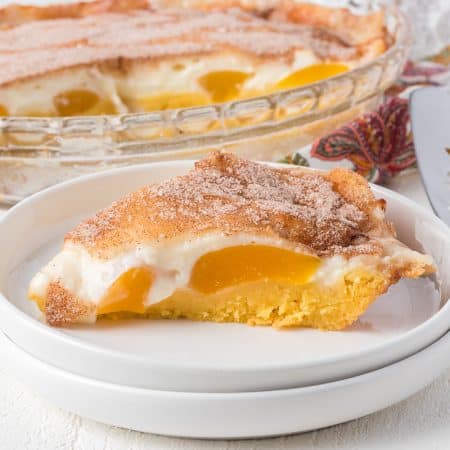 Peaches and Cream Pie has sweet peach filling topped with a rich cream cheese layer. Bring a taste of summer to your table all year long with this easy peach pie recipe. And the best part, it doesn't even have to be peach season for you to enjoy it!
Ingredients
Crust
¾ cup all-purpose flour
1 teaspoon baking powder
½ teaspoon kosher salt
3 ounces dry instant vanilla pudding
3 tablespoons butter melted
1 large egg
½ cup milk
Filling
14.5 ounces canned sliced peaches *See Note
8 ounces cream cheese room temperature
½ cup sugar
3 tablespoons reserved peach juice
Cinnamon Sugar Topping
1 ½ tablespoons sugar
1 teaspoon cinnamon
Instructions
Set a strainer over a bowl and drain the peaches, reserving the liquid.

Preheat oven to 350°F, and prepare a pie plate by spraying it with cooking spray.
Crust
In a large mixing bowl, combine the ingredients for the crust: flour, baking powder, salt, dry vanilla pudding mix, melted butter, egg, and milk. Beat on medium high for about 2 minutes until smooth and creamy. Pour into the prepared pie plate and spread to edges.
Filling
Place the peach slices on top of the crust.

In a medium mixing bowl, beat the cream cheese , sugar, and reserved peach juice until soft and creamy. Spread over the top of the peaches, to within 1-inch of the edge of the pie plate.
Cinnamon Sugar
In a small bowl, mix the cinnamon and sugar together. Sprinkle it over the entire top of the pie.

Bake at 350°F for 30 minutes. Let cool completely before slicing.
Notes
Note: The original recipe from my husband's grandmother calls for "a large can of peaches" which would be a 29 ounce can. I used half of that, but feel free to use the larger can as it would add more peaches and flavor, just remember to drain as directed. 
Nutrition
Serving: 1serving | Calories: 321kcal | Carbohydrates: 42g | Protein: 5g | Fat: 15g | Saturated Fat: 9g | Polyunsaturated Fat: 1g | Monounsaturated Fat: 4g | Trans Fat: 0.2g | Cholesterol: 65mg | Sodium: 358mg | Potassium: 205mg | Fiber: 1g | Sugar: 30g | Vitamin A: 739IU | Vitamin C: 2mg | Calcium: 80mg | Iron: 1mg
Did you make this recipe?
Share it with me on Instagram and make sure to follow me on Pinterest for more recipes.
Reader Interactions