This easy Peach Cobbler recipe is made with fresh, juicy peaches, a golden brown crust and sprinkle of cinnamon sugar. Serve it with a scoop of vanilla ice cream for a perfect summer dessert!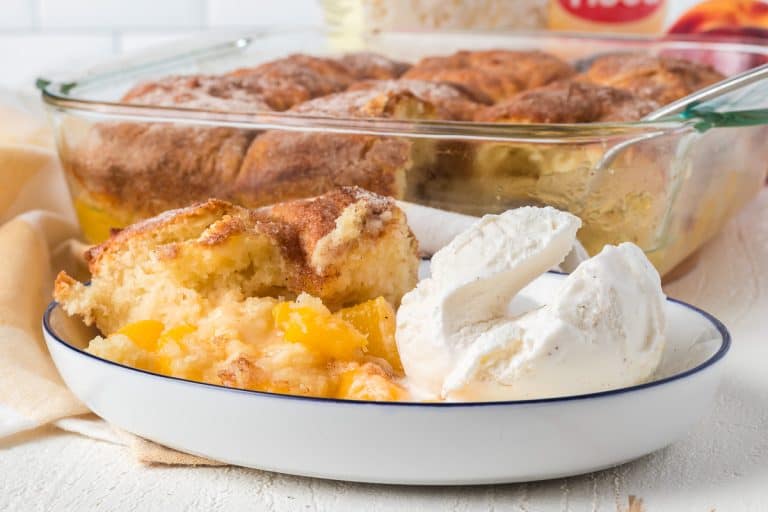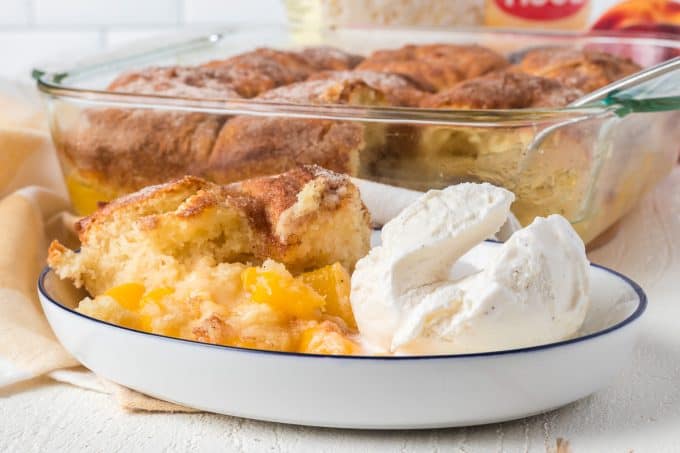 When life gives you peaches, bake with them! These Peach Scones were perfect with my morning coffee on a warm summer day.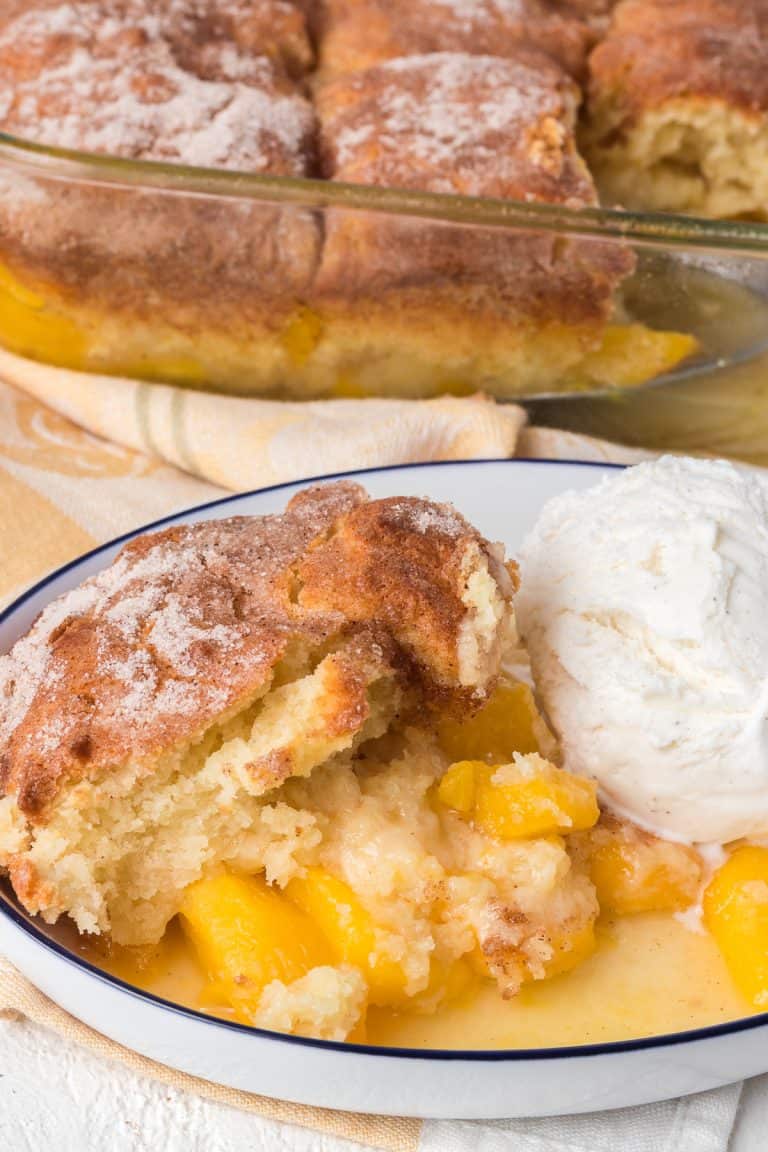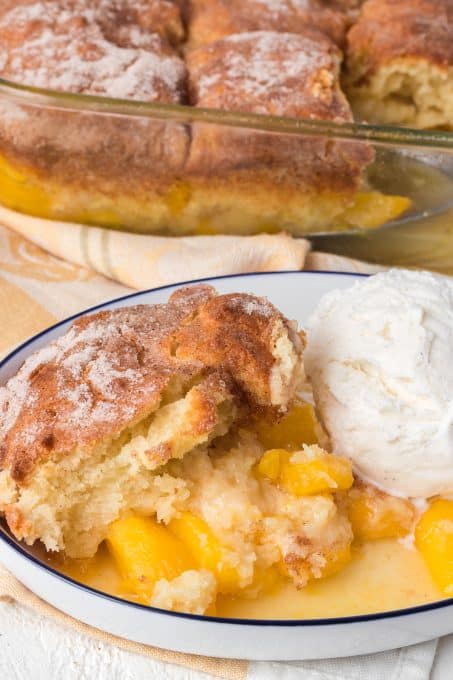 What is a fruit cobbler?
In the wide world of peach desserts, there's nothing that can top peach cobbler. The simple, old-fashioned dessert has been around for generations. 
Peach Cobbler is a dessert made by topping sliced sweet peaches with a biscuit-like crust. It's baked it until the peaches are soft, juicy and peeking up through the crust. The rustic "cobbled" appearance is how the dessert got its name!
Back before modern grocery stores made it easy to access peaches year-round, peach cobbler was a special treat reserved for summertime when peaches hung ripe off the trees. While you can make this fruit cobbler anytime of year nowadays, I still love it best when the weather is warm and the sun lingers in the sky a little longer. It brings back memories of childhood summers and barbecues with friends.
When it's peach season and I see the first peaches at my local farm stands, I snatch a bushel and head to the kitchen to make this homemade peach cobbler recipe. 
I tried a few peach cobbler recipes over the years until I found the perfect one.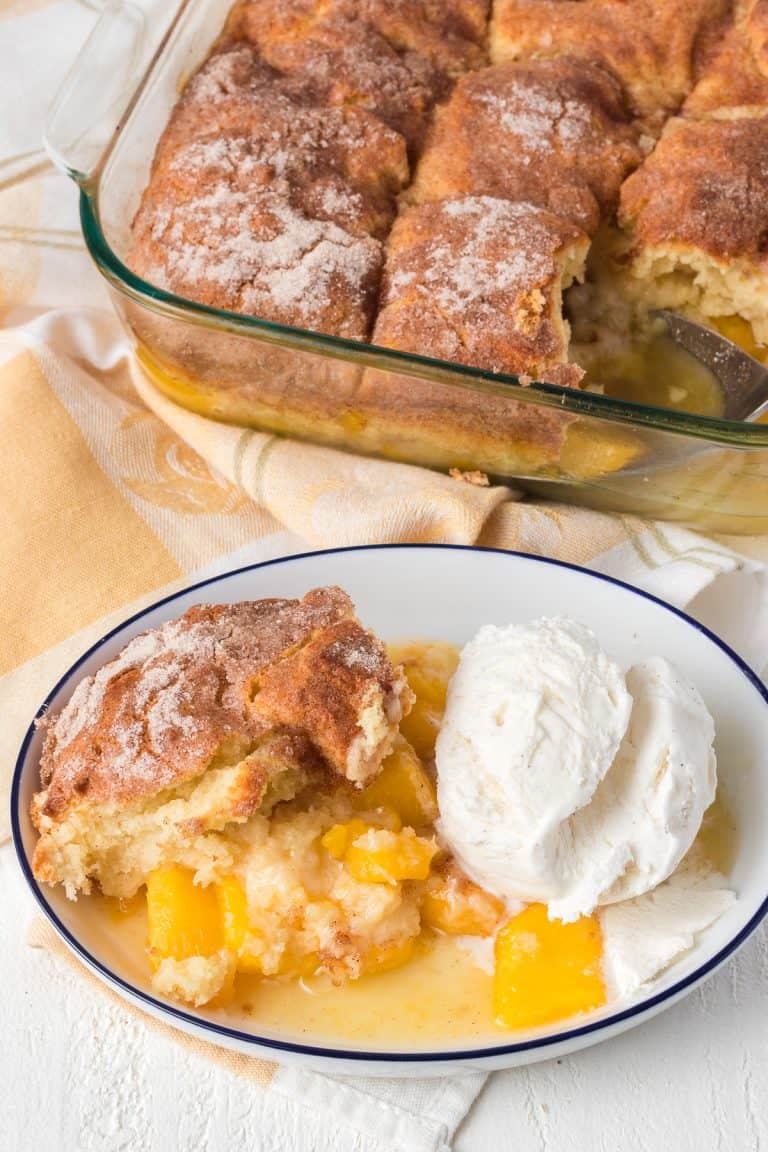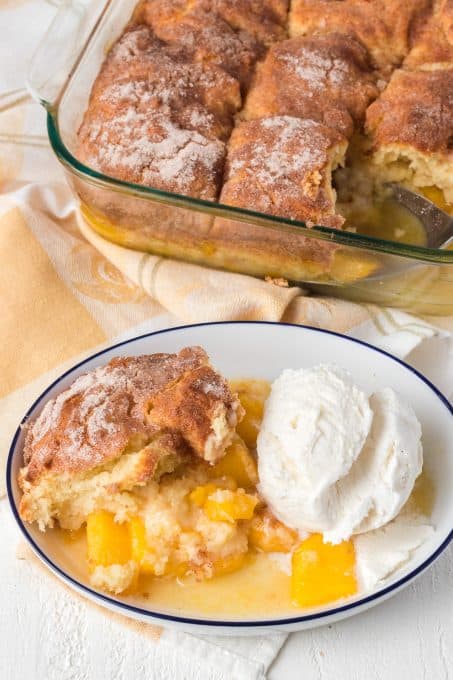 Why You'll Love This Fresh Peach Cobbler Recipe
Balance of sweet and tangy flavors.
It's made with FRESH peaches.
Easy homemade crust on top.
Simple, inexpensive ingredients.
Quick and easy prep.
From start to finish, this peach cobbler is ready in a little over one hour. Most of that time is just waiting for the cobbler to bake. Did I mention this recipe is going to make your kitchen smell out-of-this-world good?
Peaches + cinnamon sugar = perfection. I love it in these Cinnamon Peach Pancakes and I love it even more here!
Let's talk about what ingredients you need to make this tried and true peach cobbler recipe.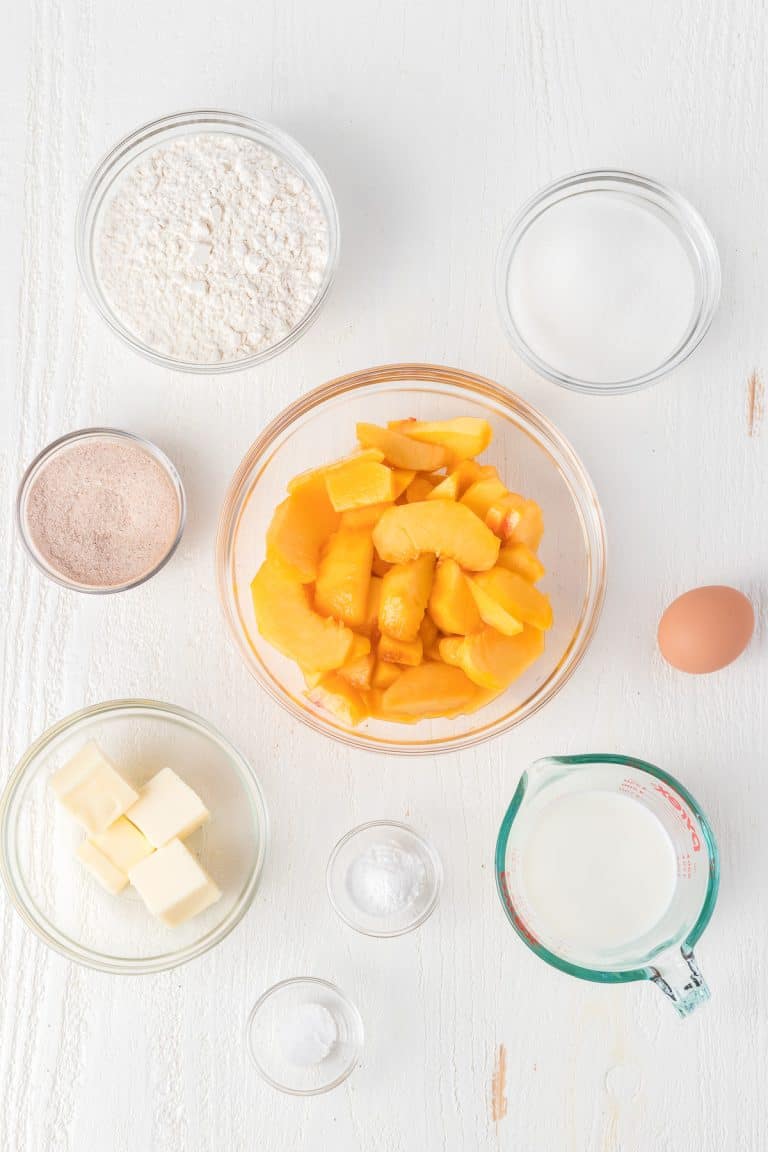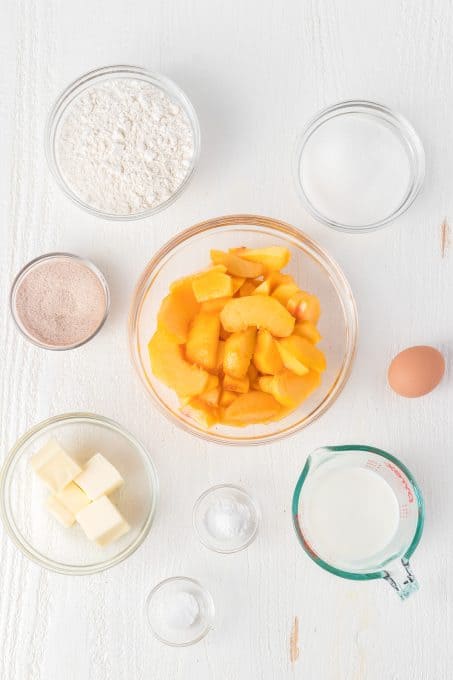 Easy Peach Cobbler Ingredients
Peaches
Melted Butter
Salt
Sugar
Milk
Egg
Flour
Baking Powder
Cinnamon
Wondering what peaches are best? You can use yellow peaches or white peaches for this recipe, whichever are fresh, ripe and most available to you. 
Some of your are probably asking if you can use canned peaches. My answer it that I don't recommend them here. The firm, fresh peaches soften as the cobbler bakes for the perfect texture. Not to mention the flavor simply pops more with fresh fruit. 
BUT, if fresh peaches aren't in season and you have a craving, by all means purchase the canned and make this recipe! Just omit sprinkling the peaches with the sugar mixture in step 1 of the Cobbler instructions.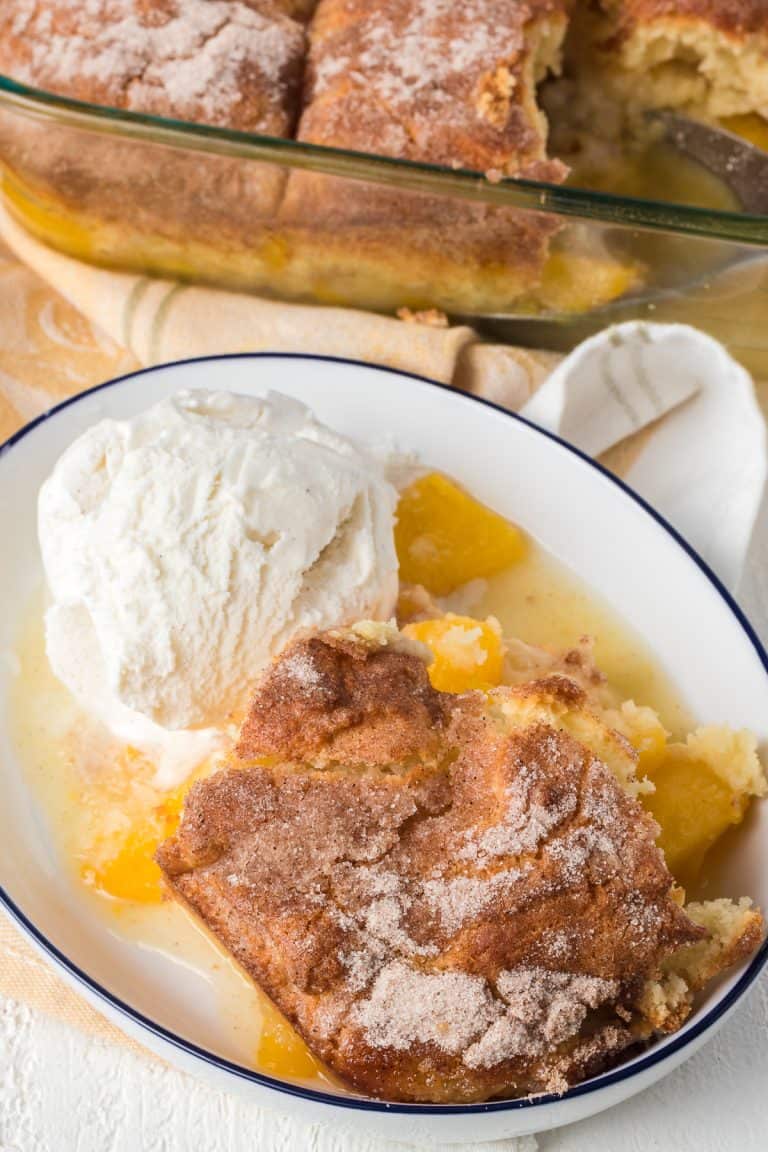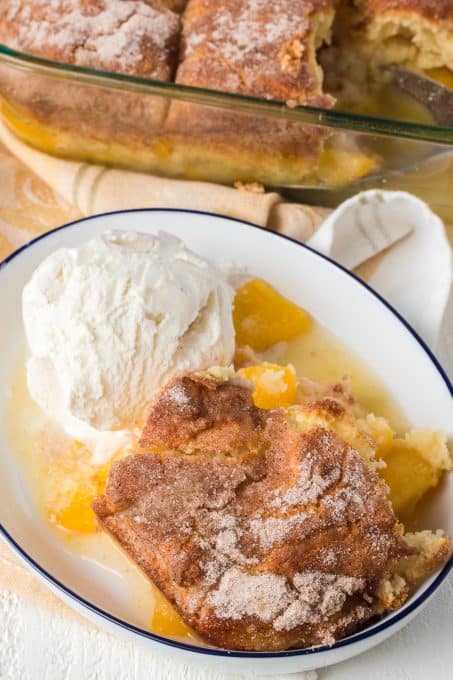 How do I peel peaches for cobbler?
I recommend peeling peaches for best texture in cobbler. While you can leave the skin on, you will have noticeable pieces of peach skin in your finished cobbler if you do. 

There are two ways to peel them.
1)You can use a small paring knife and carefully cut the skin away from the peach.

2) An easier way to prepare them for your favorite peach desserts is to remove the skin is to blanch the peaches. Before you begin, fill a large bowl with some cold water and add some ice to it. You'll want this ready when the peaches are finished boiling. 
Next, fill a large pot with water and start it boiling over high heat. Carefully place the peaches into it for only about 30 seconds. Using a slotted spoon, remove each peach and put it into the ice bath to "shock" them. This will stop the cooking process and prevent them from becoming soft and mushy. Once they've cooled, you should be able to gently remove the skin with just your hands.
After peeling, chop the peaches up into pieces. You can also slice them if you prefer.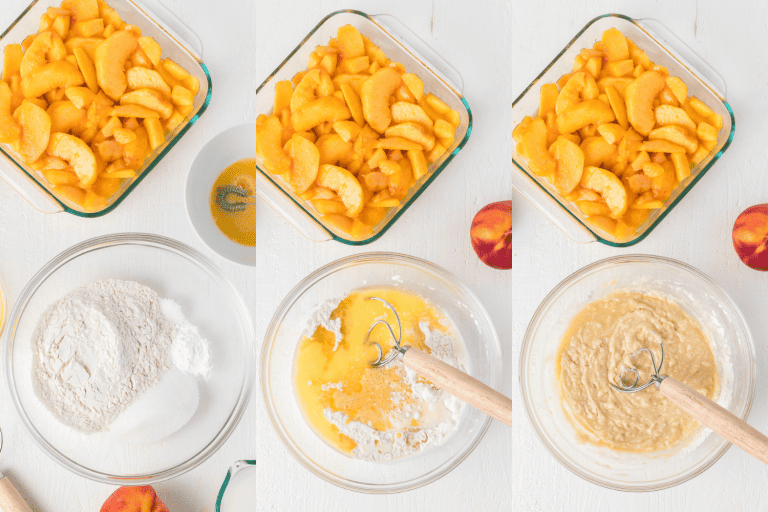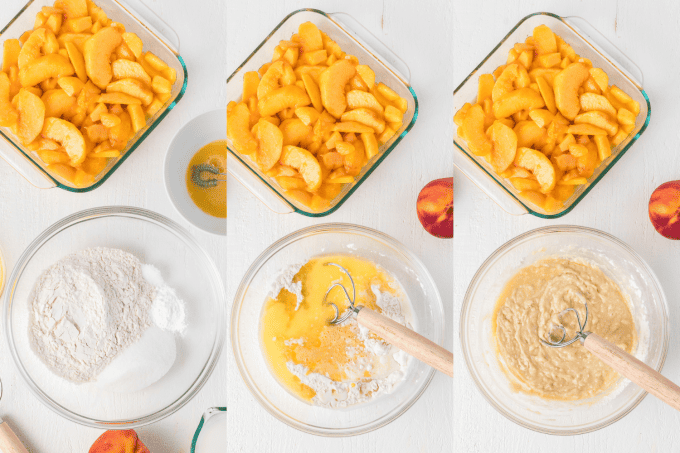 How to Make Peach Cobbler
First, make cinnamon sugar by combining ground cinnamon with three tablespoons of sugar in a small bowl. Set it aside.
Now, you'll toss the chopped peaches in sugar with a bit of salt. Pour this into a baking dish.
Next, combine milk, sugar, butter, flour, egg and baking powder to form a dough for the cobbler topping. Dollop the dough over the top of the peaches. Sprinkle the top with cinnamon sugar.
Bake the peach cobbler for 35 – 40 minutes in a 375°F oven. When it's ready, a toothpick inserted into the center of the cobbler should come out clean and juice free.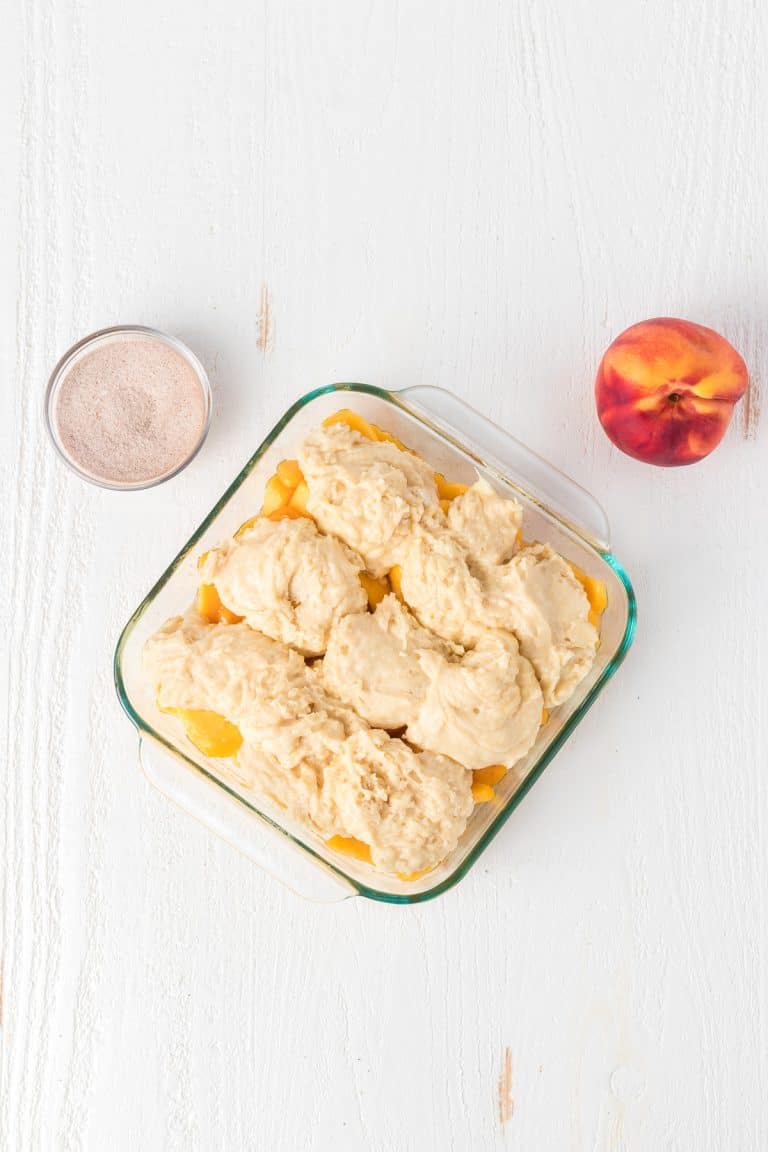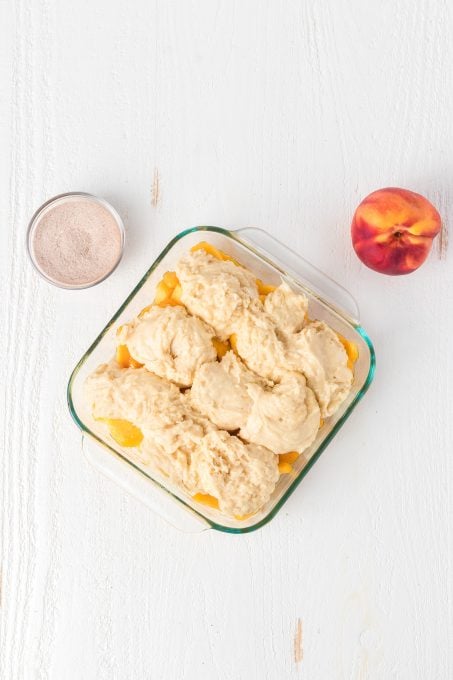 Serving Suggestions
This easy peach cobbler is best enjoyed warm, straight from the oven. The combination of the sweet, juicy peaches and the buttery, flaky crust is simply irresistible.
You can serve it as is but I love it best with a scoop of vanilla ice cream. The contrast of warm and cold temperatures elevates the sunny peach flavors even more. Serve the cobbler in bowls to make sure none of the ice cream escapes as it melts into the cobbler!
Don't have any ice cream? My homemade 3 Ingredient Whipped Cream is another glorious topping for peach cobbler. If you're feeling indulgent, go ahead and enjoy two servings of this cobbler: one with whipped cream, one with ice cream!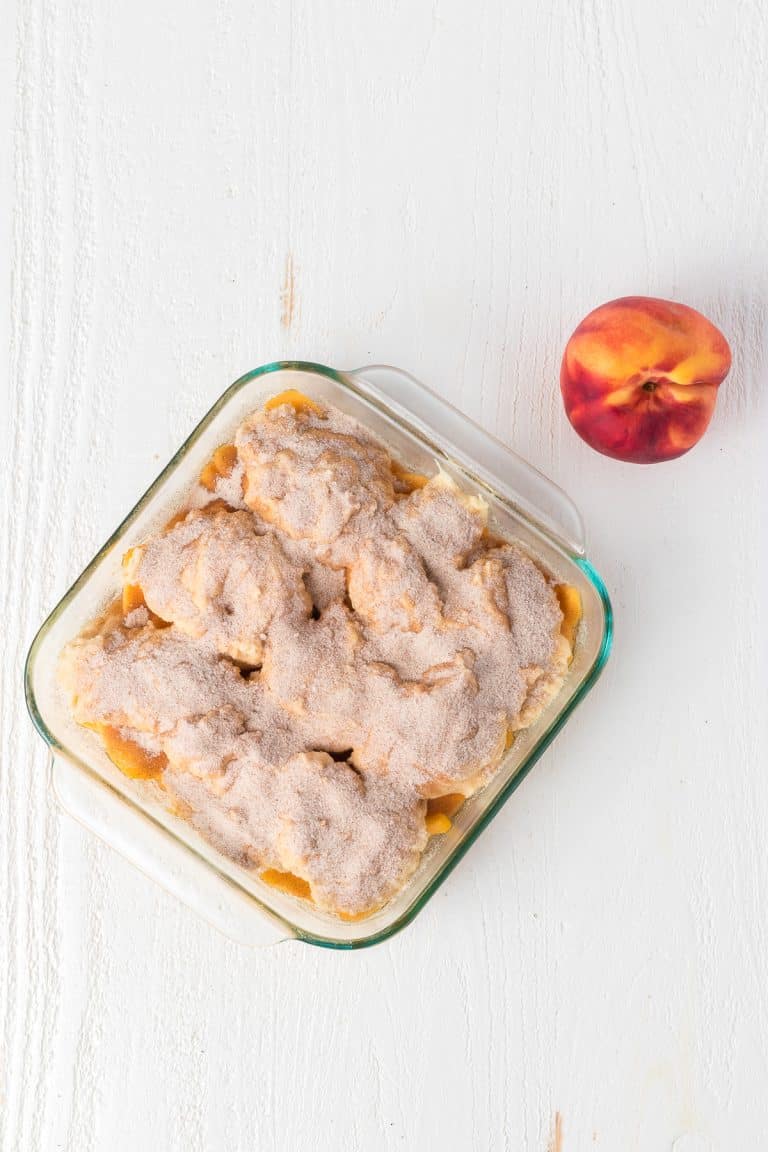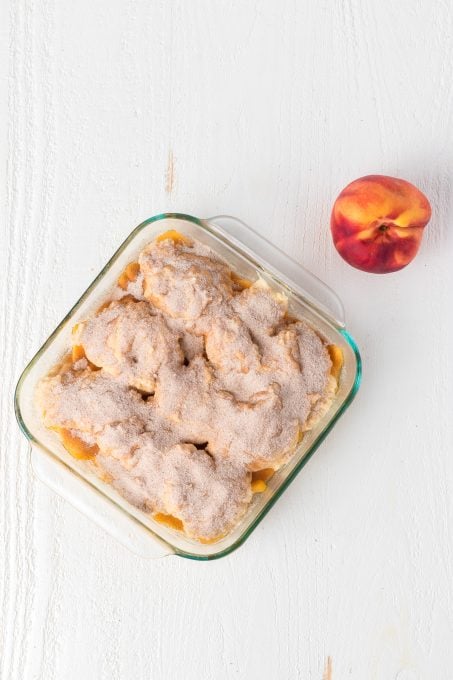 Peach Crumble Vs. Peach Pie
When it comes to peach desserts with a crust, there are several popular variations. Along with peach cobbler, you've probably come across peach pie and peach dump cake.
The concepts are similar: sweetened peaches, topped with some kind of crust, and baked. Peach cobbler recipes like this one, use a thicker biscuit dough crust. Most peach pies, on the other hand, are made with a thin, flaky pie crust. Dump cakes are similar to cobbler, but made with cake mix instead of a homemade crust.
Favorite Peach Recipes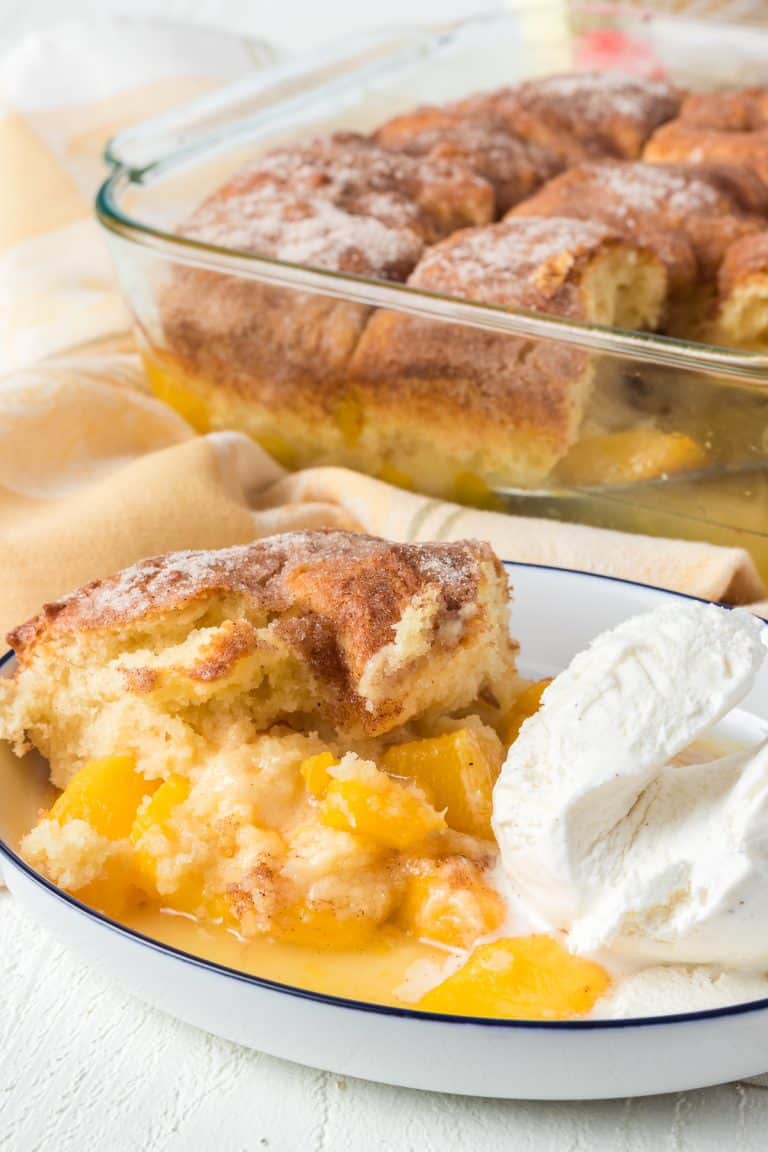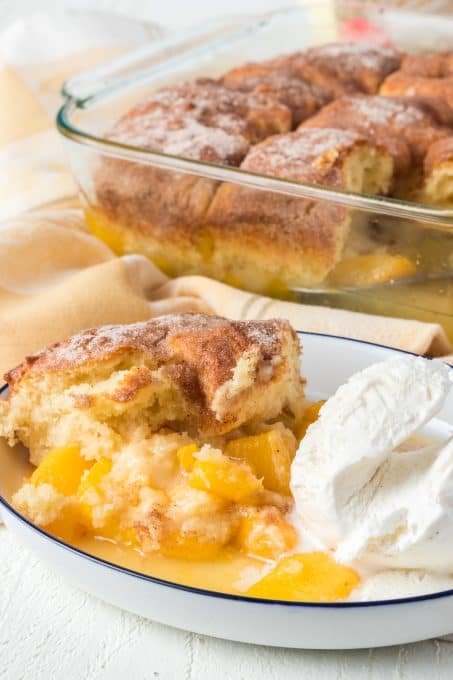 Summer Fruit Desserts
My peach cobbler recipe is always a potluck crowd pleaser. Strawberry Shortcake is another surefire hit for a summer gathering or simple weeknight dessert.
Step away from the oven and whip up this No-Bake Blueberry Pie instead. It's every bit as tasty as the classic version, but it won't turn your kitchen into a sauna! This No-Bake Peanut Butter Pie is another go-to that's full of southern comfort and sweetness.
Two of summers best flavors collide in this easy Blueberry Peach Galette. You can serve it for dessert or a fancy Sunday brunch!
Lemon is another ingredient I can never get enough of in the summertime. Try my Lemon Pudding Cake and these Strawberry Lemonade Bars for a refreshing end to your picnic, party or barbecue. Lemon Coconut Sugar Cookies add a tropical twist to a buttery lemon cookie! 
And even though it's not yet apple season, I'm more than happy to eat this Apple Crisp all year long.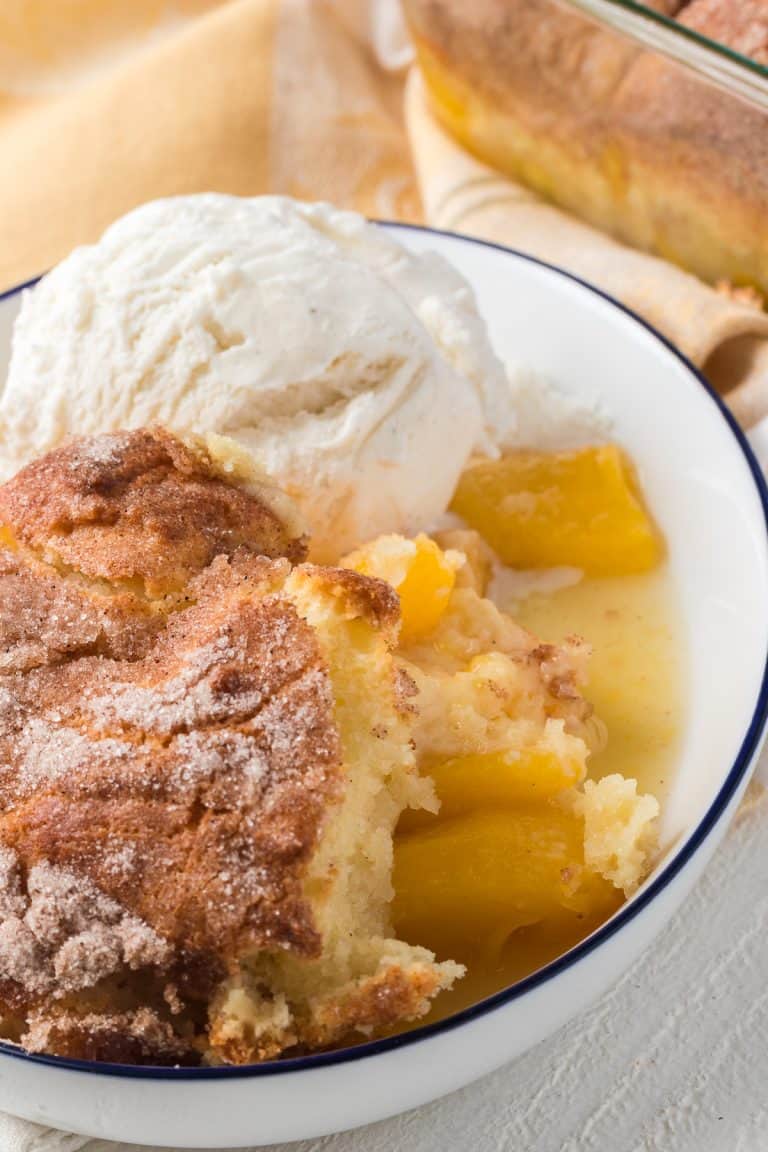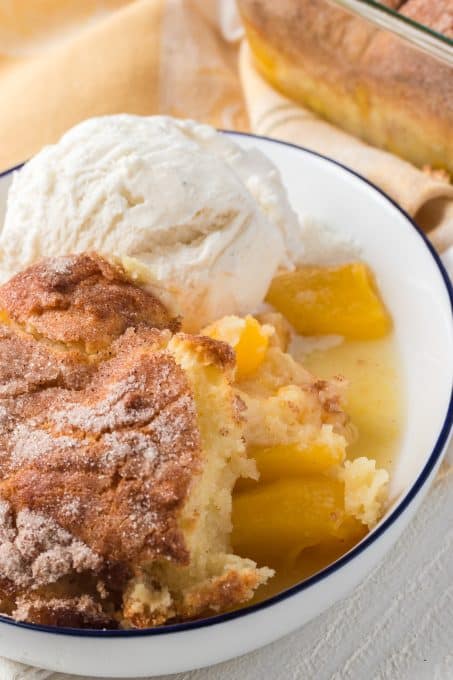 This Old Fashioned Peach Cobbler will be the star of the show when you serve it for dessert. Serve the warm cobbler with a scoop of cold vanilla ice cream and it might just become this summer's favorite dessert.
~ FOLLOW ME ~
Keep an eye out for more of my easy recipes each week!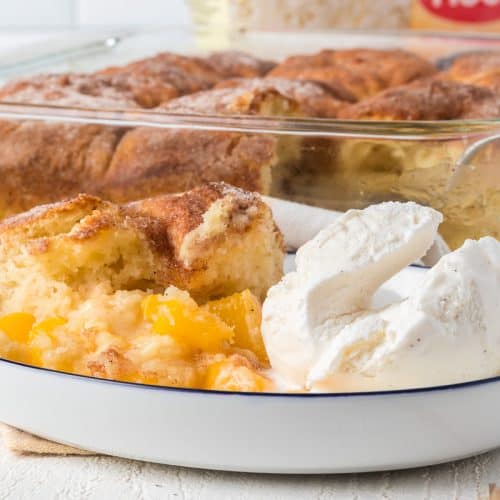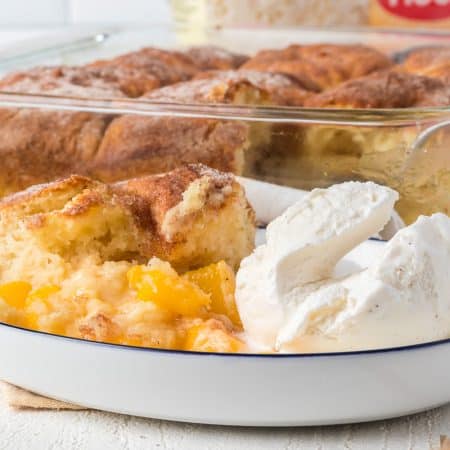 This easy Peach Cobbler recipe is made with fresh, juicy peaches, a golden brown crust and sprinkle of cinnamon sugar. Serve it with a scoop of vanilla ice cream for a perfect summer dessert! 
Ingredients
Cinnamon Sugar Topping
3 tablespoons sugar
½ teaspoon cinnamon
Peach Cobbler
4 cups fresh chopped peaches
8 tablespoons butter melted
½ teaspoon salt divided
⅔ cup sugar divided
½ cup milk
1 large egg beaten
1 ½ cups all-purpose flour
2 teaspoons baking powder
Instructions
Preheat oven to 375°F, and spray an 8 X 8-inch baking dish with cooking spray.
Cinnamon Sugar Topping
In a small bowl, mix the sugar and cinnamon together really well for the cobbler topping and set aside.
Cobbler
In a small bowl, mix together ¼ teaspoon salt and ¼ cup of the sugar needed for the cobbler. Put the chopped peaches in a medium bowl and sprinkle the sugar mixture over them. Toss gently to completely coat and pour into prepared baking dish.

In a large bowl, mix the butter, milk and egg. Add the flour, baking powder, remaining sugar and salt, and mix just until combined. Place 9 dollops of the dough over the peaches, and sprinkle the cinnamon sugar over the tops of them.

Bake for 35-45 minutes, or until a toothpick inserted into the middle comes out clean. Serve warm with a scoop of vanilla ice cream.
Notes
Fresh peaches are juicy, so be aware that there may be an accumulation of liquid in the bottom of the baking dish as it sits before serving and when refrigerating the leftovers.
Nutrition
Serving: 1serving | Calories: 425kcal | Carbohydrates: 64g | Protein: 6g | Fat: 17g | Saturated Fat: 10g | Polyunsaturated Fat: 1g | Monounsaturated Fat: 4g | Trans Fat: 1g | Cholesterol: 74mg | Sodium: 489mg | Potassium: 207mg | Fiber: 2g | Sugar: 38g | Vitamin A: 880IU | Vitamin C: 4mg | Calcium: 123mg | Iron: 2mg
Did you make this recipe?
Share it with me on Instagram and make sure to follow me on Pinterest for more recipes.
Reader Interactions