Chocolate Mint Dream Bars are a no-bake dessert with layers upon layers of decadence. A mint Oreo crust is topped with sweet peppermint cheesecake filling, chocolate fudge pudding and chopped Andes mints in this easy chocolate mint dessert recipe!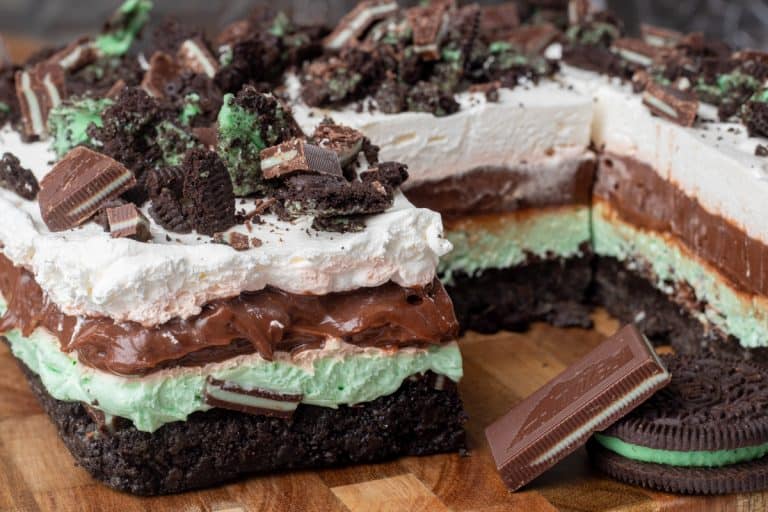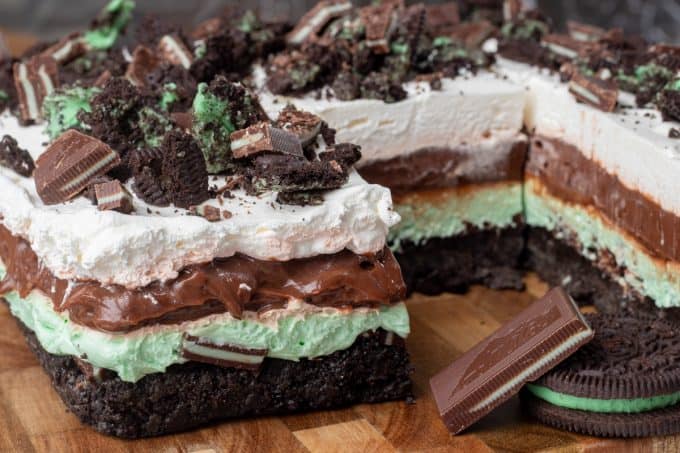 Andes mints are a highly underrated candy.
The combination of zesty mint cream and sweet chocolate is one of the most satisfying flavor pairings, especially at the end of a meal. I combined the flavors of Andes mints with my popular Dream Bars to create a new favorite!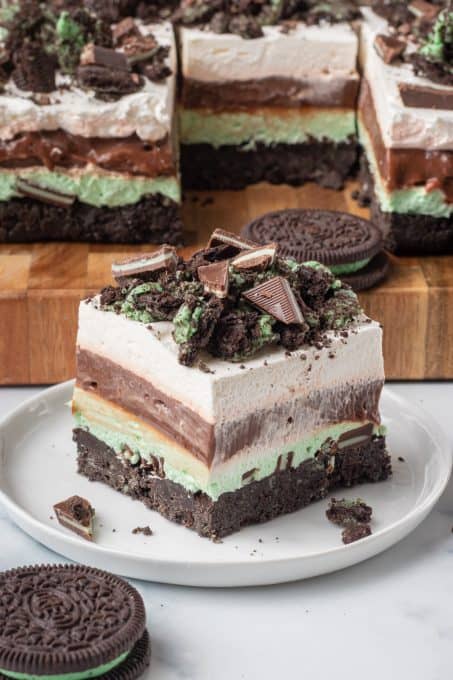 Chocolate Mint Dream Bars were a hit at first bite. I've made them countless times since that first batch and people can't get enough.
The green in the middle makes them a great dessert for St. Patrick's Day or the Christmas holidays, but you don't need an occasion to justify whipping up this easy no bake dessert.
Trust me. I make them all year long because they are just. that. good.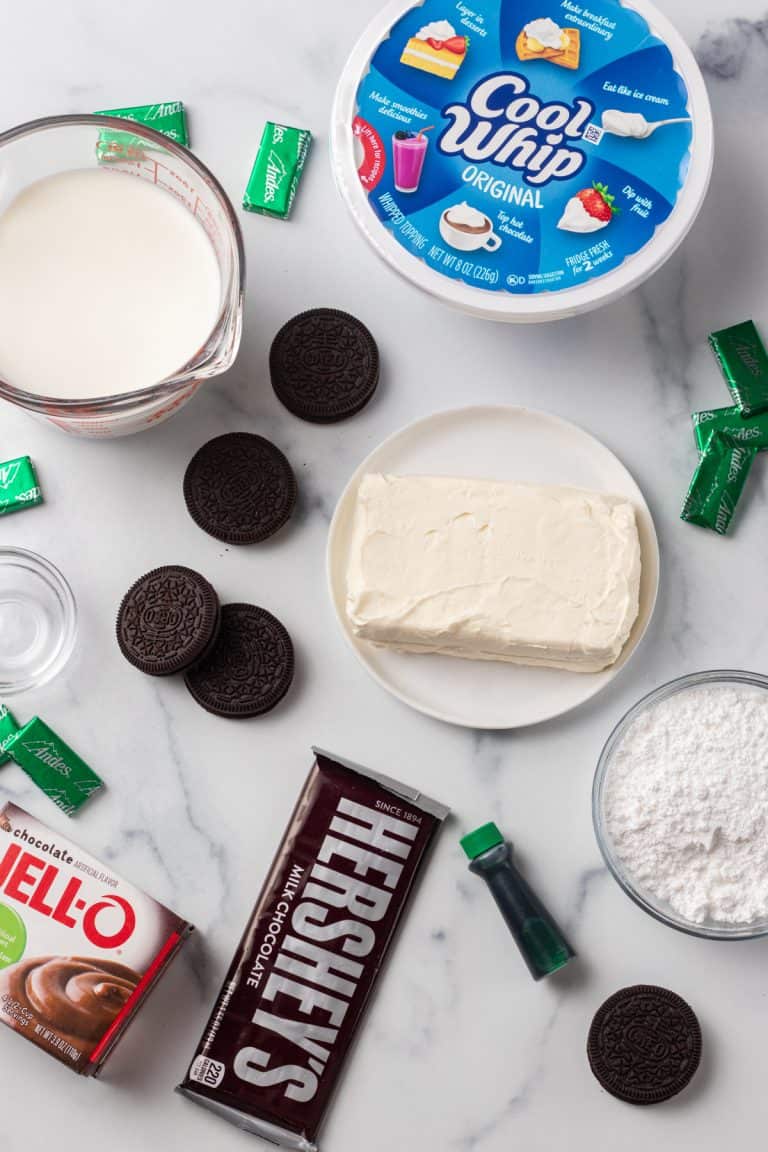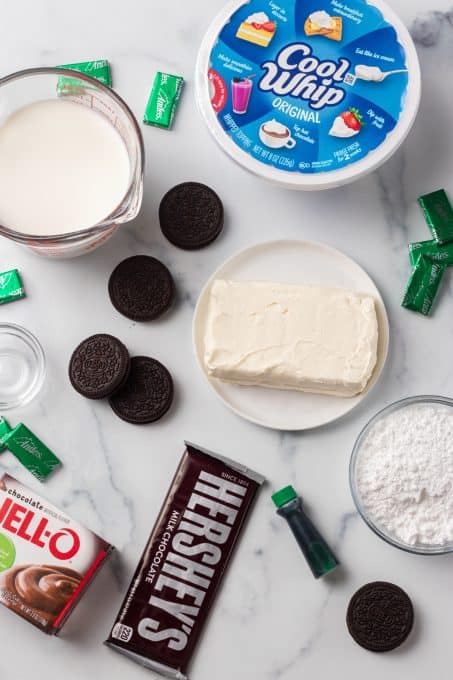 What do I need?
Don't be intimidated by the number of layers in this dream bar recipe. It really is easy to make once you have all the ingredients laid out.
Here are the ingredients you will need:
Mint Oreo cookies
Butter
Andes mints
Cream cheese
Confectioner's sugar
Peppermint extract
Green food coloring Cool Whip – or use this homemade stabilized whipped cream
Instant chocolate fudge pudding mix
Milk
Chocolate shavings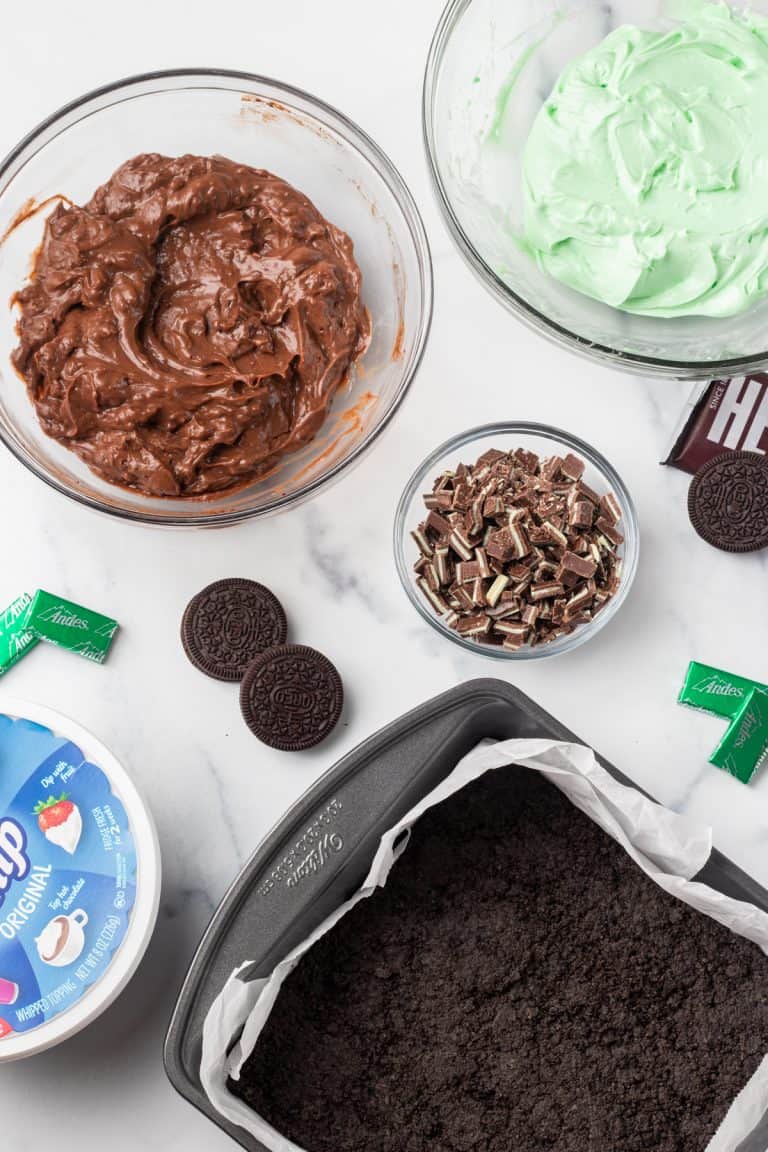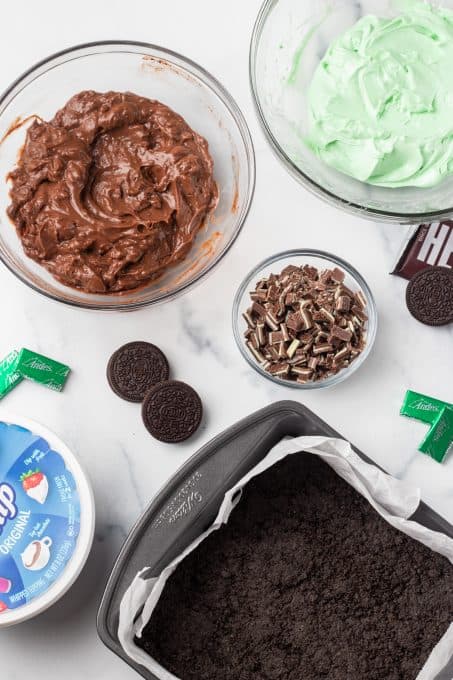 How do I make it?
STEP 1. Make the crust.
Pulse the mint Oreos in a food processor to turn them into crumbs. Combine the crumbs with melted butter, then press the mixture into the bottom of a square baking dish.
Place the crust in the freezer while you get the other layers ready. Chop up your Andes mints and set them aside until it's time to assemble the bars.
STEP 2. Make the cheesecake layer.
Beat cream cheese with confectioner's sugar, extract and a few drops of green food gel. Fold in a cup of the cool whip. The mixture will be light, creamy and fluffy!
STEP 3. Prepare the chocolate pudding.
Whisk together the instant pudding mix with milk. Place it in the refrigerator until you're ready to add it to the bars.
STEP 4. Assemble!
Now it's time to layer all the ingredients to create your incredible Chocolate Mint Dream Bars.
Assemble the layers on the Oreo crust in this order:
Chopped Andes mints
Peppermint cheesecake
Chocolate pudding
Remaining Cool Whip
Chill the assembled bars for at least 2 hours or up to overnight. I move the bars to the freezer about 30 minutes before serving to make them easier to slice neatly.
For that final finishing touch, garnish your Chocolate Mint Dream bars with crushed mint Oreo cookies, chocolate bar shavings, and more chopped Andes mints!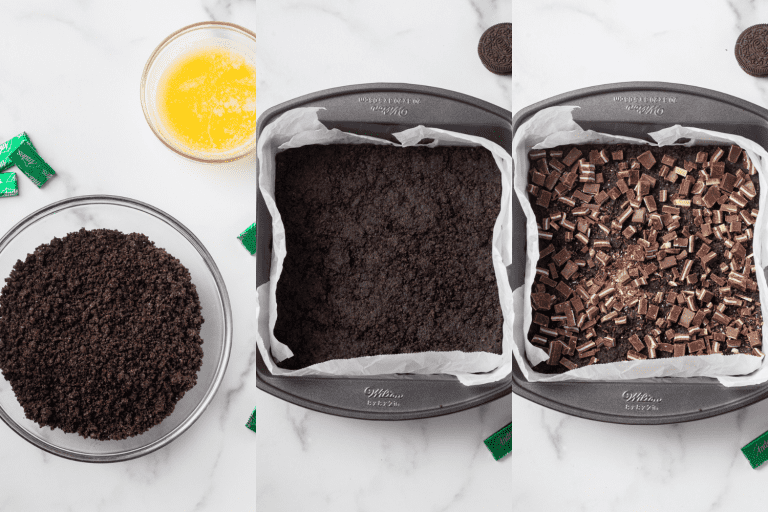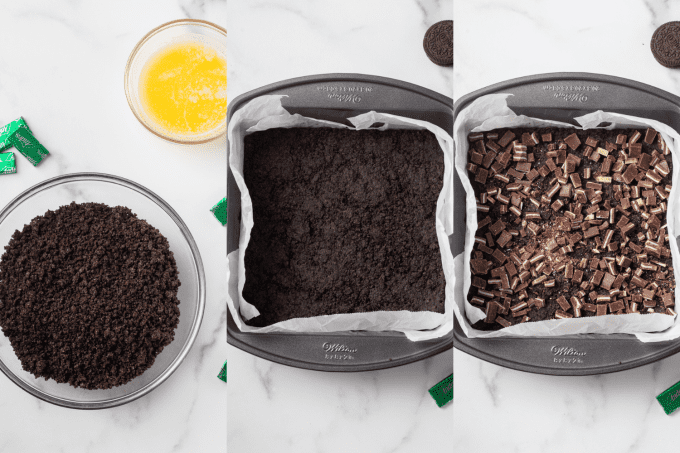 How do I store them?
Chocolate Mint Dream Bars, like my other no-bake dream bar recipes, should be kept chilled when you aren't eating them.
Store these bars in the refrigerator covered with plastic wrap or foil. The cold keeps them the perfect sliceable consistency while ensuring the cream cheese layer stays good as long as possible. Covered and chilled, this chocolate mint dessert should stay good for up to 5 days.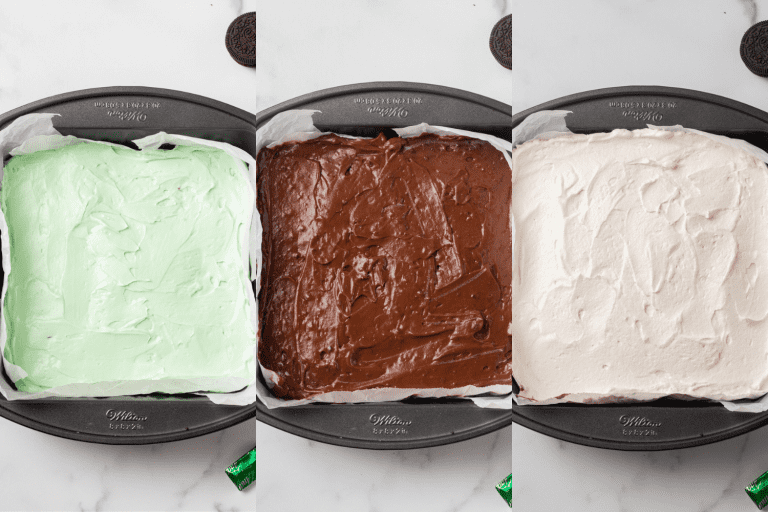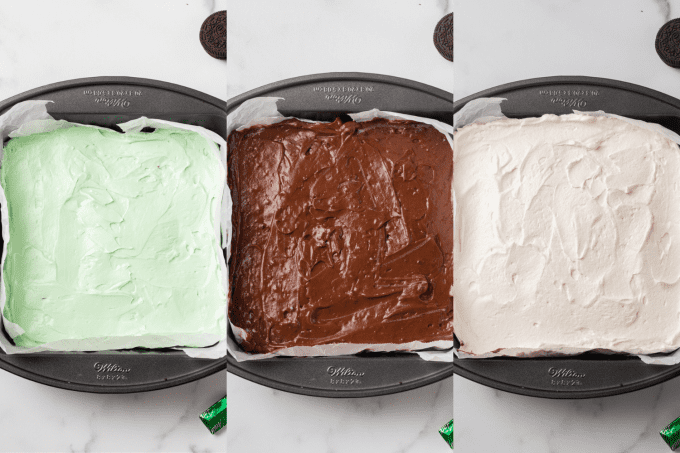 What can I substitute for Cool Whip?
If you don't want to use that non-dairy whipped topping in the tub with the blue label (you KNOW the one I'm talking 'bout!) then you can use this great recipe for stabilized whipped cream.
It makes just the perfect amount for each of my Dream Bar Recipes. The recipe is made without gelatin (suitable for vegetarians!) and tastes really, REALLY delicious. It can even be piped as a frosting for other recipes!
Pretty great, hunh?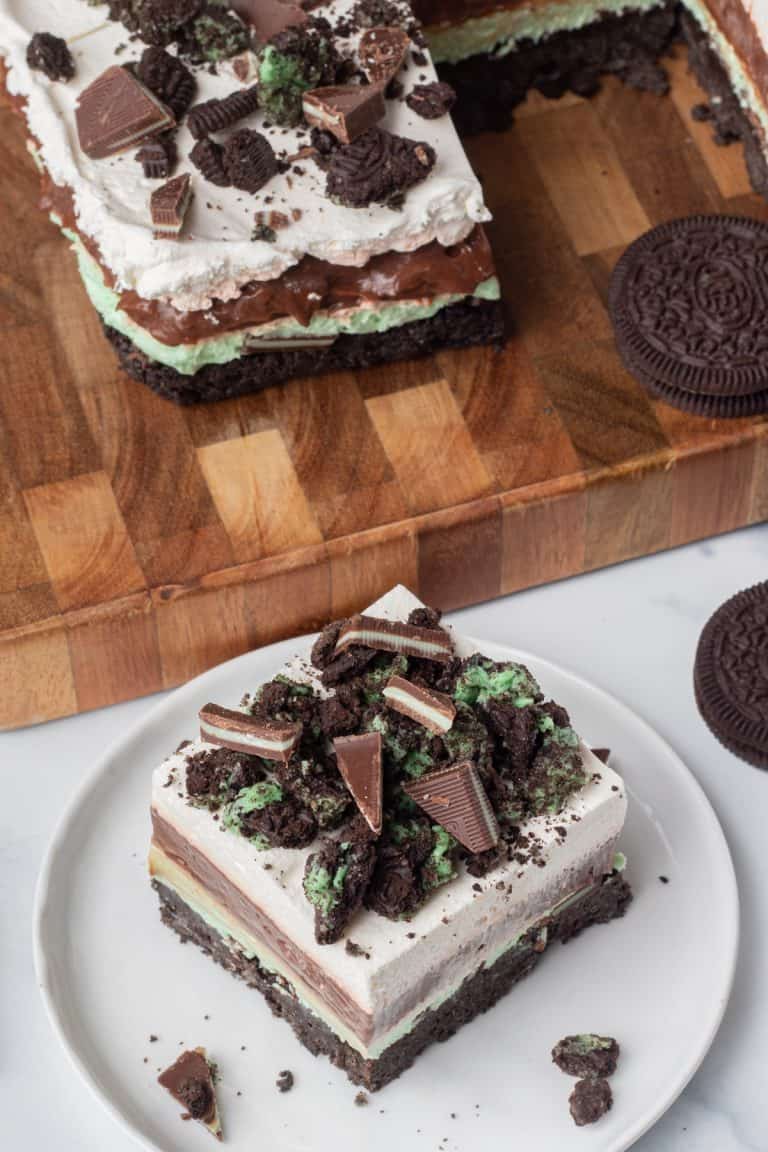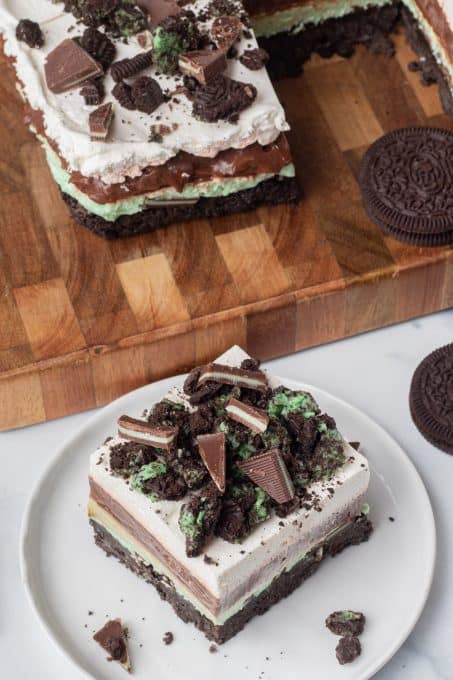 More Tips for Making Dream Bars
I make my dream bars in an 8×8 disposable baking dish. I love that it comes with a cover because it makes it easy to transport it to potlucks and parties.
I recommend lining your baking dish with parchment paper. When the bars are done setting, you can just lift the sides of the parchment paper to take them out of the pan. Super easy!
You can definitely double this recipe! Just make it in a 9 X 13-inch baking dish. Friends and family will certainly be happy you did.
In ALL of the Dream Bar recipes, only use the 1 1/2 cups milk, called for in the recipe, NOT the 2 cups called for on the box. We want the pudding to be a bit thicker so it sets up well in the dessert.
And when slicing, I've found it helps to run a large knife under hot water and then dry it off before making each slice. This way, everyone will be wowed by the layers when you serve them!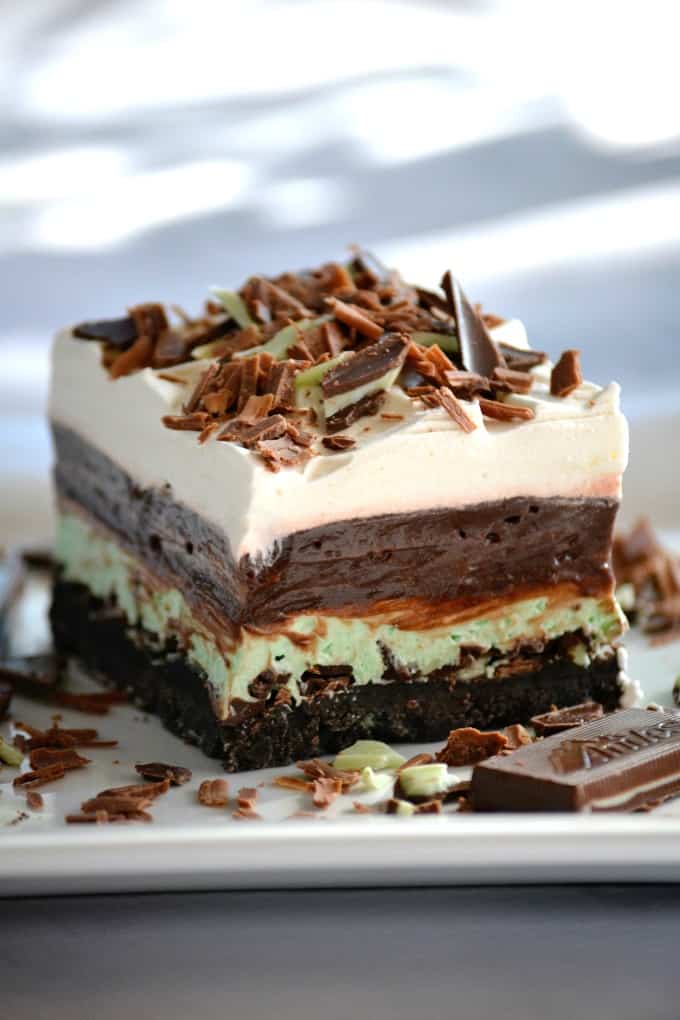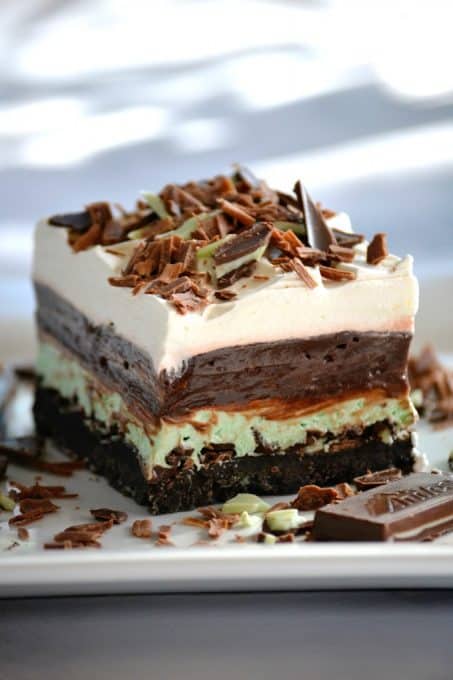 Dream Bar Recipes
Did you know I have 18 different dream bar recipes on this site? I can't help but keep coming up with ALL the flavor combinations when a no-bake dessert is as deliciously easy as this. AND, of course, there will be plenty more to come!
The strawberry fans in your life will be first in line for these Strawberry Cheesecake Dream Bars. If you're a blueberry gal, I know you'll fall in love with the Blueberry Almond Dream Bars.
When I realized that the creamy cheesecake filling would pair perfectly with a pop of citrus flavor, I created recipes for not one but TWO orange dream bars: Orange Creamsicle Dream Bars and Cranberry Orange Dream Bars.
We haven't even started on the chocolate dream bars category yet, folks. Chocolate Peanut Butter Dream Bars are a classic, but I might love these Turtle Dream Bars with caramel and pecans even more! Then, there are the ever-popular Oreo Pudding Dream Bars my readers can't get enough of.
And if you need something that's absolutely 100% guaranteed to knock the socks off of a peanut butter lover in your life, you can't do better than this recipe for Peanut Butter Cookie Dough Dream Bars.
If it's kids you need to impress, my Circus Animal Cookie Dream Bars are always a hit! For the adult crowd, how about a plate of Irish Cream Dream Bars to serve with your after-dinner coffee?
If there's a gender reveal party in your future, you might want to consider making both the pink Raspberry Cream Dream Bars and the Blue Raspberry Dream Bars! Guess can pick which sex they think they baby will be by choosing the gender dessert!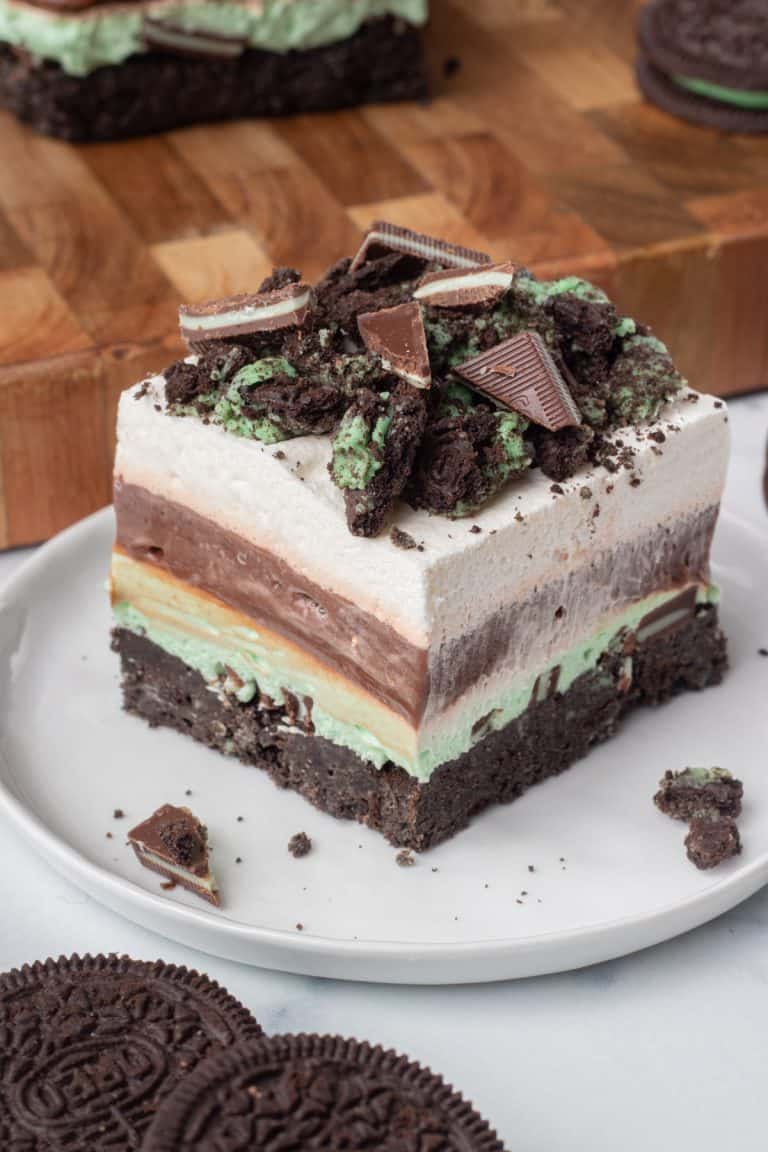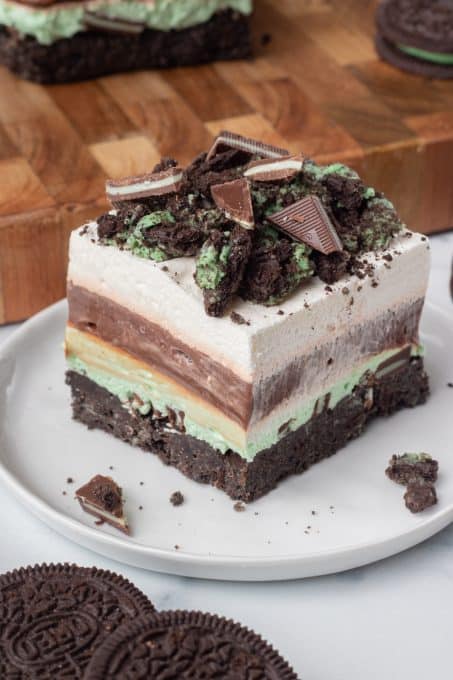 No Bake Desserts
Dream Bars aren't the only easy no bake desserts I'm obsessed by! Pin these other amazing easy no bake desserts (mint and otherwise) to try next.
But first . . . let's go eat some Chocolate Mint Dream Bars!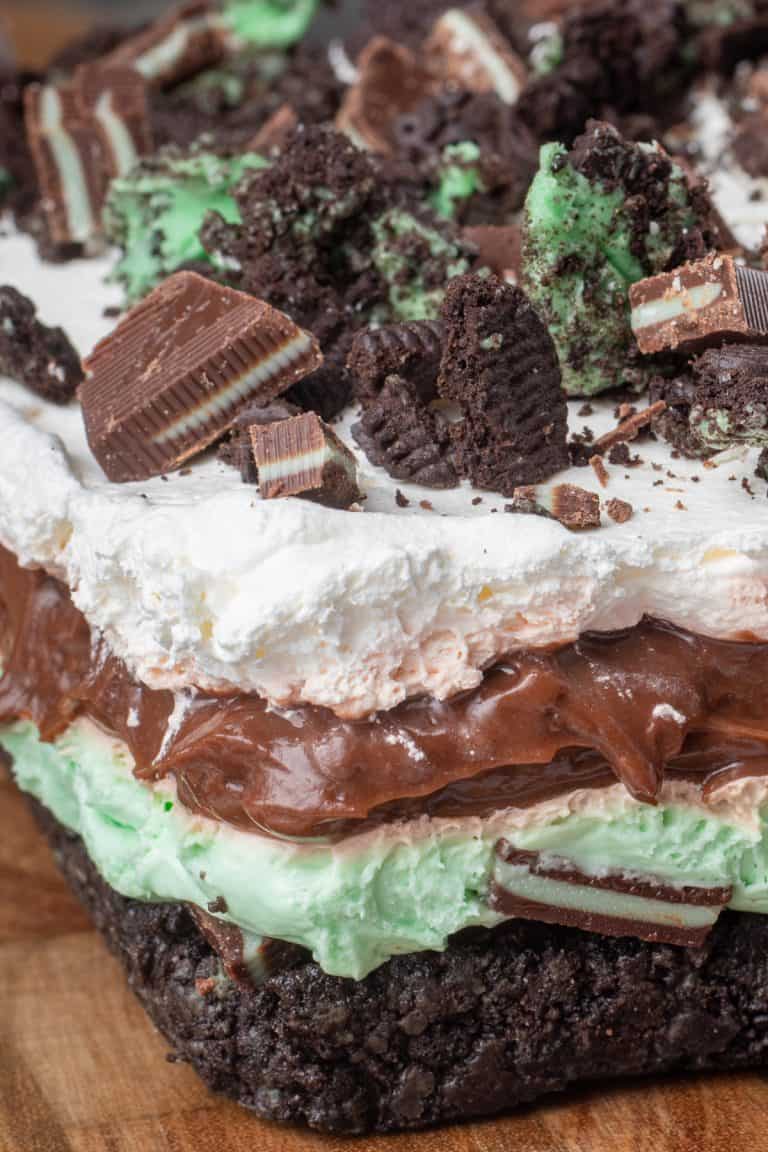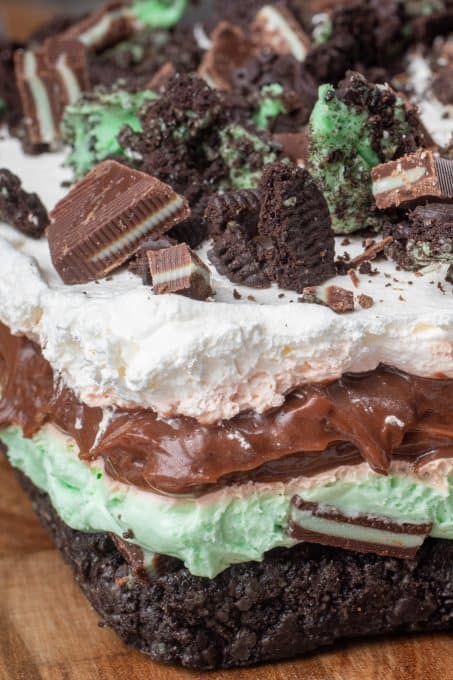 A no bake chocolate mint dessert no one can resist. These easy dream bars are packed with Andes mint candies, creme de menthe flavor and fudgy chocolate!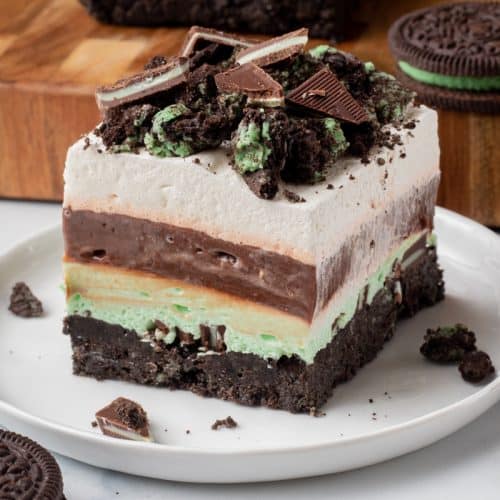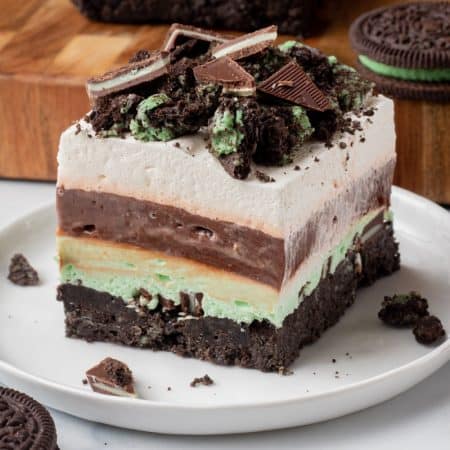 Chocolate Mint Dream Bars
Chocolate Mint Dream Bars are a no-bake dessert with layers upon layers of decadence. A mint Oreo crust is topped with sweet peppermint cheesecake filling, chocolate fudge pudding and chopped Andes mints in this easy chocolate mint dessert recipe! 
Ingredients
Crust
15.25 ounce package Mint Oreo cookies divided
5 tablespoons unsalted butter
4.6 ounces Andes Mint candies chopped, divided (about 26 candies)
Peppermint Layer
8 ounces cream cheese room temperature
½ cup confectioners' sugar
¼ teaspoon peppermint extract
7-10 drops green food coloring or until desired hue is reached
1 cup of Cool Whip below or Stabilized Whipped Cream
Pudding Layer
3.9 ounce box instant chocolate fudge pudding
1 ½ cups milk
8 ounce container Cool Whip or 1 recipe of my Stabilized Whipped Cream divided
Hershey's chocolate bar shavings if desired
Instructions
Prepare an 8 X 8-inch baking ban by lining it with parchment so that the edges come up on the sides, enabling you to easily remove the bars from the pan to slice before serving.
Crust
Place 24 Mint Oreos into a food processor and pulse to finely ground into crumbs.

In a medium microwavable bowl, melt butter for 20 – 30 seconds.

Pour the cookie crumbs into the butter and mix well.

Place the crumbs into the prepared baking pan and pat down firmly, spreading to all of the edges.

Put the pan into the freezer to set for a minimum of 30 minutes.
Peppermint Cream Cheese
In a mixing bowl, beat the cream cheese until soft.

Add the confectioners' sugar, peppermint extract and 5 drops of green food coloring.

Beat until thoroughly combined, scraping down the sides and bottom of the mixing bowl.

If desired, add more green food coloring until desired hue is reached.

Fold in one cup of Cool Whip until well mixed.
Pudding
In a medium bowl, whisk together the chocolate fudge pudding and milk.

Place into refrigerator to set.
Assembly
Chop 20 of the Andes Mints and evenly distribute them on top of the crust.

Place dollops of the peppermint cream cheese on top of the chopped mints and gently spread to the edges of the pan.

Place dollops of pudding on top of the cream cheese and gently spread.

Evenly (spread) the remaining Cool Whip over the pudding.

Place pan into the refrigerator for a minimum of two hours.

A half hour before serving, place pan into freezer. This will allow it to be sliced easily.

Chop the remaining Andes Mints.

If making chocolate curls, place the Hershey Bar into the freezer for about an hour before scraping a vegetable peeler down the side of the bar.

When ready to serve, lift bars out of the pan by the parchment.

Sprinkle the remaining chopped Andes Mints and chocolate curls on top.

Peel the parchment away from the sides and slice with a large knife. I find it easiest to slice them when the knife has been placed under some warm running water and then dried.
Nutrition
Serving: 1g | Calories: 589kcal | Carbohydrates: 72g | Protein: 7g | Fat: 32g | Saturated Fat: 18g | Polyunsaturated Fat: 3g | Monounsaturated Fat: 9g | Trans Fat: 0.3g | Cholesterol: 52mg | Sodium: 489mg | Potassium: 274mg | Fiber: 2g | Sugar: 50g | Vitamin A: 658IU | Calcium: 126mg | Iron: 7mg
Did you make this recipe?
Share it with me on Instagram and make sure to follow me on Pinterest for more recipes.
*We are a participant in the Amazon Services LLC Associates Program, an affiliate advertising program designed to provide a means for us to earn fees by linking to Amazon.com and affiliated sites.
These are links that can take you to a product (or products) that I recommend. I do receive a portion of the sales or credit for my future purchases from any items purchased through those links. Your purchases encourage my baking, cooking and butter habit, and contribute to the life of this blog. I thank you so very much for your support. Let's keep having fun in the kitchen!!
Reader Interactions