This No Bake Pumpkin Lush recipe will be your new go-to Fall and Thanksgiving dessert. Pumpkin desserts are extremely popular, but this easy homemade pumpkin dream bar is sure to go to the top of the list! With a gingersnap cookie crust, pumpkin cheesecake, pumpkin spice pudding, and Cool Whip, you'll enjoy the delicious pumpkin flavor and layer combination in every bite.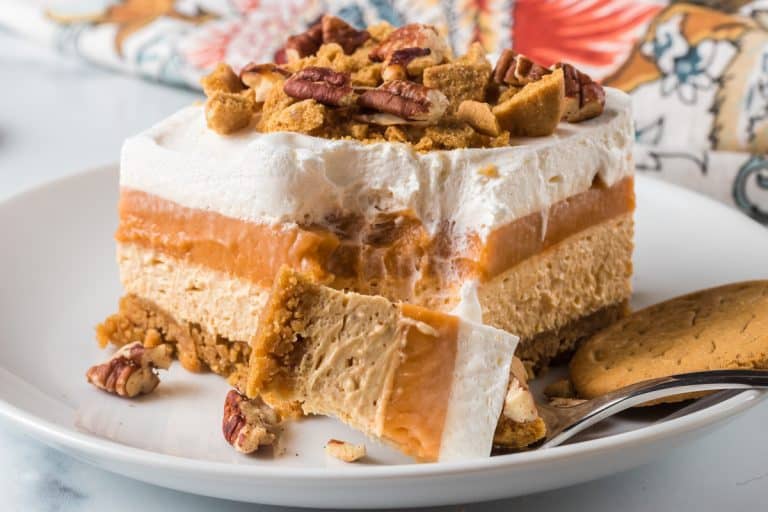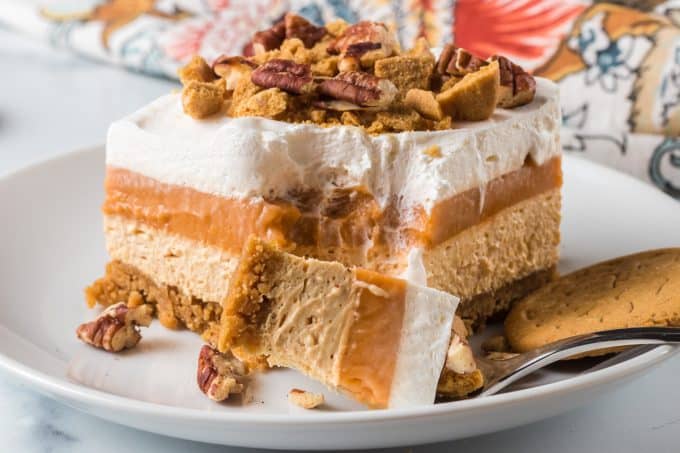 Similar to my extremely popular Chocolate Peanut Butter Dream Bars that started it all, this baby is an easy seasonal dessert recipe everyone will love.
AND, if you're on team Cool Whip Haters, this Stabilized Whipped Cream is a great substitute. Made with cream cheese instead of gelatin, this homemade whipped cream is like a really rich whipped topping and can be used in any of my dream bar recipes.
After all these years and over a dozen Dream Bar desserts later, can you believe it's taken me this long to come up with one specifically for Fall and Thanksgiving? I certainly can't. Seems like I've made a dream bar recipe for nearly every occasion. Hence the reason I had to make these. After all, if pumpkin spice lattes are super popular this time of year, why can't a pumpkin pie dream bar be up there as well?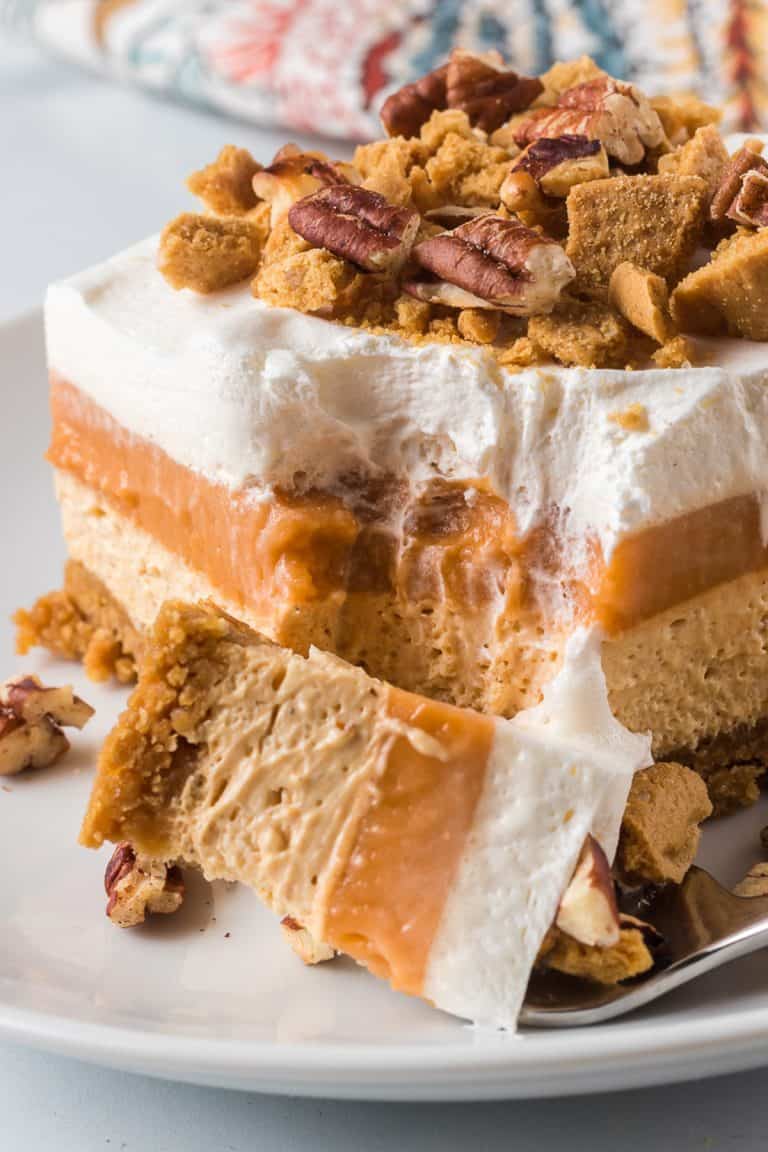 Cookie and Cream lovers go nuts for these Oreo Pudding Dream Bars. They're definitely one of my favorites, too. Besides the Dream Bars I've mentioned, I've also made Banana Pudding Dream Bars, Peanut Butter Cookie Dough Dream Bars, and Black Forest Dream Bars.
If you're a pumpkin lover, I think you're really going to love this easy pumpkin lasagna. With each bite, you'll taste layers of deliciousness and might even want to lick your plate clean. You can even make your own Homemade Pumpkin Spice to add to it, too!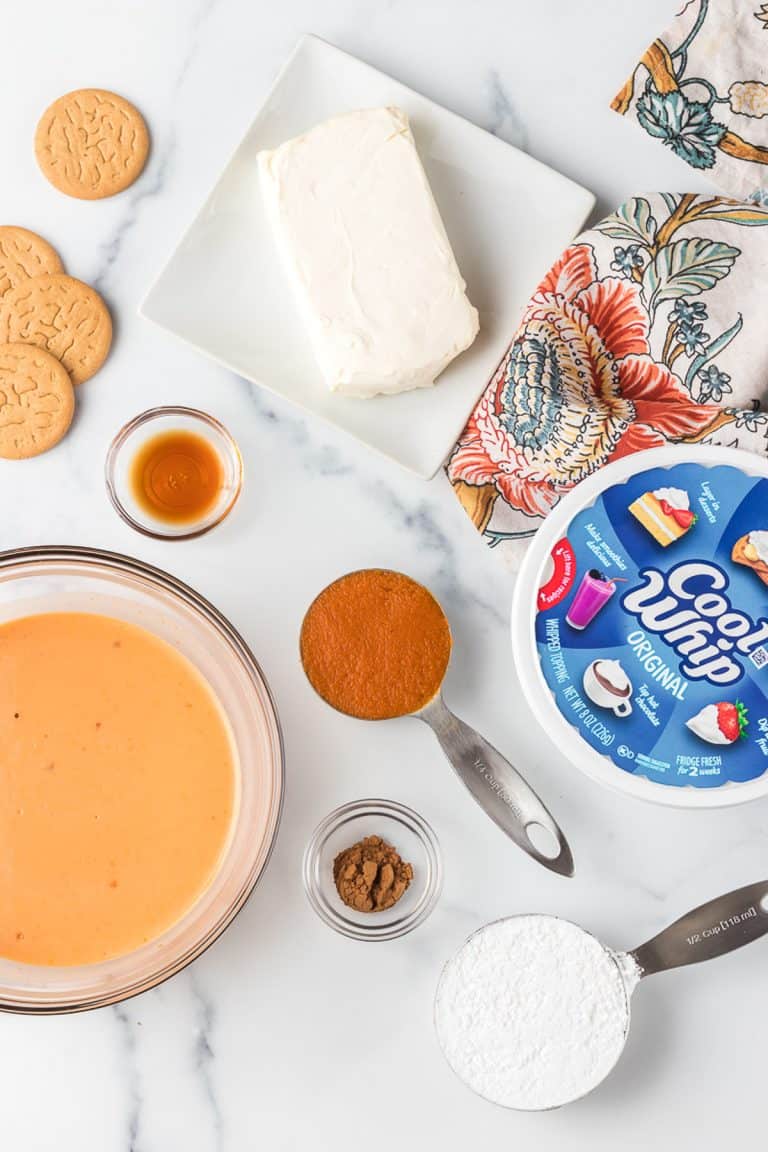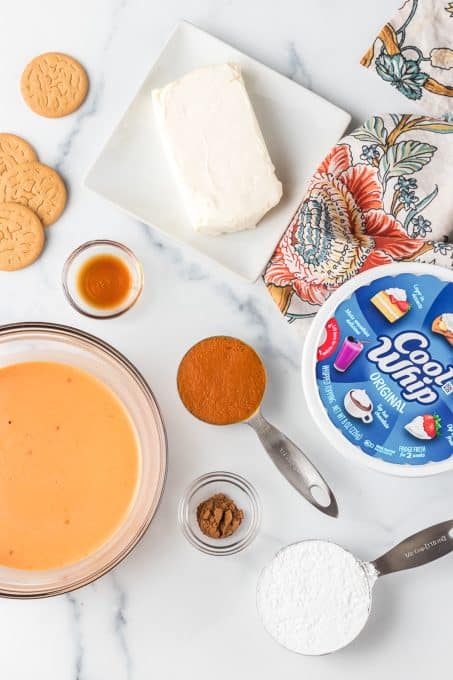 What do I need to make this easy pumpkin lasagna?
Gingersnap Cookies
You could also use graham crackers or Nilla Wafers
Butter
Instant Pumpkin Spice Pudding Mix
Can be found at your local Walmart, possibly your local grocery store or possibly on Amazon. If you can't find it, you can also use instant butterscotch or vanilla puddings.
Milk
Only use the amount directed in my recipe, NOT the amount on the pudding package.
Cream Cheese, room temperature
Confectioners' Sugar
Pure Pumpkin, NOT Pumpkin pie mix
Pure Vanilla Extract
Cool Whip of my Stabilized Whipped Cream recipe.
Chopped Pecans, toffee bits, and additional crushed Gingersnap cookies for garnish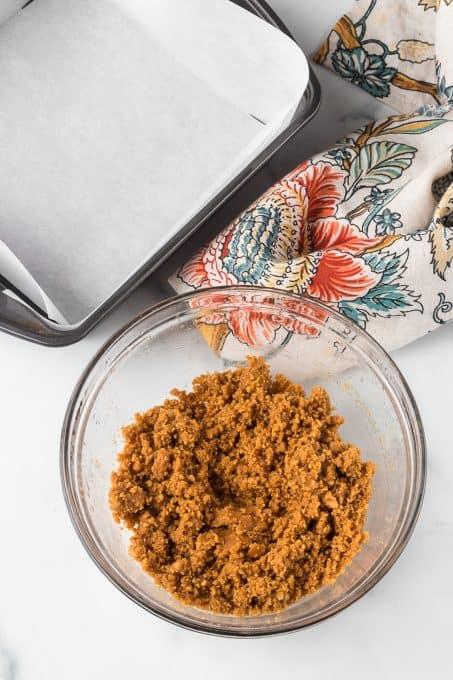 How do I make this easy pumpkin dessert?
Line a square baking pan with a piece of parchment paper and crush the gingersnap cookies into fine crumbs using a food processor or blender. In a small bowl, mix together the melted butter and cookie crumbs. Pour into the baking dish and press crumb mixture into the bottom of the pan make an even layer. Place into the freezer to harden for at least 30 minutes.
In a medium bowl, mix the pudding and milk together. Place into the refrigerator to set.
In a large bowl, using a stand mixer or hand mixer, beat the cream cheese until smooth. Add the pumpkin purée, confectioners' sugar, vanilla, and pumpkin pie spice. Mix well, and fold in one cup of the Cool Whip.
To assemble the filling ingredients, place dollops of the cream cheese pumpkin mixture on top of the cookie crust, and spread.
Gently spread the pudding on top.
Cover with the remaining Cool Whip or Stabilized Whipped Cream.
Refrigerate for a minimum of 4 hours. Sprinkle with chopped pecans and crushed gingersnap cookies before serving.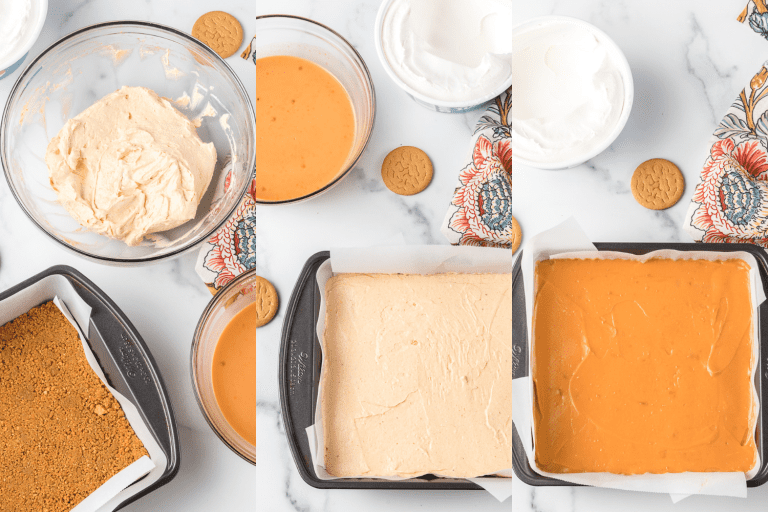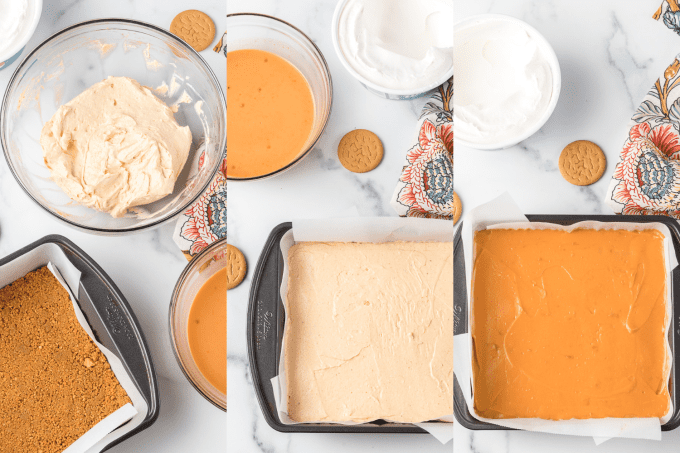 Tips to make this Pumpkin Dream Bar Recipe –
This recipe can easily be doubled! Just use a 9 X 13-inch baking dish and double all of the ingredients.
To easily remove the bars from the pan and easy slicing, line the pan with parchment paper. Leave the parchment a little longer up the sides so you can lift the whole dessert from the pan.
For a complete Fall flavored crust, use gingersnap cookies. If you don't like gingersnaps, you can use graham cracker crumbs or Golden Oreo cookie crumbs. Personally, I really liked the extra flavor the gingersnaps added.
The crust will harden after just 30 minutes in the freezer.
When making the pudding, be sure to use the 1 ½ cups of milk called for in the recipe and not as directed in the instructions on the box. We want the pudding to be a bit thicker, so that it will slice easily and won't be the slightest bit runny.
When combining the pumpkin cheesecake ingredients, be sure to scrape the sides of the bowl and bottom to make sure all ingredients are well blended. Then fold in the Cool Whip with a rubber spatula.
Refrigerate the bars for a minimum of four hours to harden, but overnight is best.
It's a perfect make-ahead dessert during your busy holiday season.
Also, if you're short on time, you can place the finished dessert into the freezer for an hour and a half and then serve.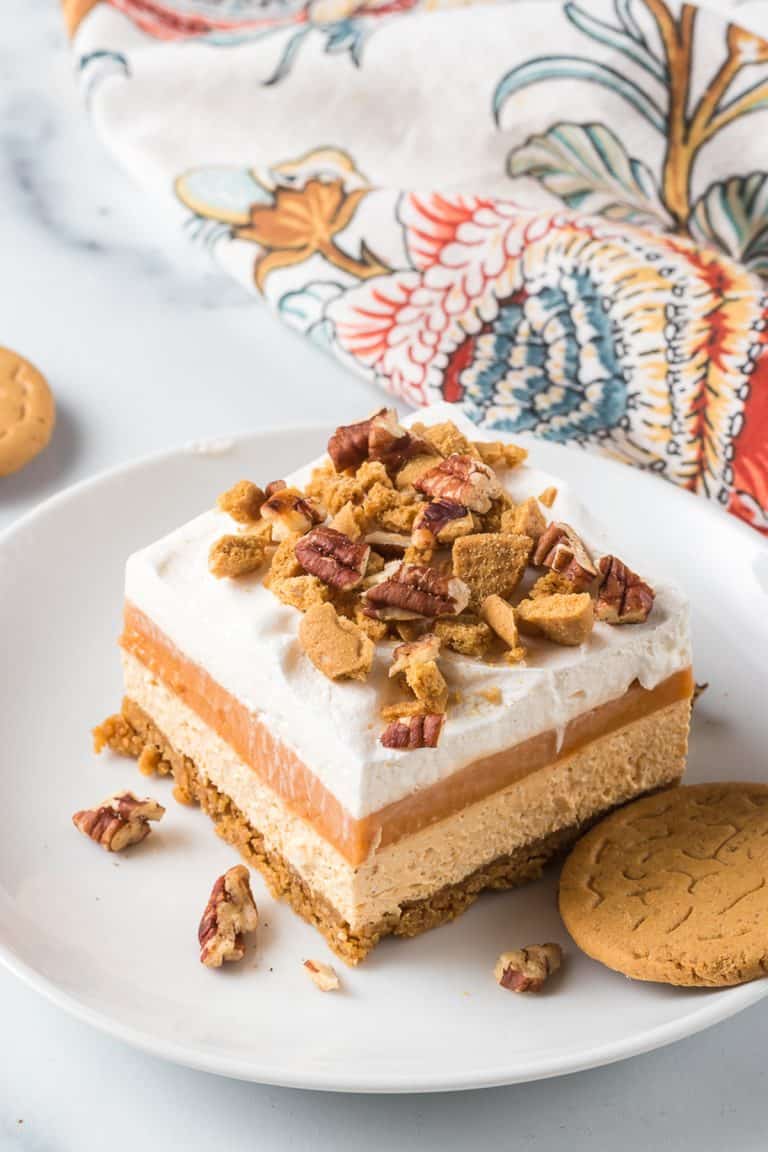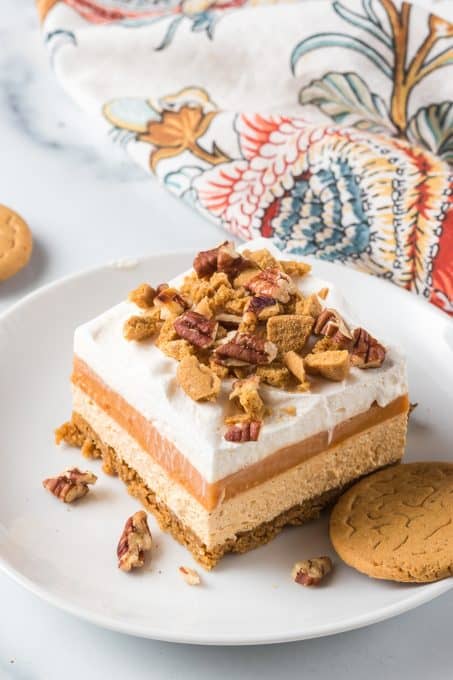 How do I store this layer bar?
To store leftovers (if there are any!), cover tightly with plastic wrap or transfer to an airtight container. They will last in the refrigerator for up to 5 days.
More Pumpkin Recipes
Looking for more delicious pumpkin recipes this Fall season? I've got you covered!
Do you want to bake a pumpkin cake? Make these Pumpkin Chocolate Chunk Cake or my absolute pumpkin favorite, this Chai Spiced Pumpkin Cake.
I've also got pumpkin for breakfast with these delicious moist Dairy-Free Pumpkin Muffins. This Pumpkin Spice Baked French Toast is always a favorite around here come Fall!
This Cream Cheese Pumpkin Bread is delicious with your morning cup of coffee or afternoon tea.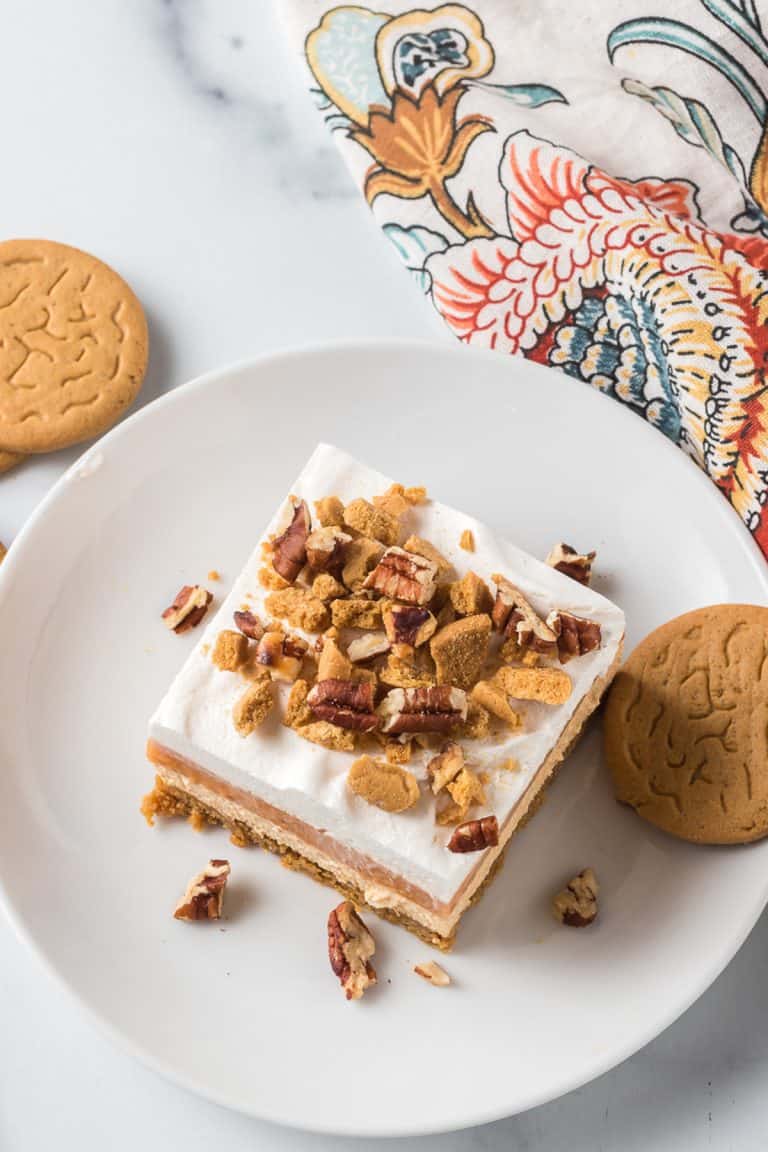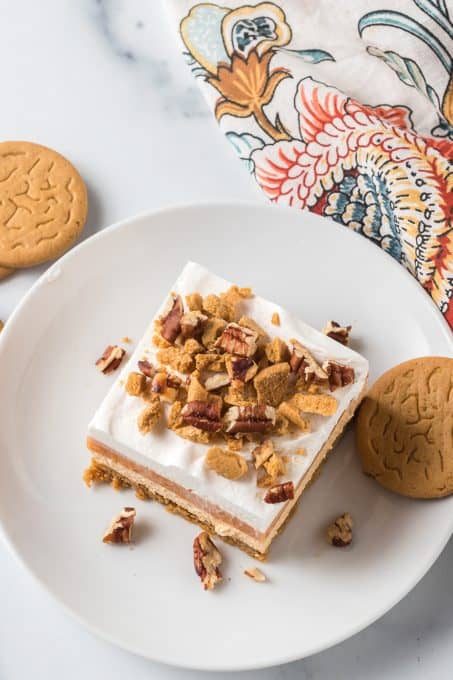 More Ideas to Use Up the Leftover Pumpkin
Since I only used a ¼ cup of pure pumpkin in this pumpkin dream bar recipe, you're sure to have some left after opening a new can. We have a dog named, Logan, and when he has tummy issues pumpkin is great for getting him back on track.
I have this collection of Homemade Dog Treats and some of them use pumpkin. I also stick any extra pumpkin in ice cube trays and place into the freezer for future use if I don't need it right away.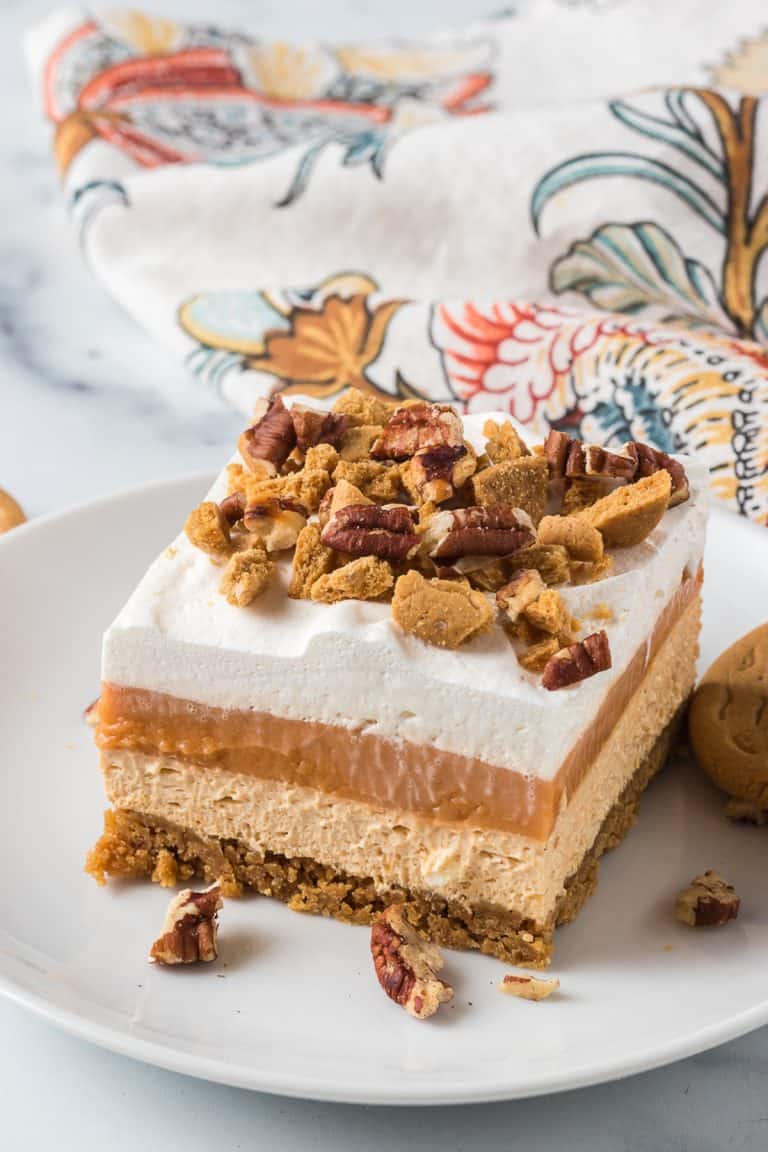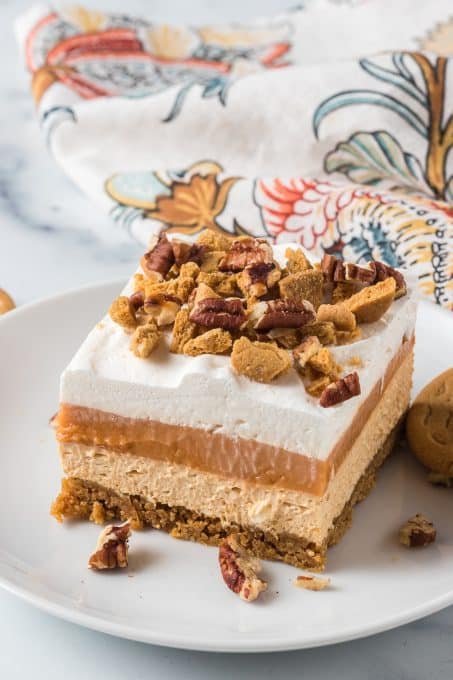 Dream Bar Recipes – My Favorite Desserts
If you like this pumpkin lasagna, this Peppermint Dream Dessert that is perfect for Christmas. Looking for a dream bar with an alternative to sugar than you need to put these Cranberry Orange Dream Bars on your menu!
Red Velvet Cherry Dream Bars are a must for your sweetheart on Valentine's Day. The Irish and anyone celebrating St. Patrick's Day will love these Chocolate Mint Dream Bars and Irish Cream Dream Bars.
Colorful and fun Circus Animal Cookie Dream Bars would be great for Easter or any child's (or adult's!) birthday celebration. Summer calls for this 365 fan favorite, Strawberry Cheesecake Dream Bars. You can't go wrong when fresh strawberries are in season.
And these Orange Creamsicle Dream Bars will surely transport you back to your childhood and running up to the ice cream truck.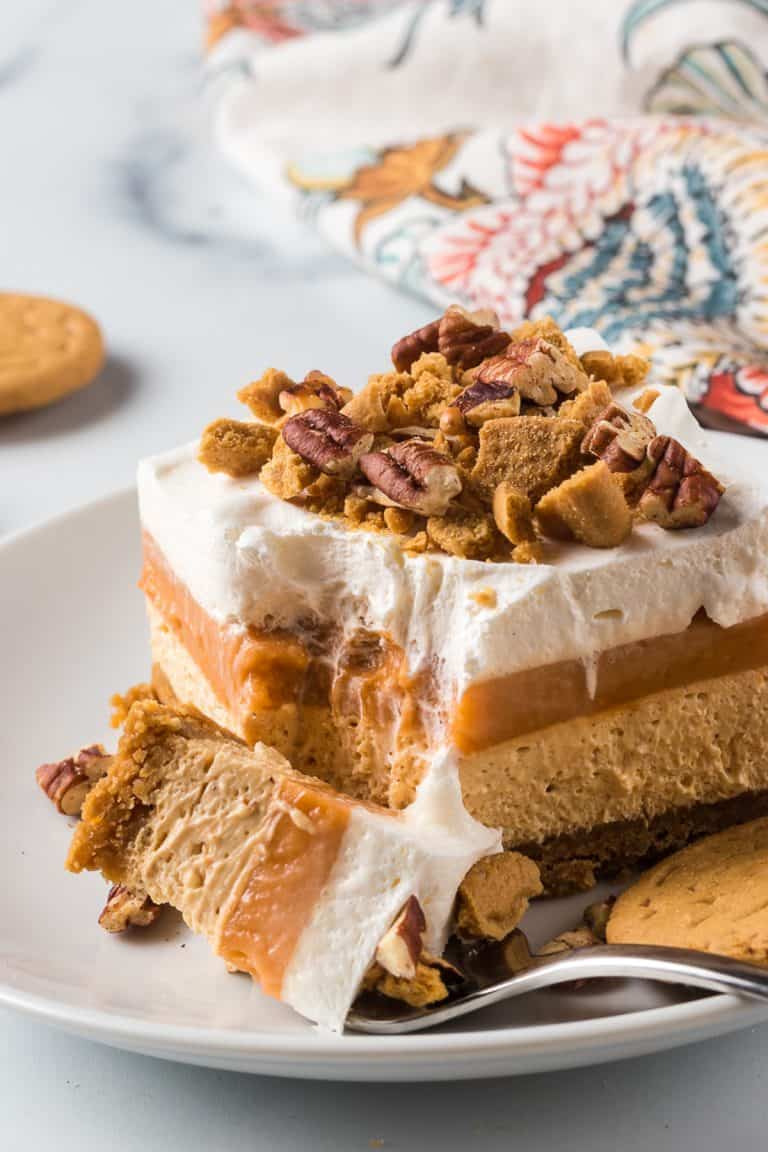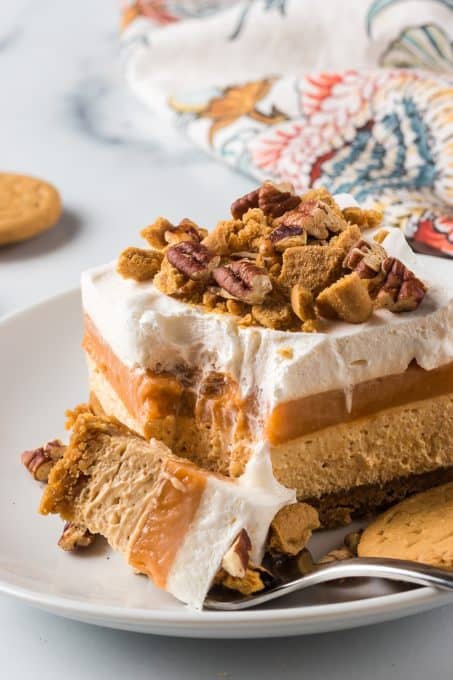 This cheesecake-like pumpkin dessert will be a huge hit this time of year. It's a delicious Pumpkin Dream Bar recipe that couldn't be more perfect for pumpkin season.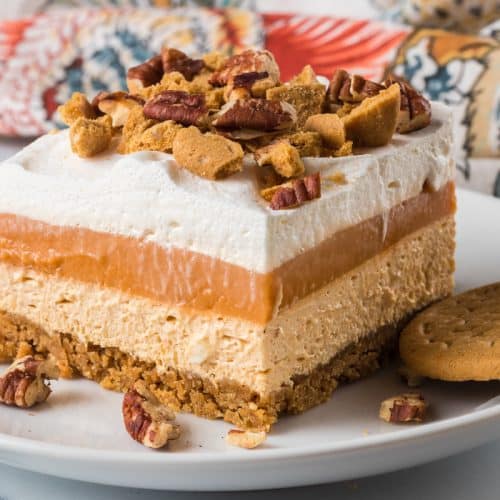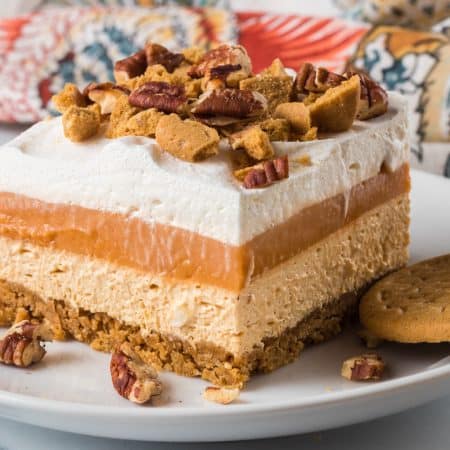 These No Bake Pumpkin Lush will be your new go-to Thanksgiving dessert. It's an easy layered dessert recipe with a Gingersnap cookie crust. With layers of pumpkin cheesecake, pumpkin spice pudding. and Cool Whip it's a creamy treat everyone will love.
Ingredients
Crust
1 ⅓ cups crushed Gingersnap cookie crumbs about 25 cookies depending on their size.
5 tablespoons unsalted butter
Pudding Layer
3.4 ounce package Pumpkin Spice Pudding Mix Can use butterscotch pudding if you can't find pumpkin spice pudding.
1 ½ cups milk
Pumpkin Cream Cheese Layer
6 ounces cream cheese room temperature
½ cup confectioners' sugar
¼ cup pure pumpkin puree
½ teaspoon pure vanilla extract
¾ teaspoon pumpkin spice
1 cup Cool Whip from container below
8 ounces Cool Whip divided
Chopped pecans and additional crushed Gingersnap cookies for topping, if desired
Instructions
Line an 8X8-inch baking pan with parchment paper. It will allow for easy removal and slicing of the bars.

In a small mixing bowl, melt the butter and add the Gingersnap cookie crumbs. Mix until well combined.

Pour crumb mixture into the bottom and pat down so that crumbs are spread evenly throughout the pan.

Place into freezer for a minimum of 30 minutes to harden.
Pudding Layer
In a medium mixing bowl, combine the pudding mix and milk called for in the directions, and whisk until well combined. Refrigerate for a minimum of 10 minutes.
Pumpkin Cream Cheese Layer
In a mixing bowl, beat the cream cheese until smooth.

Add the confectioners' sugar, pumpkin puree, vanilla, pumpkin spice and mix until well combined. With a rubber spatula, fold in one cup of the Cool Whip until completely combined.
Assembly
Place dollops of the pumpkin cream cheese on top of the frozen cookie crust and spread evenly to all sides of the pan.

Place the pudding on top of the cream cheese and spread.

Cover completely with remaining Cool Whip.

Place into refrigerator for a minimum of four hours (or overnight is best) or into the freezer for an hour and a half.

Sprinkle with chopped pecan pieces and additional crushed Gingersnap cookies, if desired.
Notes
I've been able to find Pumpkin Spice Pudding at our local Walmart and possibly on Amazon.
Nutrition
Serving: 1g | Calories: 324kcal | Carbohydrates: 39g | Protein: 4g | Fat: 17g | Saturated Fat: 10g | Cholesterol: 46mg | Sodium: 332mg | Potassium: 179mg | Fiber: 1g | Sugar: 25g | Vitamin A: 1617IU | Vitamin C: 1mg | Calcium: 109mg | Iron: 1mg
Did you make this recipe?
Share it with me on Instagram and make sure to follow me on Pinterest for more recipes.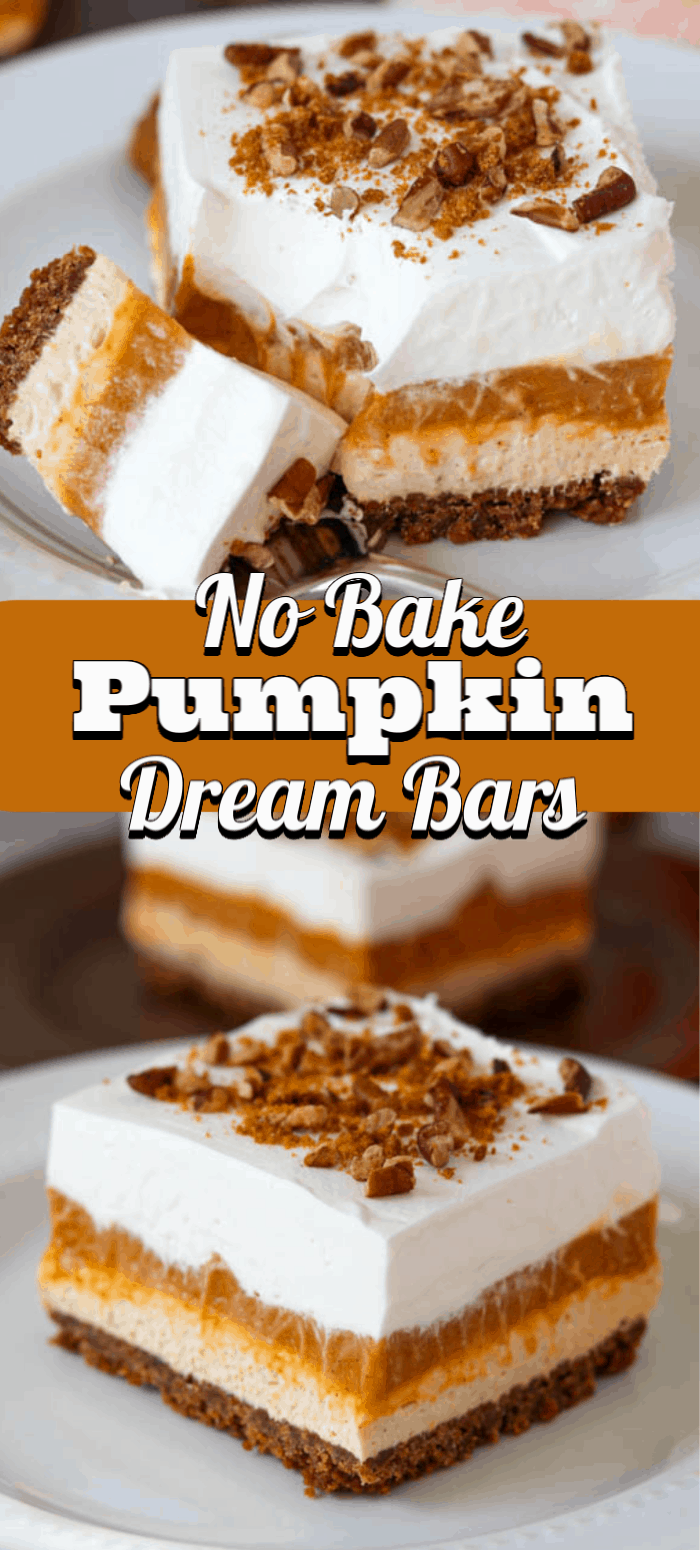 Reader Interactions