Quinoa Banana Bread – banana bread has always been a comfort food and this one's made extra special with the addition of quinoa, making it a bit more moist and a great way to start your morning with that extra protein!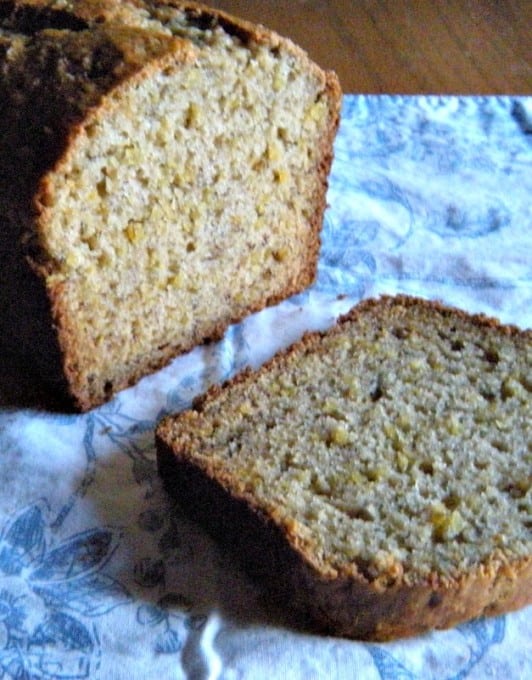 So, what's a girl to do when she's got overly ripe bananas on her counter and quinoa sitting in her pantry?
Combine the two to make quinoa banana bread, of course!
I found this recipe and slightly adapted it from So Says Sarah….
And when I did a Google search on how to cook the quinoa I found this wonderful site, Cooking Quinoa, on all things quinoa.  Ok, maybe not ALL things, but pretty darn close!  I can't wait to check out Wendy's quinoa recipes because I want to incorporate it into our diet more.
To cook the quinoa, I used 1 cup of dry quinoa with 1 1/2 cups water.  Wendy suggested using 1 cup quinoa with 1 1/4 cups water, but I knew I wasn't going to be using the third banana that was recommended in the recipe, so wanted to add a little extra moisture.  That amount resulted in almost 4 cups of cooked quinoa.
So, uh, yeah, look for another quinoa recipe coming soon to a blog near you!
I also cut the flour from 2 cups to 1 3/4 cups to make sure the bread would be moist.
How did it turn out?
Well, you'll just have to read the review.  😉
Quinoa Banana Bread – makes one loaf
1 3/4 cup flour
1/2 cup sugar
1 teaspoon baking soda
1 teaspoon baking powder
1/2 teaspoon cinnamon
1/2 teaspoon freshly grated nutmeg
1/8 teaspoon salt
2 ripe bananas, mashed
1 cup cooked and cooled quinoa
1 egg, lightly beaten
1/4 cup unsalted butter, melted
1/4 cup lowfat, plain Greek yogurt
Preheat oven to 350 degrees F.  Prepare a loaf pan by greasing it with butter.
In a medium bowl, combine flour, sugar, baking soda, baking powder, cinnamon, nutmeg, and salt.
In a large bowl, mix together bananas, quinoa, egg, melted butter and yogurt.
Add the dry ingredients, a half cup at a time, to the banana mixture, mixing thoroughly.
Pour into prepared loaf pan.
Bake for 50-60 minutes or until a toothpick inserted into the middle comes out dry.
I only baked mine for 50 minutes which surprised me because my oven usually is not so reliable.
I rate everything I make on a scale of 1-4 with 4 being the best and this Quinoa Banana Bread earned 3 1/2 rolling pins.
Mr. 365 chimed in and thought it should be given a 4 which surprised me because 1, I thought for sure his rating days were over because he said he was "retiring" and 2, he really likes the banana bread I make from my Better Homes and Gardens Cookbook.
I liked it well enough to give it a 3 1/2, but I don't think it's quite a 4.
Sorry, babe.
But it's my blog and I have the final say.  So, that's my story and I'm stinking to it.  Haha, typo…stinking to it.  I'll leave it just to make you smile.
The quinoa made it quite moist and the texture was definitely different.  It was very similar to our usual banana bread, but at times (not really at times, at certain bites, I guess) it was kind of crunchy, but not really.
I DON"T KNOW!!!
This review is really of no help to you, now, is it, because this blogger can't accurately describe the recipe she made.
Ok, bottom line.
I may make this again, but I prefer my other recipe.
Is that wrong?
Well, it's good to try new things anyway.
If you make it, let me know what you think!
I give you BIG baking hugs and muffins!!