Easy snacks are essential when you're bouncing around the town with the youngsters. Try this baked Banana Chips recipe that'll keep the kids full until dinner time!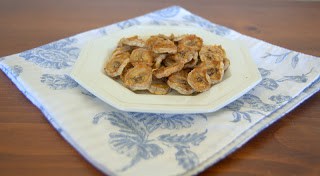 Baked Banana Chips don't get the glory they deserve. Is that a bold statement? After making them myself I'm convinced that these snacks are seriously underrated . . . as long as they're homemade!
After claiming that banana chips are underrated I'm going to take a full 180.
I HATE the banana chips that come in trail mixes and are in those bulk bins at the stores. Ick! Ooh, I don't want to make those!
These easy homemade baked banana chips, though? THESE are worth writing home about.
As it is, I'm picky about the way I eat bananas. I will eat a banana plain or in banana bread. Alright, I'll eat it in just about any kind of good baked good, too. Give me ALL the Banana Tres Leches Cake and Chocolate Banana Muffins, please.
But put it into (most) smoothies, or on a banana split and I don't want any part of it. My only exceptions are this Banana Mocha Smoothie Bowl and this Blueberry Banana Smoothie Bowl. Weird, I know.
So when I decided to make this banana chip recipe, I wasn't sure what to expect.
Banana Chips Recipe
The 365 family (or at least the 4 who reside here now) were going on a hike up north on Saturday. I had a hair appointment at 9 am which was going to last about 2 hours and we were planning on leaving about 1/2 hour after I returned home.
After our planned hike, we were driving to meet our eldest daughter to take her out to dinner since we would be somewhat in her proximity. That meant we probably wouldn't be getting back home until about 9 pm or so.
Needless to say, at that time of night, I was NOT going to be baking something. Just even forget about the fact that I wasn't going to have any natural light with which to take my pictures.
SAVE THIS BANANA CHIPS RECIPE TO YOUR FAVORITE PINTEREST BOARD!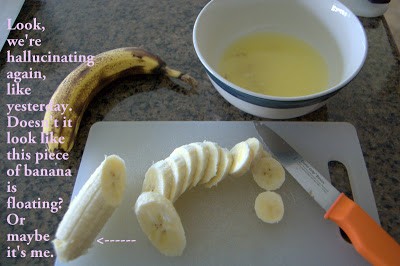 So, I got myself out of bed around 6 am to finish baking the meatballs I had stuck in the fridge from the night before, and perused the internet for something that I could both bake and take on the hike with us.
Two browning bananas on the counter were my focus.
~ FOLLOW ME ~
~ FACEBOOK ~ PINTEREST ~
~ INSTAGRAM ~ TWITTER ~
SIGN UP FOR THE WEEKLY
365 DAYS OF BAKING & MORE
NEWSLETTER BELOW!
I decided on banana chips, thinking, "This is going to be like Fear Factor for me. I'm going to have to gag it down just to give it a rolling pin rating.
Don't worry, being dishonest is NOT something I want to be here on 365. I am tasting EACH and EVERY thing that I make so that you can have an honest review to base your opinion on, even if it's no good at all.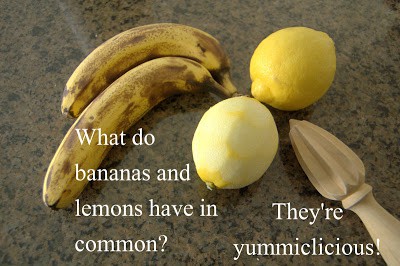 So, I made them anyway. The recipe is adapted from Home Made Simple and couldn't have been any easier.
How are banana chips made?
These banana chips are made in the oven. You slice a ripe banana thinly and bake it at low heat.
Banana Chip Ingredients
Banana chips are an ideal homemade snack to make when you're low on groceries because they only *require* two ingredients:
Bananas and lemon juice!
In this version, you also sprinkle them with a little bit of cinnamon which was a delightful addition. I suppose it's not strictly necessary if you want a more plain Jane banana chip, but if you have the cinnamon around I recommend adding it.
You dip the banana slices in lemon juice and bake them for three hours. Other than flipping them half way through cooking, you don't have to fuss over these puppies while they bake. Throw them in the oven in the morning and get other projects started while the banana chips bake!
Banana Chips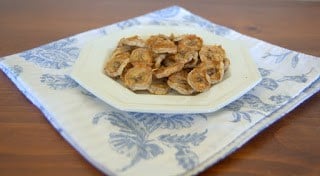 Ingredients
2 Medium Bananas
Cinnamon for sprinkling
½ cup freshly squeezed lemon juice
Instructions
Preheat oven to 200 degrees. Prepare a baking sheet with parchment and spray it with cooking spray.

Peel the bananas and slice them 1/4-inch thick. Dip them into the lemon juice to coat both sides.

Place onto the prepared baking sheet and sprinkle slices with cinnamon.

Bake for 3 hours total. Flip slices over after 1 1/2 hours and then bake for the remainder until golden and crispy.
Nutrition
Calories: 6kcal | Carbohydrates: 1g | Potassium: 25mg | Vitamin A: 5IU | Vitamin C: 0.7mg
Did you make this recipe?
Share it with me on Instagram and make sure to follow me on Pinterest for more recipes.
Easy Homemade Banana Chips
These may not be the most attractive thing I've ever baked, but…
I have to say that these Banana Chips didn't taste ANYTHING like those hard (and what I call blechy)chips in the grocery stores.
THESE WERE DELICIOUS!! EVEN I LIKED THEM!!
I rate everything I bake and it was unanimous that these Banana Chips should earn 3 1/2 rolling pins. They were not as crisp as they probably should have been, but that was part of their greatness, too.
The moment I started to chew one of them, it took me right back to when the kids were babies and I fed them their jarred bananas. I loved those baby food bananas! Oh, my goodness, and these chips were so incredibly sweet and yummy!! They tasted just like that baby food.
They were even a little chewy. They were getting stuck to my teeth, but I liked that. I think you'll like this healthy snack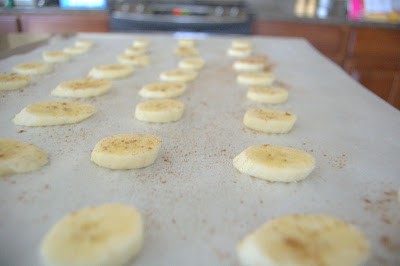 The cinnamon adds the perfect amount of spice and makes your kitchen smell heavenly.
I ate a few fresh from the oven, then packed the rest in a container to take on our hike. They were so easy to transport and all four of us loved noshing on them to keep energy levels up throughout the day!
I can totally see myself making these again for road trips, air travel or any other time when I know I'll need a light snack on the go. When my kids were little, these would have been the perfect food to stash in my purse to keep hangry toddler meltdowns at bay!
I know I'm not the only one when I have the sudden urge to snack the day away. Why not make those snacking hours productive with some really tasty ones.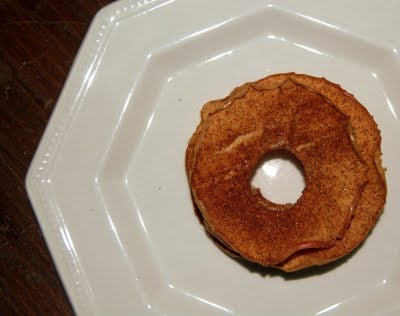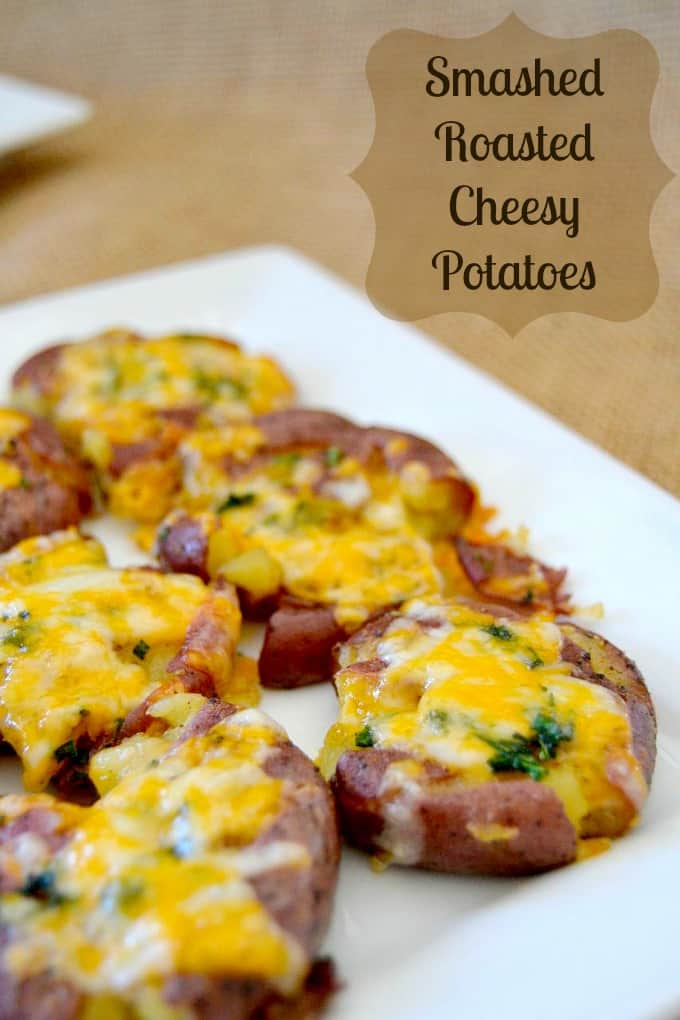 More Banana Recipes. . .
If you like banana treats, you're going to love these other recipes!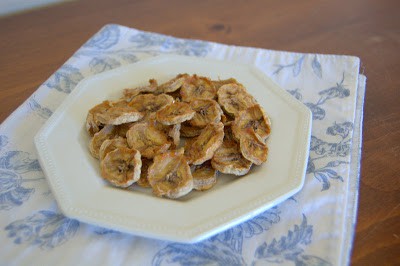 Banana chips may not be the quickest thing to make for the family, but bake these up for the kids while they're in school and see their reaction when they come home and take a bite!
Reader Interactions