Circus Animal Rice Krispie Treats are a traditional treat with an extra pop of color! Chewy rice cereal treats complete with small pieces of frosted animal cookie inside and on top. Using a favorite kid cookie, marshmallow mixture, rainbow sprinkles and a pink candy drizzle, these treats are perfect for the kids and the kids-at-heart.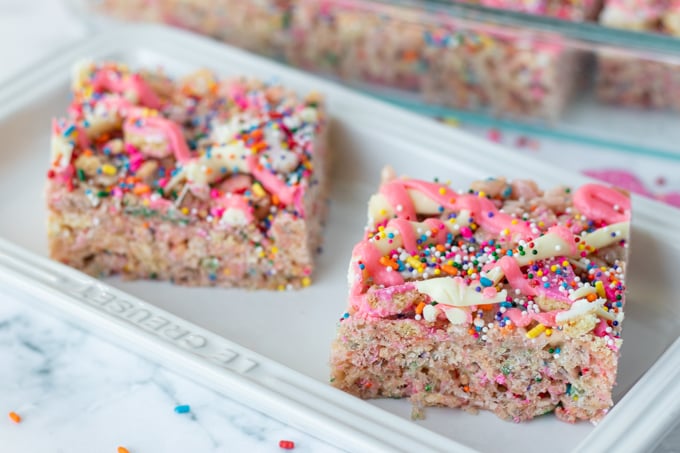 Remember these Circus Animal Cookie Dream Bars? Here's another no-bake recipe infused with the sweet frosted cookies you remember from childhood!
As far back as I can remember I have loved, loved, LOVED Rice Krispie Treats!
The crisp rice cereal, ribbons of gooey marshmallow, the sweet chewy taste. What's not to love?
SAVE THIS KRISPY TREATS RECIPE TO YOUR FAVORITE PINTEREST BOARD!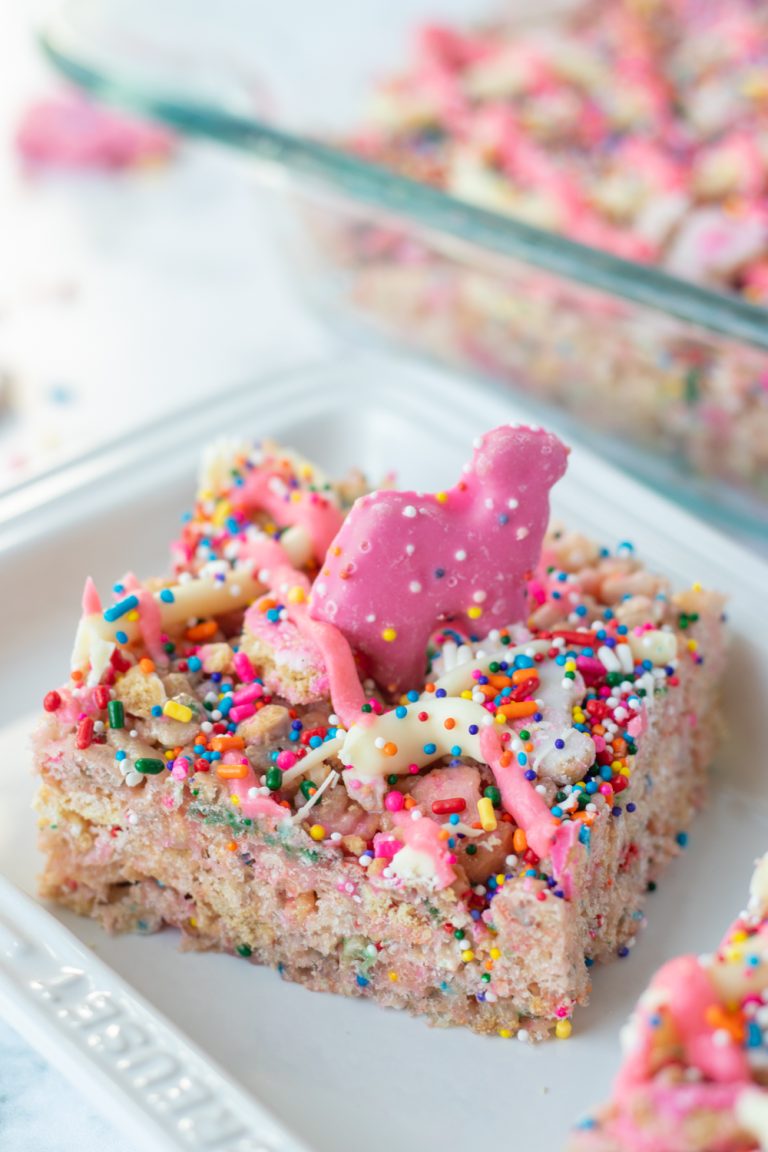 Today I'm combining two childhood favorites—rice krispies and circus cookies —in one easy dessert recipe. If you love the taste of the classic treats but want to make something with a little more pizzazz, this kid friendly dessert is just the ticket.
Crushed cookies folded inside.
Festive nonpareil sprinkles!
Pink and white drizzle for a sweet finishing touch.
Easy no bake recipe!
How amazing will these look on the dessert table at your next birthday party or bake sale? Totally adorable.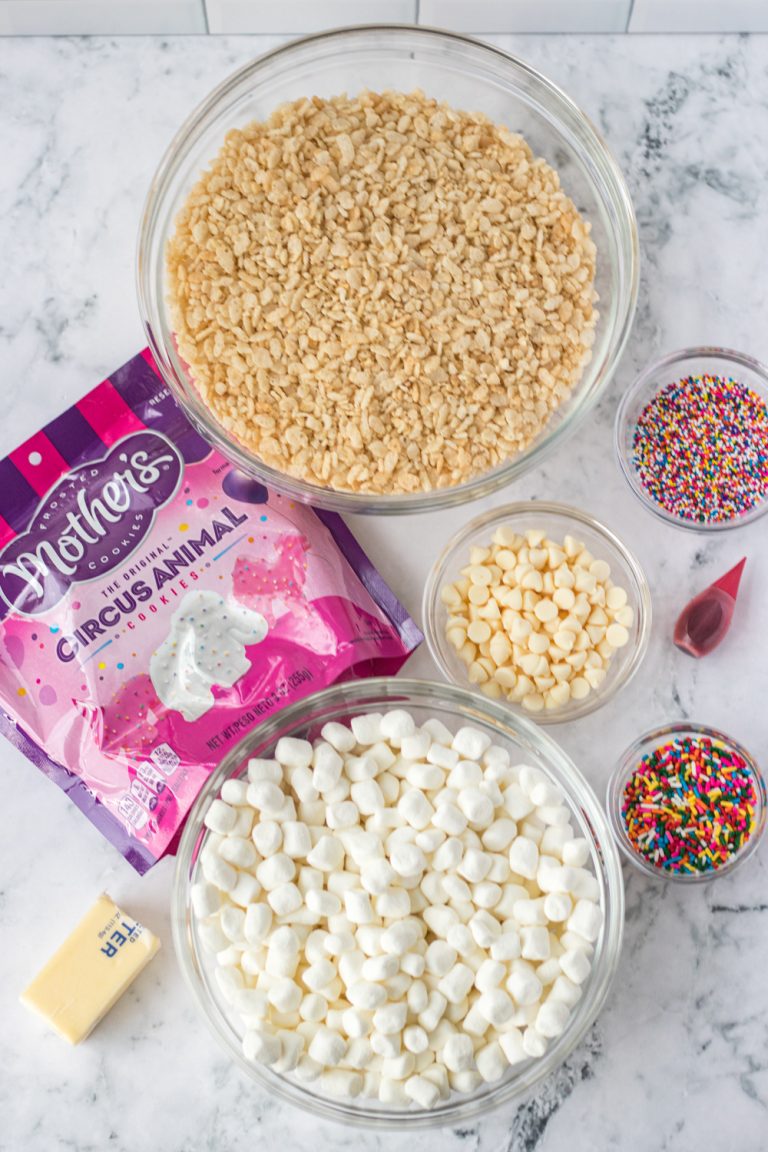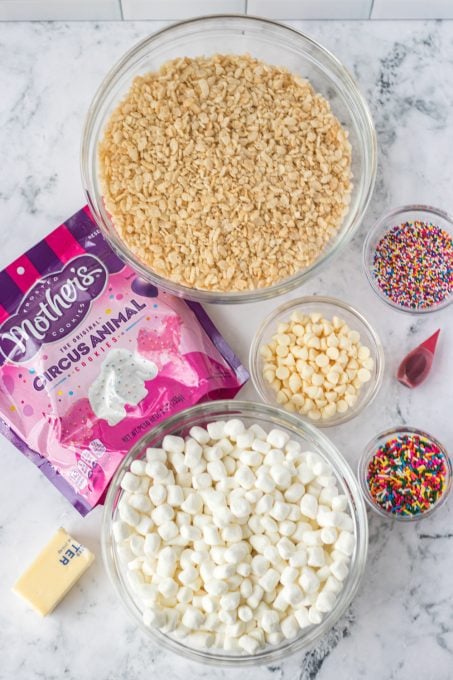 What do I need?
Circus Animal Rice Krispie Treats have the familiar ingredients of the classic rice krispies recipe, with a few additions. Here's what you'll need.
Circus Animal Cookies – If you're not familiar with these, they're like animal crackers dipped in white chocolate and sprinkles!
Marshmallows – Make sure they're fresh!
Rice Krispies Cereal – Or use a generic brand of popped rice cereal.
Butter – I recommend unsalted for this recipe.
Rainbow Nonpareils – These are the small round sprinkles.
White chocolate chips – For melting and drizzling over the bars.
Red food coloring – This is optional if you prefer to leave the white chocolate white!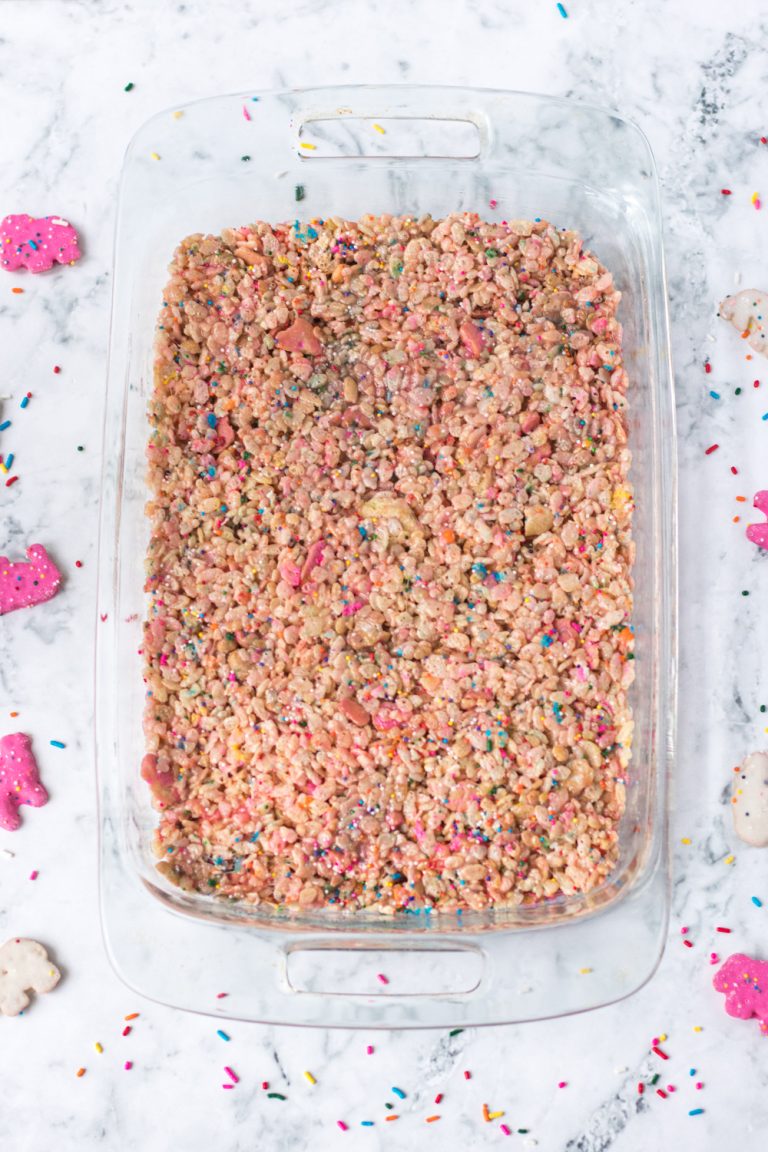 How do I make them?
This is one of the easiest circus animal cookie desserts you can make.
STEP 1: Make cookie crumbs.
Pulse the circus animal cookies in a food processor few times. You should have a combination of crumbs and larger cookie pieces left.
STEP 2. Rice Krispie Treats.
Now melt your tablespoons butter and marshmallows together in a pot on the stove. Stir regularly until they're well combined. Add the crushed cookies, cereal and a spoonful of the sprinkles to the pot. Mix until combined. Gently press the Rice Krispie mixture into a greased baking dish.
Melt your white chocolate chips in the microwave. Transfer half of the melted chocolate to a ziploc bag. Add a couple of drops of food coloring to the remaining chocolate to turn it pink!
Now add the pink chocolate to a separate bag. Snip off a corner of each bag and drizzle the melted chocolate over the rice krispie treats. Immediately sprinkle with the remaining nonpareils.
Let the chocolate set then slice, serve and enjoy!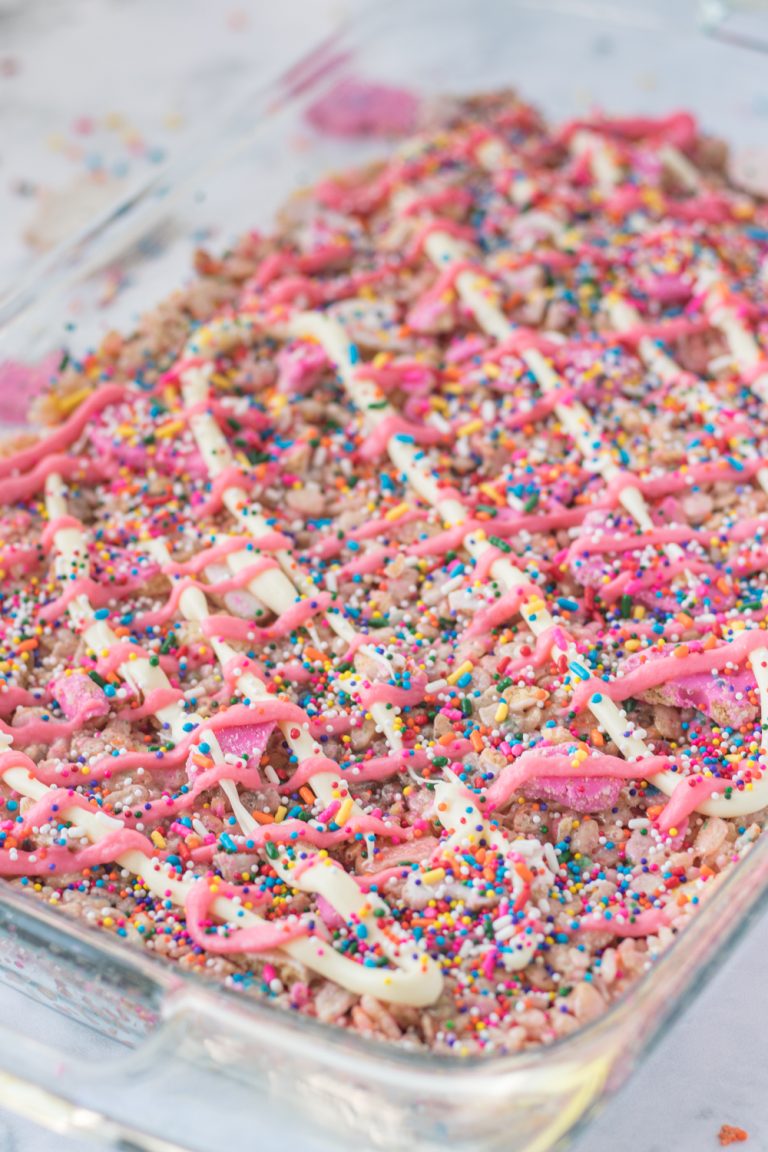 How do I store Rice Krispie Treats?
Like most Rice Krispie Treats, these circus animal dessert bars should be stored in an airtight safe container at room temperature.
I don't recommend chilling or freezing them. Cold crispy rice treats tend to get hard quickly and freezing affects the perfect chewy texture.
Tips & Tricks
Use non stick cookware! A nonstick pot makes mixing the treats (and cleaning up afterward) so much easier. I use an Anolon sauce pan, which I reviewed here.
Don't press too hard. The harder you press the treats into the pan, the denser and harder the finished bars will taste.
Use lots of baking spray! Rice Krispie Treats are STICKY by nature. Don't forget this crucial step, unless you want to spend your day scraping stuck treats off a pan.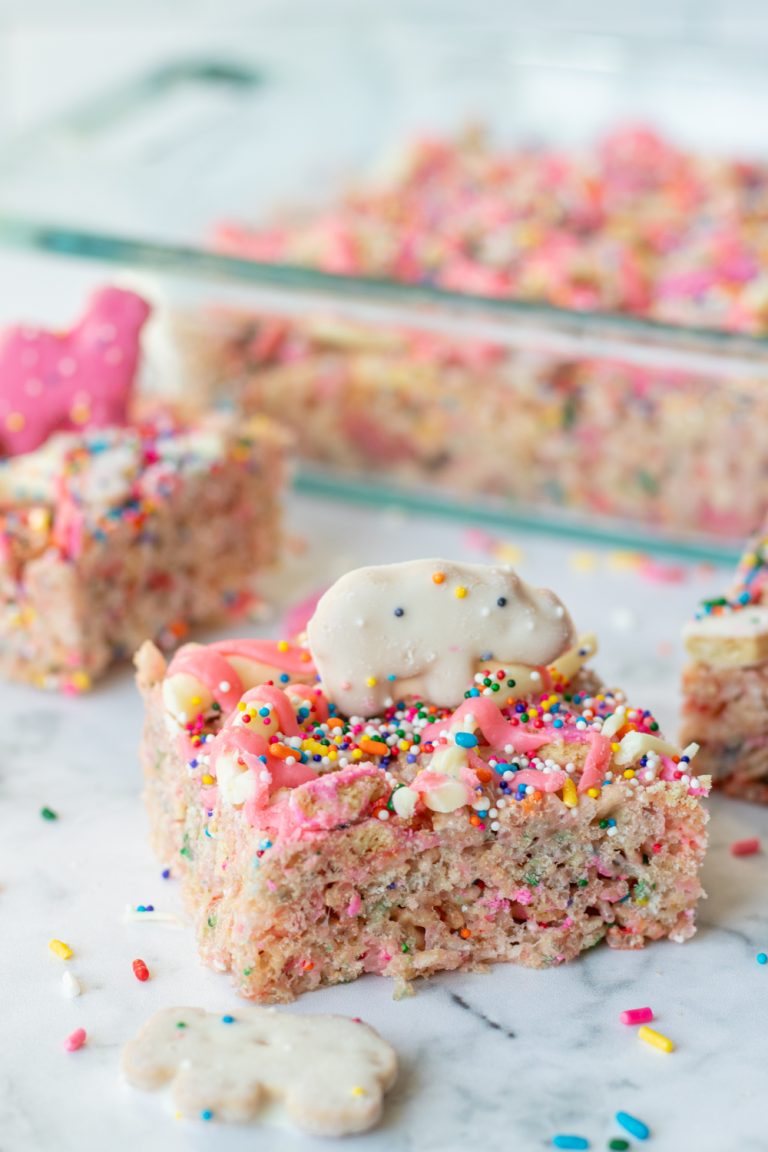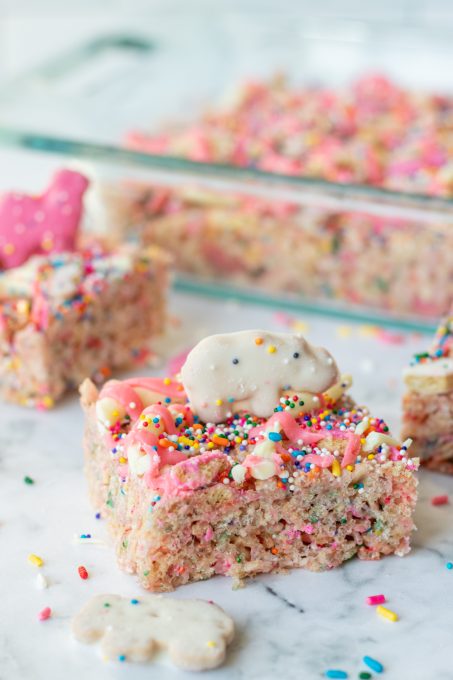 Rice Krispie Treat Recipes
When my mom made Rice Krispie Treats in the '70s she always made them the original way. Never any toppings, mix-ins or flourishes!
I had no complaints back then about my favorite snack as a little kid, but as an adult, I like to get a little more creative. These Cinnamon Rice Krispies Treats are inspired by the cinnamon-sugar topping you love on snickerdoodles. When I needed a quick no bake treat for a birthday party, I created these Cake Batter Krispie Bars.
Did you know Rice Krispie Treats were invented by the Kellogg company as a fundraiser for the campfire girls? I think the campfire girls would feel right at home snacking on these S'Mores Rice Krispie Treats too!
Can't resist sneaking a little peanut butter into everything? My Butterfinger Rice Krispies Treats and Reese's Peanut Butter Rice Krispies Treats are just your style.
For those of us who crave sweet and tart treats, Lemon Meringue Rice Krispie Treats are a pure delight. So much easier than making a lemon pie from scratch too!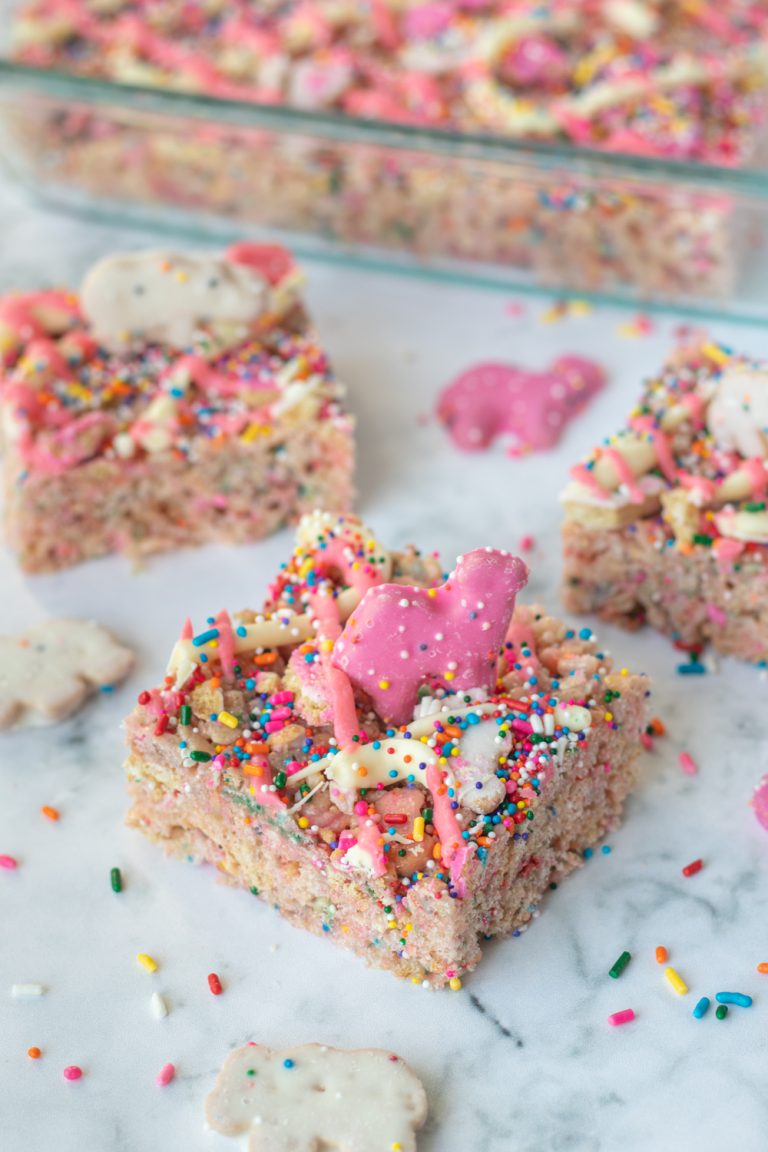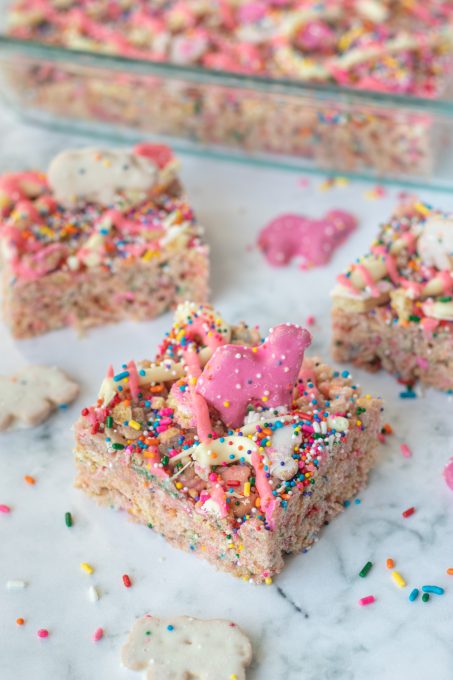 Easy No Bake Recipes
Whether your oven is out of commission or you're looking to keep your kitchen a little cooler this summer, here are a few of my favorite no bake desserts. Every one of them is kid approved and a breeze to make.
Did you ever know there were so many ways to bake without even touching the oven? You'll never run out of new no bake dessert ideas to try!
I cannot wait for you to try these Rice Krispie Treats with circus animal cookies recipe. Your sweet tooth will be so pleased you did!
SIGN UP FOR THE WEEKLY
365 DAYS OF BAKING & MORE
NEWSLETTER BELOW!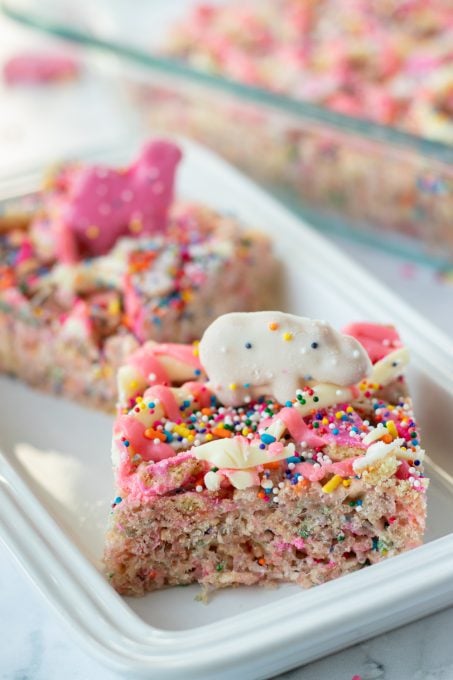 Everyone's face lights up when they catch a glimpse of these Circus Animal Cookie Rice Krispie Treats!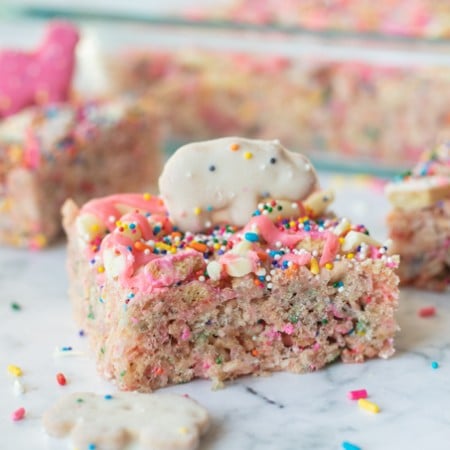 Circus Animal Cookie Rice Krispie Treats
Circus Animal Rice Krispie Treats are a traditional treat with an extra pop of color! Chewy rice cereal treats complete with small pieces of frosted animal cookie inside and on top. Using a favorite kid cookie, marshmallow mixture, rainbow sprinkles and a pink candy drizzle, these treats are perfect for the kids and the kids-at-heart.
Equipment
Food processor or blender

9 X 13-inch baking dish

large non-stick pot

2 sandwich bags

scissors

2 small mixing bowls
Ingredients
9 ounces Circus Animal Cookies
10 ounces mini marshmallows
6 cups Rice Krispies cereal
4 tablespoons unsalted butter
3 tablespoons multi-colored nonpareils divided
3 tablespoons colored sprinkles divided
½ cup white chocolate chips
red food coloring
Instructions
Prepare a 9 X 13-inch baking dish by spraying it with cooking spray.

Place all of the circus cookies into a food processor and pulse 3 – 4 times until cookies are in both crumbs and small pieces. Reserve 1/2 cup of the cookie pieces to sprinkle on top.

In a large pot, melt the butter and marshmallows over low heat, stirring often.

Remove from heat. Add the Rice Krispies, crumbled cookies and 1 tablespoon of the nonpareils and 1 tablespoon of the sprinkles to the pot. Mix until well combined. Sprinkle in 1 tablespoon of the nonpareils and 1 tablespoon of the sprinkles, and mix again.

Place the mixture into the prepared baking dish and evenly spread into the pan with a rubber spatula.

Sprinkle the remaining crumbled cookies on top.

In two small bowls, place 1/4 cup of white chocolate chips. Microwave for 30 seconds. Stir until chips are melted and chocolate is smooth and creamy.

Place the contents of one bowl into a zipper top sandwich bag. Cut a small piece off one of the corners and drizzle over the top of the Rice Krispie treats.

Put in a very tiny amount red food coloring into the other bowl of melted white chocolate and stir. Add more food coloring until desired hue of pink is achieved. Do not add too much at first (as I did) because it will turn red and there's no turning back at that point. If you find that the chocolate is becoming too thick to stir, add 1/2 teaspoon of the heavy cream and stir until smooth. You will not need to reheat.

Place the pink chocolate into a zipper top bag, cut of a small corner and drizzle in opposite direction of the white chocolate.

Sprinkle with remaining tablespoon of nonpareils and sprinkles.

Cool until set.
Nutrition
Serving: 1bar | Calories: 299kcal | Carbohydrates: 51g | Protein: 3g | Fat: 10g | Saturated Fat: 5g | Polyunsaturated Fat: 1g | Monounsaturated Fat: 4g | Trans Fat: 0.1g | Cholesterol: 9mg | Sodium: 177mg | Potassium: 91mg | Fiber: 1g | Sugar: 30g | Vitamin A: 841IU | Vitamin C: 7mg | Calcium: 19mg | Iron: 6mg
Did you make this recipe?
Share it with me on Instagram and make sure to follow me on Pinterest for more recipes.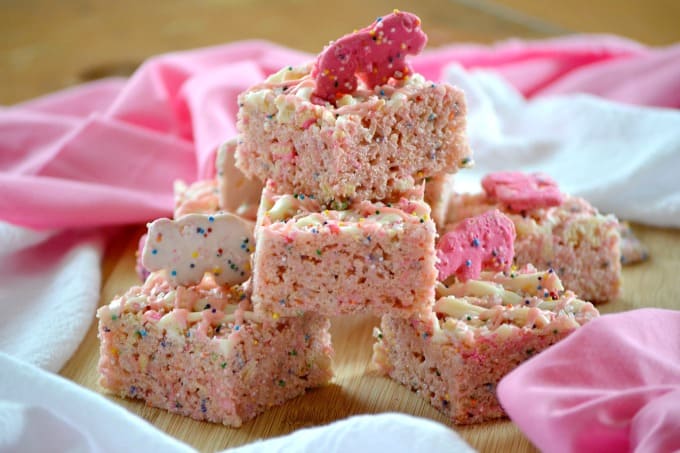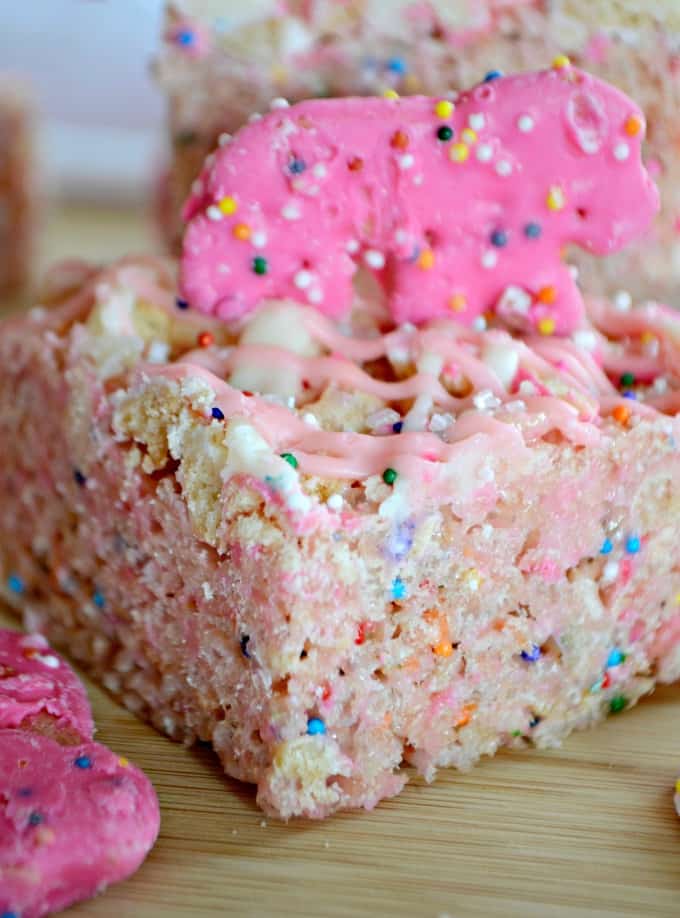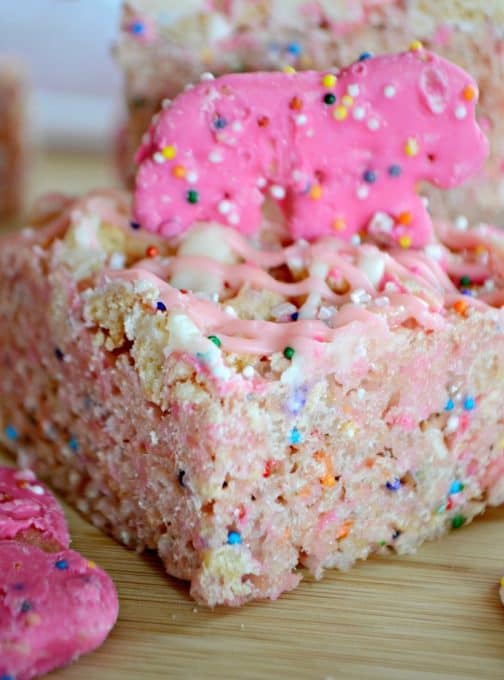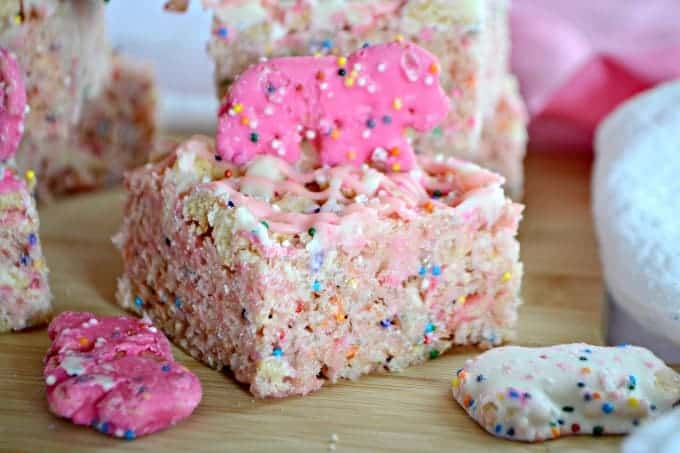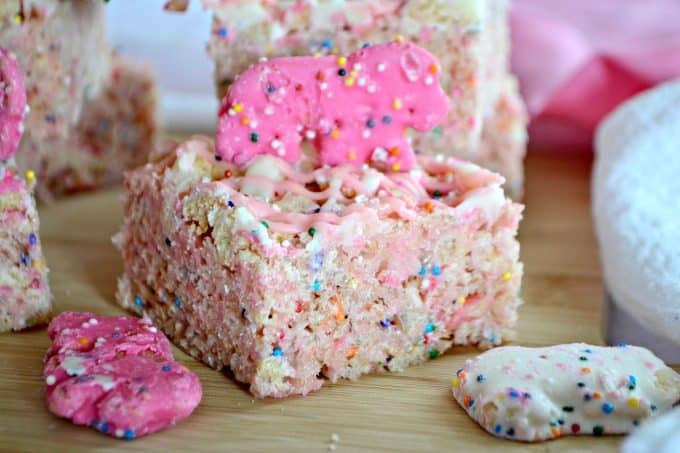 **This post contains an affiliate link(s). These are links that can take you to a product (or products) that I recommend. I do receive a portion of the sales or credit for my future purchases from any items purchased through those links. Your purchases encourage my baking, cooking and butter habit, and contribute to the life of this blog.
I thank you so very much for your support. Let's keep having fun in the kitchen!!
This post was originally written on 8/4/2016. It has been updated with photos and in format on 6/22/22.
Reader Interactions