These Frosted Oreo Cookies have a rich, chocolate cookie base topped with vanilla cream frosting! A copycat Crumbl cookie recipe that tastes even better than the ones from the bakery chain.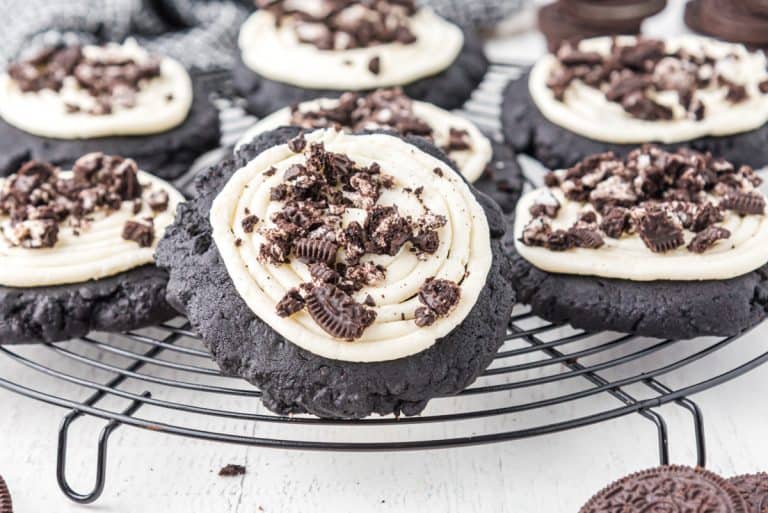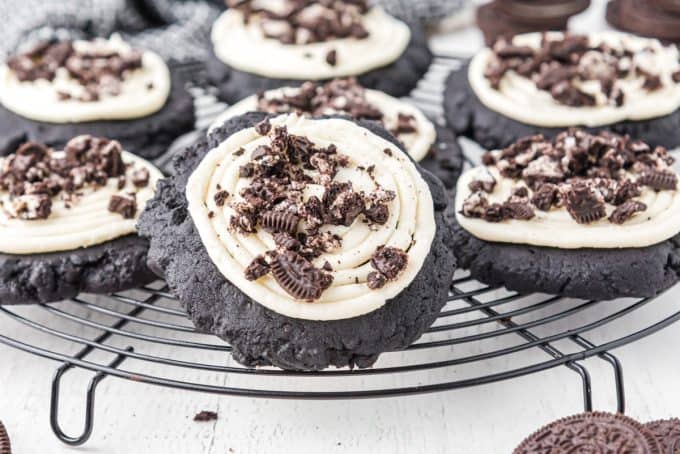 Love copycat crumbl cookies? I do, too!
I just had my first one last week and I fell in love with their Classic Pink Sugar Cookie.
I would have tried this Oreo cookie, but it wasn't on the menu.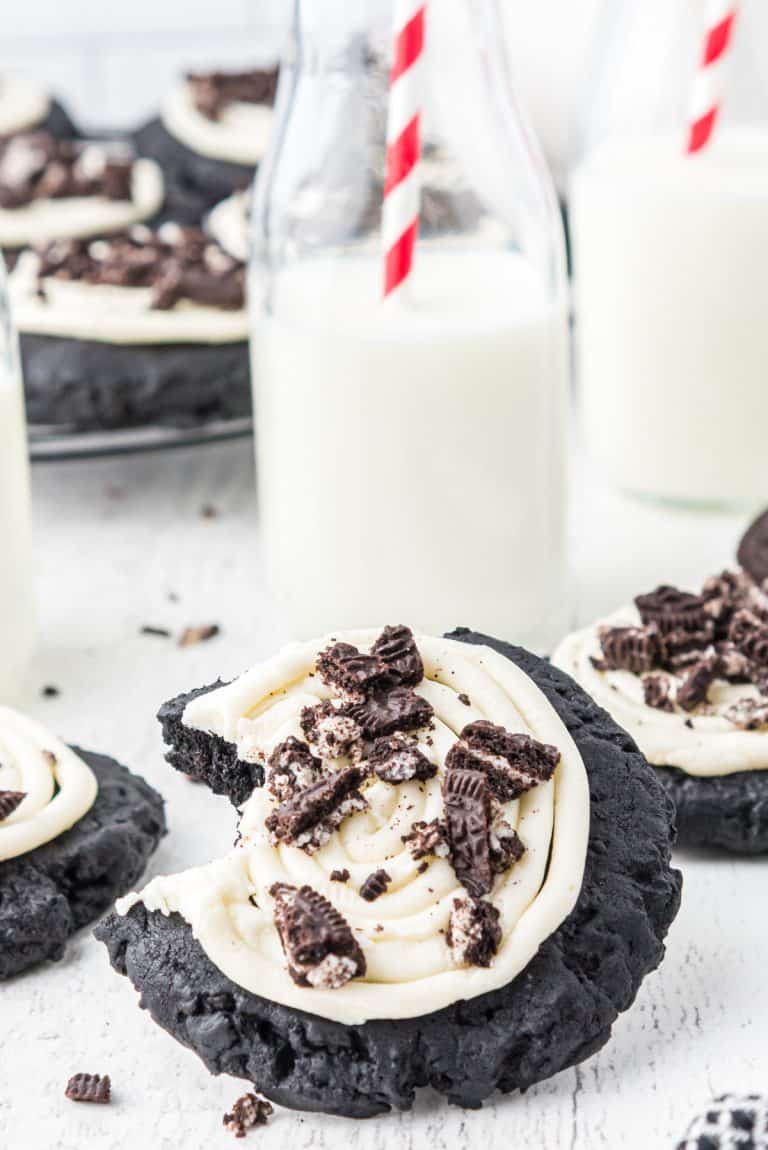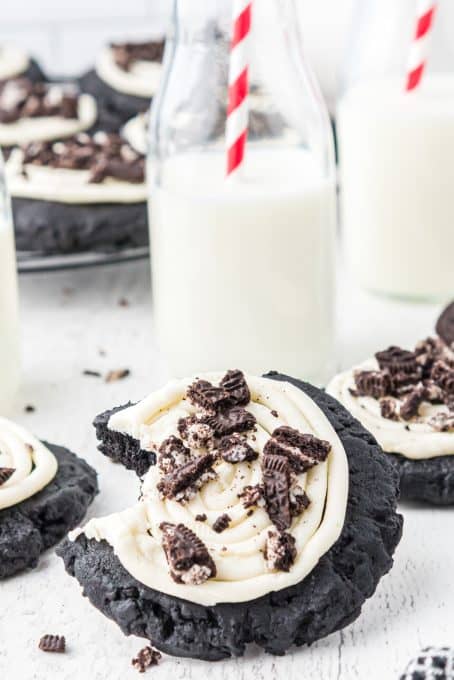 It's hard not to love Oreo cookies. While I have to admit that I'll take a Golden Oreo over the regular Oreos any day, they are still pretty darn delicious. You get chocolate. You get a cream filling. You get the satisfying CRUNCH of the wafer cookie, followed by the soft, sweet vanilla filling in the middle.
Unless you're one of those people who eats the center of the Oreo first. Or one of those folks who dips their cookie in milk to make it soft. What's your strategy for eating Oreos?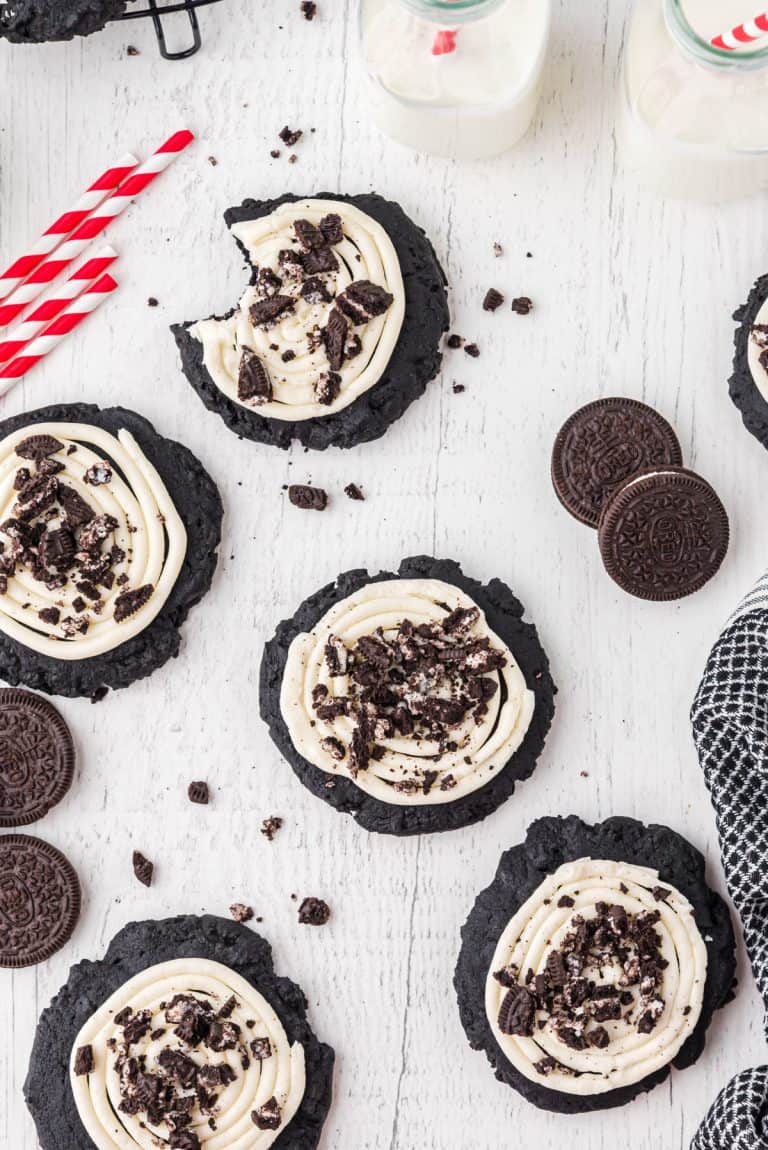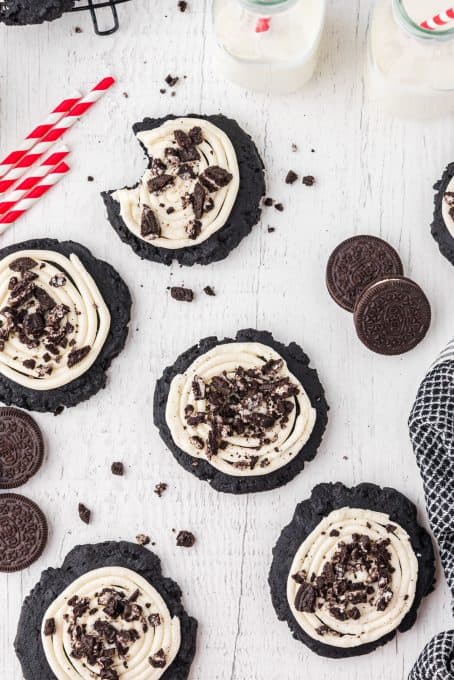 Today's cookie recipe isn't just inspired by milk's favorite cookie. It has crushed Oreos baked right inside! These cookies made with Oreos are based off of the popular Oreo cookies from Crumbl bakeries.
They taste like Oreos combined with soft-baked chocolate cookies! The rich dark chocolate cookie dough is made with crushed oreo pieces and black cocoa. After baking, we piped on a homemade vanilla frosting that tastes just like the familiar Oreo stuffing!
Copycat Crumbl Oreo Cookies look and taste professionally made, but they're easier to make than you might think. Make sure to serve these chocolatey cookies with a big glass of milk!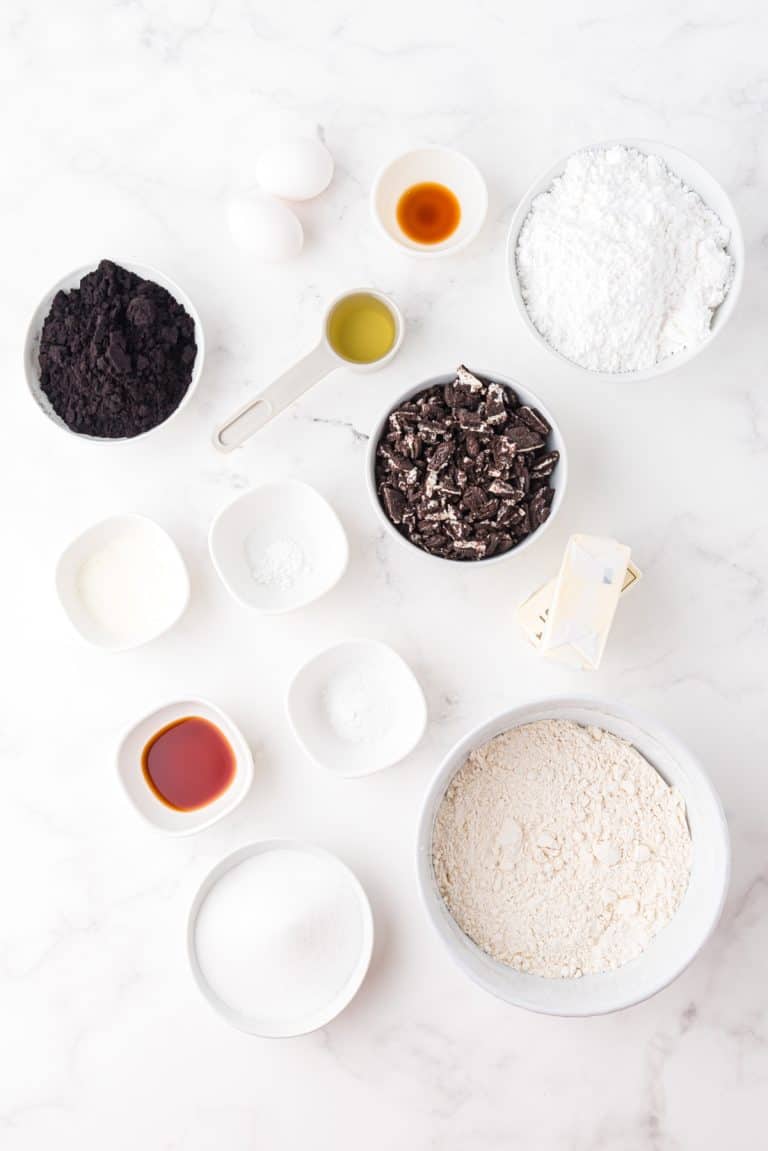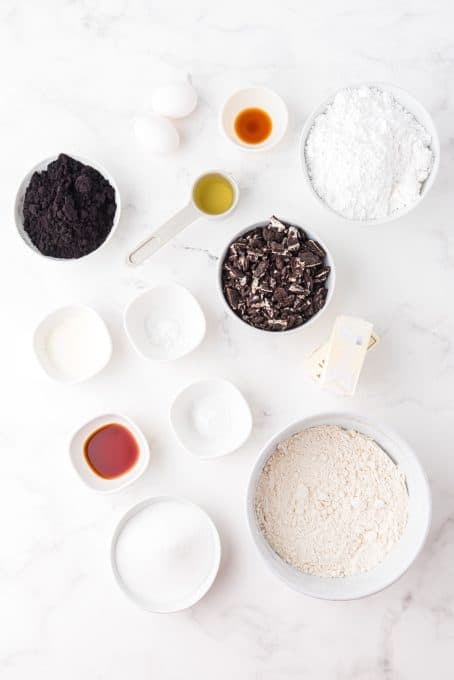 What do I need for these Oreo Sugar Cookies?
You'll need these ingredients to make this copycat crumbl cookies recipe.
Salted butter – Unsalted butter works, too. Just add a pinch of salt to the dry ingredients!
Vegetable oil
Sugar
Eggs
Vanilla extract
All purpose flour
Black cocoa powder – It's even darker in color than dark cocoa powder and turns these cookies the same color as real Oreos. Find it on Amazon if your grocery store doesn't carry it.
Crushed Oreos – We used the original, single-stuffing Oreos.
Baking powder
Cream of tartar
For the Oreo buttercream frosting, you will also need:
Butter
Powdered sugar
Heavy cream – Or milk.
Vanilla extract
Crushed Oreos
How do I crush Oreos?
I use my food processor to crush whole Oreos into fine crumbs. You want the cookie pieces small but with some texture; try not to pulverize them into a powder.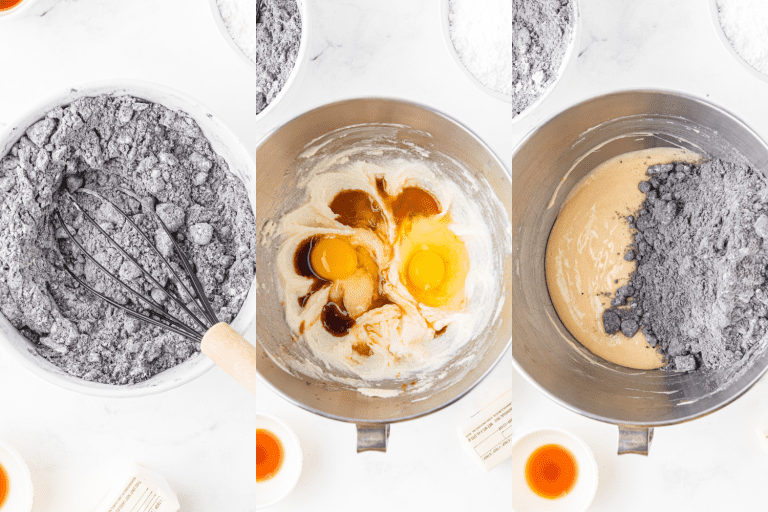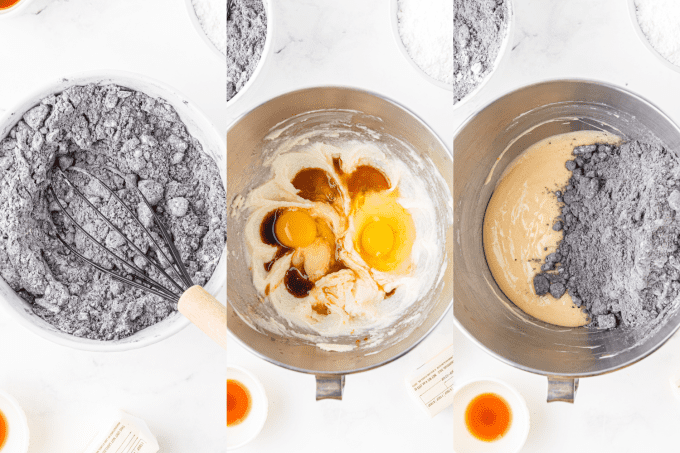 How do I make Crumbl Oreo cookies?
First, you'll make the Oreo cookie dough. Using a hand mixer or stand mixer, cream together the butter, oil and sugar. Mix in eggs and vanilla, followed by the dry ingredients, including the fine Oreo crumbs.
I like to work in batches when I incorporate the dry ingredients. The dough is thick and sticky, so you may need to scrape down the sides of the bowl a few times.
Scoop the dough into evenly sized balls. Place them on a cookie sheet lined with parchment paper. I used a 3 tablespoon cookie scoop to get 10 large cookies.
Now use the bottom of a drinking glass to press the scoops of dough into disks. They should be about ½ inch thick — you don't need to press hard.
Bake the Oreo cookies for about 10 minutes. The edges should be set, but the center of the cookies will look soft and firm up as the cookies cool. Be careful not to overbake or you'll change the soft, chewy texture!
Let the cookies cool completely. In the meantime, whisk together the frosting ingredients.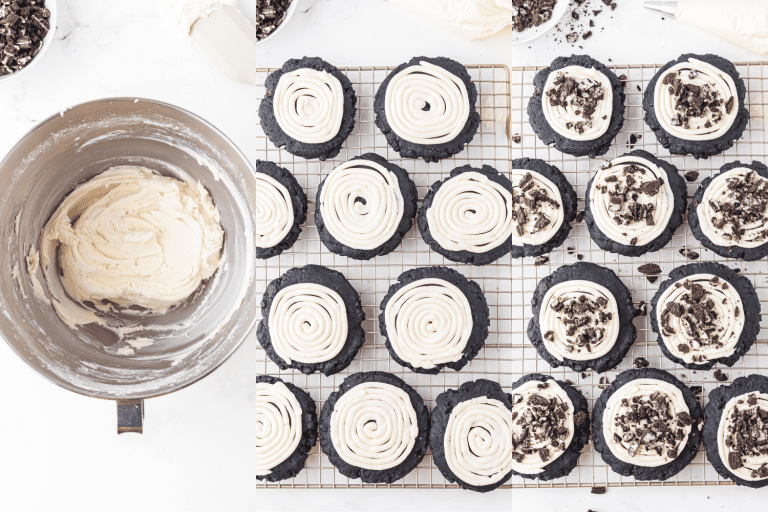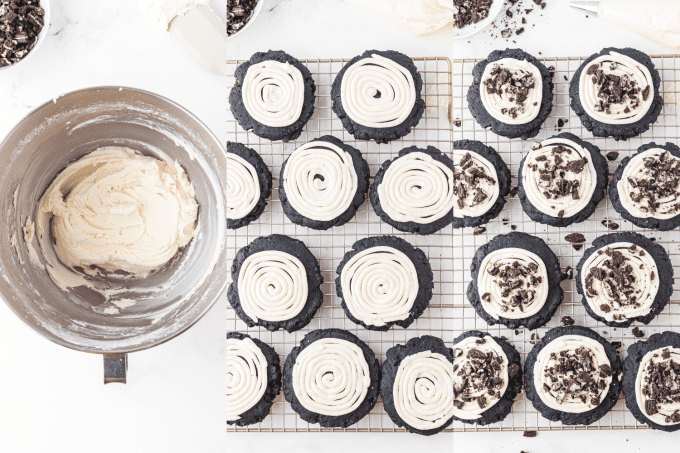 When it's time to frost the cookies, you have a couple of options. If you have a frosting piping bag handy, go ahead and use it with a piping tip to pipe a perfect layer of frosting onto your cooled chocolate crumbl Oreo cookies.
No frosting bag? No problem! A ziploc bag works just as well! Scoop the frosting into the bag. Snip off one corner. Instant frosting bag!
After piping a circle of frosting onto your cookies, use an offset spatula to smooth it out. Sprinkle the rest of the Oreo cookie bits over the frosting. Eat and enjoy!
Tips and Tricks for Chocolate Sugar Cookies
Use room temperature ingredients for easiest mixing. I take the butter and eggs out of the fridge about 20 minutes before making the cookies.
These are BIG cookies! Cut them into quarters after baking and frosting for smaller serving sizes.
Store cookies in an airtight container. They stay good at room temperature for about 3 days. Or stash them in the refrigerator to keep them fresh for up to one week.
Wondering if you can freeze these Chocolate Oreo Cookies? The answer is yes! Both the dough and the baked cookies freeze beautifully and stay good in the freezer for up to 2 months. Go ahead and make them ahead of time to keep on hand for sudden Crumbl cookie cravings!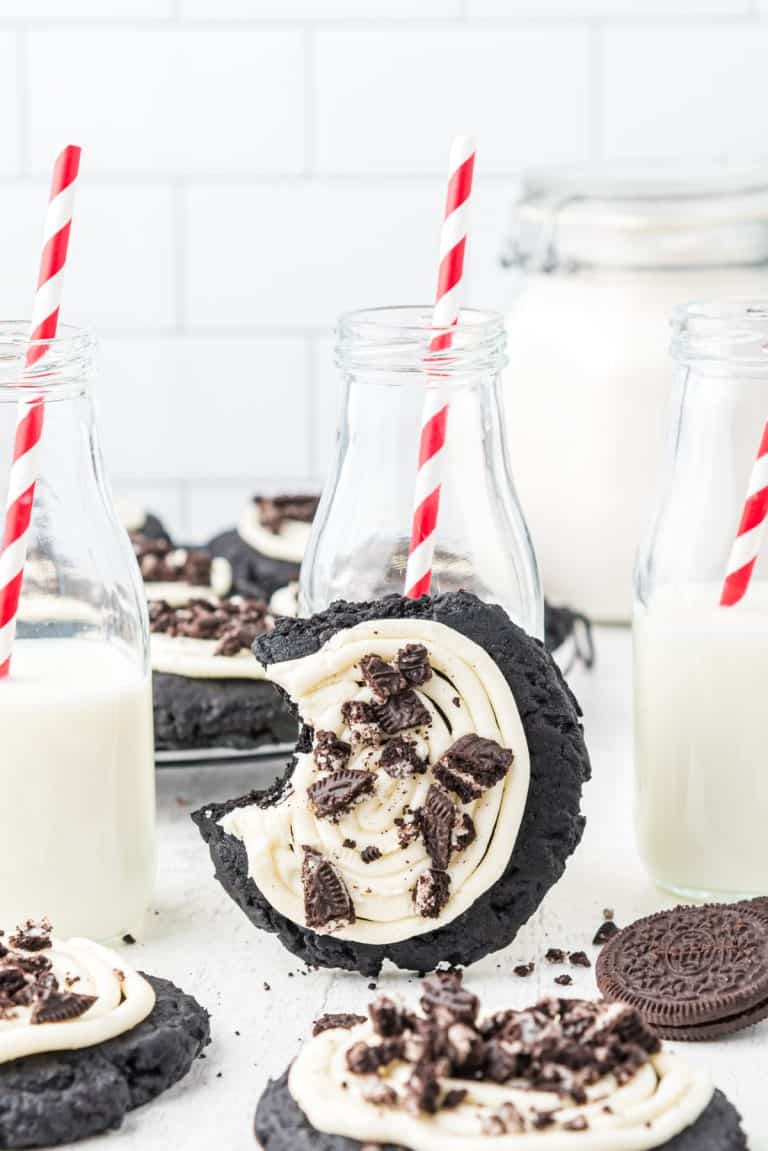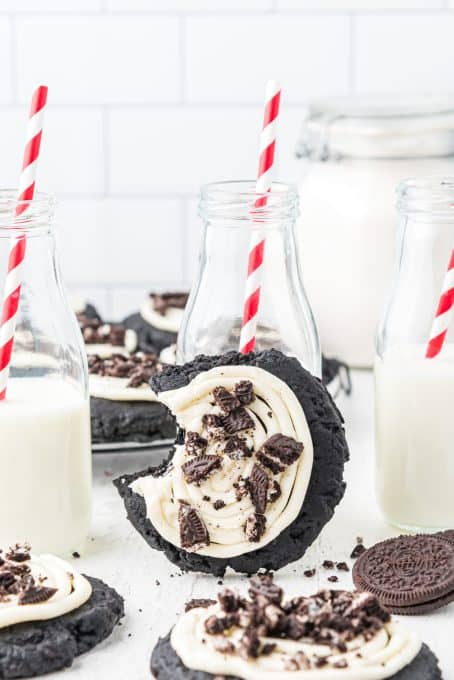 Cookie Recipes
We recently finished our annual 12 Days of Cookies 2022 extravaganza. This year, I put a new spin on old favorite recipes like these Peppermint Gooey Bars, revisited these classic Linzer Cookies and made Chocolate Dipped Orange Cookies for the first time.
If you need a little more cookie inspiration, check out these Bourbon Toffee Cookies! They're the perfect spiked cookie for bourbon lovers in your life. For kid friendly toffee cookies, you'll love these Double Chocolate Toffee Cookies along with these Toasted Almond Toffee Cookies!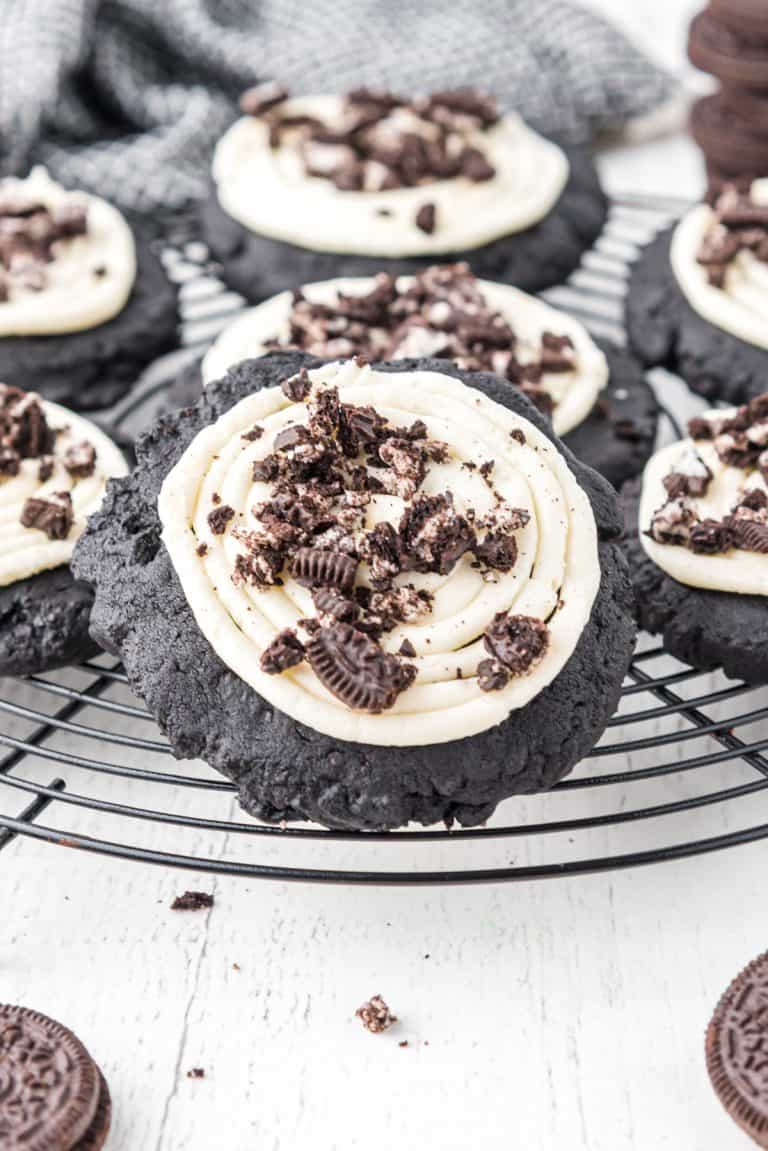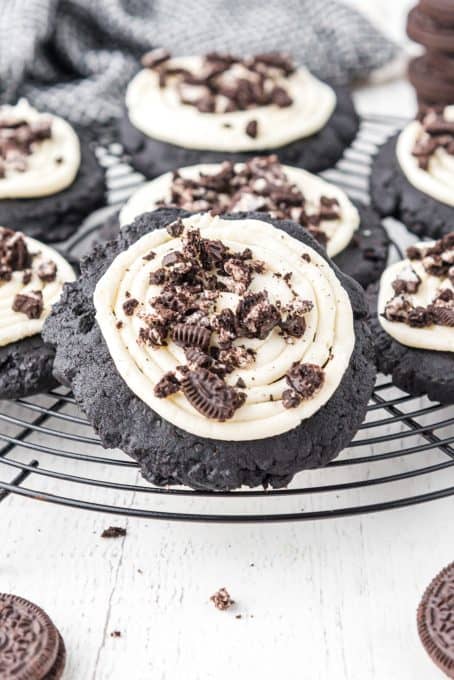 Recipes with Oreo Cookies
I find Oreos almost impossible to resist. When I buy them for a recipe, I have to make the recipe right away or else I'll end up eating all the Oreos first!
You'll find tons of amazing dessert ideas made with Oreos on the blog from Oreo Truffle Balls to Chocolate Chip Oreo Cookies.
Oreo Cake is a chocolate layer cake with Oreos hidden inside! For a handheld version, try these moist Chocolate Cupcakes.
Anyone can make this easy No Bake Oreo Pie. You don't even need an oven. These Oreo Pudding Dream Bars and these Oreo Peppermint Rice Krispies Treats are two more no bake recipes with Oreos you'll love. And make sure to save this Oreo Candy Corn Truffles recipe for Halloween next year!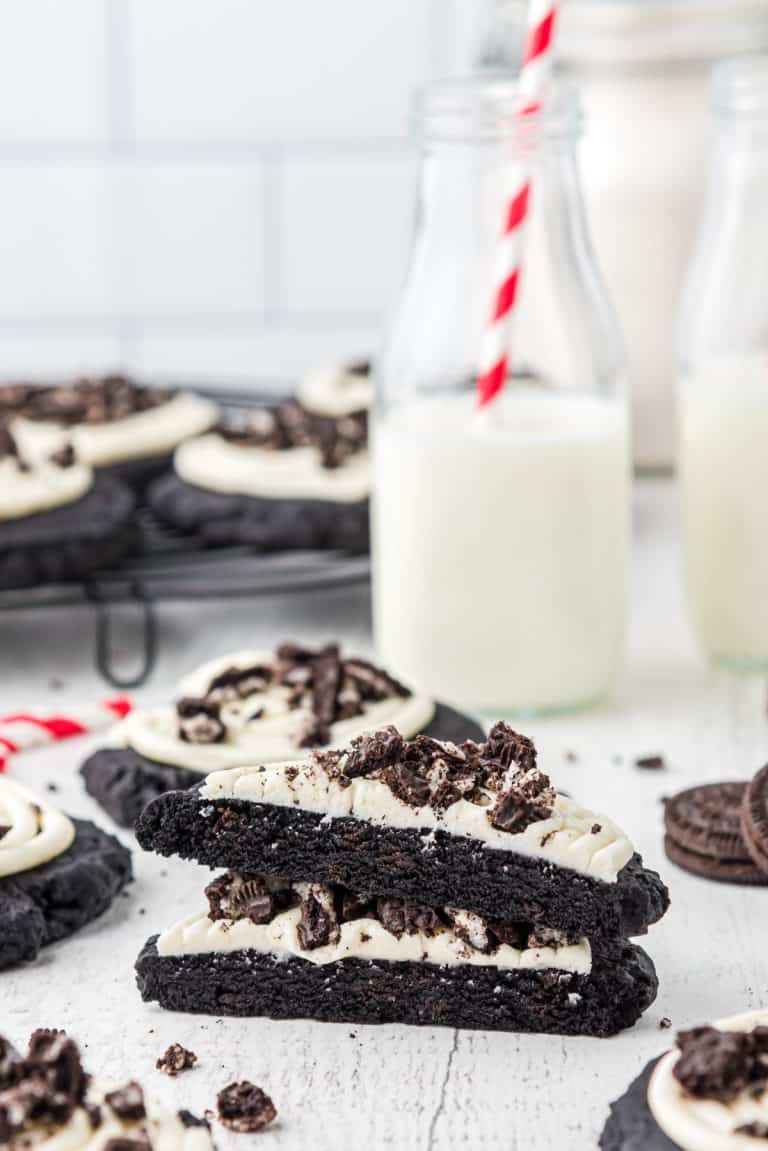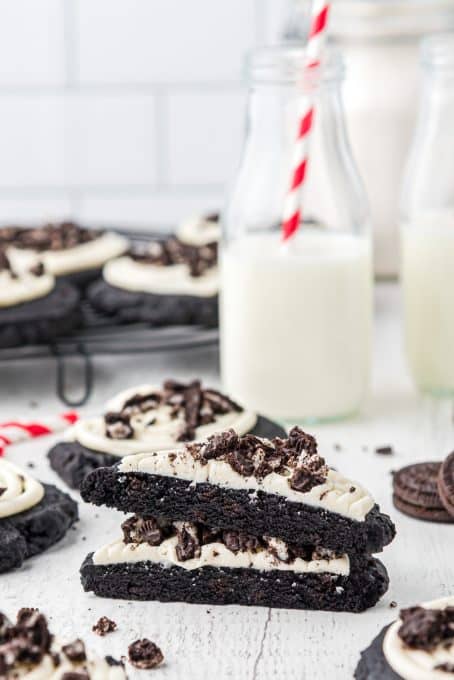 No need to order from Crumbl when you have this copycat Oreo cookie recipe. It's perfect for any Oreo lover.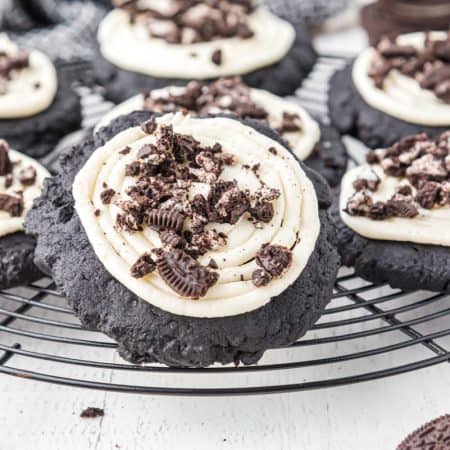 Copycat Crumbl Oreo Cookies
These Frosted Oreo Cookies have a rich, chocolate cookie base topped with vanilla cream frosting! A copycat Crumbl cookie recipe that tastes even better than the ones from the bakery chain.
Ingredients
½ cup salted butter room temperature
¼ cup vegetable oil
¾ cup granulated sugar
2 large eggs
1 tablespoon pure vanilla extract
2 cups all-purpose flour
1 cup black cocoa powder
2 cups crushed Oreos about 16 single stuffed Oreos
2 teaspoons baking powder
½ teaspoon cream of tartar
Frosting
½ cup butter room temperature
3 cups powdered sugar
2 tablespoons heavy cream
1 teaspoon pure vanilla extract
crushed Oreos for garnish
Instructions
Preheat oven to 350°F, and line a cookie sheet with parchment.

In a food processor, finely chop the 2 cups of Oreos and set aside.

In the bowl of a stand mixer, cream together butter, oil, and sugar. Add eggs and vanilla and mix until creamy.

In a medium mixing bowl, whisk together the flour, black cocoa powder, crushed Oreos, baking soda, baking powder.

Add half of the dry ingredients to the wet ingredients and mix well.  Scrape down the sides of the bowl.  Add the remaining dry ingredients, and mix thoroughly.

Using a large cookie scoop, scoop dough into equally sized cookie dough balls (10 cookies).

Place cookies evenly spaced on the prepared cooking sheet. Press the cookie flat using the bottom of a glass or measuring cup. (Not too thin, about ½ inch in thickness).

Bake the cookies for 10 minutes, being careful not to over bake. Allow cookies to cool completely before frosting.
Frosting
In the bowl of a stand mixer combine butter, powdered sugar, heavy cream, and vanilla.  Mix until well combined and smooth, stopping to scrape down the sides of the bowl.

Using a Ziploc bag with the corner cut off or a piping bag fitted with a small round tip, pipe frosting on top of cookies in a circular motion, and smooth with an offset spatula, if desired. Sprinkle with additional crushed Oreos.
Nutrition
Serving: 1cookie | Calories: 650kcal | Carbohydrates: 98g | Protein: 7g | Fat: 28g | Saturated Fat: 15g | Polyunsaturated Fat: 2g | Monounsaturated Fat: 9g | Trans Fat: 1g | Cholesterol: 89mg | Sodium: 289mg | Potassium: 364mg | Fiber: 5g | Sugar: 64g | Vitamin A: 666IU | Vitamin C: 0.02mg | Calcium: 70mg | Iron: 7mg
Did you make this recipe?
Share it with me on Instagram and make sure to follow me on Pinterest for more recipes.
Reader Interactions