Cornmeal Breaded Zucchini Chips are a delicious homemade vegetable snack or side dish! These zucchini slices have a light cornmeal coating seasoned with garlic and Parmesan.
Air fryer and oven directions included!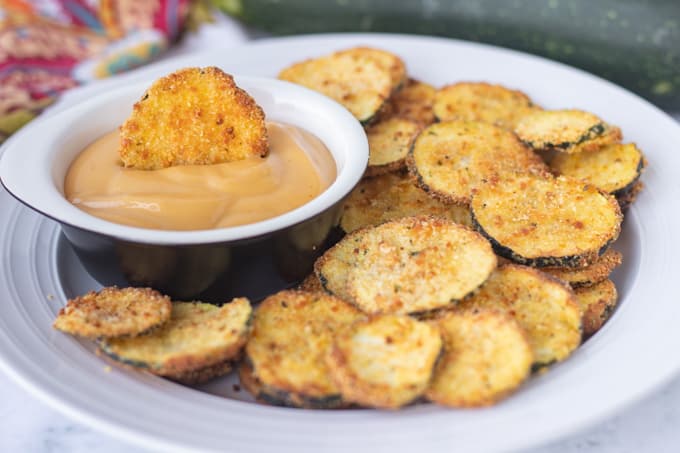 These cheesy veggie chips prove that you don't need to deep fry vegetables to make them delicious!
*This post contains an affiliate link(s).
I was given a cookbook by Dorothy of Crazy for Crust to review. As always, all opinions are 100% my own.
Zucchini is a little bit of a miracle ingredient, don't you think? You can turn it into bread, pancakes, noodles and now—chips!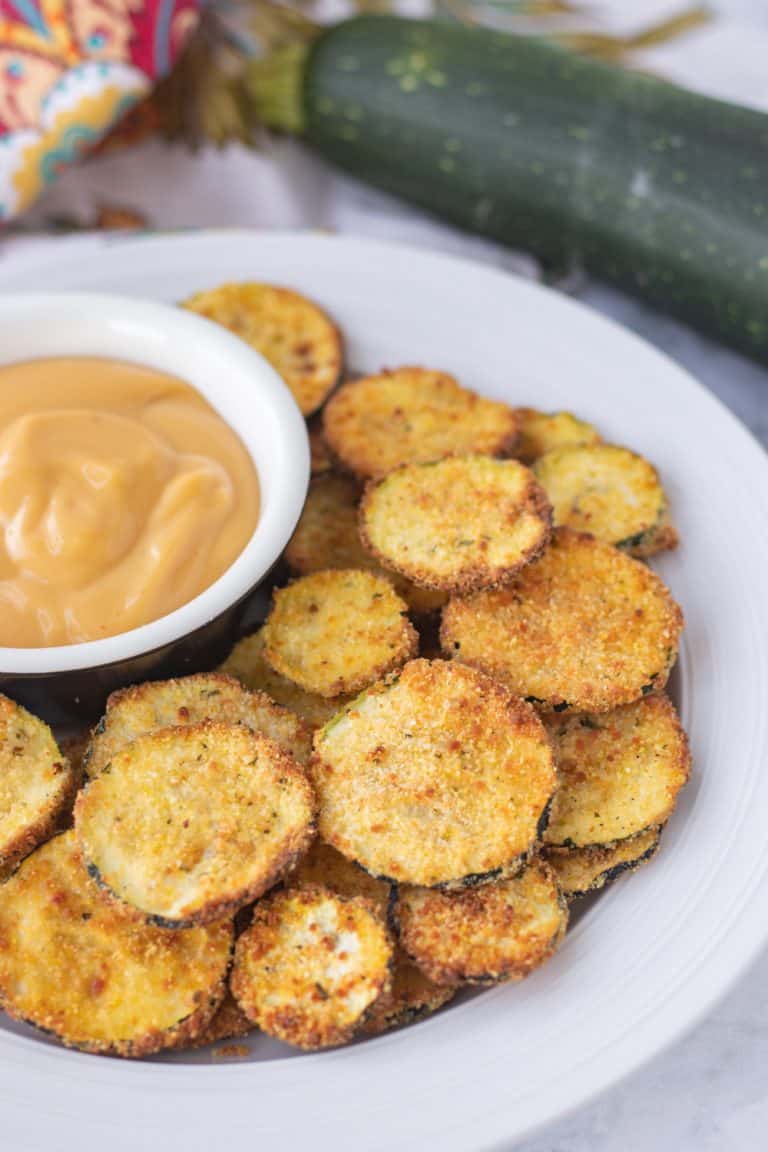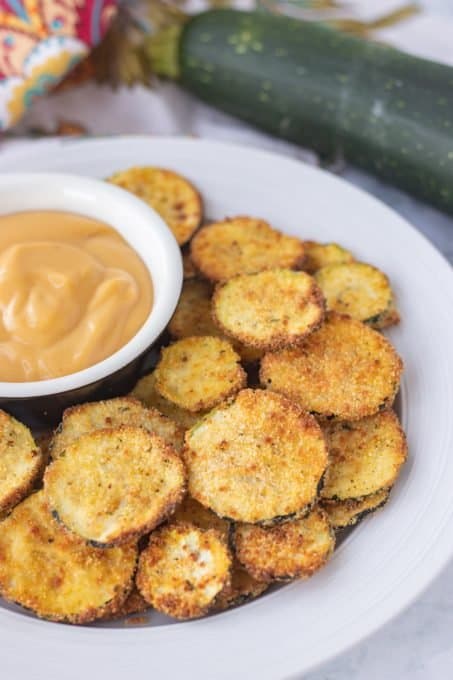 When I'm hungry, I tend to reach for sweets, especially cookies, over salty snacks. That's why I was surprised by how many of these cornmeal zucchini chips I ended up eating in one sitting!
Before I knew it, half the batch was gone. Oops.
Unlike store bought veggie chips, these easy zucchini chips are oven baked for crunchy flavor without all the oil. Whether you're trying to get more veggies in your diet or just have a ton of garden zucchini to use up, you need to give this oven baked zucchini chips recipe a try.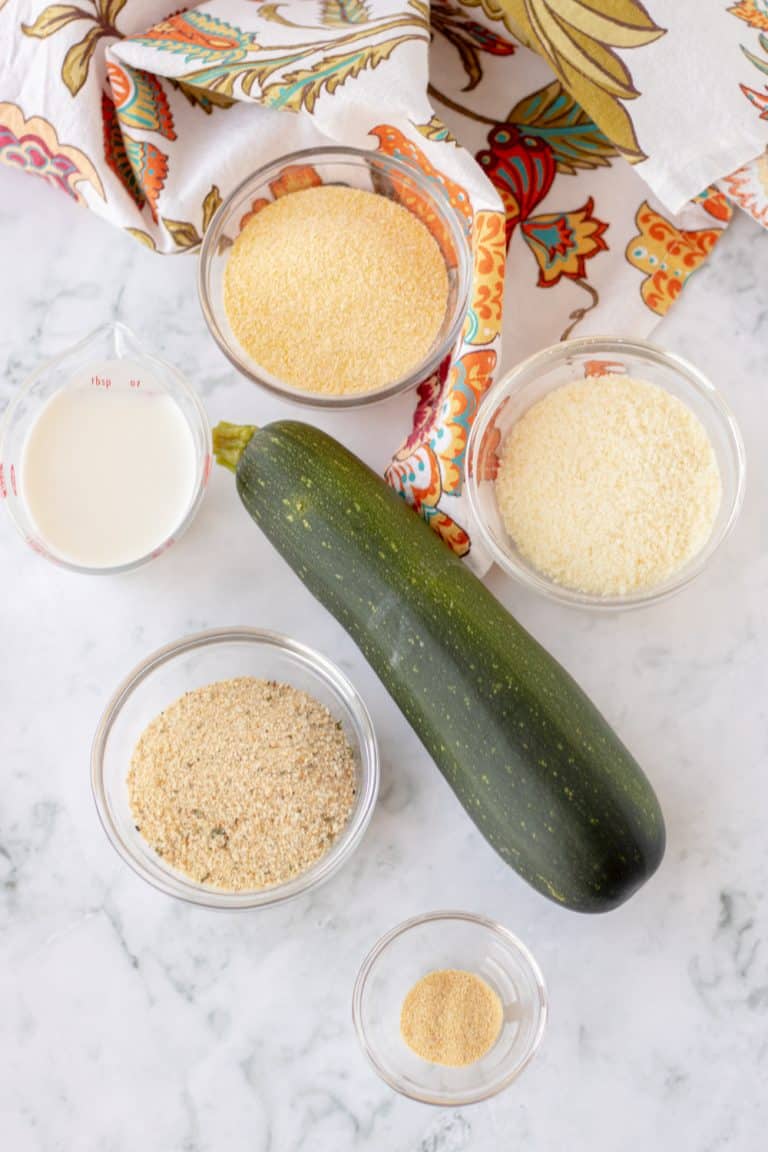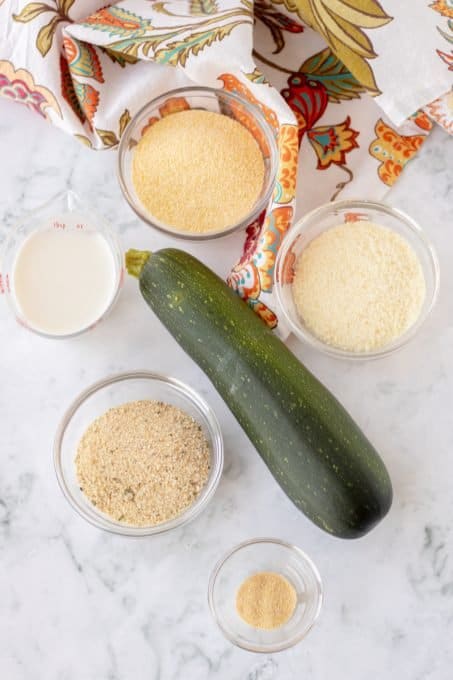 What do I need?
I used these ingredients to make delicious Parmesan Zucchini Chips:
Zucchini
Milk
Parmesan cheese – Freshly grated is best!
Garlic powder
Italian bread crumbs
Cornmeal
Before making the chips, cut the ends off, and slice the zucchini. You don't need to remove the peel, but you should try to slice them as thinly as possible. In testing the recipe, I found that the thinner slices got much crispier.
I sliced mine about 1/8″ to 1/4″ thick with this easy OXO slicer set.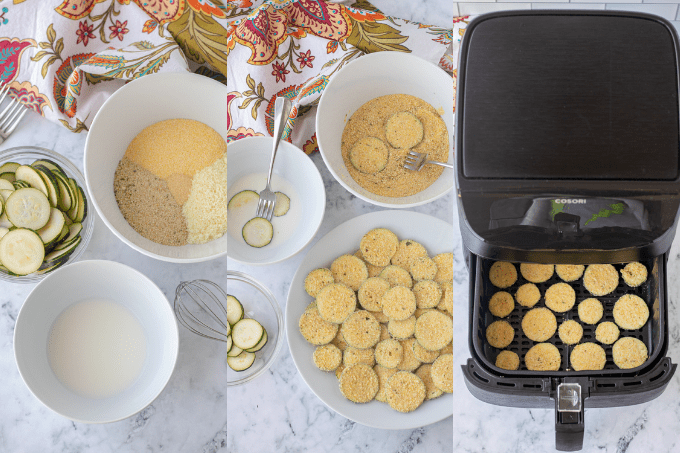 How do I make them?
After slicing the zucchini, place the milk in a small bowl. Combine the remaining ingredients in a separate bowl.
Dip each zucchini slice in the milk, then immediately dredge them in the cornmeal mixture. Once the slices are well coated, you can bake them in the oven or the air fryer.
Air Fryer Zucchini Chips
To make zucchini chips in the air fryer, place them in the basket of the air fryer. Spray the zucchini with olive oil, then air fry at 400°F for 5 minutes. Flip over the zucchini chips, spray with olive oil and air fry for another 5 minutes.
Pro Tip: Do not overcrowd the air fryer basket! The zucchini should be arranged in a single layer, not overlapping. You may have to air fry the zucchini chips in batches to make this possible. Otherwise, they won't cook properly.
Oven Baked Zucchini Chips
Line a baking sheet with parchment paper, then spray with cooking spray. Place the zucchini in a single layer on the baking sheet. Bake at 400°F for about 30 minutes, or until the vegetable chips look golden brown.
I recommend flipping the breaded zucchini chips half way through for even crispiness. And keep an eye on them as some of the thinner slices can become burned toward the end of baking.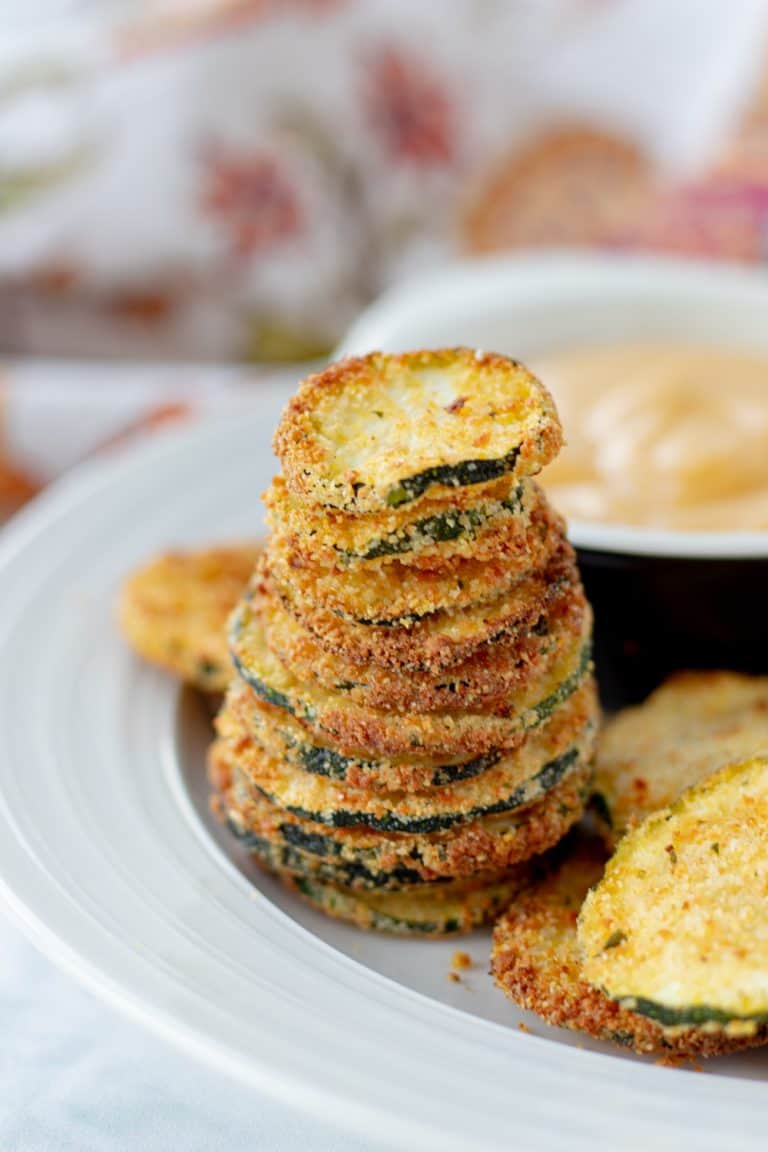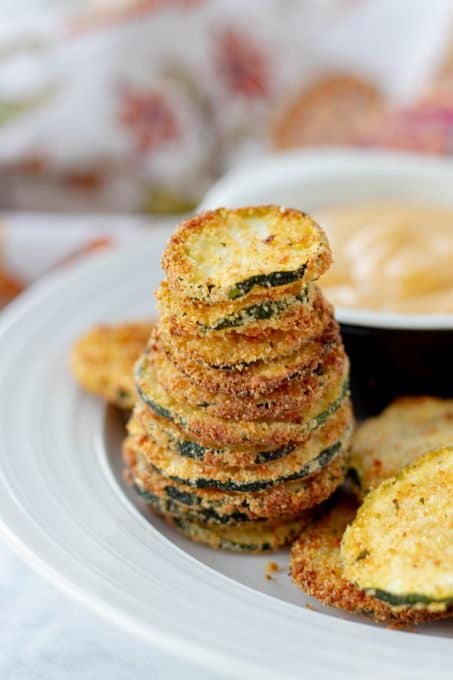 Can I make these ahead of time?
These cornmeal encrusted zucchini chips are best enjoyed immediately. If you store them, they will get soft and mushy.
Thankfully, they're easy to make so you can enjoy them whenever the craving strikes!
Side Dish Recipes
My family loved these parmesan Zucchini Chips as a side dish with dinner the other night. They're neck and neck with Baked Parmesan Zucchini Sticks for the title of our favorite zucchini side dish.
I can never seem to stop looking for more side dish ideas to keep meals fresh and exciting. Combining two familiar flavors that aren't often enjoyed together is an easy way to get a little adventurous with your cooking. I did exactly that in this Vanilla Mashed Potatoes recipe and it was a huge hit.
After all that experimentation, I always fall back on my staples. Oven Roasted Potatoes go with just about every main course, as do these Twice Baked Potatoes.
If you like bread with your meals, I have the perfect dinner rolls in this copycat recipe for Texas Roadhouse Rolls. Don't forget to spread Cinnamon Honey Butter on top of your warm homemade rolls.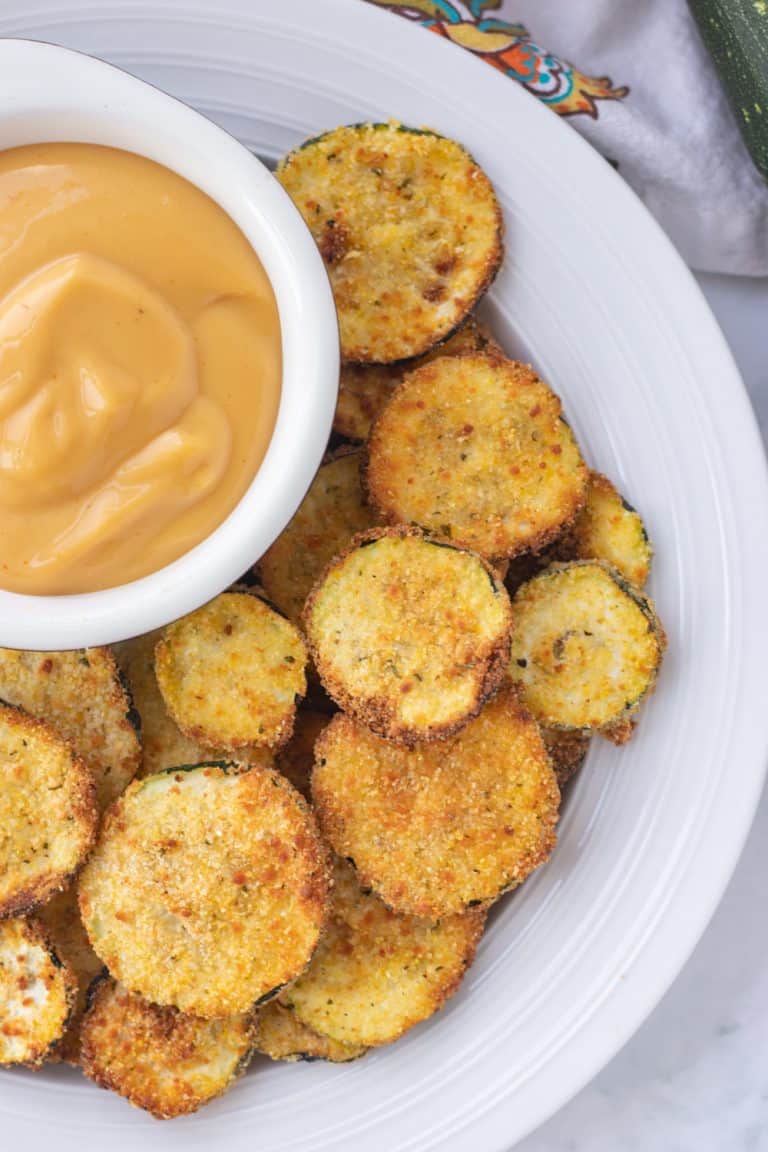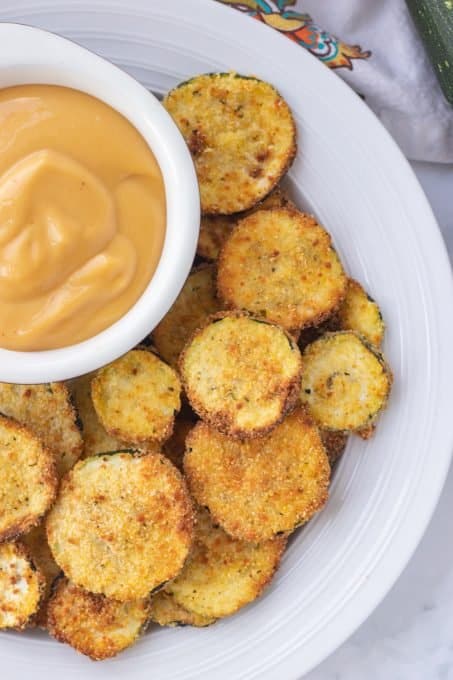 Vegetable Recipes
Even picky eaters will love these creative and flavorful vegetable dishes.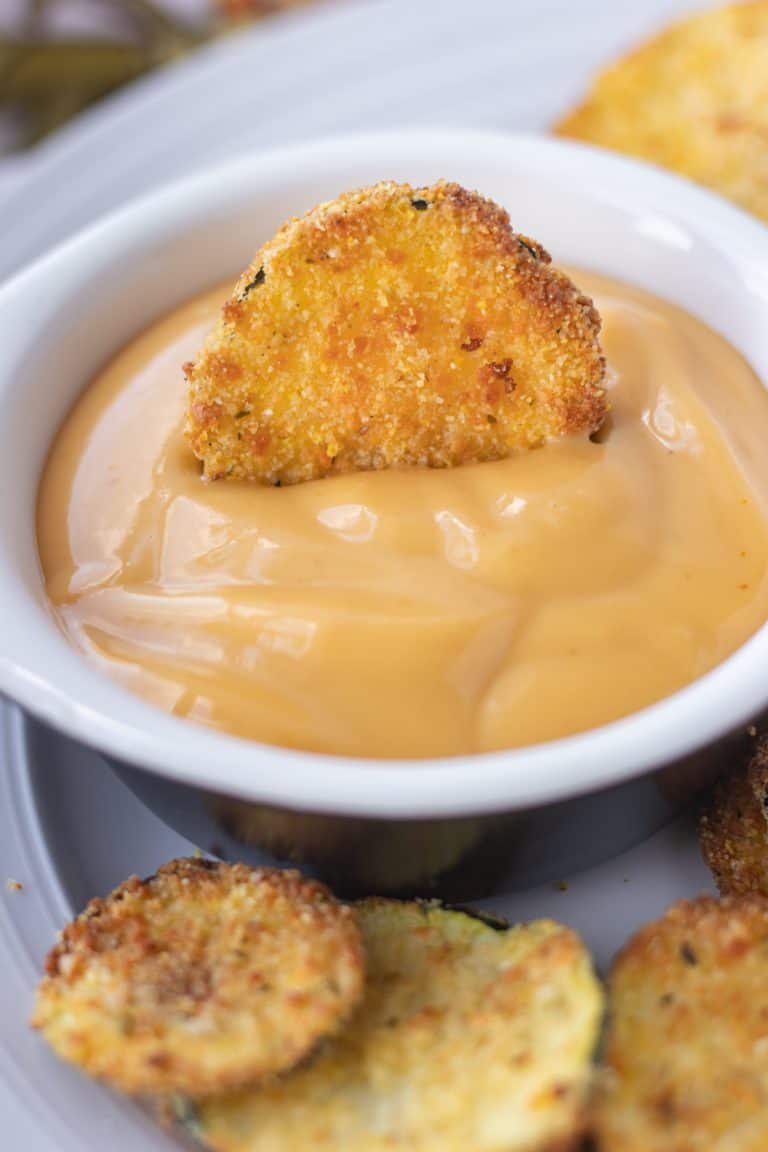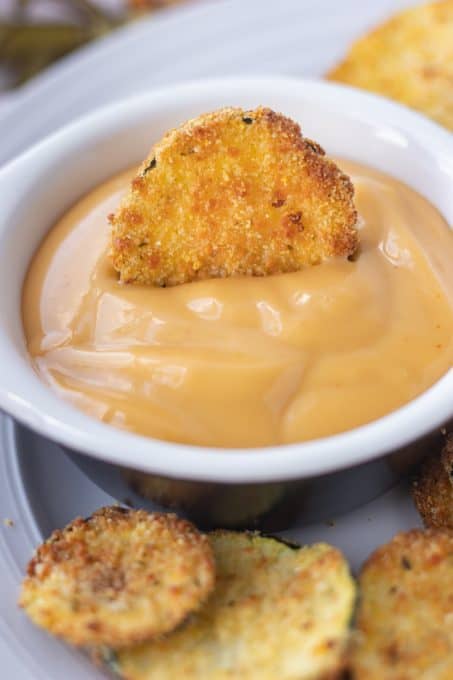 SIGN UP FOR THE WEEKLY
365 DAYS OF BAKING & MORE
NEWSLETTER BELOW!
Garlicky, cheesy, crunchy Zucchini Chips make it easy to get more veggies in your family's diet!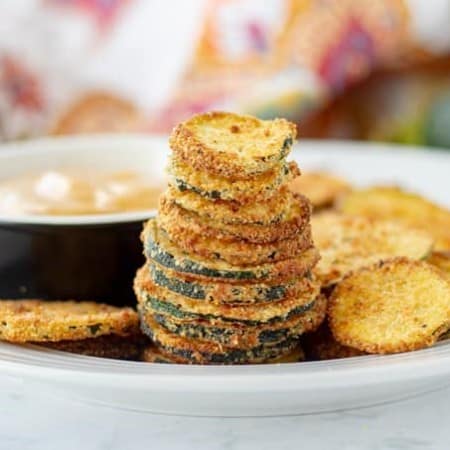 Cornmeal Breaded Zucchini Chips
Cornmeal Breaded Zucchini Chips are a delicious homemade vegetable snack or side dish! These zucchini slices have a light cornmeal coating seasoned with garlic and Parmesan. Air fryer and oven directions included!
Ingredients
1 ½ cups zucchini 1 medium zucchini
¼ cup Italian bread crumbs
¼ cup Parmesan grated cheese
¼ cup yellow cornmeal
½ teaspoon garlic powder
¼ cup milk
Instructions
Preheat oven to 400 degrees F. or follow instructions for cooking them in an air fryer in the notes below.

Prepare a baking sheet by lining it with parchment.

In a bowl or shallow dish, combine bread crumbs, grated cheese, cornmeal and garlic powder. Mix well.

Pour milk into a shallow dish.

Cut the zucchini into slices about 1/8 – 1/4-inch thick. Place them, one at a time into the milk, making sure to coat both sides.

Transfer the slices to the crumb mixture and completely cover.

Bake for 25 – 30 minutes or until the chips are lightly golden.
Notes
Air Fryer Directions: place the zucchini into a single layer in the air fryer basket. Spray with a coating of olive oil and cook at 400°F for 5 minutes. Turn the chips over, spray again with olive oil and cook for an additional 5 minutes. You will probably have to cook in batches because all of the zucchini may not fit in the basket.
Nutrition
Serving: 1person | Calories: 110kcal | Carbohydrates: 15g | Protein: 5g | Fat: 3g | Saturated Fat: 2g | Polyunsaturated Fat: 1g | Monounsaturated Fat: 1g | Cholesterol: 6mg | Sodium: 210mg | Potassium: 204mg | Fiber: 2g | Sugar: 3g | Vitamin A: 181IU | Vitamin C: 9mg | Calcium: 115mg | Iron: 1mg
Did you make this recipe?
Share it with me on Instagram and make sure to follow me on Pinterest for more recipes.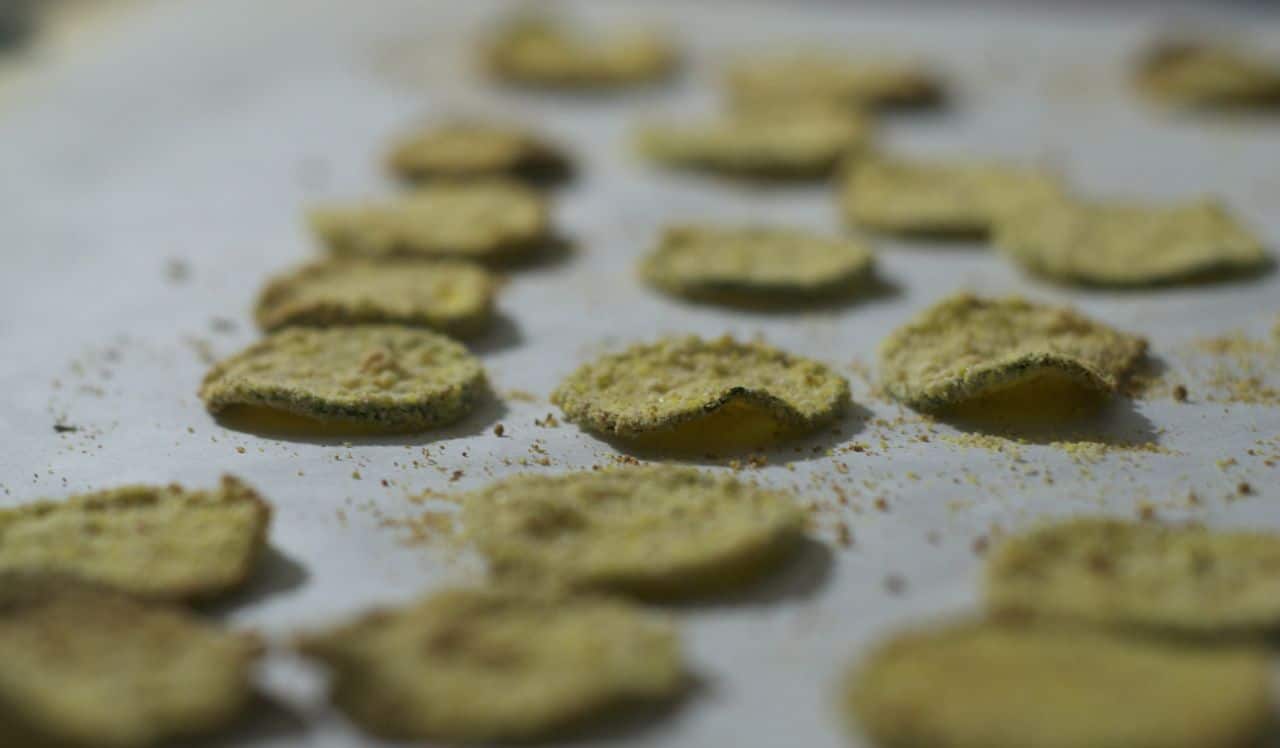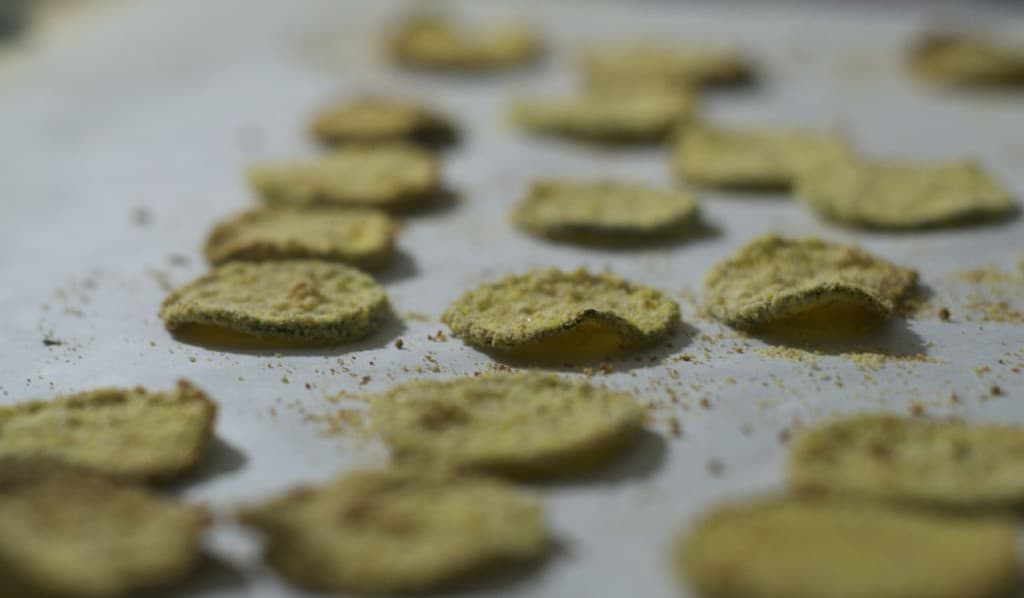 *We are a participant in the Amazon Services LLC Associates Program, an affiliate advertising program designed to provide a means for us to earn fees by linking to Amazon.com and affiliated sites as well as ShareASale.
These are links that can take you to a product (or products) that I recommend. I do receive a portion of the sales or credit for my future purchases from any items purchased through those links. Your purchases encourage my baking, cooking and butter habit, and contribute to the life of this blog. I thank you so very much for your support. Let's keep having fun in the kitchen!!
This post was originally published on 3/12/14. It has been updated in format and with pictures on 5/18/22.
Reader Interactions