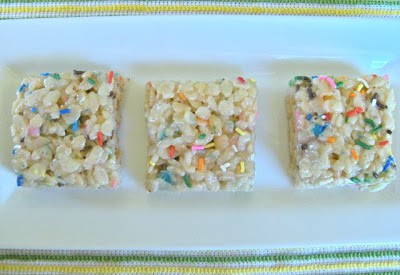 It's a PARTY!!!!!
No, I'm just kidding.
It feels like a party whenever you have something with Funfetti cake mix in it though, doesn't it?
Kind of like those White Chocolate Cake Batter Cookies that I used with the Funfetti.
So, if you're looking for something to use that leftover cake batter for after you make those cookies (even though they didn't earn a very high rolling pin rating) or vice versa, then these might be the thing.
Don't worry, these bars fared MUCH better than those cookies. So much so that there are only 3 1/2 left!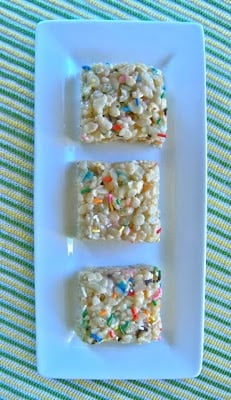 Ok, make that 2…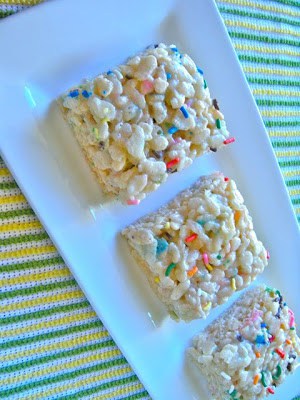 Ooh, that's a funky picture angle! I think maybe I had one too many of these bars.
AND these are SSOOOO FREAKIN' easy to make!! No OVEN to turn on (gotta love that, right?), and they're done just as the vultures become aware that you're making them.
I swear, both my girls showed up at the kitchen counter waiting for a handout. They looked like two little baby birds waiting to be fed, for crying out loud. They're 18 and two weeks shy of 20 YEARS OLD!!!!
Cake Batter Krispie Bars – makes on 9 X 13-inch pan
12 tablespoons (1 1/2 sticks) unsalted butter
1 10 oz. bag marshmallows
1 1/2 cup Funfetti cake mix
6 cups Rice Krispies cereal
2 tablespoons rainbow sprinkles
Prepare a 9 X 13-inch baking dish by spraying it with cooking spray.
In a large saucepan, melt butter and marshmallows over medium heat.
Reduce heat to low and stir in cake mix until just combined.
Add half of the Rice Krispies and 1 tablespoon sprinkles. Mix well.
Add remaining cereal and stir until thoroughly combined.
Pour contents into prepared baking dish and spread evenly in the pan.
Sprinkle remaining tablespoon of sprinkles (sounds sort of redundant, don't cha think?) or as we New Englanders call 'em, jimmies over the top and press them lightly into the bars.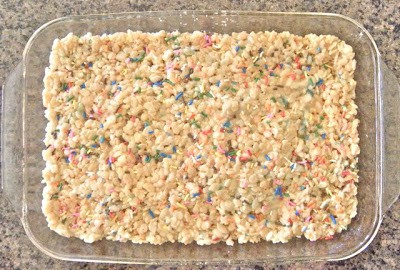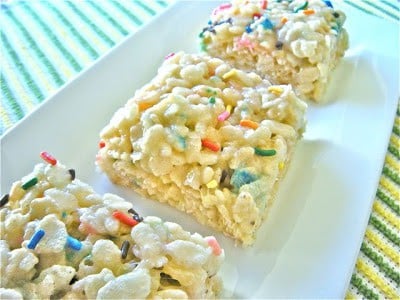 I rate everything I make on a scale of 1-4 with 4 being the best and these Cake Batter Krispie Bars earned 3 1/2 rolling pins.
They were quite delicious, but not nearly as good as another Rice Krispie bar that I make.
Don't worry, I'll be sharing that recipe at a later date.
You really could taste the cake batter in these and I added the extra sprinkles for color and a little additional flavor.
I'm thinking your kids are really going to like these! Mine did!
How do I know?
Because now…
they're completely gone.
And yes, I had my fair share of sneaking slivers here and there which altogether probably amounted to a total of…ahem…5 or 6.
Shhhhh!!!
Don't tell the kids!
It'll be OUR secret!!