Butterfinger Rice Krispie Treats – those favorite Rice Krispie treats mixed with Butterfinger candy bars for an extraordinary treat!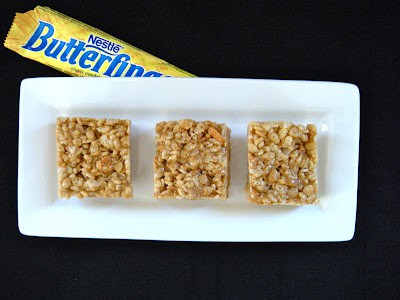 It's time for the monthly Secret Recipe Club Reveal!!
I've been participating in The Secret Recipe Club since last August. I think.
It is a wonderful club started by Amanda of
Amanda's Cookin'
back in April of last year, so she has just celebrated the 1 year anniversary of the Club! Happy Anniversary, Amanda!
Our group's hostess is Angie, from
Big Bear's Wife
. These two women along with the other hostesses (because there are now 4 reveals a month) along with the the other people who assist Amanda with the club, work so hard and deserve a BIG huge round of applause for all that they do.
THANK YOU, ALL!!
The Secret Recipe Club is based on Secret Santa where you are assigned a blog in your group.
You pick a recipe that you want to make and then reveal on your assigned day. BUT, you have to keep it a secret! The blogger whose site you've been assigned isn't supposed to know that you have them ~ that's the immense fun of the reveal!
Since I've joined, it has been so much fun getting to know other bloggers, enjoying their sites and making new recipes! I've LOVED it! So if you're interested, check out The Secret Recipe Club!
SAVE THESE BUTTERFINGER RICE KRISPIE TREATS TO YOUR FAVORITE PINTEREST BOARD!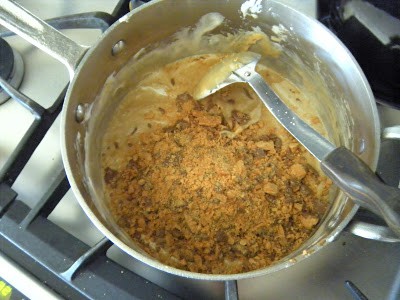 For the month of April I was assigned to Erika's blog, The Teenage Taste!
Can I just tell you how amazed I am with Erika? She is a fifteen year old high school sophomore who initially learned to cook from her mom when she was little. Now, every Saturday and Sunday morning the family kitchen is "closed" from 7-11 so that Erika can create. I love that she has the ability to do this and that her parents are so supportive. But then again, what parent wouldn't be if their child were cooking meals for them. I think I missed that boat somewhere and let my kids set sail. I suppose it's never too late to get them involved though.
Another thing I love about Erika is that she is so very active. She runs on her school's cross country and track teams (fell in love with her immediately because two of my three kids have done and are doing the same), has received her black belt in karate and recently completed her first half-marathon!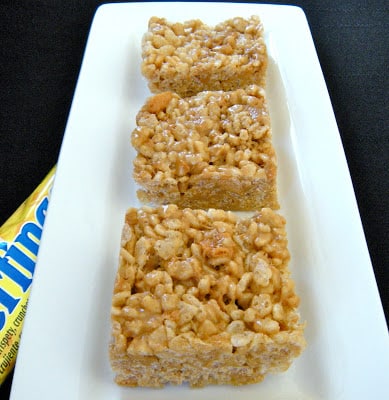 WAY TO GO, ERIKA!!! That is such an awesome accomplishment and you are such an inspiration!
I am so happy that I was able to get to know Erika and browse through her blog. Not only is she an inspiring young woman, she is also a very talented cook and it is clearly evident in all of her recipes. Erika, keep up the great work, girl! You are destined for greatness! It has been my pleasure going through your blog!
The recipe I chose to make was Butterfinger Rice Krispie Treats.
We absolutely LOVE Rice Krispie treats here as you can tell from these
Cake Batter Krispie Bars
, so I was sure the one's from Erika were going to be a hit.
I made a couple of changes. Having a family of 5 with each of us being addicted to these delicious bars, I increased the amount of butter by 2 tablespoons, used 6 cups of cereal instead of 5 and used 3 large Butterfingers. I had to make sure there was going to be enough to go around otherwise I would have been in the doghouse! And as it was, the entire pan was gone within a half hour.
SIGN UP FOR THE WEEKLY
365 DAYS OF BAKING & MORE
WEEKLY NEWSLETTER BELOW!
Butterfinger Rice Krispie Treats
Ingredients
1/4

cup

4 tablespoons unsalted butter

1 10.5

oz.

package marshmallows

1/2

cup

creamy peanut butter

6

cups

Rice Krispie Cereal

3 2.1

oz.

Butterfinger candy bars
Instructions
Prepare a 9 X 13-inch baking dish by spraying it with cooking spray.

Place Butterfingers into a plastic bag to crush.

In a large saucepan over medium heat melt the butter. Add marshmallows and stir until melted.

Remove from heat and add the peanut butter, stirring constantly until it has melted and is thoroughly mixed.

Mix in crushed Butterfingers.

Add Rice Krispies and mix completely.

Pour contents into the prepared pan and spread evenly with a greased rubber spatula.

Allow bars to cool completely before cutting.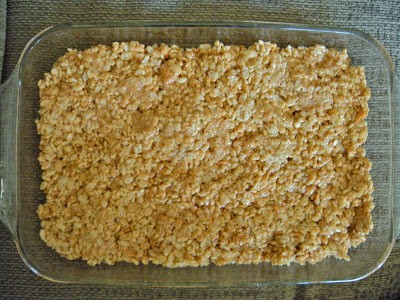 I tried the efficient way of crushing the candy bars in their wrapper and it turned out to be more of a mess – chocolate stuck to the wrapper and it sort of exploded all over the oven as I went to open the wrapper even though I did it slowly. So, I STRONGLY suggest Using the bag!
I rate everything I make on a scale of 1-4 with 4 being the best and these Butterfinger Rice Krispie Treats earned 3 rolling pins.
You already know that the family loved them because I told you they scarfed them down.
Geez, I just can't make plain Rice Krispie treats anymore because I've now spoiled my family. :-/
Oh well.
I did find that instead of removing the pan from the heat and continuing to keep it on low as I mixed in the cereal, it was easier to mix. Otherwise, it's too taxing on my wrist and everything begins to harden too quickly.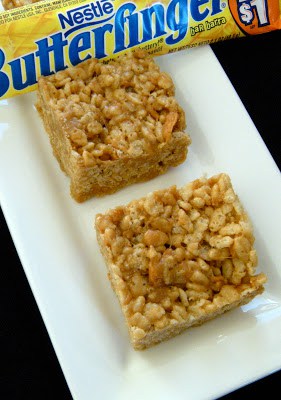 Thank you, Erika, for sharing this wonderful recipe with us! I look forward to trying more recipes from The Teenage Taste!
Be sure to visit the links below to see what other delicious recipes my fellow bloggers have made!