Apple Cream Pie also known as a German Apple Pie- is the easiest and most delicious apple pie recipe you'll ever make. With apples covered in a cinnamon sugar mixture surrounded by heavy cream, this pie is a favorite all year round. Plus it tastes even better when eaten cold!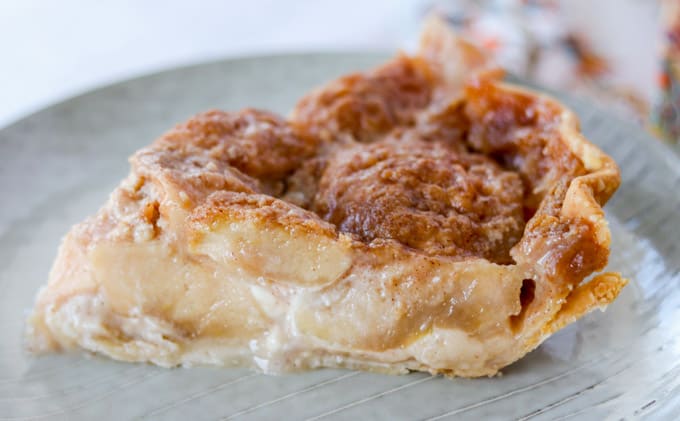 This recipe is one of my all-time favorites.
It's one that I originally published on the 4th day of my original 365 Days of Baking way back when.
Growing up, this dessert was at every Thanksgiving and Christmas celebration.
Needless to say, it brings back some pretty wonderful memories.
Family recipes around the holidays always make times spent with loved ones a bit more special.
Whether it's Grandma's cream cheese cookies, a slice of her Italian bread with the meal or her griddle cakes the morning of, these are recipes I love making for my children and passing them on to you.
SAVE THIS APPLE CREAM PIE RECIPE TO YOUR FAVORITE PINTEREST BOARD!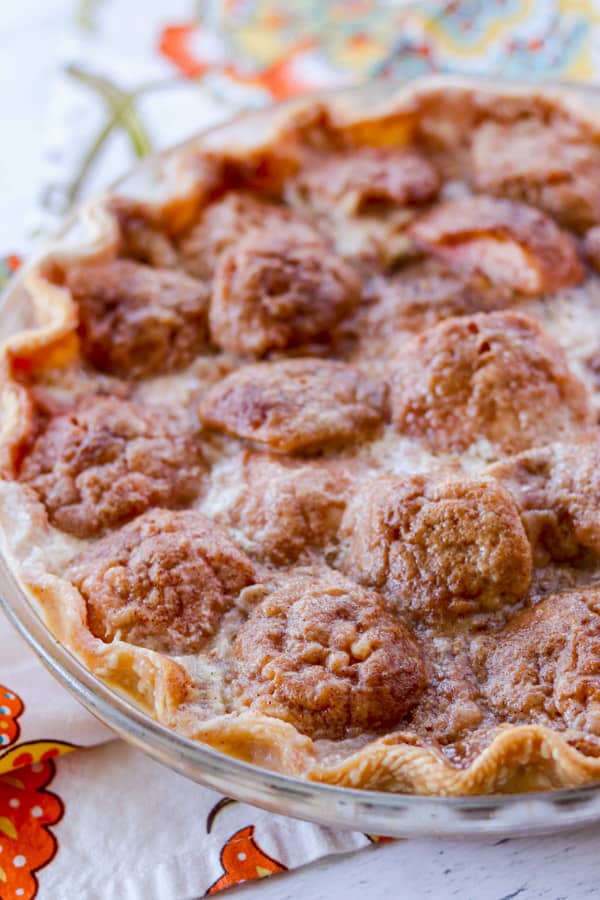 One of my favorite people – my mother's sister, Jeanne, would make it.
I remember trying to hurry everyone through dinner just so I could get my hands on this pie.
I was mad if I didn't get at least two pieces.
It was definitely the highlight of every holiday meal for me.
Through the years I've made it for my own family and they have grown to love it just as much as I do.
And believe it or not, now I'm even more happy that I can share it.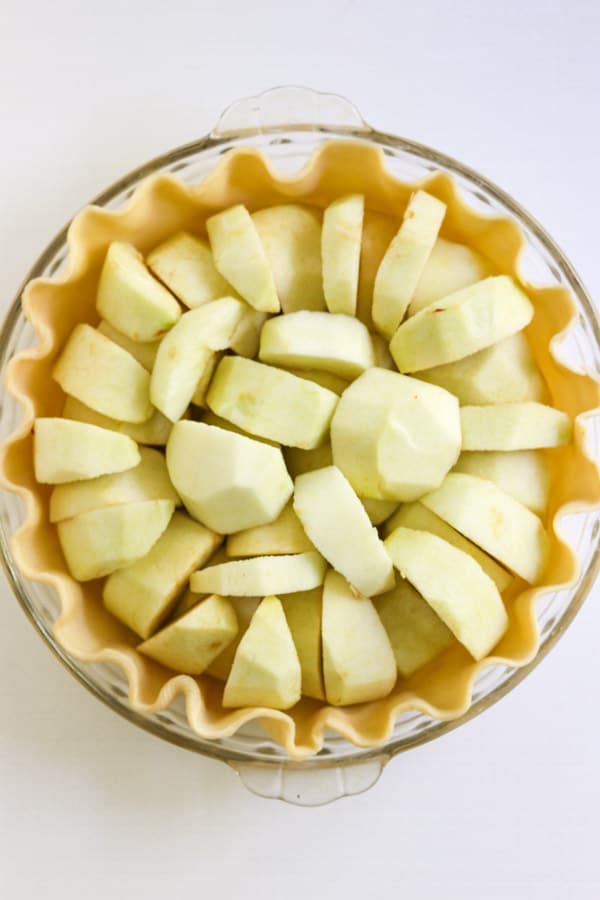 It's SUPER easy to make and is delicious with a pie crust made from scratch or one that is store bought.
One of my favorite things about the pie is the way the cinnamon sugar mixture hardens on the crust as it bakes. YUM!
My aunt always put 1/4 teaspoon cinnamon into her dough when she was making it from scratch, but I haven't and it's always tasted just as good.
Also, feel free to use any kind of apples you wish.
I've used various ones throughout the years and always go back to my preference for MacIntosh.
SIGN UP FOR THE WEEKLY
365 DAYS OF BAKING & MORE
NEWSLETTER BELOW!
Ingredients for the easiest apple pie recipe –
unbaked pie crust –
8 medium apples –
My aunt's original recipe called for 6 apples, but I've since added two and it definitely fills it out more and makes it even better.
I got even more praise from the family when I served it this way!
lemon juice –
prevents the apples from browning too quickly
Light brown sugar
all-purpose flour
kosher salt
heavy whipping cream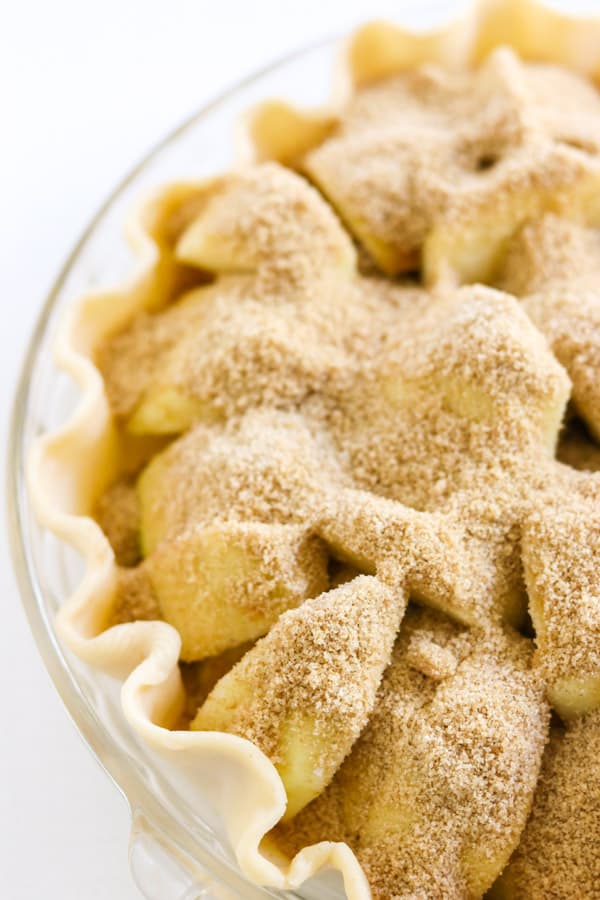 Tips for making this Apple Dessert Recipe –
Single pie crust –
The pie dough does not need to be baked first.
To save time, use a store-bought refrigerated pie crust as I often do or you can choose to make it from scratch.
When making the dough from scratch, give it some extra flavor by adding ¼ teaspoon of cinnamon to it as my aunt used to.
Apples –
there are a variety of apples that are great for baking –
MacIntosh – the kind I prefer for this pie. I like how they soften and the taste.
Cortland
Braeburn
Golden Delicious
Granny Smith
Jonagold
Honeycrisp
In other apple recipes, like this apple ginger galette, I chopped the apples. These fried apple rings are slices. In this pie recipe, you could do whatever you prefer. My aunt's original recipe instructed cutting the apples into quarters, so that's what I've always done. I also like the presentation and the bigger apple pieces as opposed to thinner slices or smaller cuts.
If you're going to follow my recipe as directed and go with quartering the apples, you'll want to place them evenly around the pie plate as seen in the photo above. This way there won't be any places in the pie without apple. But on the other hand, I seriously doubt that would happen anyway because the apples cook down quite nicely as it bakes and fills any empty holes.
Baking sheet covered with aluminum foil –
Before I fill the crust with the apples, I'll place the pie plate on a rimmed baking sheet covered with tin foil. There have been a few times when the cream has bubbled over as it has baked, and it just makes for super easy cleanup.
Slowly and gently pour the cream –
This is key to covering as many apples as possible. Doing it slowly also prevents the cream from running down an apple quarter, off the pie plate and onto the baking sheet.
Refrigerate for a couple hours after it has completely cooled, then serve –
The pie can be served after it has cooled completely or when it is just a little warm, but we NEVER eat it that way. I absolutely love eating this pie after it's been in the refrigerator for a few hours and is completely cold. I don't know, maybe it's the heavy cream in it and cream is "supposed to be cold", but the whole family most definitely prefers it this way, too.
What do I serve this pie with?
Um, nothing?
Seriously.
When eating it cold, it really doesn't need that standard scoop of vanilla ice cream that you usually enjoy with a slice of hot apple pie.
But don't let me deter you from that additional enjoyment of some ice cream or a pretty swirl of whipped cream!
I think this pie is pretty spectacular as it is and topping it with anything might actually reduce its' greatness.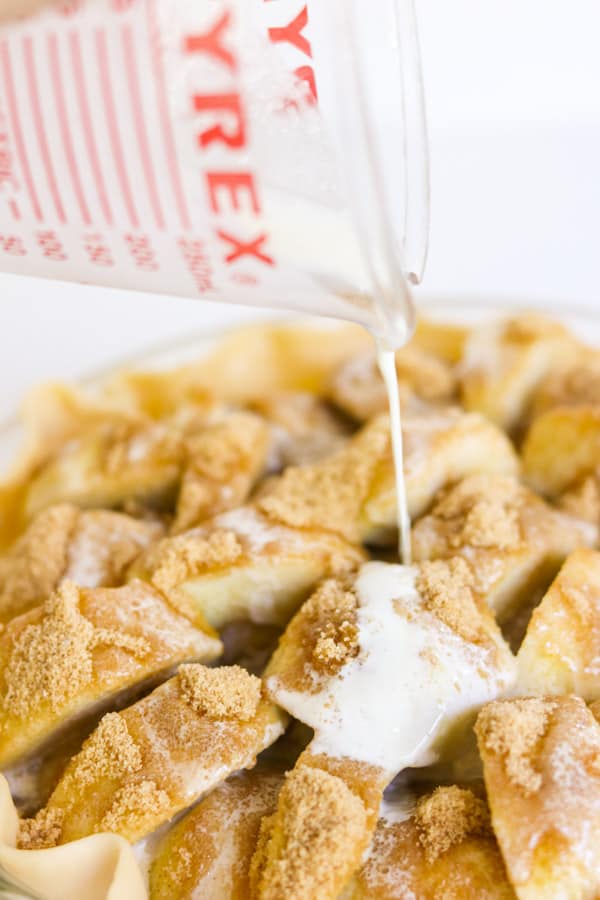 I love eating apples all year long, especially in any kind of apple crisp, like this over the top bacon caramel apple crisp or this easy skillet apple crisp.
Of course, you can never go wrong with an apple pie, especially when it's a French Apple Pie! Lots of apples and a brown sugar streusel will make everyone want a second piece.
Another dessert favorite around here are these caramel apple cheesecake bars.
We also love eating caramel apples, but I like the inside out caramel apples even better!
~ FOLLOW ME ~
Keep an eye out for more of my easy recipes each week!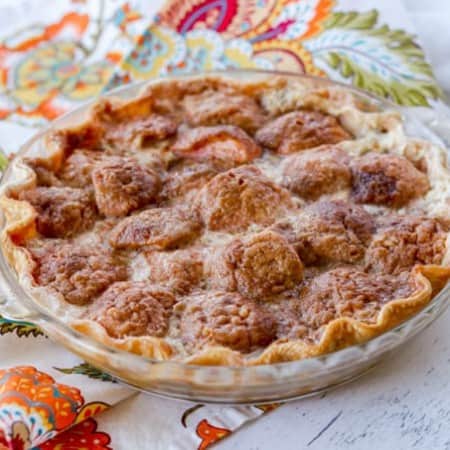 This Apple Cream Pie is a super easy and very delicious apple pie recipe that has been in our family for generations. Soft apples covered in a cinnamon sugar mixture surrounded by heavy cream, make this pie a favorite all year round, and it's best eaten cold!
Equipment
mixing bowl

9-inch pie plate
Ingredients
1 unbaked pie shell made from scratch or store bought
8 Medium Apples my personal preference is MacIntosh, but feel free to use your favorite
1 tbsp. lemon juice
1 cup packed light brown sugar
¼ cup all-purpose flour
½ tsp. cinnamon
⅛ tsp. kosher salt
1 cup heavy whipping cream
Instructions
Preheat oven to 400 degrees F. and prepare a rimmed baking sheet by lining it with a piece of aluminum foil. This will allow for easy clean-up should the pie bubble over.

In a small bowl, combine dry ingredients.

Cut the apples into quarters, peel and seed. Then put them into a medium bowl.

Sprinkle lemon juice over apples, toss to completely cover and place all of the apple quarters into the pie shell so that they are evenly distributed.

Sprinkle them with 3/4 of the cinnamon sugar mixture.

Gently and slowly pour the cream over as many of the apples as you can, then cover with remaining dry ingredients.

Bake at 400° for 10 minutes.

Lower the oven heat to 350°F and bake for an additional 45 – 60 minutes or until apples are tender.

Pie tastes best after it has been refrigerated for a couple of hours.
Notes
If you are making the pie crust from scratch, add a 1/4 teaspoon of cinnamon to the pie dough for some additional flavor.
Nutrition
Serving: 1g | Calories: 552kcal | Carbohydrates: 89g | Protein: 4g | Fat: 23g | Saturated Fat: 12g | Cholesterol: 54mg | Sodium: 184mg | Potassium: 366mg | Fiber: 7g | Sugar: 61g | Vitamin A: 714IU | Vitamin C: 12mg | Calcium: 80mg | Iron: 2mg
Did you make this recipe?
Share it with me on Instagram and make sure to follow me on Pinterest for more recipes.

Reader Interactions