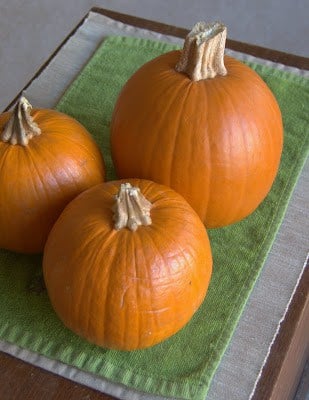 It's pumpkin time again!
Yes, this is another recipe with those big orange things.
But THIS one…
is not like the Pumpkin Candy Corn Cookies.
I still don't think I like those Candy Corn M & M's.
And it isn't the Chocolate Chunk Pumpkin Bread because that was just chocolatey delicious.
Oh, I think I need to make more of that. Soon.
And no, it isn't the Caramel Pumpkin Cheesecake Tartlets either. That was some decadent dessert, and I don't even like cheesecake!
No, this…this stuff that we had for dinner was a recipe you definitely need to consider making.
There I go, giving my review away before the recipe.
Alright! I'm done!
Read.
Then we'll talk.
Stuffed Pumpkins – serves 4-5
3 small pie pumpkins (about 4 lbs. each)
1 lb. bulk sausage
1/3 lb. bacon (I used about 6 strips of Center Cut)
1 6 oz. package of Stove Top Stuffing Cornbread Mix
or 3 cups cubed cornbread
1/2 teaspoon freshly grated nutmeg
1 tablespoon Italian parsley (flat-leaf)
1 cup shredded Swiss cheese
1 cup shredded cheddar cheese
1 1/2 cups heavy cream
Using a serrated knife, cut the tops off of the pumpkins and scrape the insides clean, removing seeds and making sure to remove all of the stringy innards.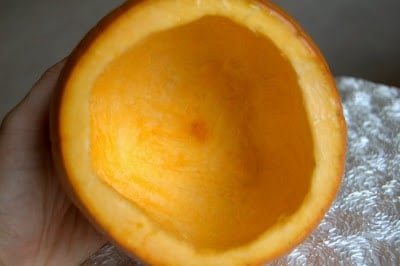 Preheat oven to 375ºF.
Prepare a rimmed baking sheet by lining it with tinfoil and spraying it with cooking spray.
Prepare stuffing mix as directed and set aside.
Cook bacon, crumble and place into a large bowl.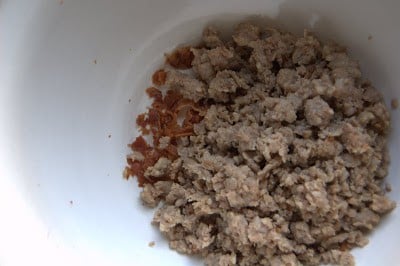 In a large skillet, place sausage and crumble as it cooks. Drain and combine in large bowl with bacon.
Add stuffing mix or cornbread cubes, nutmeg, parsley, Swiss and cheddar cheeses, and heavy cream.
Combine all ingredients thoroughly.
I didn't take a picture of the stuffing at this point because it honestly didn't look too appetizing.
Truth be told.
Lightly stuff the shells of the pumpkins (just below the rims) as the stuffing will expand while baking.
Place on prepared baking sheet and roast for 2 hours.
Do your nails, fix your hair, take a bath, and enjoy the quiet time when you're usually rushing around to prepare dinner!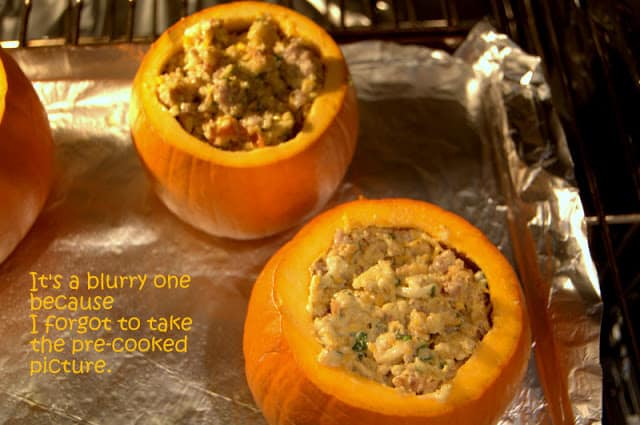 The sides will start to shrivel towards the end of baking.
Allow to cool for 5 minutes.
Cut in half and serve.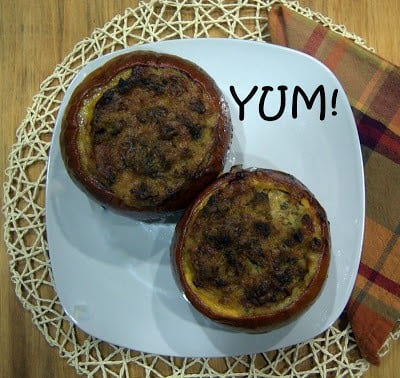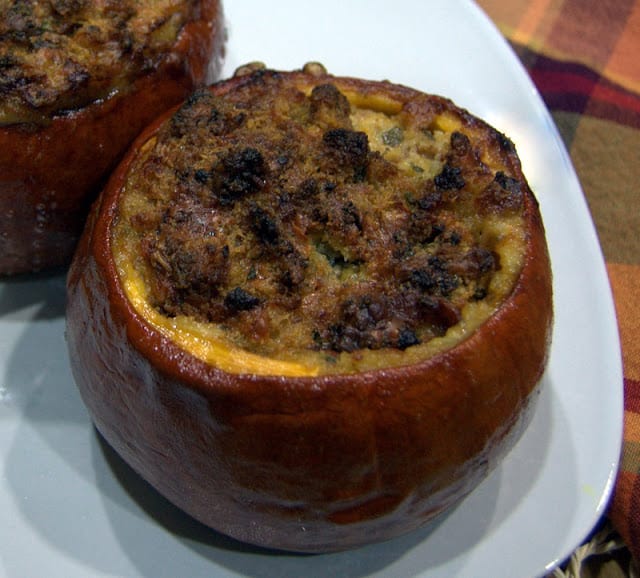 Oh, and I need to thank my good friend and neighbor, Tracy, for this one. She sent me a note saying I had to try it, and I am so very glad she did! Thank you, Tracy!! BIG baking hugs for this one, girl!
The scraping of the pumpkin innards will take some time, so don't start attacking them at 4 o'clock if you want to be eating dinner at 6.
It ain't happenin'.
I had the best result scraping the inside with a grapefruit spoon. Just sayin'. If you have one, you may want to use it, but don't go out and purchase it just for this purpose.
But grapefruits are good in the morning. Part of a well-balanced breakfast, I suppose.
I chose to use the stuffing mix because for 1) it was quicker and less time consuming than making cornbread or buying it pre-made at the store (which I did consider) and cutting it up into cubes, and 2) it had some pretty good spices in it that I had wanted to add (ok, so they were artificial and processed – convenience was beckoning!). And it was a wonderful addition. One of the pumpkins was bigger than the other two and had I slightly under filled the smaller ones (not realizing expansion would occur), I would have had enough to completely fill the third. Not a big deal. No one complained.
I rate everything I bake on a scale of 1-4 with 4 being the best and these Stuffed Pumpkins earned 3 1/2 rolling pins!
There were SO unbelievably yummy!
Even the boy who turned his nose up when he asked what was for dinner ended up really liking it!
And that's saying something, especially coming from one who would eat penne, tacos or my chicken picatta every night of the year.
Mr. 365 said, "you can definitely make this again!"
I think it was a hit.
They were very filling, too. None of us finished and we had a whole pumpkin leftover.
Then again we are birds when we eat. Good leftovers for tomorrow's lunch though!
The flavors blended so nicely together and the pumpkin itself was so yummy delicious! It came right out of the shell when I scooped it with my fork. and tasted oh so good with the cornbread, bacon and sausage.
Heaven.
I suggest letting them cool for 5 minutes before serving. We almost burned our mouths the stuffing was so hot. And that makes for an unenjoyable (I don't think that's a word, but I'm using it anyway) meal if you burn your mouth on the first bite. Like that first sip of coffee and then the rest of it doesn't taste right and you're thinking "darn it! That was a waste!".
Am I right?
Ok, readers, it's Fall. This is a recipe to try before all those pumpkins fly away not to be seen until next year. Because I know you're not going to be making this come springtime. Honestly, have you ever seen the Easter Bunny with a pumpkin? C'mon.
Oh, by the way, did you know that there's only 59 more shopping days til Christmas?
Yeah, I saw a sign at Walmart.
And they have their Christmas merchandise for sale.
Unbelievable.
Every year they seem to put that stuff out earlier than the last.
They should just keep it up all year round.
That's what I like to do with our tree that way I don't have to unpack and pack all the decorations.
And putting the lights on that thing is a pain in the neck. I'm always getting stabbed.
No.
I'm kidding. My kids really wouldn't like it too much if I left it up all year.
We don't even have an artificial one, and because we live in a DRY heat, it becomes dry as a bone, the needles fall off and the thing becomes a MAJOR fire hazard.
REALLY fun to watch when you put it into a bonfire, HA HA, but not something I want hanging around waiting for a spark in the house.
I'm rambling.
Time for bed.
Sweet dreams all or top of the mornin' to you wherever you may be!
I give you BIG baking hugs and muffins!