Classic cinnamon rolls and white cake collide in this Cinnamon Roll Layer Cake. Three layers of fluffy cake are held together with a cinnamon sugar brown glaze and completely covered with creamy cinnamon frosting. It's the ultimate cinnamon dessert recipe!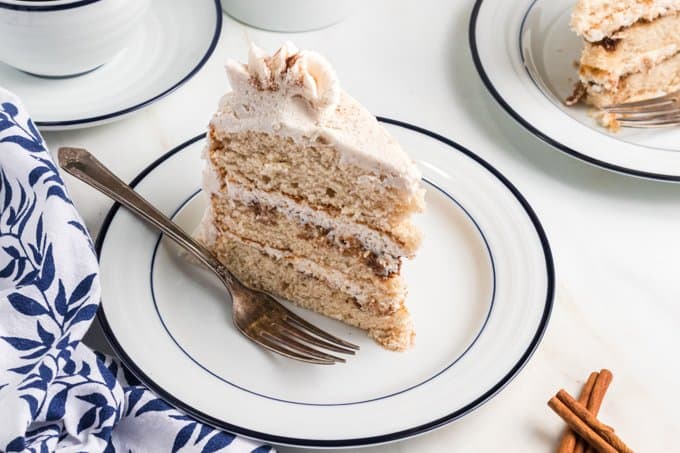 I can never resist the aroma of a freshly baked cinnamon roll.
This cake smells just like cinnamon buns while it's baking. And it tastes even better.
Think of the best birthday cake you've ever tasted. Now think of the best cinnamon roll you've ever had. One of the ones that's oozing with buttery cinnamon sugar filling and absolutely dripping with creamy vanilla frosting. This cake tastes like both of those all at once–a cinnamon roll birthday cake, if you will.
SAVE THIS CINNAMON ROLL LAYER CAKE RECIPE TO YOUR FAVORITE PINTEREST BOARD!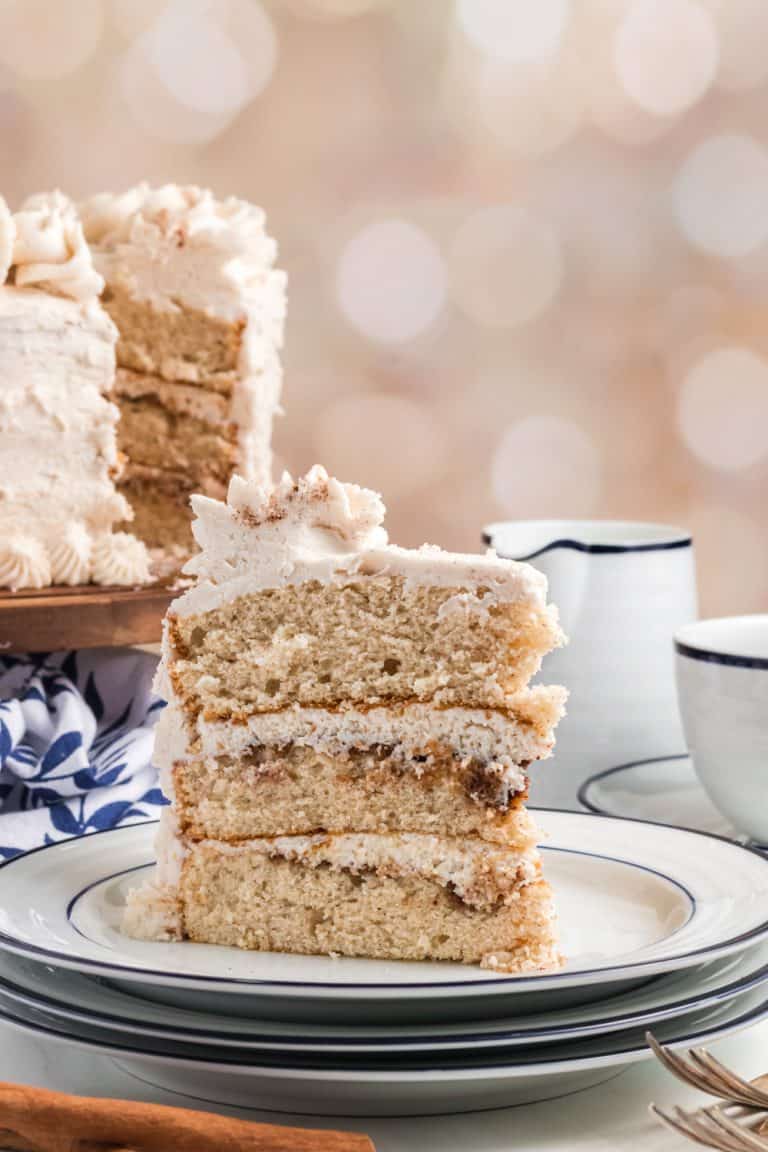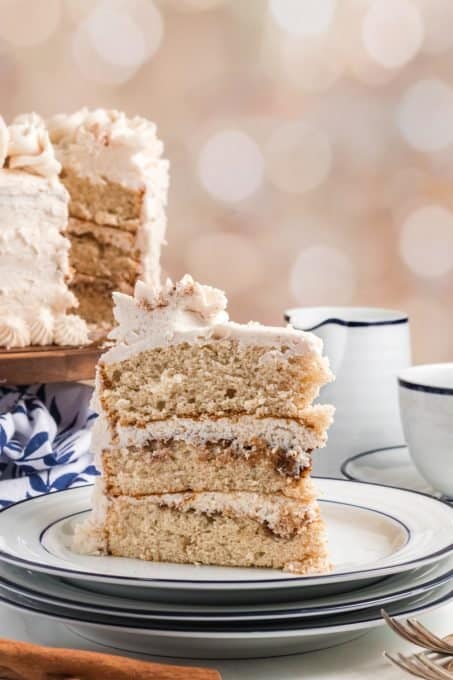 Lindsay Conchar, founder of the blog Life, Love and Sugar, is the genius behind this Cinnamon Roll Cake recipe. She originally shared it in her book and when I first read the name "cinnamon roll layer cake" I knew I had to try it IMMEDIATELY.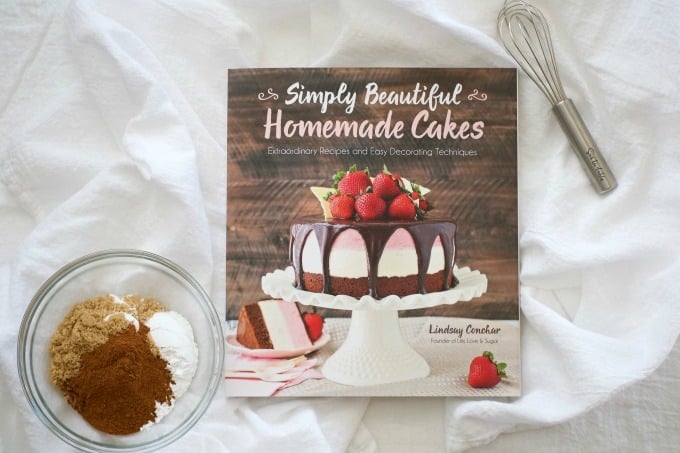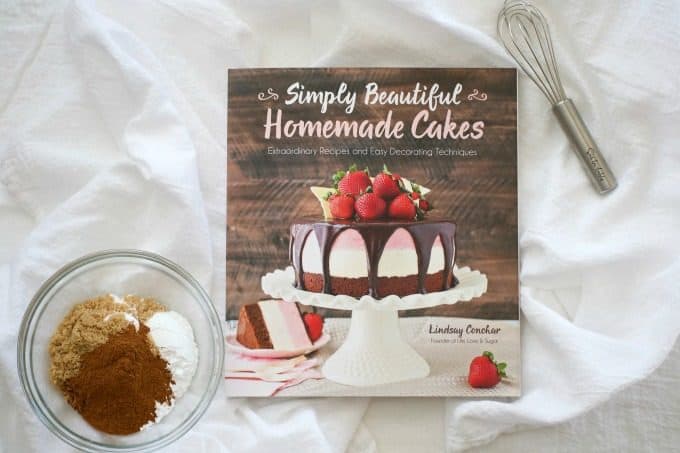 Friends, I was not disappointed. This cake is an explosion of cinnamon sugar flavor with the perfect tender crumb and a gorgeous presentation.
If you love cinnamon rolls, you need this cake in your life. Now.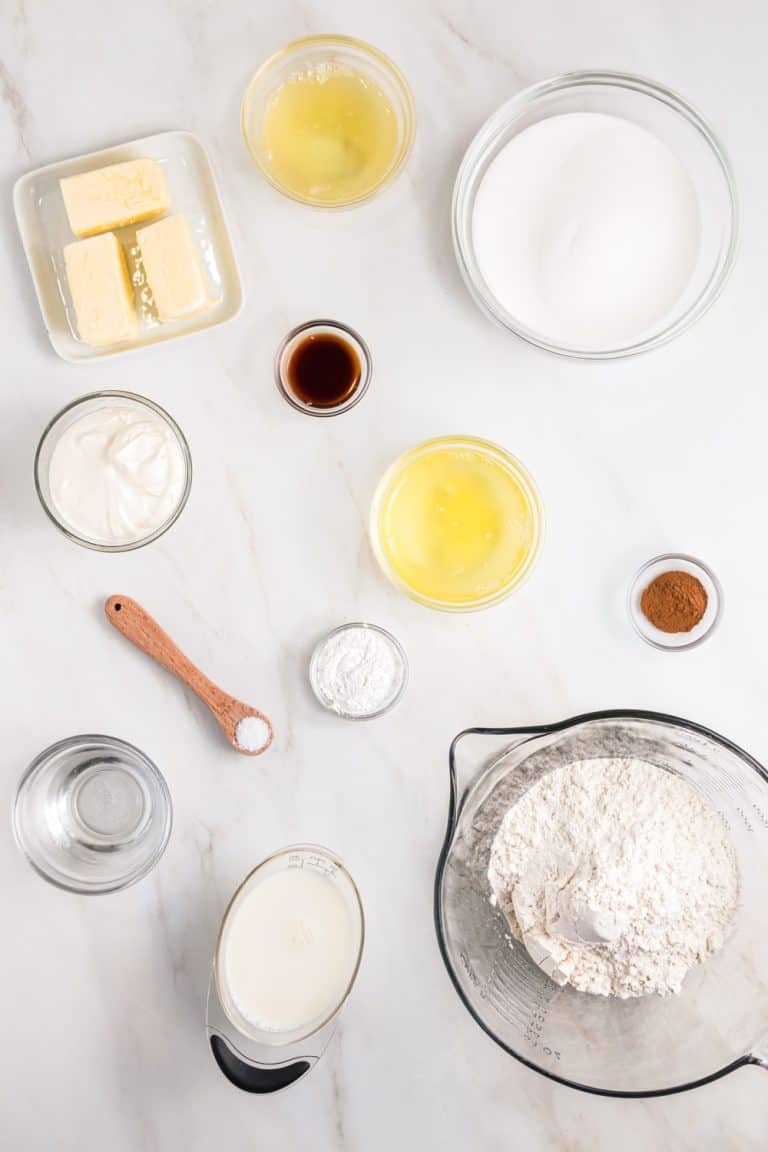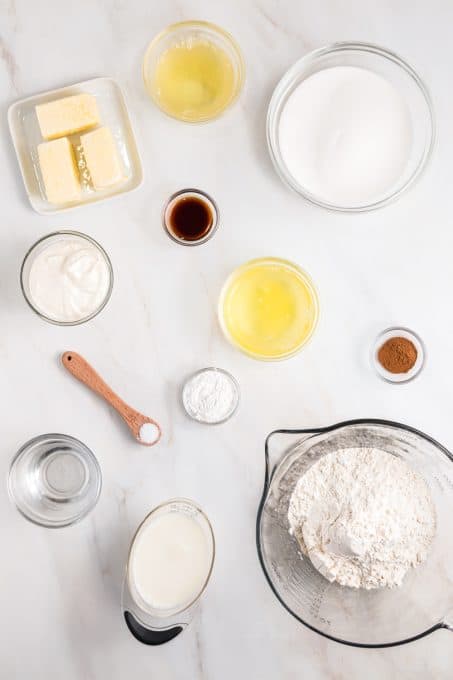 What do I need?
There are three separate components to Cinnamon Roll Layer Cake: the cake itself, the cinnamon glaze and the cinnamon frosting.
For the cake, you will need:
butter
sugar
sour cream
vanilla
egg whites
flour
baking powder
cinnamon
salt
milk
water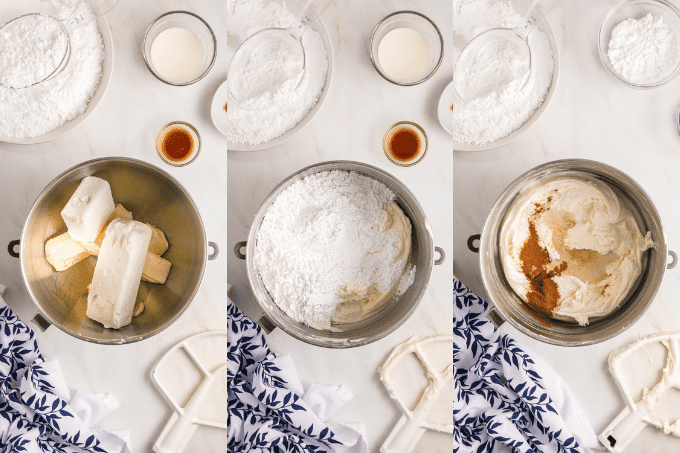 For the frosting, you will need:
butter
shortening
powdered sugar
cinnamon
milk (or water)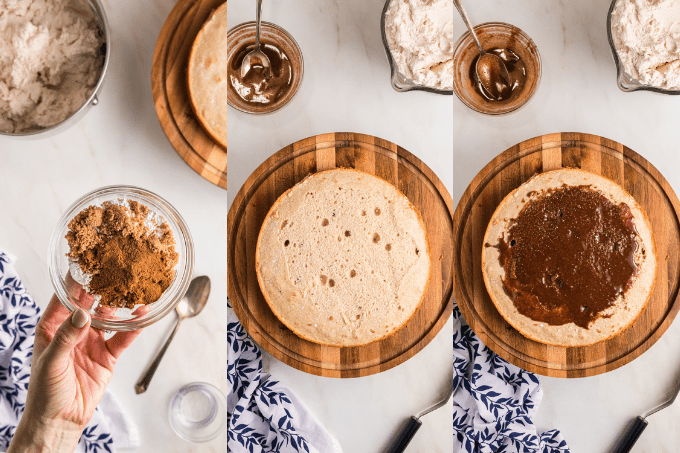 Finally, you'll need this ingredients for the sweet cinnamon glaze:
powdered sugar
light brown sugar
cinnamon
water
Tips
Make this cake in three 8 inch round pans for results that look like the photos. Remember to line the bottom of your pan with parchment paper to prevent the cake from sticking.
Use room temperature ingredients in this cake recipe. They are much easier to incorporate than butter and eggs straight out of the fridge!
After baking, let the cakes cool in the pan for a couple of minutes before removing them. If you try to remove the layers while they're still hot, they tend to fall apart.
For a thicker frosting, add less milk. For a thinner icing, add more.
Cinnamon sticks or a sprinkle of ground cinnamon make a perfect garnish for the finished cake!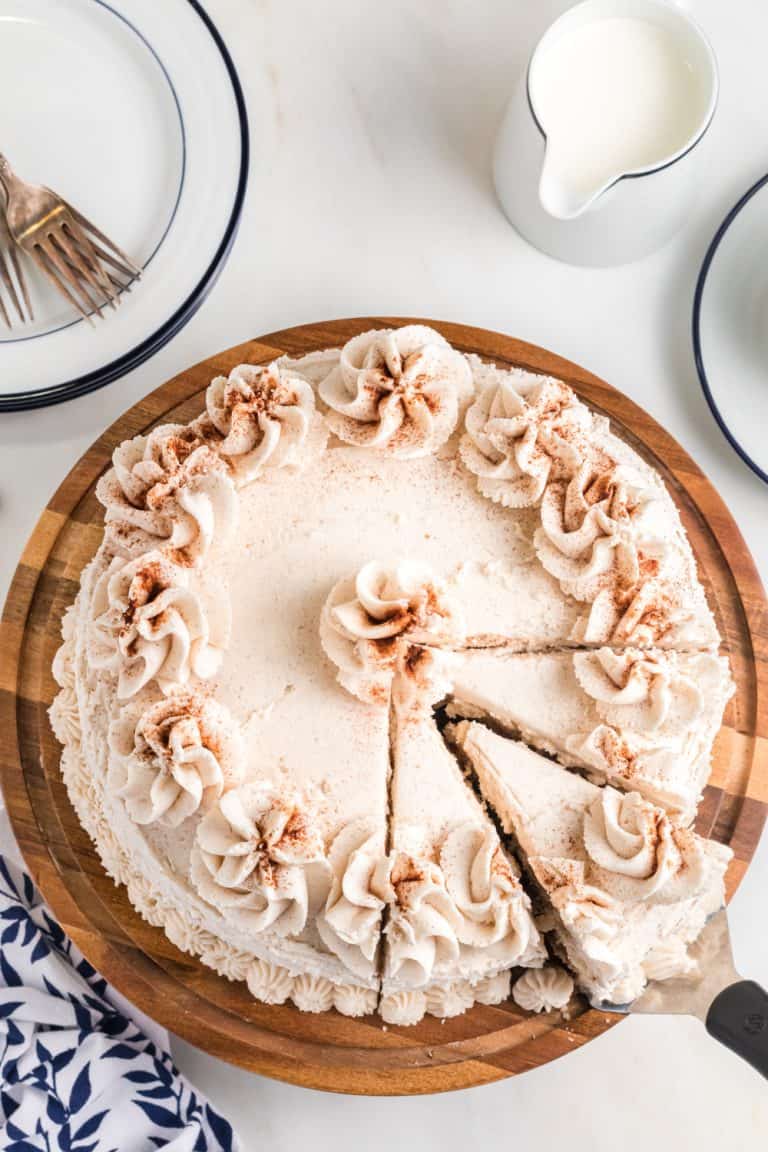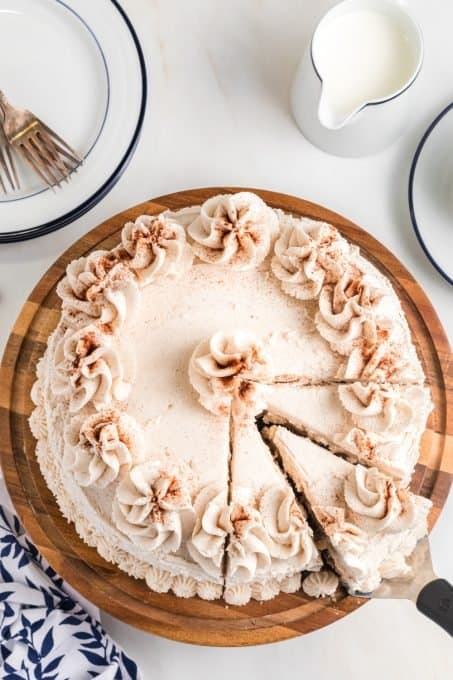 How to Assemble a Cinnamon Roll Cake
First, remove the domes from the tops of the cakes so that they are even and flat. Then place one layer on a cake plate and spread cinnamon glaze on top followed by a layer of cinnamon frosting. Repeat with the remaining two layers of cake.
Spread cinnamon frosting all over the top and sides of the layered cake. For a pretty finishing touch, pipe a ring of remaining frosting along the border of the cake.
Slice, eat and enjoy!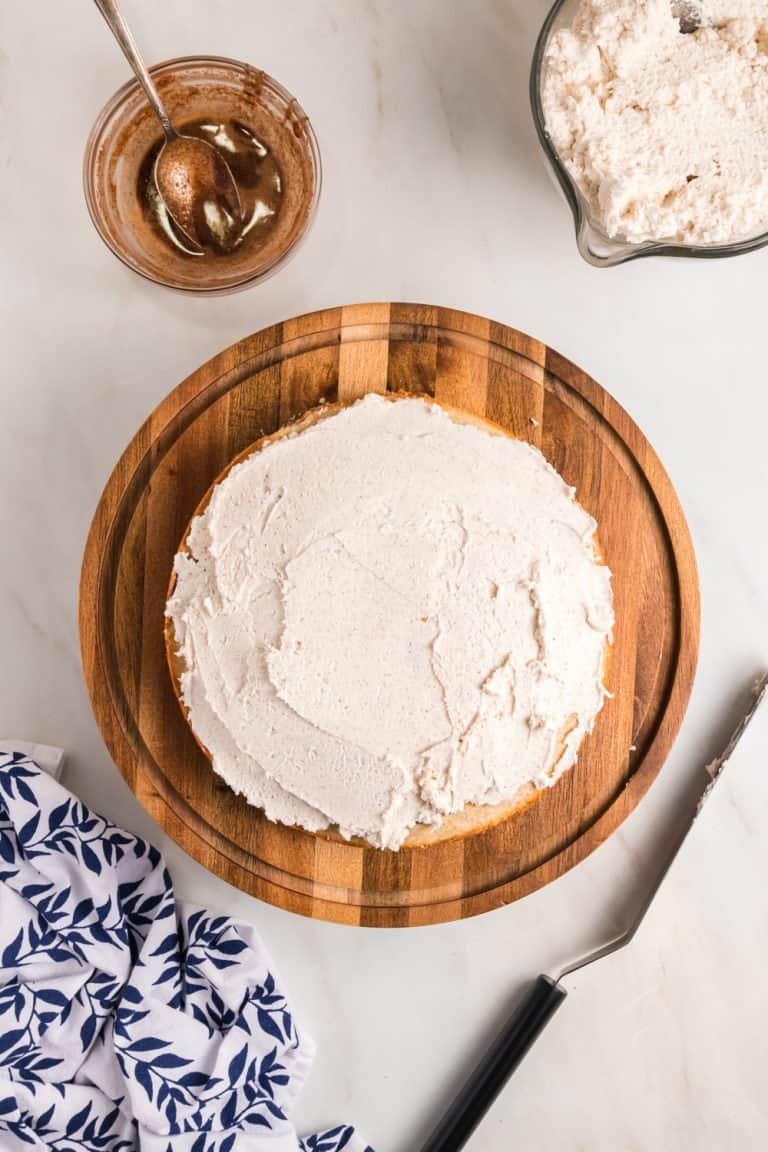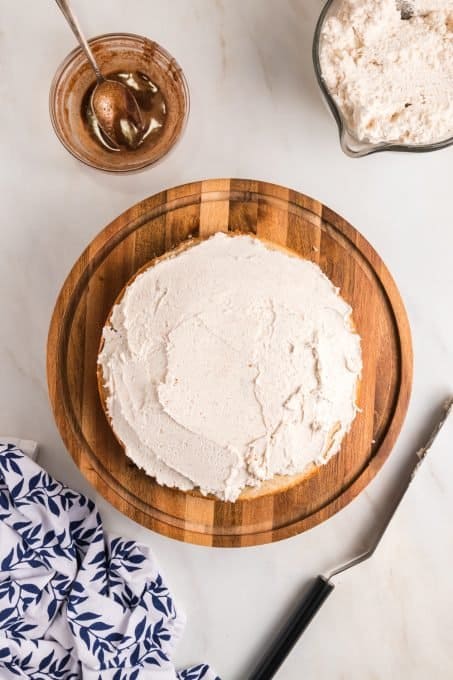 Cake Recipes
If Cinnamon Roll Cake is like breakfast for dessert, my Cinnamon Sour Cream Coffee Cake recipe is like dessert for breakfast! This Cranberry Coffee Cake is another breakfast cake recipe that uses sour cream to keep it moist, even days after baking.
Everyone knows someone who won't even look at a cake unless it contains lots of chocolate. This Peanut Butter Chocolate Lava Cake Recipe is perfect for chocolate lovers and peanut butter lovers alike. My readers rave over this Chocolate Peanut Butter Pudding Cake too.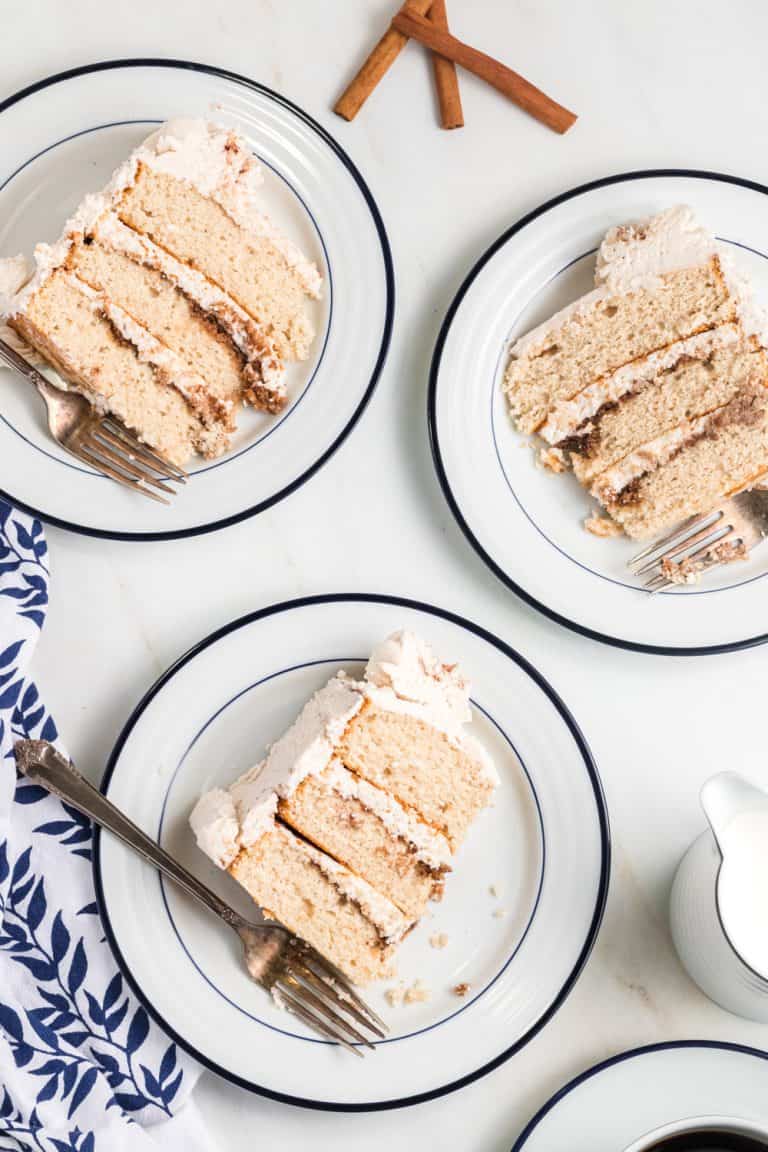 Cinnamon Recipes
I can't believe I've bee talking about cinnamon roll layer cake for this long and haven't yet mentioned my go-to classic Homemade Cinnamon Rolls! They're fluffy, pillowy soft and drizzled with an irresistible vanilla cream cheese icing. What's not to love?
Looking for even more spicy sweet ways to bake with cinnamon? Try these long time blog favorites!
One final tip for Cinnamon Roll Layer Cake: invite a few people over to enjoy it with you! It's so good you may be tempted to eat the whole thing in one sitting. Plus, everything is better with friends. Especially CAKE!
SIGN UP FOR THE WEEKLY
365 DAYS OF BAKING & MORE
NEWSLETTER BELOW!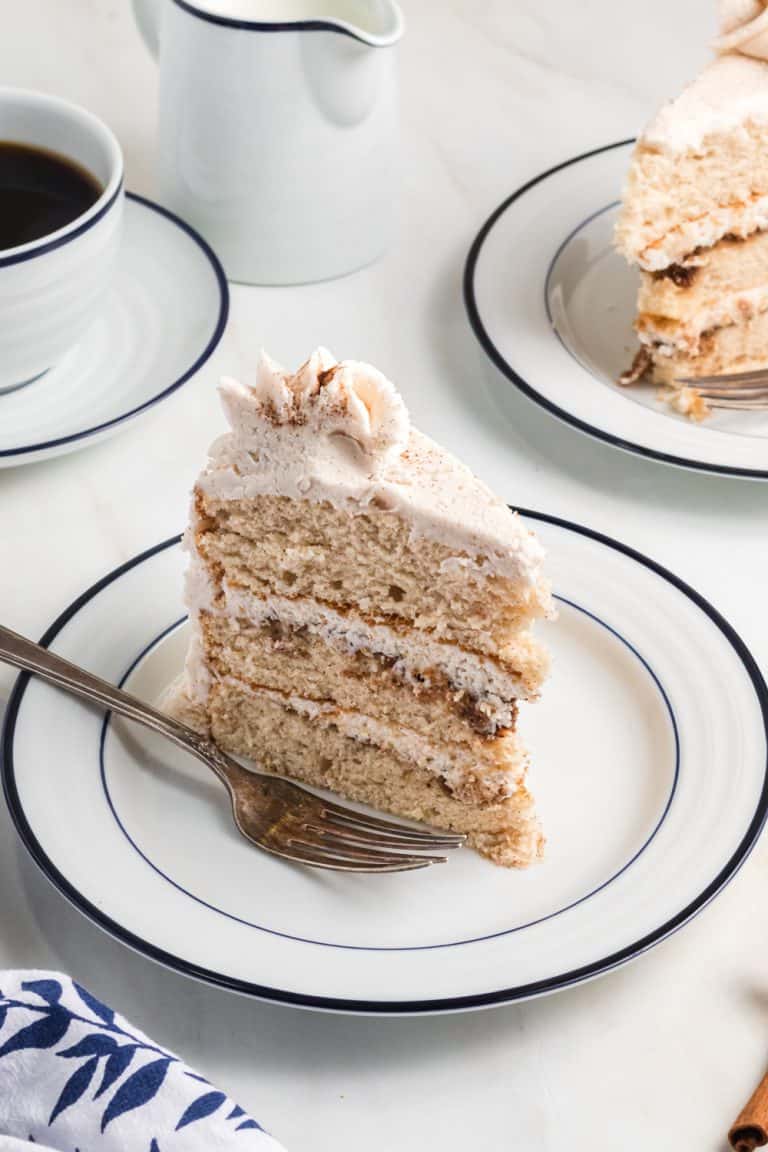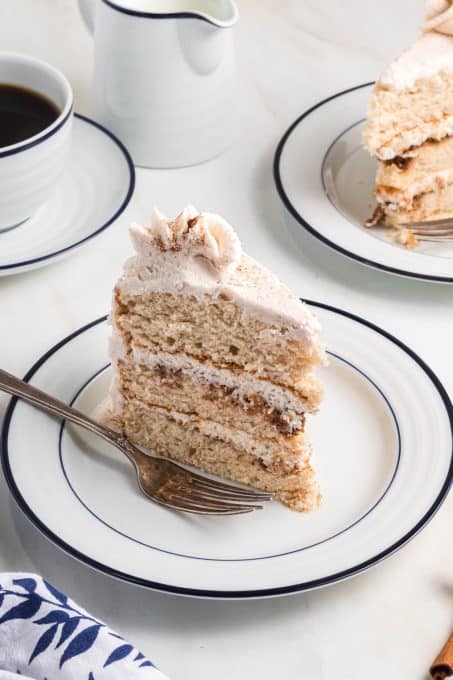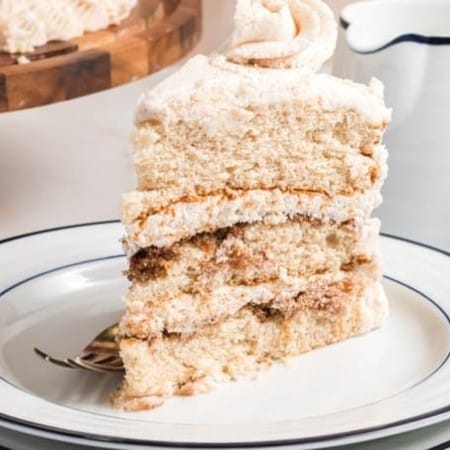 This Cinnamon Roll Layer Cake is from Lindsay Conchar's (creator of the blog, Life, Love and Sugar) new cookbook, Simply Beautiful – Homemade Cakes. It is an 8-inch three layer cake. Each layer is covered in a cinnamon glaze and completely frosted with a incredible cinnamon frosting. It's like a cinnamon roll for dessert!
Equipment
(3) 8-inch round baking pans

parchment paper

large mixing bowls

Mixer

serrated knife

offset spatulas
Ingredients
Cake Layers
¾ cup unsalted butter room temperature
1 ½ cups sugar
¾ cup sour cream room temperature
2 tsp. vanilla extract
6 large egg whites room temperature, divided
2 ½ cups all-purpose flour
4 tsp. baking powder
1 teaspoon cinnamon
½ teaspoon salt
¾ cup milk room temperature
¼ cup water room temperature
Cinnamon Frosting
1 ½ cups salted butter room temperature
1 ½ cups vegetable shortening
12 cups powdered sugar
1 tsp. vanilla extract
1 tsp. cinnamon
¼ cup water or milk room temperature
Cinnamon Sugar Glaze
5 tbsp. powdered sugar
2 tbsp. light brown sugar loosely packed
1 tbsp. ground cinnamon
2 tbsp. water
Instructions
Cake Layers
Preheat the oven to 350 degrees F. Line the bottom of 3 (8-inch) cake pans with parchment paper and grease the sides.

In a large mixer bowl, cream the butter and sugar together on medium speed until light in color and fluffy, 3 to 4 minutes.

Add the sour cream and vanilla extract and mix until combined.

Add 3 of the egg whites and mix until well combined. Add the 3 remaining egg whites and mix until well combined. Scrape down the sides of the bowl as needed to make sure everything is combined.

Combine the flour, baking powder, cinnamon and salt in a medium bowl.

Combine the milk and water in a small measuring cup.

Add half of the flour mixture to the batter and mix until combined.

Add the milk mixture to the batter and mix until combined.

Add the remaining half of the flour mixture and mix until smooth.

Scrape down the sides of the bowl as needed to ensure everything is well combined.

Divide the batter evenly between the prepared cake pans.

Bake the cakes for 23 to 25 minutes, or until a toothpick inserted in the middle comes out with a few crumbs.

Remove the cakes from the oven and allow them to cool for 2 to 3 minutes, then remove them from the pans and transfer them to a cooling rack to finish cooking.
Cinnamon Frosting
Beat the butter and shortening together until smooth.

Slowly add 6 cups of the powdered sugar and mix until smooth.

Add the vanilla extract, ground cinnamon and water or milk and mix until smooth.

Slowly add the remaining 6 cups powdered sugar and mix until smooth. Set the frosting aside.
Cinnamon Sugar Glaze
Add the powdered sugar, brown sugar and cinnamon to a small bowl and whisk to combine.

Add the water and whisk until smooth.
Cake Assembly
Using a large serrated knife, remove the domes from the tops of the cakes so that they're flat.

Place the first cake on a serving plate or cardboard cake round. Spread 2 1/2 tablespoons of cinnamon glaze over the cake layer. Allow it to soak into the cake.

Spread 1 cup of cinnamon frosting in an even layer on top of the cake.

Repeat this process with the second layer of cake, glaze and frosting, then add the final layer cake on top.

Add a crumb coat to the cake and then frost the sides and the top.

Add the horizontal stripes by lightly pressing a 9-inch offset spatula on the side of the cake while gently turning.

Pipe a shell border around the outside edge of the cake.

Finish by sprinkling some ground cinnamon on top of the cake.
Notes
For decorating, I used the Wilton 1 M and Ateco 844 (or Wilton 2D).
Nutrition
Serving: 1person | Calories: 1095kcal | Carbohydrates: 152g | Protein: 5g | Fat: 55g | Saturated Fat: 26g | Polyunsaturated Fat: 8g | Monounsaturated Fat: 17g | Trans Fat: 4g | Cholesterol: 86mg | Sodium: 301mg | Potassium: 244mg | Fiber: 1g | Sugar: 131g | Vitamin A: 1014IU | Vitamin C: 1mg | Calcium: 122mg | Iron: 1mg
Did you make this recipe?
Share it with me on Instagram and make sure to follow me on Pinterest for more recipes.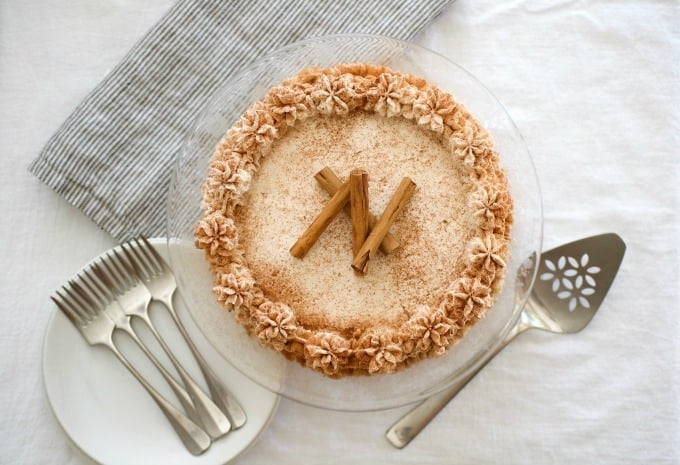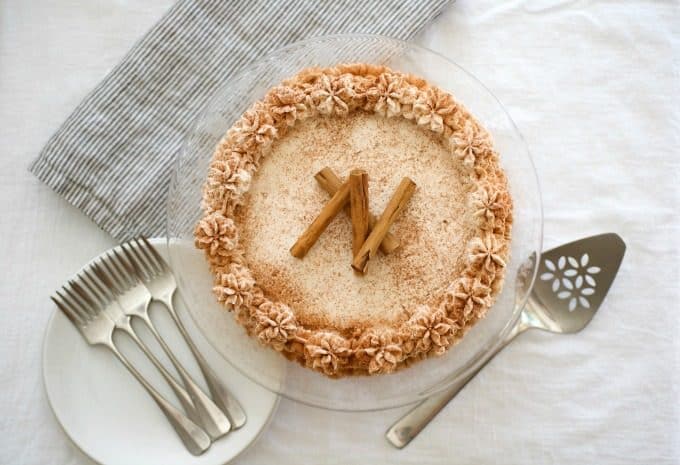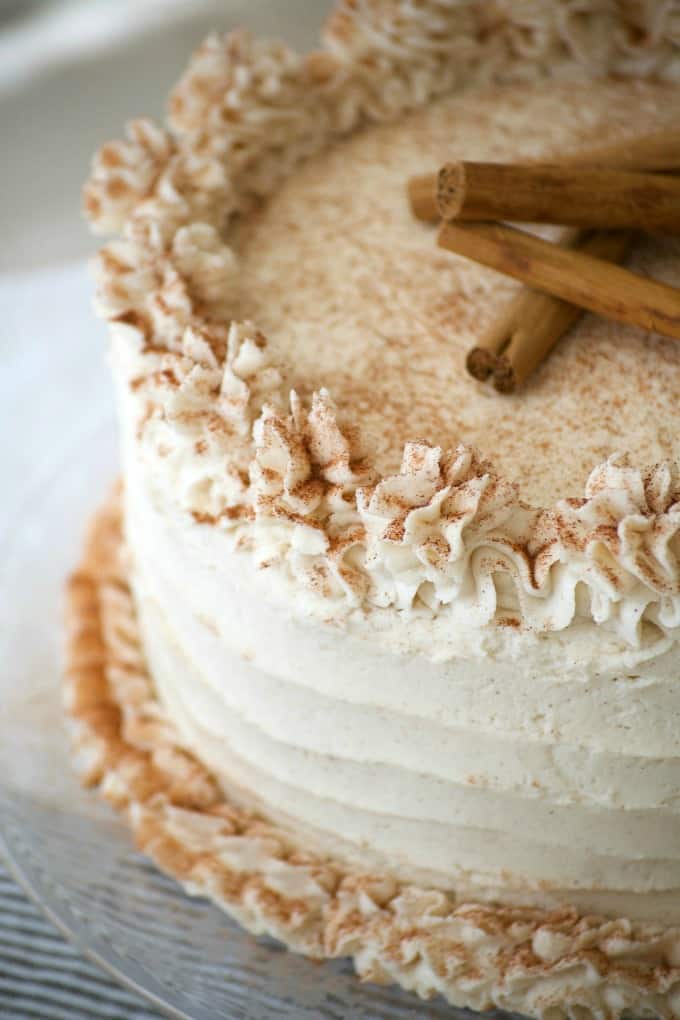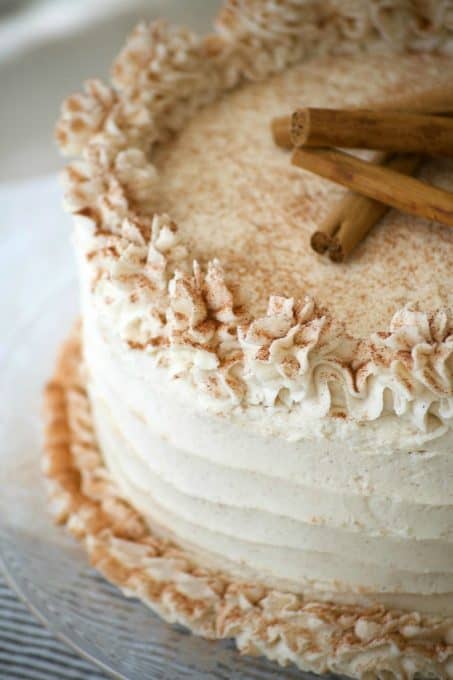 This post was originally published 11/2/16. It has been updated with pictures and in format on 2/21/22.
Reader Interactions