Lemon Cheesecake – This no-bake cheesecake just screams Spring and Summer. It's the perfect addition to your Easter or Mother's Day menu or anytime you need a delicious no-bake dessert.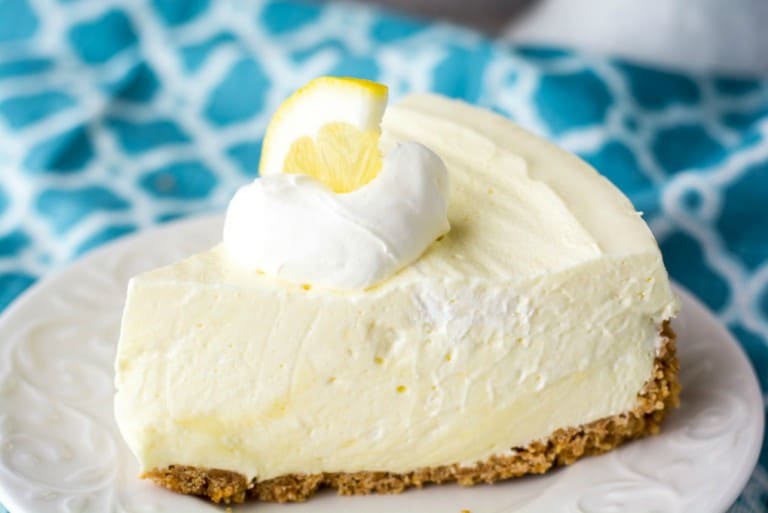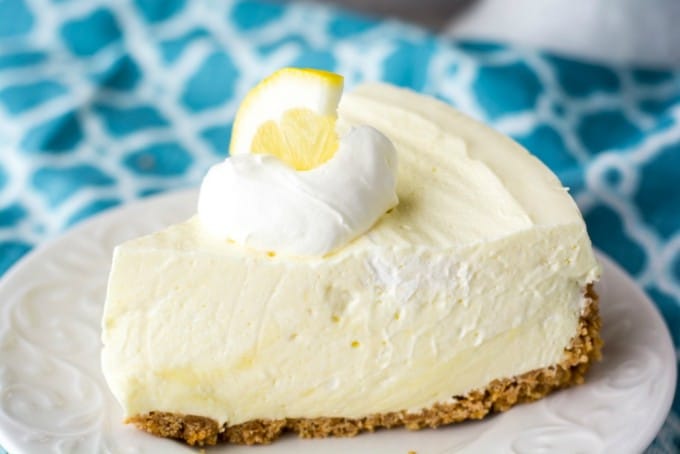 Leia, from Eat It & Say Yum, here! How are ya?!
Spring is nearly here, and the weather is starting to warm up.
Yay!
And these slightly warmer days have me dreaming of summer. I love eating outside and having barbecues with friends
No matter the occasion, I always look forward to bringing a dessert to share. This year, I can't wait to bring this easy no bake lemon cheesecake to all the potlucks, barbecues and cook outs I can.
No-Bake Lemon Cheesecake
This cheesecake is two of my favorite things, tart citrusy lemon flavor and creamy sweet cheesecake, wrapped into one no bake dessert. This is a cheesecake that's easy to make and perfect to share with friends and family. (As long as I can keep myself from eating it all!)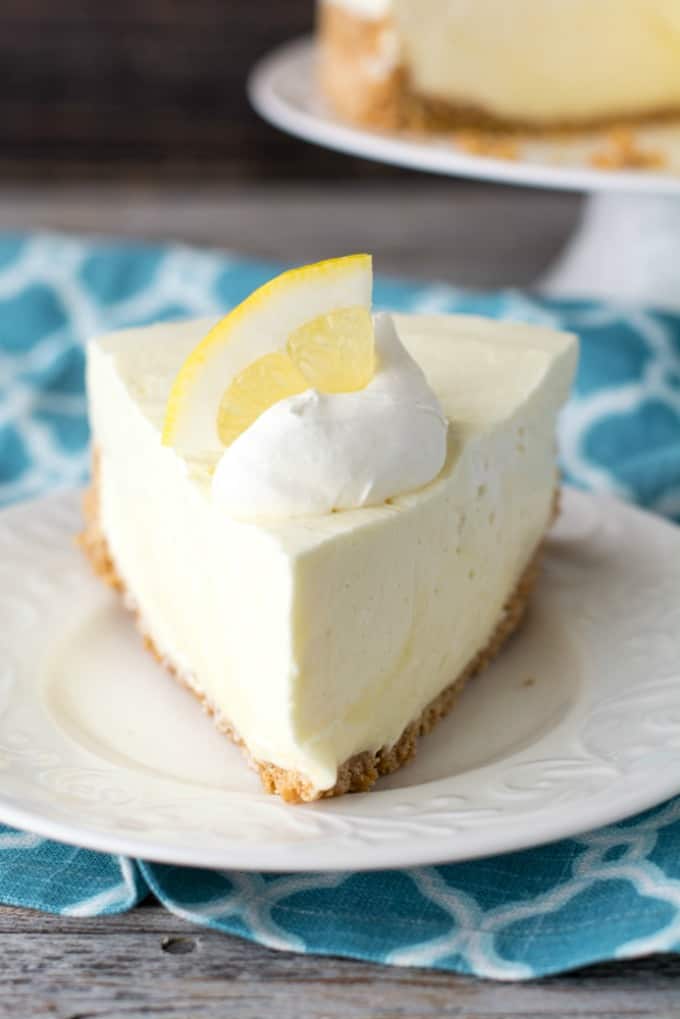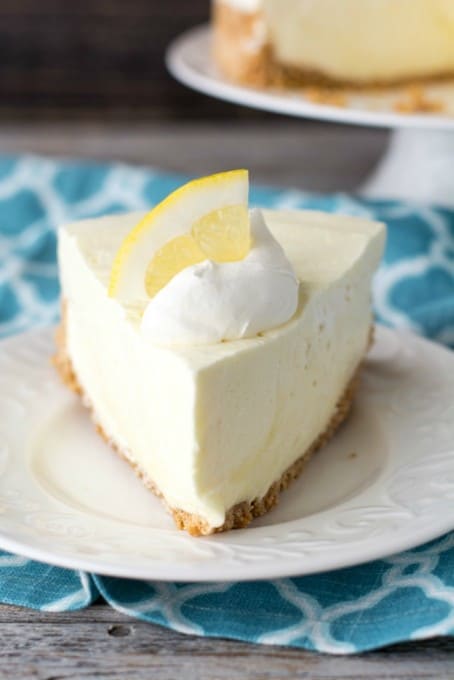 Jello Cheesecake
Have you ever had Jello Cheesecake? Using jello in the filling means the cheesecake sets in the fridge instead of in the oven!
Jello Cheesecake can also be made well in advance and kept in the fridge until ready to serve. And as far as homemade cheesecake goes, it hardly gets any easier.
A lemon jello filling gets beaten with cream cheese and sugar to create a delicious dessert with a perfect texture, all without heating up the house.
No-Bake Desserts
Besides the taste, the best thing about this particular lemon cheesecake recipe is that it is completely no-bake. During the summer, no-bake desserts are a lifesaver.
Some might avoid baking when the weather is warm. Not this girl. Not even a blazing hot sun can keep me from my beloved homemade desserts.
I turn to no bake dessert recipes to get me through without having to turn my oven on and heat up my whole house.
Lynne's No-Bake Blueberry Pie on this site is a definite go to when I need a traditional pie recipe but can't imagine firing up the oven. From No Bake Peanut Butter Pie to No Bake Nutella Snickers Pie to Dream Bars of all kinds, there's no shortage of ways to satisfy your sweet tooth while the weather is hot.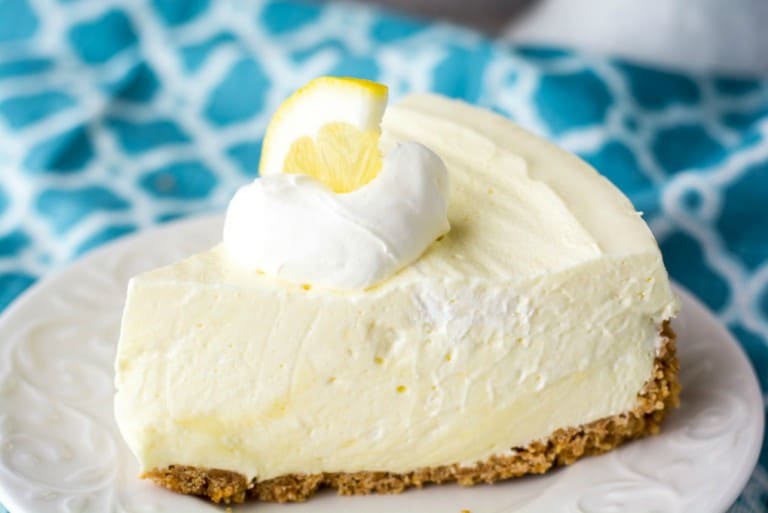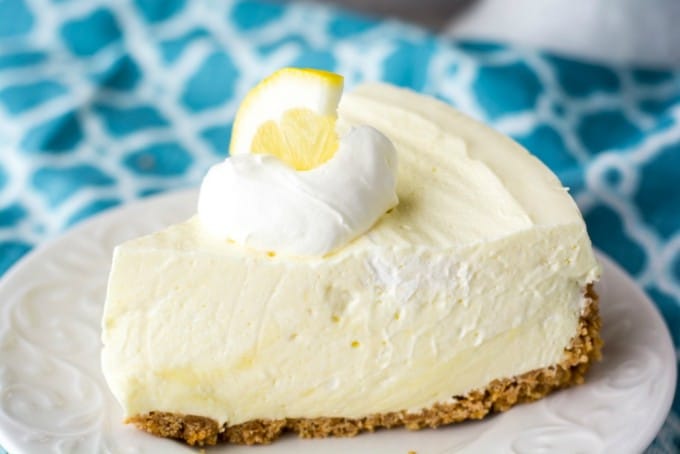 No-Bake Cheesecake
I enjoy no bake desserts of all kinds but I think there's something especially wonderful about no-bake cheesecakes. After pouring the filling into the crust and setting the whole thing in the fridge, you have a perfect cheesecake in just a few hours!
I like to prep this cheesecake the night before serving and let it set in the fridge overnight. There's nothing quite like waking up to a ready-to-eat cheesecake, especially one that tastes as good as this!
You can even store it in the fridge for a couple of days until you're ready to serve. When I know I'm going to have a busy day getting ready for a big meal or gathering, it's nice to have dessert ready to go without any hassle.
I've shared my No-Bake Pumpkin Nutella Cheesecake with you before and No Bake Lemon Cheesecake is another favorite.
Lemon Cheesecake
The lemon flavor in this cheesecake is pretty heavenly. I love the combination of the cool creaminess of the cream cheese with the tart lemon. It really makes for the perfect chilled dessert.
(If you love the combo of citrus and cream be sure to try Orange Creamsicle Dream Bars next! They're everything I love about a no bake cheesecake and orange creamsicles served in bar form.)
Abright and bold lemon dessert never fails to impress. Lemon Meringue Pie, Lemon Bars and Lemon Cake are all welcome sights on any dessert table.
Less rich than chocolate cheesecake but just as enjoyable and satisfying, I've rarely met a lemon dessert, especially a cheesecake, that I didn't like. Naturally, I was excited to create a lemon jello cheesecake that was also a no-bake recipe to boot.
The final result did not disappoint!
This cheesecake is sweet, creamy and packed with lemon flavor all in the easiest ever no bake crust.
No Bake Cheesecake Crust
A classic graham cracker crust brings this lemon cheesecake recipe together. All it takes is mixing graham cracker crumbs with a little melted butter and letting it set in the freezer.
Can't or don't want to make a graham cracker crumb crust? Vanilla sandwich cookie crumb crust or vanilla wafer crumbs would work well as a substitute.
While I think the vanilla cookies would also taste good as a crust, I really encourage you to try the original crust if you can. The graham cracker crust is so easy and tastes great, there's no need to make any changes.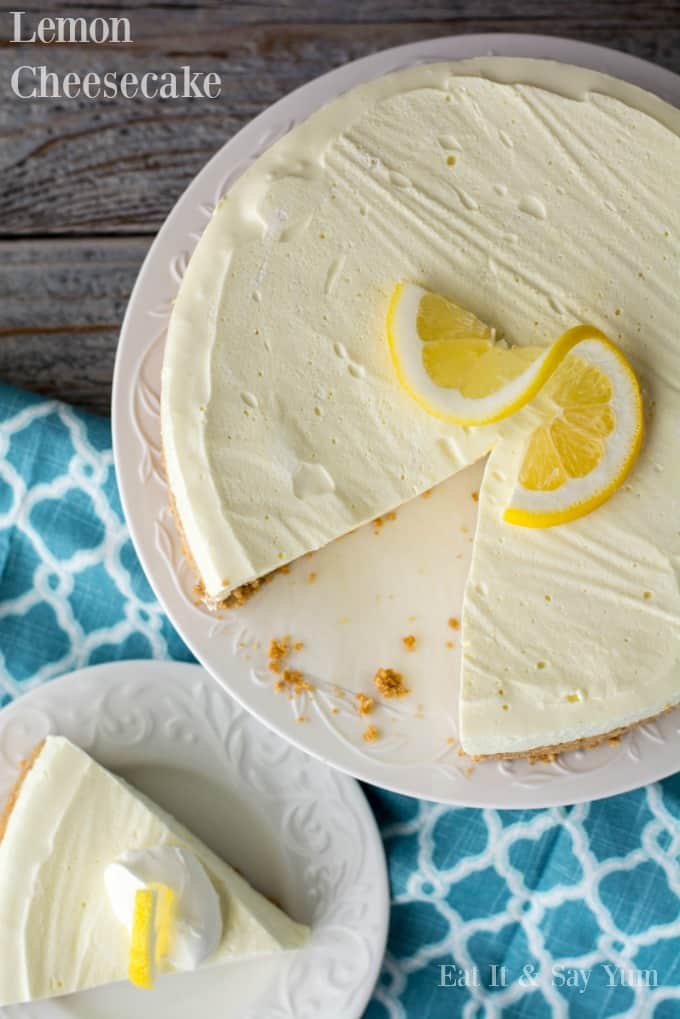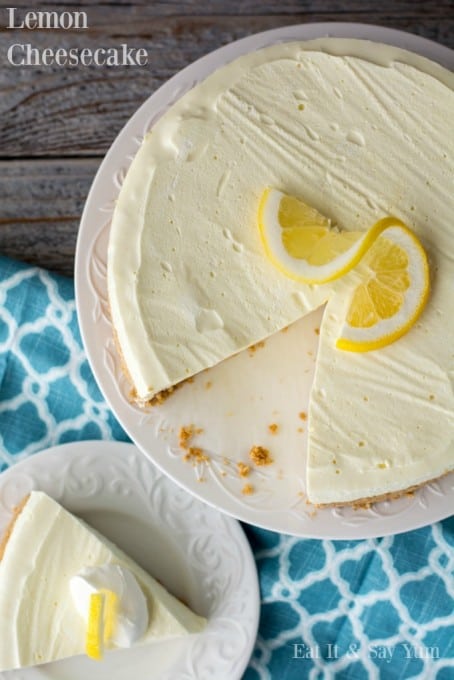 Use these items to make your own No Bake Lemon Cheesecake – Lemon Jell-O, and this springform pan.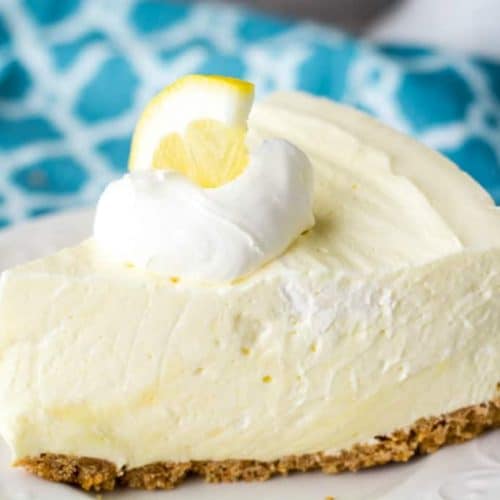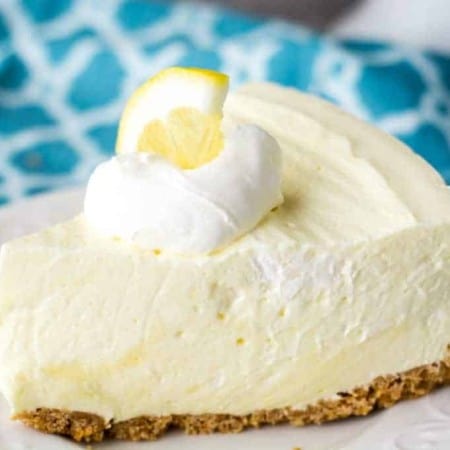 Lemon Cheesecake- a no bake cheesecake that just screams Spring and Summer. It will be perfect served at Easter, on your Mother's Day brunch menu or any time of year!
Ingredients
6 ounce box of lemon gelatin
juice from 1/2 a lemon
1 ½ cups boiling water
1 ½ cups cold water
1 cup sugar
(2) 8- ounce pkgs cream cheese
1 tsp vanilla
8 ounces Cool Whip
2 cups graham cracker crumbs
½ cup butter melted
extra whipped cream and lemon slices/ wedges optional for garnish
Instructions
In a medium mixing bowl, mix the jello, and lemon juice with the hot water. Stir until dissolved, then add the cold water. Set the bowl in the fridge until the jello is completely cooled, but not set.

In a separate mixing bowl, beat the cream cheese with the sugar and vanilla until smooth. Slowly add the chilled jello mix, while beating everything together. Once smooth, set in the fridge again, until the mixture begins to thicken- about 1 hour.

Prepare the graham cracker crust by mixing the crumbs with the melted butter and then press it into a large springform pan, minimum of 10 inches. Set in freezer until ready for the crust.

Fold the cool whip into the cream cheese and jello mixture with a rubber scraper. Gently mix until the mixture is smooth and the cool whip is evenly distributed.

Pour the cheesecake mixture into the crust. Let it set in the fridge for at least 6 hours, overnight is best. Do not cover with plastic wrap until the cheesecake is set.

Serve chilled, top each slice with the optional whipped cream and lemon wedge. Keep the cheesecake chilled.
Nutrition
Serving: 1g | Calories: 711kcal | Carbohydrates: 92g | Protein: 8g | Fat: 36g | Saturated Fat: 20g | Cholesterol: 99mg | Sodium: 637mg | Potassium: 156mg | Fiber: 1g | Sugar: 72g | Vitamin A: 1173IU | Calcium: 118mg | Iron: 1mg
Did you make this recipe?
Share it with me on Instagram and make sure to follow me on Pinterest for more recipes.
~FOLLOW LEIA~
More to love from Eat It & Say Yum: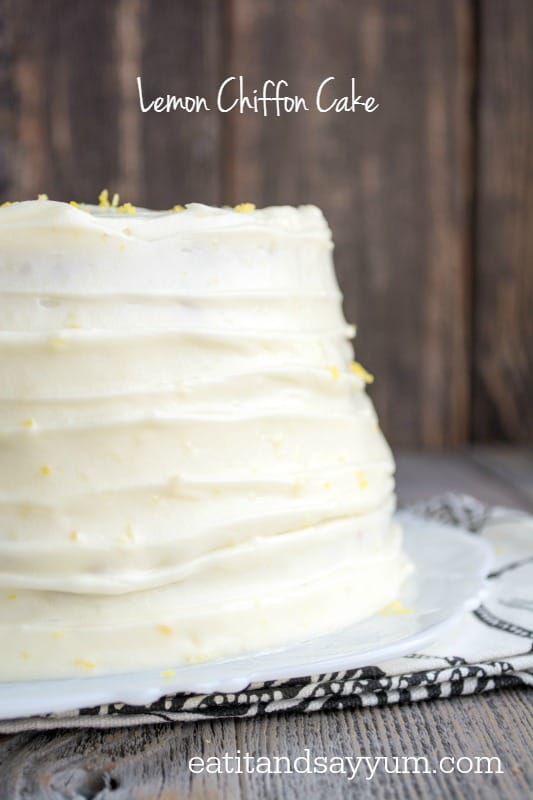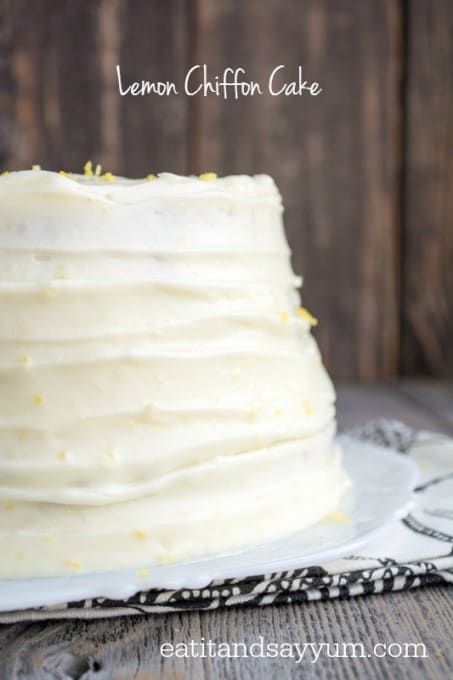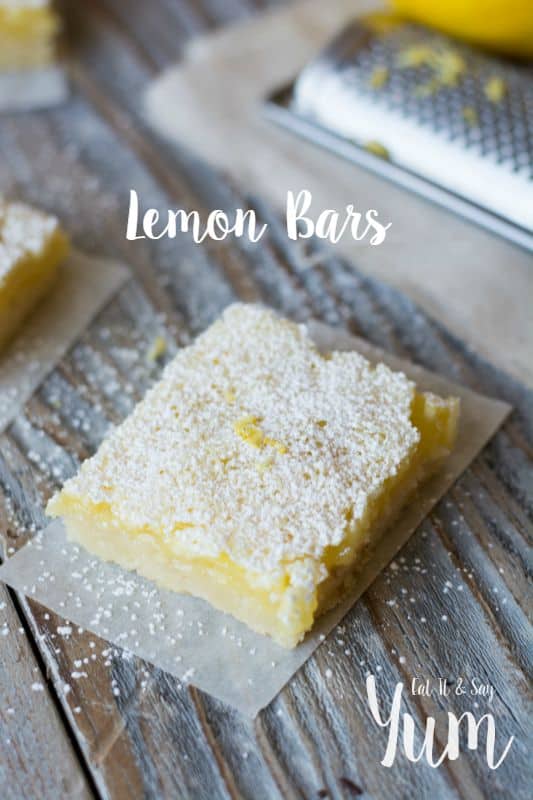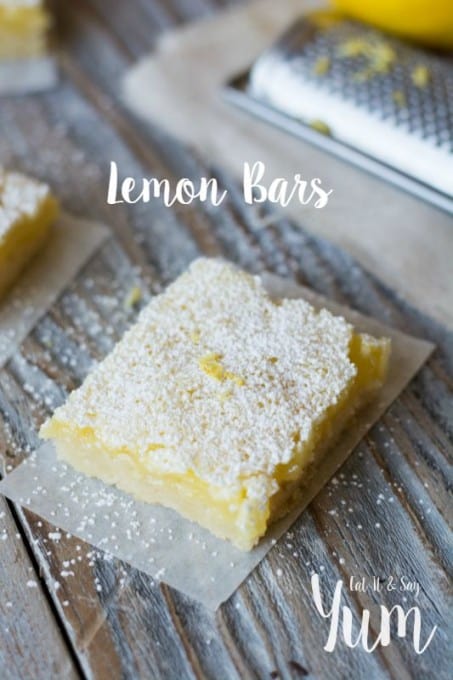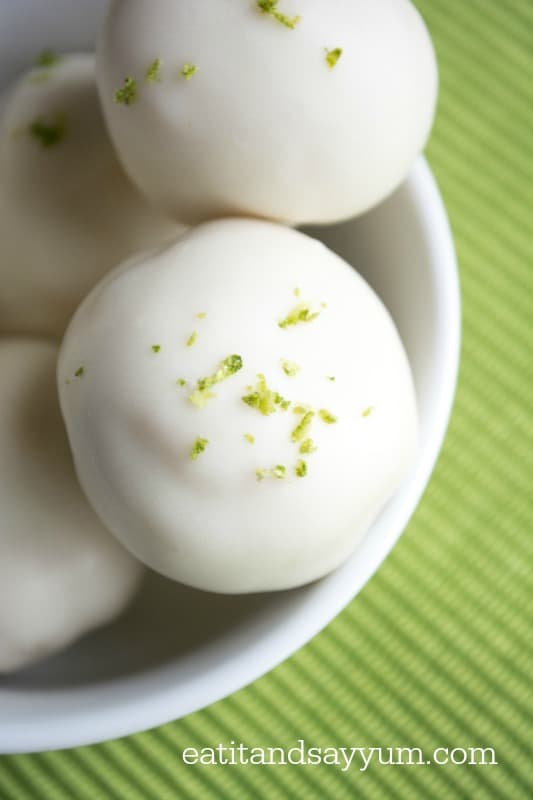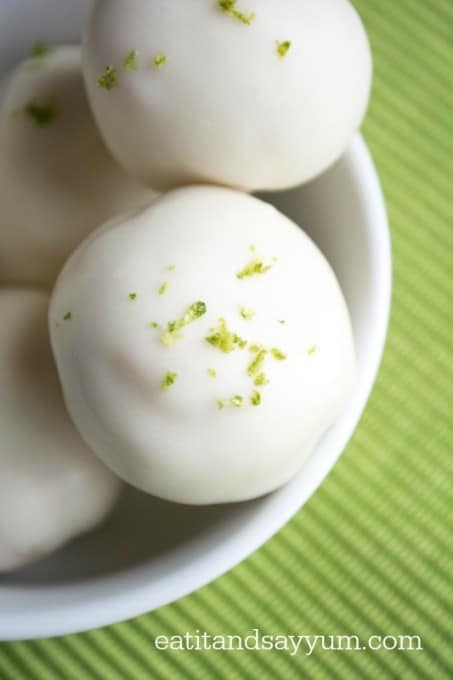 If you like this No Bake Lemon Cheesecake, be sure to see what these other bloggers are sharing when it comes to no bake desserts:
Fudge Brownie No-Bake Cheesecake from A Dash of Sanity and Banana Foster No-Bake Cheesecake from Diethood are two decadent cheesecake recipes to wow your crowd.
No-Bake Caramel Turtle Cheesecake from Sprinkle Some Sugar, Birthday Cake Oreo No-Bake Cheesecake from The Novice Chef and this No-Bake Rolo Cheesecake Recipe from Spend with Pennies should be on your list as well.
You can never have too many cheesecake recipes, am I right?!
Ready to make your own No Bake Lemon Cheesecake yet? I can't wait to hear how you like it.
I give you BIG baking hugs and muffins!!
Reader Interactions