Ok, it's 11:00 at night and I just finished tasting the pie. I started making it at 4:00 this afternoon, had many interruptions, and watched the movie, 'Black Swan'. Natalie Portman SO deserved that Oscar she was awarded. I loved it, but at the same time, it was so very disturbing. My review at the end of the recipe.
I used my Fannie Farmer Cookbook Thirteenth Edition for today's pie. Recipe for the crust was on page 639, meringue topping on page 642, and the pie on page 653. Marion Cunningham is the author, Alfred A. Knopf, Inc., a division of Random House, and the ISBN is 0-394-56788-9.
Lemon Meringue Pie
Pastry Shell – 9-inch pie shell
1½ cup flour
¼ teaspoon salt
½ cup shortening
3-4 tablespoons cold water (I ended up using about 7)

Mix the flour and salt. Cut in the shortening with a pastry blender or two knives. Combine lightly only until the mixture resembles coarse meal or very tiny peas: its texture will be uniform, but will contain crumbs and small bits and pieces. Sprinkle water over the flour mixture, a tablespoon at a time, and mix lightly with a fork, using only enough water so that the pastry will hold together when pressed gently together. Roll the dough out 2 inches larger than the pie pan.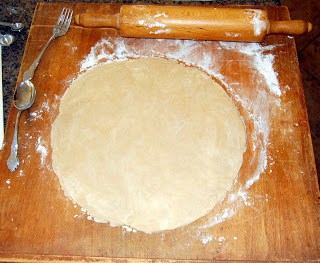 Fit it loosely but firmly into the pan. Prick the dough all over and crimp or flute the edges.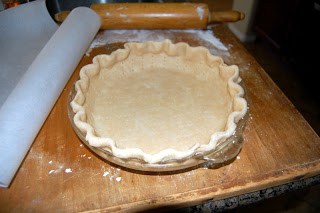 Preheat the oven to 425ºF. bake for 16-18 minutes, until lightly browned.
Meringue Topping – for 9-inch pie
5 egg whites, at room temperature
½ cup sugar
¼ teaspoon salt
Put the egg whites and sugar in a mixing bowl and place the bowl in a pan of hot water. Stir constantly until the egg whites feel warm, then add the salt.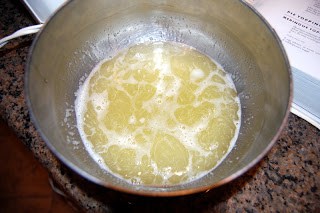 Remove the bowl from the hot water and beat with an electric beater until the meringue is stiff and shiny.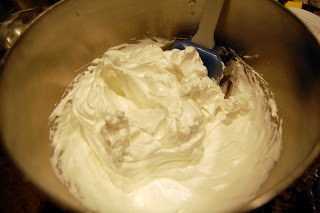 Pie
4 tablespoons cornstarch
4 tablespoons flour
¼ teaspoon salt
1¼ cups sugar
1½ cup water
Grated rind of 1 lemon
½ cup lemon juice
2 tablespoons butter
4 egg yolks, slightly beaten
Mix the cornstarch, flour, salt, sugar, and water in a saucepan. Cook over medium-high heat, stirring constantly, until thickened, about 3 minutes. Remove from the heat. Stir in the lemon rind, lemon juice, and butter. Stir ½ cup of the hot mixture into the egg yolks, then stir the yolks into the remaining hot mixture and cook, stirring for another 3 minutes. Let cool a bit. Spread the lemon mixture in the baked pie shell.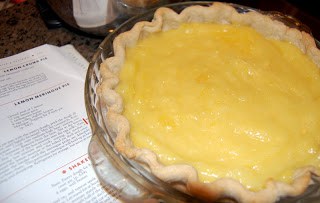 Spread the meringue over the filling. Be sure that the meringue touches the inner edge of the crust; this will keep it from shrinking. Run under the broiler until the meringue peaks are delicately browned, taking care not to burn them; it will only take a minute or two. This particular meringue will hold up as long as two days without weeping and shrinking. Refrigerate for storage, but serve at room temperature.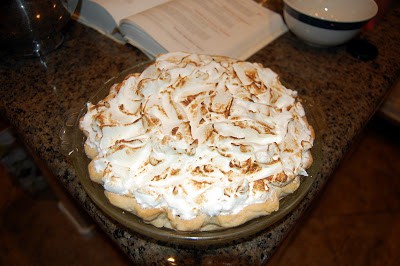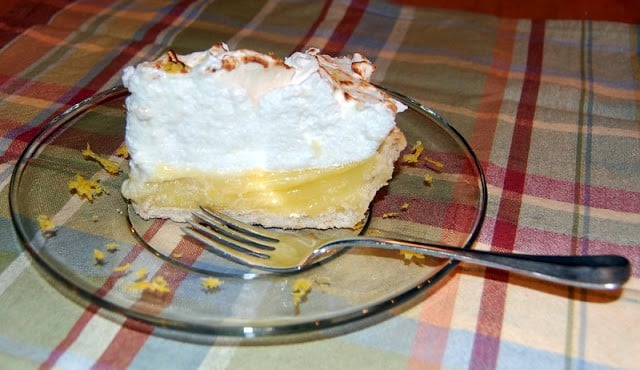 Oh. MY. UNBELIEVABLE. GOODNESS! I actually think this recipe is better than what my grandmother used to make and hers was good. I had two recipes to choose from and I am SO VERY glad I chose this one! I just cannot put into words how delicious this pie was. I kind of feel like I cheated today and didn't bake, but technically the crust was baked, so we'll count that. I am so glad I made this. I was talking to our neighbor/friend, Wayne, the other day and he asked if I was planning to make a Lemon Meringue Pie during my 365. He had said that it was his favorite and that his mother's were the best. Unfortunately, Wayne won't be around for a few days, but I'll be sure to save him a piece. We'll see what he thinks. My husband thought everything about it was perfect, and to quote him, "restaurant quality". So, if any of you own a restaurant and want me to start making Lemon Meringue Pies, I'm for hire. That is of course after this year is up. Haha. Needless to say, this dessert earns 4 rolling pins on my scale of 1-4 with 4 being something I highly recommend you bake. The meringue was delicious, tall and thick, the lemon filling had just the right amount of tartness balanced with the perfect amount of sweet and the crust was flaky and not dry. I think it could have been rolled just a little thinner though. Oh, and I put it under the broiler, but it just seemed to be taking too long, so I used my mini torch on it – worked like a charm.
People will shower you with compliments after they try this wonderful creation. Go for it. Happy baking!