I know, weird title, but I couldn't think of what else to call them because this is truly a recipe from scratch. Not that all of the previous 79 haven't been, it's just that this one I completely made up out of my own little head. I was looking through the pantry and found various ingredients and thought if I threw them all together, they might make a decent tasting bar. We'll see. I guess I could have called them Odds & Ends Bars, too, but the other title sounds a little more appetizing, I think.
Brown Butter Pantry Bars
½ cup (1 stick) butter
1½ cups flour
½ cup sugar
1 egg
1 teaspoon vanilla
1 can sweetened condensed milk
½ cup white chocolate chips
½ cup semi-sweet chocolate chips
½ cup cherry Craisins (sweetened dried cranberries)
½ cup chopped peanuts
Preheat oven to 350ºF.
In, small pan, melt butter until it is browned. Remove from heat.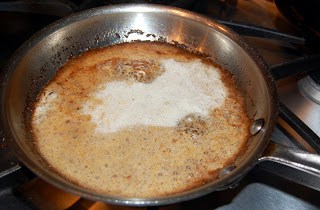 In a mixing bowl, whisk together flour, and sugar.
Add butter, egg, and vanilla to mixing bowl. Mix well until thoroughly combined.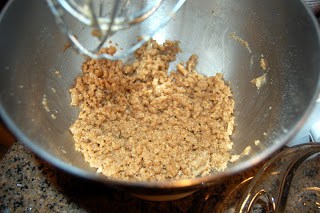 In a 9 X 13″ baking dish, spread dough evenly over bottom of pan.
Pour can of condensed milk over dough, spreading evenly with a spatula.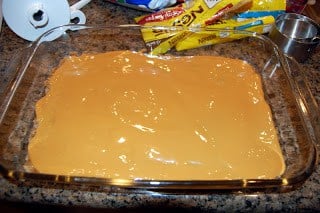 Sprinkle semi-sweet and white chocolate chips on top of condensed milk. Follow with Craisins.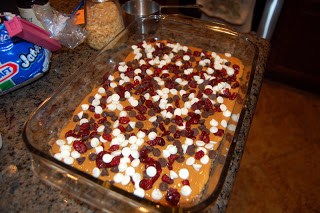 Scatter peanuts evenly over top.
Place in oven and bake for 30 minutes.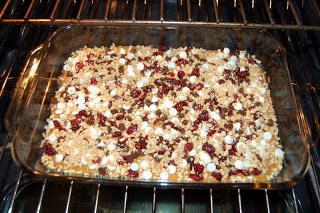 Allow to cool completely before cutting.

I probably should have added a ½ teaspoon salt to the dough, but I forgot. This was fun! I really liked being creative and adding different things. I was going to add some miniature marshmallows, but I thought that might be overkill and that they would already be sweet enough.
Yes, they are very sweet and they fall apart easily. They are not too exciting, so I wouldn't recommend printing this recipe. I didn't even take a finished picture because it just wasn't worth it. They were waaayyyyyy too sweet. I am amazed that people are able to make recipes up. I can follow a recipe, so that it turns out really well, but make my own things up? I'm just not there yet and I wonder when I will be. Everybody has a special purpose in life; maybe mine's just following the recipes, not creating them. I'm okay with that, but I'm still jealous.
I rate my recipes on a scale of 1-4 with 4 being the best. These didn't cut it, so I'm giving them a 1. Oy. They were really sickening sweet. Although the dough with the brown butter was good, maybe I'll have to work that into something else.
Happy baking!