I'm aggravated. Plain and simple. I'm aggravated to the point of tears. I'm not going to lie and pretend I'm all happy and joyful right now because I'm not. I made these gluten – free, but you can substitute regular all-purpose flour so others can enjoy them, too! No, you can't. Unless you know of a way to substitute the gluten-free flour and have a way that these cookies will not disintegrate at the moment you touch them, DO NOT use Gluten-Free flour. I found this recipe from Meg & Josh at The Red Spoon. It's a very interesting cookie. While I'm not much of a drinker, I do enjoy an occasional Margarita, and thought these cookies were so cool that I just had to try them. Her recipe used regular all-purpose flour, but I used the King Arthur Gluten-Free Flour and some Xanthan gum. I'm giving you the recipe with the regular flour. Remember, I didn't make them this way, so I can't tell you how they are.
Margarita Cookies Makes about 50 cookies
2 sticks unsalted butter, at room temperature
2/3 cup confectioners' sugar, sifted
1 large egg yolk, at room temperature
Pinch of salt
2 teaspoons tequila
Grated zest of 4 limes*
Grate zest of one orange
2 cups all-purpose flour
Coating: Approximately 1/2 cup clear sanding or other coarse sugar
2 – 3 teaspoons Kosher salt
1 large egg yolk, at room temperature
Put the butter in the bowl of a stand mixer fitted with the paddle attachment and beat at medium speed until it is smooth.
Add the sifted confectioners' sugar and beat again until the mixture is smooth and silky.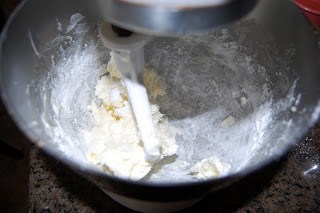 Beat in 1 egg yolk, followed by the salt, tequila, grated lime and orange zest.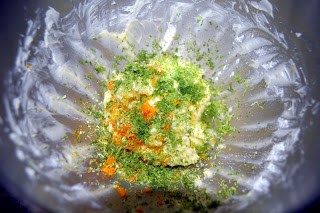 Reduce the mixer speed to low and add the flour, beating just until it disappears. Underbeat rather than overbeat; if the flour isn't fully incorporated, just blend in whatever remaining flour needs blending with a rubber spatula.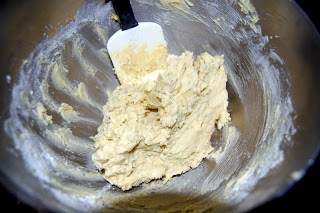 Turn the dough out onto a piece of plastic wrap, gather it into a ball, and divide it in half. The dough will be sticky and will probably stick some to the counter. Working quickly, separately wrap each piece of dough in plastic wrap and refrigerate for about 30 minutes.
Working on a smooth surface, form each piece of dough into a log that is about 1 to 1 1/4 inches (2.5 to 3.2 cm) thick. At this point, the dough was extremely sticky, so I put a small amount of flour on the counter. Meg advised not kneading extra flour into the dough, just using enough to roll into a log. Wrap the logs in plastic and chill for 2 hours. (The dough can be wrapped airtight and kept refrigerated for up to 3 days or stored in the freezer for up to 1 month.)
Position the oven racks to divide the oven into thirds and preheat the oven to 350°F. Line two baking sheets with parchment paper.
Prepare the sugar coating: Whisk the remaining egg yolk plus a teaspoon of water in a small bowl until it is smooth and liquid enough to use as a glaze.
Mix the coarse sugar and salt well and spread the mixture out on a piece of parchment paper.
Remove the logs of dough from the refrigerator, unwrap them, brushing any excess flour off. Brush them lightly with a little egg yolk.
Roll the logs in the sugar, pressing the sugar/salt mixture gently to get it to stick if necessary, then, using a sharp slender knife, slice each log into cookies about 1/4 inch thick. I did as Meg suggested here and to get the sugar/salt mixture to stick better, took the parchment and rolled it over the cookie dough pressing the sugar/salt into the dough.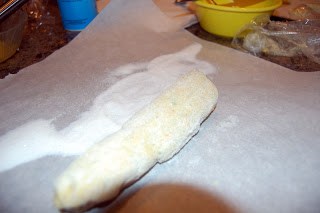 Place the cookies on the lined baking sheets, leaving about 1/2 inch space between them.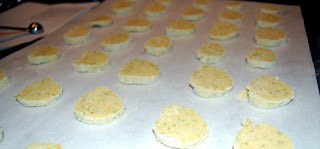 Bake the cookies for 10 to 14 minutes, or until they are set but not browned. Transfer the cookies to cooling racks to cool to room temperature.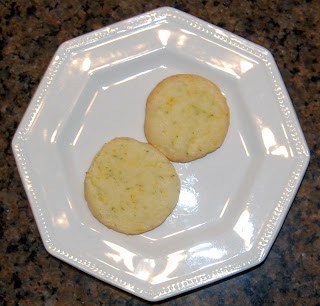 Keeping: Packed airtight, the cookies will keep for about 5 days at room temperature, if they last that long. Because the sugar coating will melt, these cookies are not suitable for freezing.
As I said, I substituted the 2 cups of all-purpose flour for 2 cups of the Gluten-Free flour and added ½ teaspoon Xanthan gum. They fell apart, completely crumbled as I went to pick them up.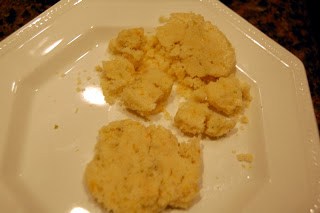 Well, a few didn't and those I was able to get a picture of, but the others are inedible. And what makes me aggravated is that I'm doing this project and since my daughter's on this gluten-free diet, I really just want to be able to make her something that she finds absolutely delicious and wonderful. I know these cookies would be wonderful made the way Meg made them at The Red Spoon. So, I highly recommend that you do that. I think I might try them again made that way, too. The flavor really was wonderful and they did taste like a margarita, especially with the bits and pieces of salt and sugar that I was able to retrieve. And that aggravated me all the more because they were so tasty.
I have a rating system on a scale of 1-4 with 4 being the best and I need to rate them as I made them. Unfortunately, because I made a mistake somewhere along the way, I have to give these 1 rolling pin. My daughter thought they should be given 3 rolling pins, but in all seriousness, I can't do that. I don't think it's fair and wouldn't want to mislead you. Maybe instead of just an egg yolk, it needs a whole egg because of the switch in flours. Ugh! I don't know. Now I need a real margarita.
Happy baking!