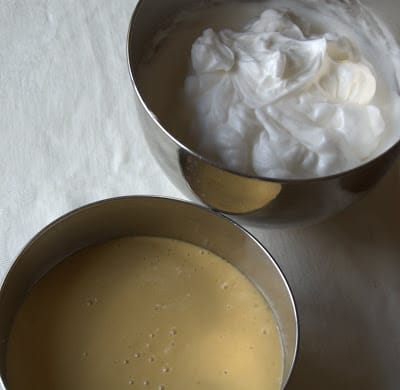 It's Fall.
I had the craving for some maple syrup.
Years ago when we were living in RI our best friend, Eddy, had a secretary named Irene, who was a fantastic Italian cook.
For one occasion she had made a maple cake and it was SSSOOOOOO wonderful!!!
Being one who likes to smell things, I stuck my nose right into it and took one huge honkin' whiff.
Heaven.
Darned if I can't find that recipe now.
I asked Eddy's wife, Mary if she had it, but she can't locate it either. Or Irene for that matter.
So, Irene, if you're out there, I'd LOVE to have that recipe again.
This is my attempt at recreating it.
I have some pictures, but in the process of making dinner I forgot to take a picture of the finished product, so that will be up tomorrow afternoon – plans tomorrow morning.
Maple Chiffon Cake – adapted from The Fannie Farmer Cookbook
make a 10-inch tube cake
3 cups cake flour
1 tablespoon baking powder
1 cup sugar
1 teaspoon salt
1/2 cup canola oil
1/2 cup maple syrup
6 egg yolks
3/4 cup cold water
1 teaspoon vanilla
8 egg whites, room temperature
1/2 teaspoon cream of tartar
Preheat oven to 325ºF.
Line the bottom of a 10-inch tube pan with parchment or wax paper, and cut to fit.
Sift the flour, baking powder, sugar, and salt into a large bowl.
Pour in the oil, maple syrup, egg yolks, cold water, and vanilla and beat until smooth; set aside.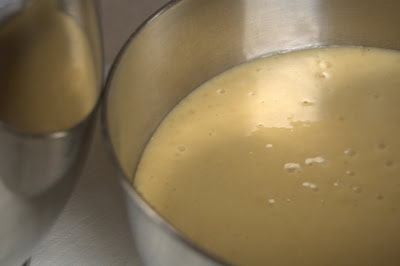 In a mixing bowl, beat the egg whites until foamy, and add the cream of tartar.
Continue beating until egg whites are stiff, but not dry.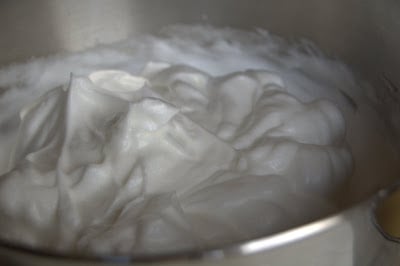 Blend 1/4 of the egg whites into the batter, then fold in the remaining egg whites.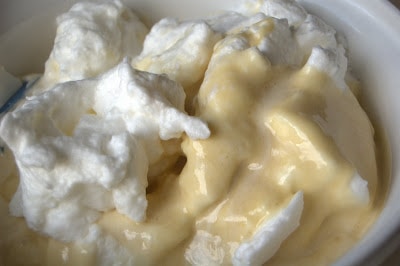 Carefully pour the batter into the prepared tube pan.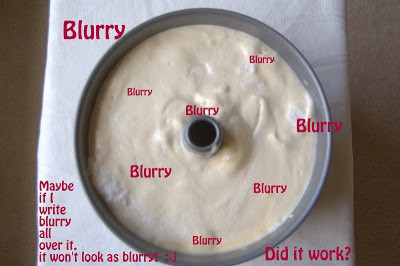 Bake for 50-60 minutes or until a cake stick comes out clean.
Invert the pan on a wire rack and allow to cool completely before removing from pan.
Can be frosted or served plain.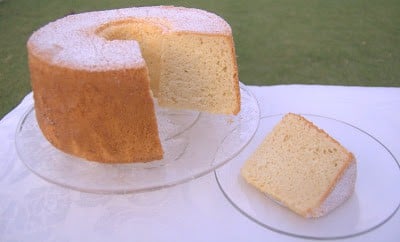 I rate everything I bake on a scale of 1-4 with 4 being the best and this Maple Chiffon Cake earned 2 1/2 rolling pins.
I definitely did not recreate Irene's maple cake. (sad face)
I think I should have put in a whole cup of maple syrup instead of just 1/2, and decreased the cold water to 1/2 cup.
There was not nearly as much maple flavoring as I thought there should have been.
But I didn't want it to be too overpowering, so I only went with the 1/2 cup.
Irene's smelled like, like…good grief, just a big cake FULL of maple syrup.
Ah, I'm dying here just thinking about it.
Irene, where are you?
I think this is going to be a do-over.
Must. Try. Again.
But it will wait until 365 is over.
I give you BIG baking hugs and muffins!!