This Loaded Red Bliss Potato Salad is like eating a baked potato with all the fixin's. Red Bliss potatoes, a creamy dijon dressing, bacon, green onions, and cheese make this a potato salad you'll want to bring to all the potlucks and picnics!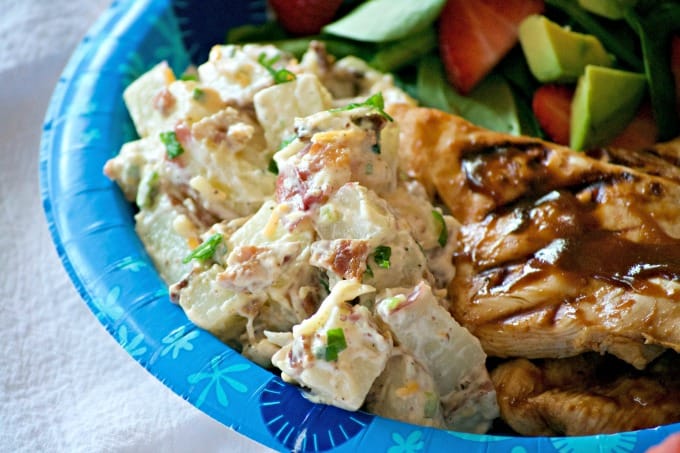 It's grilling season!
Well, here in Phoenix it's almost always grilling season. But yet with grilling season comes hot weather and plenty of picnics! And I love me a good picnic!
Included in this post are affiliate links. I thank you for your support!
Today only, March 18th…
Take advantage of this ONE DAY deal and get 20% deal for No Dirty Dishes Day when you Dixie Ultra® Disposable Plates HERE online!
SAVE THIS POTATO SALAD TO YOUR FAVORITE PINTEREST BOARD!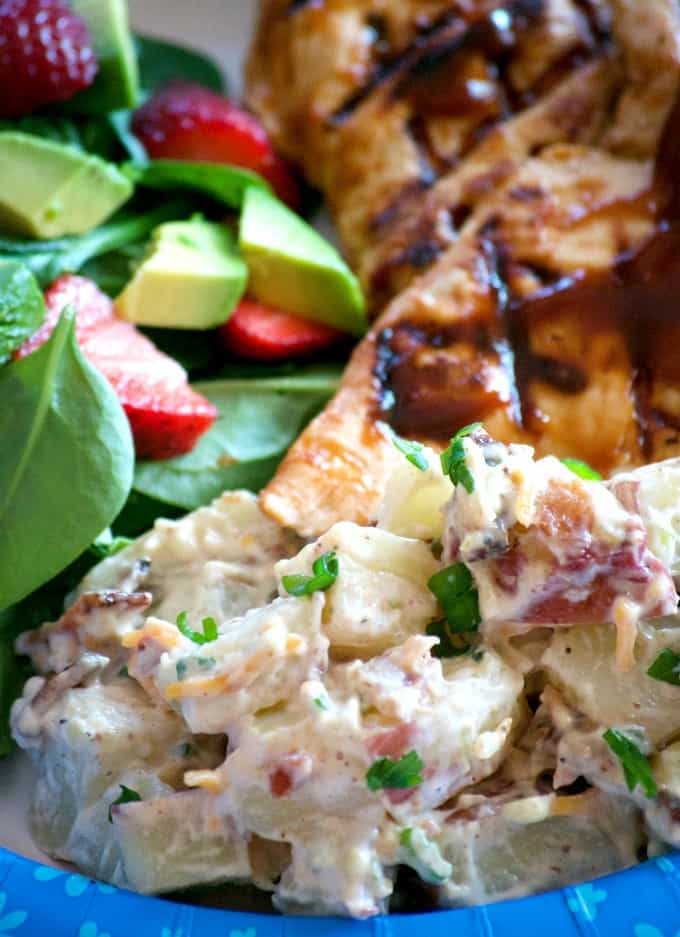 Yet, the H-O-T weather means that our air conditioner is always on which translates to a significantly larger electric bill than the rest of the year. The amount we pay can go from $80 during the winter months to over $300.
It hurts every time the bill arrives, but I'll take those few months in exchange for the glorious temperatures we have during the rest of the year.

As a family, we try to make a conscious effort to keep the electric bill from climbing astronomically high over the summer. Turning lights off when leaving rooms, doing laundry only on weekends and using the dishwasher as little as possible helps to keep costs down.
I also don't want to be washing our daily meal dishes by hand because I find myself washing enough of them on a daily basis.
My solution?
Dixie Ultra® Disposable Plates. Yesiree, Bob!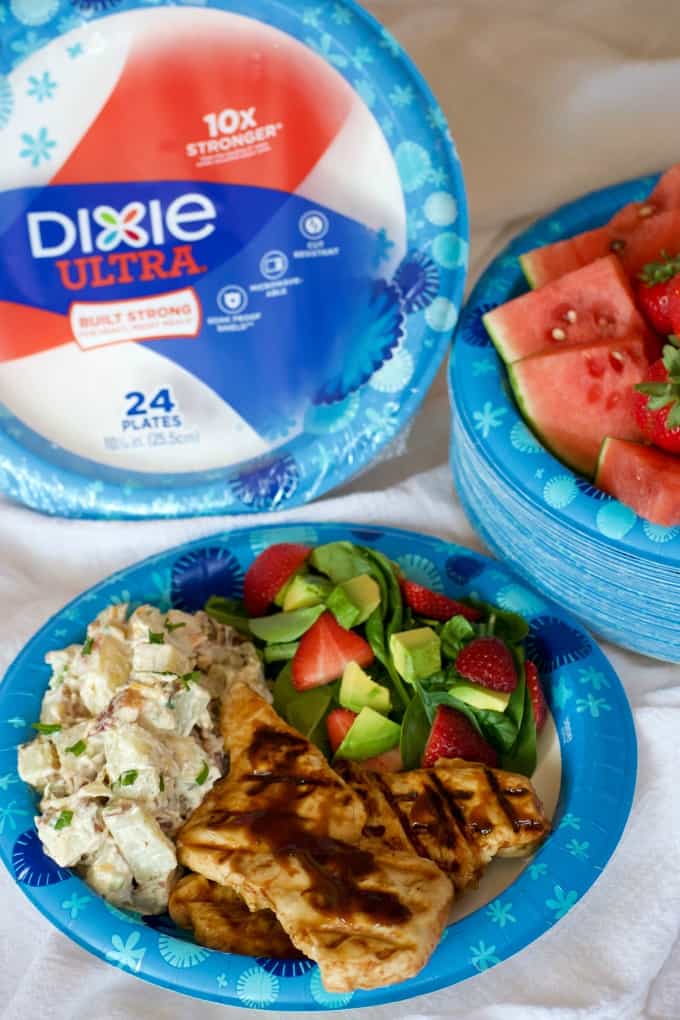 When I was growing up. Dad cooked a lot on the little hibachi grill and we'd sit in the backyard eating dinner. Only back then we'd put the paper plates into those wicker paper plate holders. They needed to be supported with the weight of the food (especially for a little kid who was prone to spill things. 😉 )
Not any more! About the paper plates needing to be supported, I mean. Because if you watch my LIVE Facebook shows, you'll know I'm still prone to spilling stuff.
Dixie Ultra® is now stronger and has a reinforced rim, so it can hold even more weight without bending or folding under the pressure. I HATE when that happens because it inevitably ends up all over my lap.
REMEMBER, Today only, March 18th…
Take advantage of this ONE DAY deal and get 20% deal for No Dirty Dishes Day when you Dixie Ultra® Disposable Plates HERE online!
I'm excited to spend a relaxed summer with no dirty dishes and plenty of this Loaded Red Bliss Potato Salad. It's super easy to put together and is great to eat with family and friends. I have a feeling they'll be asking you to make it over and over again because mine already has!
For those of you who have a pressure cooker, try this Quick Potato Salad in the Pressure Cooker. It sounds so easy! I love this Sweet Potato Salad Recipe. I've never thought about using sweet potatoes in a salad, so it's time to start thinking out of the box! Lately, I've been addicted to avocados, so I'm super eager to try this BLT Red Potato Salad with Avocado. It looks SO good!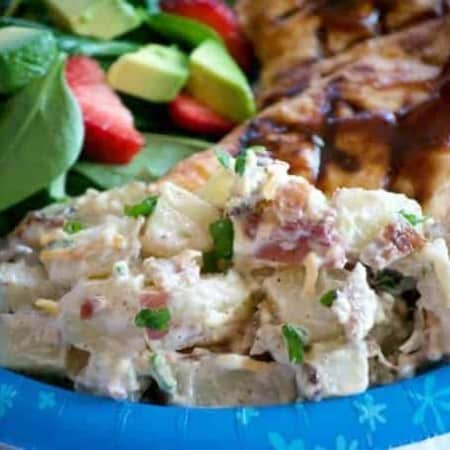 Loaded Red Bliss Potato Salad
Our Loaded Red Bliss Potato Salad with all the fixin's - a dijon-mayo dressing, bacon, green onions and cheese is a potato salad you'll eat all summer long!
Ingredients
2 lbs. red potatoes
1 cup mayonnaise
2 tablespoons Honey Dijon mustard
¼ teaspoon kosher salt plus more to taste if desired
¼ black pepper
6 slices cooked bacon chopped
3 green onions chopped
½ cup shredded Cheddar Jack cheese
Instructions
Fill a medium pot with water and placing it on the stove, set it to medium high to bring to a boil.

Wash and gently scrub the potatoes with cool water, removing any dirt. Cut into cubes about 1/2-3/4 inches.

Place potatoes into pot and cook for 10 - 12 minutes or until fork tender.

To make the dressing, in a small bowl, mix together the mayonnaise, honey dijon mustard, salt, pepper, bacon and green onions.

Drain the potatoes and allow to cool for about 15 minutes.

Place into a medium bowl and add the dressing and cheese. Gently mix together until well coated.

Cover and place bowl into refrigerator for at least two hours before serving.
Did you make this recipe?
Share it with me on Instagram and make sure to follow me on Pinterest for more recipes.
Be sure to add these other great recipes to your potluck or picnic menu, too!
I ate a lot of my grandmother's Easy Three Bean Salad growing up and absolutely loved it. Whenever I make this Pepperoni Bread, everyone loves and devours it. These Homemade Cheese Crackers are great for picnics, but you'll be lucky if there's enough to take with you after nibbling a few. So, be sure to make a double batch!
I was selected for this opportunity as a member of CLEVER and the content and opinions expressed here are all my own.
Reader Interactions