Caramelized Onions – they're easy to make and are the perfect topping for burgers, sandwiches, steaks and more!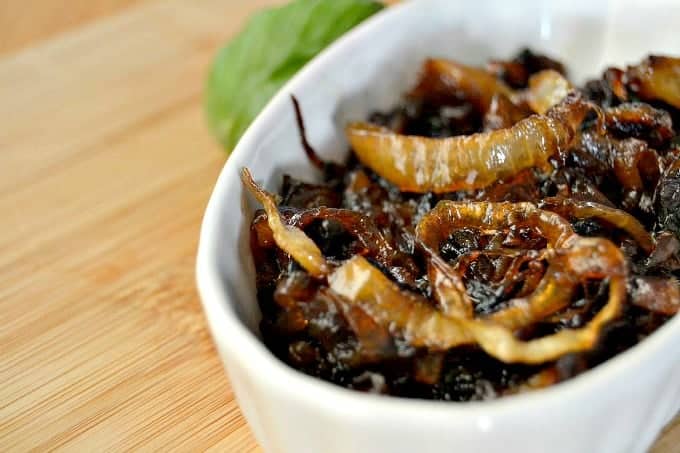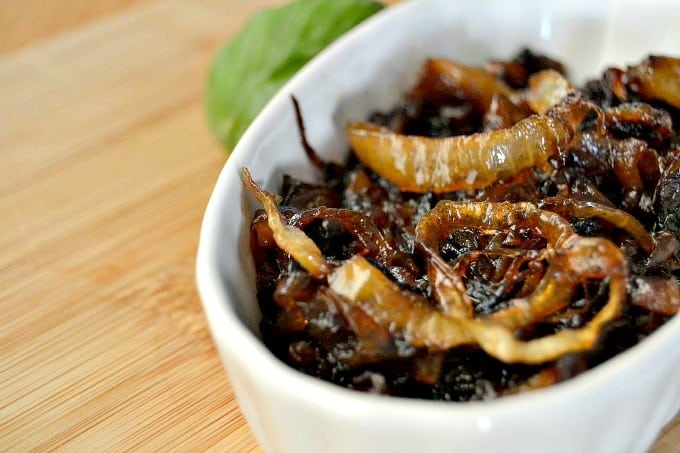 You need to pay attention here…
Geez, that sounds all sorts of bossy, doesn't it? I really didn't mean it that way. I just want to impress upon you that this recipe and the next one I post, will culminate in the ultimate (and I do mean ultimate) recipe and exciting adventure on Monday.
So heads up!
I just know you'll be kicking yourself if you miss it. So set your alarms, put me in your calendar! Better yet, add 365 Days of Baking and More to your desktop or your homepage, so that we're front and center and you don't forget! Capiche?
SAVE THIS CARAMELIZED ONIONS RECIPE TO YOUR FAVORITE PINTEREST BOARD!
I'm not even Italian. That's all I can say. You're not getting any more out of me. My lips are sealed. Throwin' away the key….now I'm singing "my lips are sealed"…*sigh*
Ok, here are the onions and I'm going to tell you how to caramelize them. I only have two pictures because the other ones I took, all 37 of them, looked rather disgusting to be perfectly honest. These are the only two of the whole lot of them that didn't look like a bowl of worms.
Seriously.
It's probably because I like my onions really caramelized, like almost burnt type caramelized. As you can see. Of course, you can remove your pan from the heat when you think your onions are the perfect doneness for you. I won't be offended.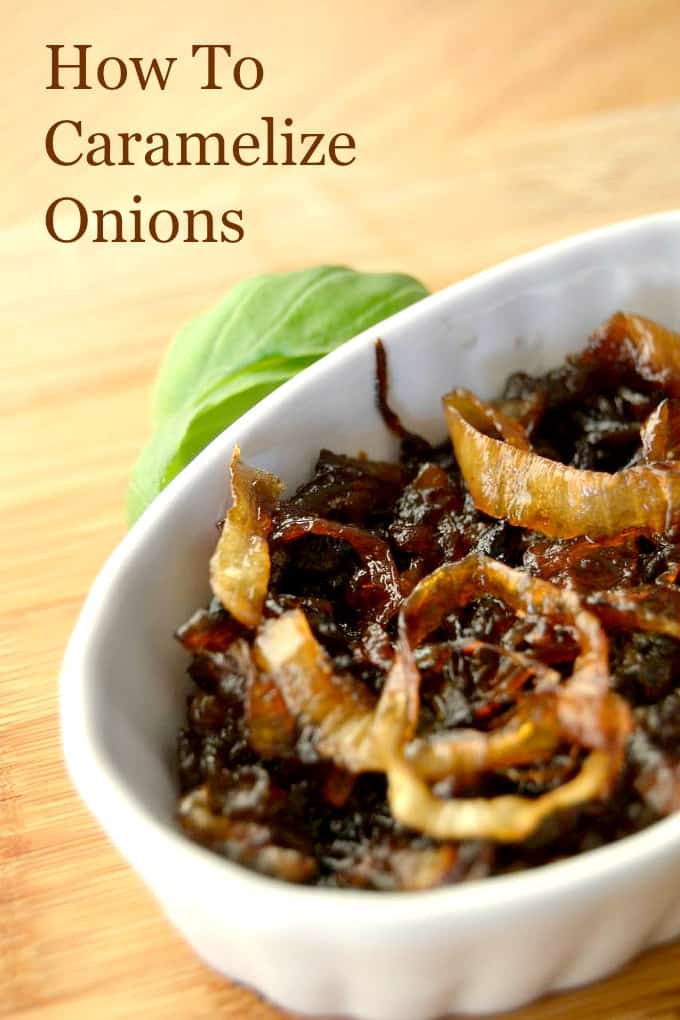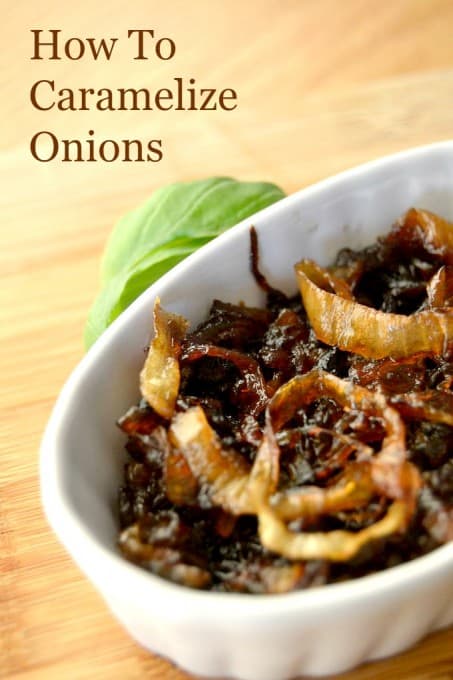 I found this wonderful article over at Bon Appétit on the ins and outs of onion caramelization.
Low and slow is the key. And DO NOT, I repeat, DO NOT put a lid over the pan while the onions are cooking. The lid will add steam to the pan and we don't want to steam the onions and get them all watery. Remember oil and water don't mix.
Also, if you're doubling the recipe, the cooking process will, of course, take longer because you only want to add the two onions to the pan at first.
Wait for those to cook down a bit, probably 20 minutes or so before adding more to the pan. Otherwise, too many onions = too much steam and we all know how I feel about steam with your onions, right? 😉
SIGN UP FOR THE WEEKLY 365 DAYS OF BAKING & MORE
NEWSLETTER BELOW!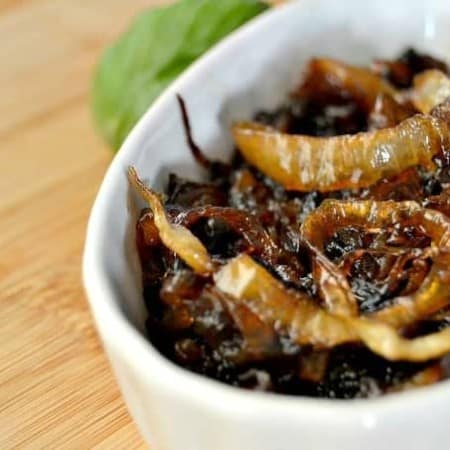 Ingredients
2 yellow onions
1 tablespoon salted butter
1 tablespoon olive oil
1 - 2 tablespoons chicken broth or water
Instructions
Slice onions so that they are thin, about 1/8 to 1/4-inch thick.

In a large skillet over medium-low heat, melt the butter and add the olive oil. Be sure to coat the bottom of the skillet.

Add the slice onions and sauté for 35 - 45 minutes depending on your desired doneness.

Just before removing from heat, add the tablespoon of chicken broth. This will deglaze the pan, removing that extra goodness from the bottom and adding it to your onions.
Did you make this recipe?
Share it with me on Instagram and make sure to follow me on Pinterest for more recipes.
I rate everything I make on a scale of 1 -4 and these Caramelized Onions…really, I have to rate these, too?
Ok, I'm going…these caramelized onions earned 4 rolling pins.
I like 'em dark and burnt. To me, they're sweeter that way, but some people like them a bit lighter. You decide.
I did try making them in the slow cooker once, but I wasn't impressed and didn't post the recipe. They were too light for me and weren't caramelized as much as I like.
And they certainly weren't burnt!
Interested in other handy recipes? Here are a few that you can go to every time!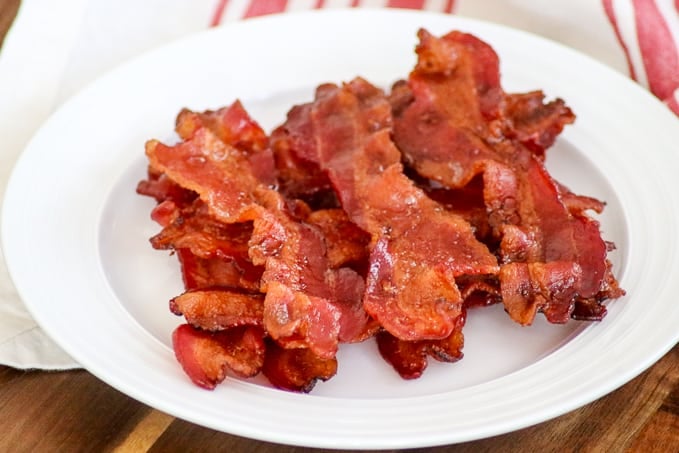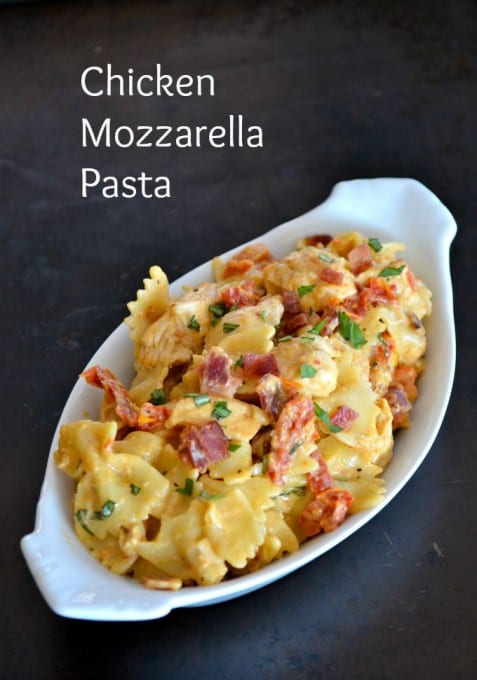 Ok, remember to come back for the next recipe. It will go up tomorrow or Friday. I have a very busy day tomorrow, so not sure if I'll make it, but these two lead to Monday's and that's a biggie!!
Reader Interactions