Doughnuts make a weekend a hundred times better, especially if they're covered in cinnamon. Why not start from scratch with this fun, baked doughnut recipe?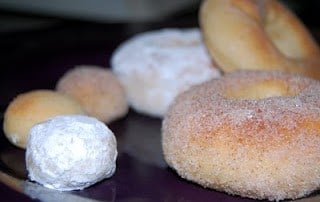 Mix and match your favorite flavored Baked doughnuts in this homemade treat!
I have a question. I can't for the life of me pick the right way to spell donuts. Is it doughnuts? Donuts? Or both? I feel like it's both but my mind just can't seem to function with two ways of spelling it. I mean, you have Dunkin Donuts and Krispie Cream Donuts, why would another way be doughnuts?
It's because you use the dough to make it. My conclusion is that it's that way because us people around the world can't come to a consensus on what it's supposed to be. This doughnut, donuts thing will be the death of me. I can feel it! It's driving me NUTS! haha, get it?!
Okay, back on the actual topic-DONUTS! That soft bagel-shaped thing that doesn't even compare to a bagel.
SAVE THESE DOUGHNUTS TO YOUR FAVORITE PINTEREST BOARD!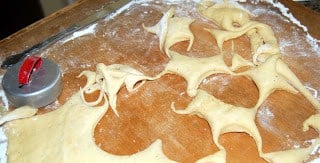 Usually, this circle of goodness is a special treat we have on the weekends like most of you. Now, I may have changed the game and I'll be generous to let you in on it. I'd be stupid not to really.
To me, sometimes it's a drag to go to the donut shop and pick up the dozen round things then take 'em back home. That could be an hours worth depending on where you go, or I go at least. Now, when you're making yours in the kitchen, you can create all kinds of different shapes and sizes.
Now that's a lot more fun I think. Less hassle so you don't have to type in "donuts near me" and can enjoy the weekend like you intended too.
In need of a quick-thinking recipe, these other blog recipes can help you with that.
Twistedfood has a caramel apple pie icebox cake recipe that I cannot get enough of. Caramel and apple really do go together.
Need a different dessert than those typical recipes? Lifeloveandsugar does this with her blackberry lime lush dessert.
Don't get me started with my favorite type, the glazed donut. When they come right out of the oven I just get all giddy inside and am already in the process of mentally eating it. To top it all off, you need those illustrious sprinkles! I know these don't have them on there, but for next time you betcha I'm putting them on there. I just imagined a cinnamon sprinkled donut.
WOW!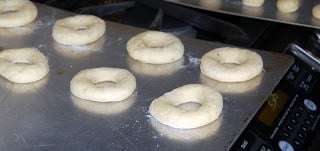 I used the Fannie Farmer Cookbook Thirteenth Edition for this, p. 531-532; author, Marion Cunningham; publisher, Alfred A. Knopf, division of Random House; ISBN 0-394-56788-9.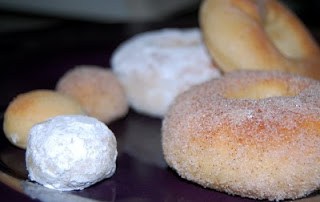 Ingredients
2 packages dry yeast
⅓ cup warm water
1 ½ cup milk
⅓ cup vegetable shortening
¼ cup sugar
2 teaspoons salt
2 teaspoons freshly grated nutmeg
2 eggs lightly beaten
4 ½ cups all purpose flour
½ cup melted butter
1 cup sugar mixed with cinnamon
1 teaspoon cinnamon
Instructions
Sprinkle yeast over warm water in a small bowl and let dissolve for 5 minutes.

Put the milk and shortening in the saucepan and heat until shortening is melted.

Cool to lukewarm.

Pour the yeast mixture into a large bowl and add the milk mixture.

Stir in the sugar, salt, nutmeg, eggs, and 2 cups of flour. 

Beat briskly until well blended.

Add the remaining 2 1/2 cups flour and beat until smooth. 

Cover the bowl and let double in bulk. About 1 hour.

Dust a board generously with flour and turn the dough mass onto it.

Pat the dough into a round about 1/2 inch thick.

Use a 3-inch doughnut cutter to cut out the doughnuts, placing them (and the doughnut holes) on greased baking sheets, 1-inch apart.

Preheat oven to 450 degrees and let the doughnuts rest and rise for 20 minutes, uncovered.

Bake for 10 minutes or a little longer. Until golden brown.

Have ready the melted butter and brush so you can brush the doughnuts on a wax paper sheet. Roll cinnamon onto them.
Nutrition
Calories: 3199kcal | Carbohydrates: 499g | Protein: 80g | Fat: 94g | Saturated Fat: 27g | Cholesterol: 363mg | Sodium: 4947mg | Potassium: 1206mg | Fiber: 16g | Sugar: 70g | Vitamin A: 1070IU | Calcium: 567mg | Iron: 27.6mg
Did you make this recipe?
Share it with me on Instagram and make sure to follow me on Pinterest for more recipes.
Everyone really liked these and decided they should be given a rolling pin rating of 3. I liked them, too, but was really wanting the Dunkin' Donut Old Fashioned taste, so was disappointed.
Are you interested in other baked recipes? Here are a few that I think you'll love no matter what time of year it is.
Anything that is made for breakfast should come with something great. That great thing is bacon. Yes, bacon is that side dish you really need. Here's a great recipe on how to bake bacon: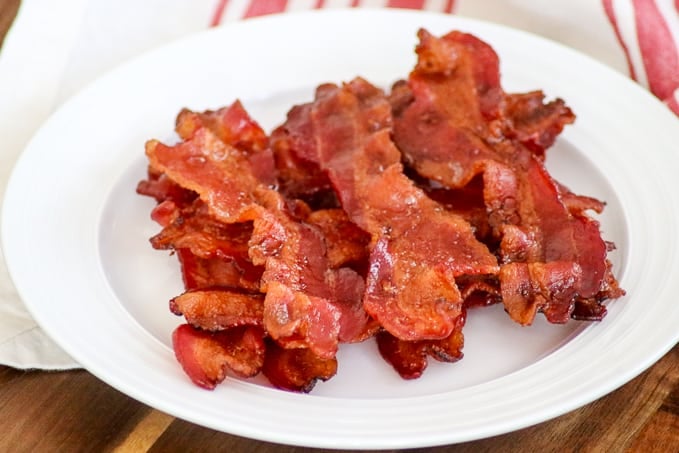 Doughnuts are awesome for breakfast, but this has something about it that takes breakfast to the next level.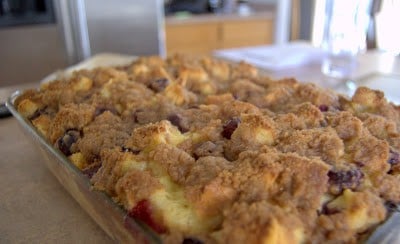 Another breakfast recipe that I can't live without is this. I've simplified the aching task of making crepes with this recipe. You'll enjoy it more, I know it.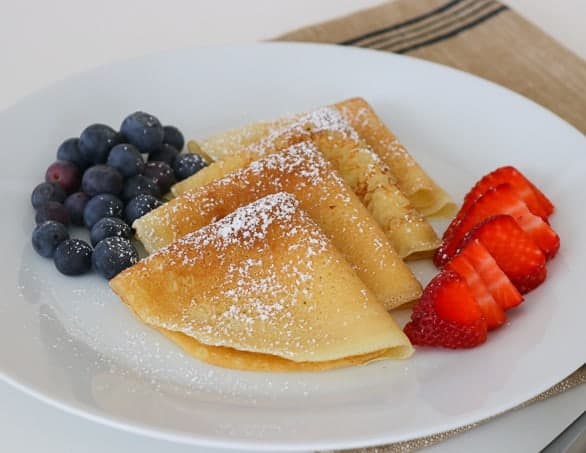 If you need help, your kids will find this donut recipe really easy to make, and if they want more donuts you can agree and assist. You get extra hands which makes the cooking faster, and you'll be in the kitchen with them learning the basics. It's a win-win! Hopefully, there won't be any overeating or arguing saying how many did you eat.
Trust me, I've been there thanks to these three darn, amazing kids.
Overall, these baked doughnuts were fantastic. It's not that technical type recipe or the long, dragging one. With that, my expectations were a little over my head. That seems to happen a lot nowadays. Time for a day off I think.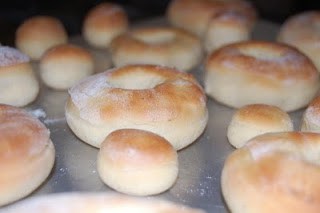 Imagine if I perfect this recipe and switch to a donut baking blog?! Yeah, that won't happen.
Reader Interactions