A delicious fish dish, this Basil Baked Salmon is prepped and on your table in less than a half an hour. It makes a delicious and easy weeknight meal!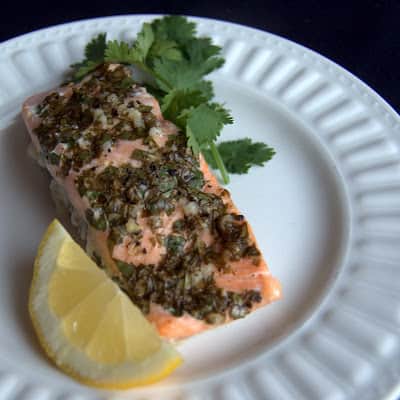 Change up dinner with this yummy baked salmon fillet. It tastes great and it's healthy for ya!
I am pretty fond of fish. My youngest daughter, not so much. So, whenever she's not in our presence at dinner time, I'm making fish for the boys. Tonight it was baked salmon. I also do tilapia, or we go out and have some sushi. For tonight, I had the sudden urge to look for a baked salmon recipe that is not only easy preparing wise, but that doesn't hold back on the taste either. With this not being in the actual recipe, I figured it would be a good thing to tell you to have a lemon slice on the side. It gives it that extra kick that some of us like.
As a very fortunate SAHM (stay at home mom), I'm able to be quite productive in the mornings after both kids leave for school, getting laundry done, dishes, cleaning, yada, yada, yada. And sometimes I even exercise or at least I was motivated to today and that's 1/2 the battle, isn't it? Because I really haven't done anything in quite some time.
So, this morning, I'm workout ready – dressed, all set up in front of the tv, got my water, have the P90X DVD in and I hit that play button. The phone rings. Impeccable timing. "I have an errand I need to run and I'd like to take my beautiful wife to lunch." Beautiful wife? After 5 years of dating and 21 years of marriage, this man still makes my heart melt! Funny how the only two words I heard were "beautiful wife". "Wait, what?" "I have to go out and want to take you to lunch. Be here at my office in an hour." Wouldn't it figure, the one day I actually want to exercise? How can I refuse him when he makes me an offer of lunch and so skillfully uses the word beautiful?
And a wonderful lunch it was. We discussed various things and then he dubbed himself, "Asshole with an edge", saying he wanted that as his epitaph. If you know him, you know how perfectly fitting it is. He's always been one to go against the grain, shall we say, and sometimes has a tendency to agitate others. I cannot tell you how many times I have just shaken my head at his antics or rolled my eyes thinking, "why, oh why"? We laughed about it and he said he pictures his funeral with all of us around telling stories and trying to one-up the other with "I've got a story about when he did this…". And yes, there will be a lot of those, but I wouldn't have it any other way. Because he still makes me melt.
SIGN UP FOR THE WEEKLY 365 DAYS OF BAKING & MORE
NEWSLETTER BELOW!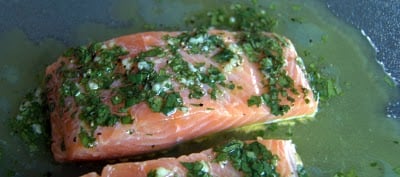 Day 215 – Basil Baked Salmon
Ingredients
1 1 lb. salmon fillet
¼ cup olive oil
1 clove garlic minced
1 ½ teaspoon fresh basil
½ teaspoon salt
¼ teaspoon freshly ground pepper
1 tablespoon fresh parsley chopped
Instructions
Preheat oven to 400F.

In a small bowl, combine olive oil, garlic, basil, salt, pepper, and parsley. Mix well.

Cut salmon fillet into four even pieces.

In a 9 X 13-inch baking dish, place a sheet of tin foil long enough on each side to fold over and contain the salmon.

Place the salmon fillets onto the tin foil. Pour marinade over each.

Carefully fold the tin foil over the fillets, securing the sides and ends, encasing them so that the steam helps them to bake.

Place baking dish in oven and bake for 25-30 minutes.

Check salmon at about 20 minutes. If the fish flakes when pulled apart with a fork and is pink then it is cooked. Be careful not to overcook it.
Did you make this recipe?
Share it with me on Instagram and make sure to follow me on Pinterest for more recipes.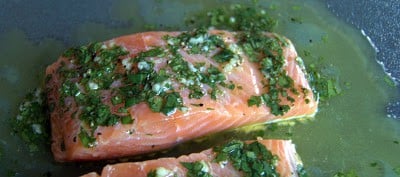 Carefully fold the tin foil over the fillets. The steam will help to cook them.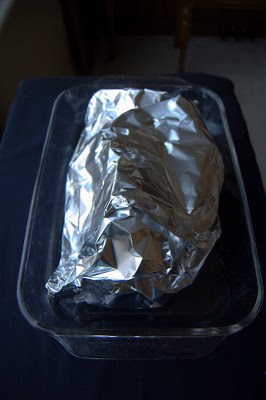 Check salmon at about 20 minutes.
If the fish flakes when pulled apart with a fork and is pink then it is cooked. Be careful not to overcook it! No one likes overdone fish.
I cut the single large fillet up because on Day 177 with the Mustard Pecan Crusted Salmon, the fillets took too long to cook because they were too thick. I have to say that we liked this salmon recipe better than the Mustard Pecan. The flavors of the lemon and basil blended quite nicely, and it was nicely seasoned with the salt and pepper.
The recipe I found at allrecipes.com recommended marinating it in the fridge for 1 hour before baking, but being pressed for time, that wasn't an option. This was so yummy without the extra marinating time that I wonder how much better it would have been if I had! Note to self for next time. Mr. 365 said that when I make it again that some red pepper flakes should be added to it for a little kick. This dish had more moisture than the previous salmon because of the tin foil. It really helped with both the baking and the steaming.
I rate everything I bake on a scale of 1-4 with 4 being the best and this Basil Baked Salmon earned 3 1/2 rolling pins. I don't like to eat fish, but this was really good and barely tasted fishy. The lemon, the basil…magnifico.
Yeah, I know. That didn't sound right. But it still was really good!
Reader Interactions