I was having technical difficulties last night, so this wasn't posted.
I have a new tablet and was attempting to type my post and was not having a good go round with it.
I was exhausted at 9:30 at night and was becoming so extremely frustrated.
I need to purchase a keypad for it. Bottom line.
So, there will be two posts today, Day 177 and I'll post Day 178 later today.
The post is typed, but I'm having trouble with my SD card loading the pictures, so I'll do that as soon as I figure things out.
Thank you for your patience! Hugs!
We watched a family movie last night – Disney's Alice in Wonderland.
I`m how old, and I`ve never seen it. I loved the beginning before the movie started. The intro. came on and it brought me right back to when I was very little.
It was the introduction to the weekly Sunday night show of The Wonderful World of Disney.
Please tell me that someone else remembers it, too.
I miss that show, it was so awesome!
My middle daughter who doesn`t like fish actually requested salmon for dinner last night.
I was shocked, but figured I`d take advantage of it while I had the chance. I don`t like it either, but it is healthy and we haven`t had salmon in quite some time, probably years in fact.
And it just so happened when I went to the store that there was a screaming deal on wild Sockeye Salmon which made me really excited.
Mustard Pecan Crusted Salmon – serves 5
1 1/2 lbs. salmon
5 tablespoons whole grain mustard
1/3 cup finely chopped pecans
1/3 cup Panko bread crumbs
1/4 teaspoon salt
1/8 teaspoon freshly grated pepper
Wow, that's it? That's all the ingredients?! How easy peasy!!
Place oven rack in upper third of oven.
Preheat oven to 450F.
Prepare a rimmed baking sheet by covering it with foil and spraying generously with cooking spray.
In a mixing bowl, combine pecans, bread crumbs, salt and pepper; set aside.
Place salmon (skin side down) on pan.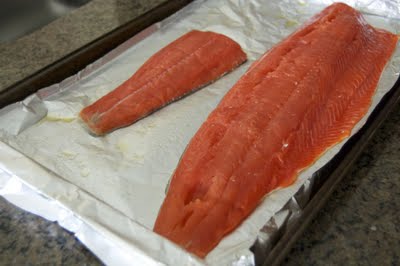 Be careful to remove any pin bones from the fillet(s).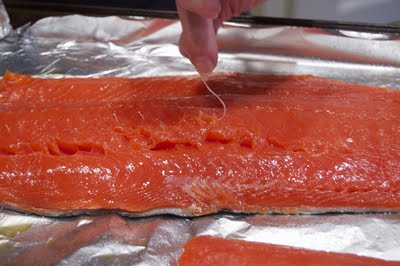 Place mustard on salmon and spread with a knife or spatula.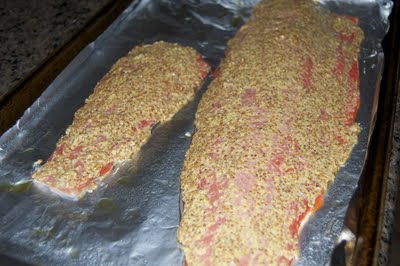 Cover with pecan/bread crumb mixture.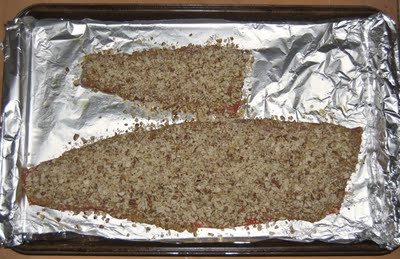 Bake for 10 minutes. Turn broiler on to high and cook until the tops are golden, about 1-2 minutes.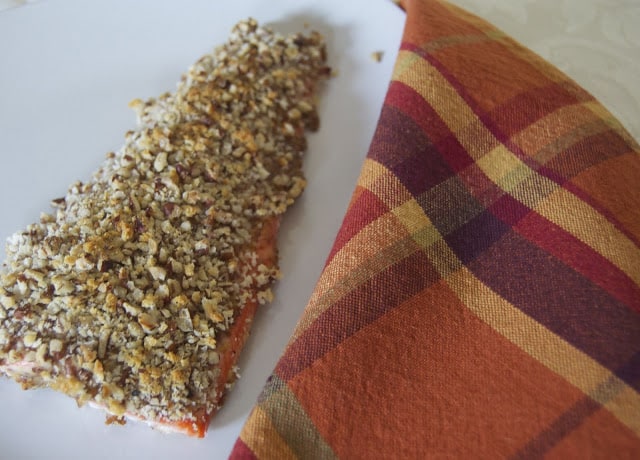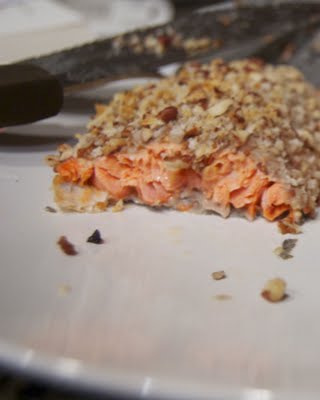 This was enough for 5 people. That is if your family doesn't eat a lot and you have people who won't take large portions because they don't like fish.
Now, I have to share that I referenced my Martha Stewart cookbook and followed her directions on how long to bake the salmon for.
She had recommended leaving it in the oven for 5-6 minutes and then broiling it.
I did that and it wasn't cooked all the way through.
The big piece in the picture was thicker in the middle, so I turned the oven back on and set it to 450F. It started out at 418F and as it was heating up I put the salmon in for another 4 minutes.
Almost done, but not quite.
I cut it into pieces and cooked it for another 3 minutes.
So I'm thinking the 10 minutes total cooking time with the 1-2 minutes of broiling should do it for you, that is if you have one large fillet. If they're smaller pieces, then you should probably go with the 6 minutes Martha recommendation.
The recipe in the Martha Stewart Living Cookbook used 6 6 oz. fillets with the skin removed.
I left my larger fillet intact and didn't remove the skin from either piece (we just removed it at as we were eating it). No biggie.
So those two differences I'm sure, accounted for the lack of doneness at Martha's recommended times.
Considering we don't eat salmon a lot, this was pretty good. Everyone really liked it, including myself and my non-fish eating daughter. Three quarters of the way through my piece though, I was done and didn't dare eat another bite. I just can't eat too much fish.
I rate everything I bake on a scale of 1-4 with 4 being the best and this Mustard Pecan Crusted Salmon earned 3 rolling pins.
As we were eating, a few family members thought it needed a sauce for dipping yet I was puzzled as to what flavors the sauce should have without detracting from the mustard and pecans.
I was very pleased with the way this turned out. The flavors were really good and the breadcrumbs mixed with the pecans were a nice addition as well.
Happy baking!