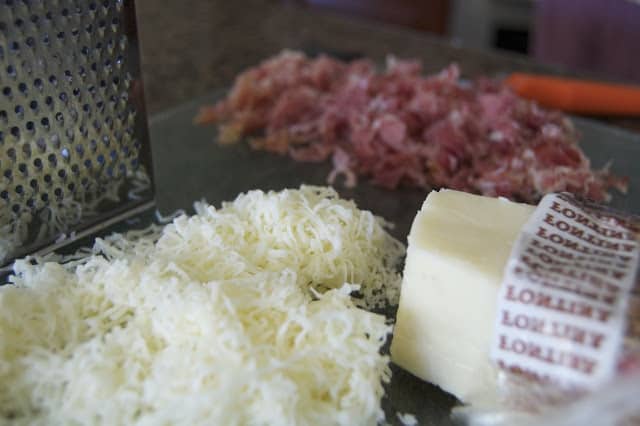 I hope you all have a safe and wonderful weekend and that you find some relief from this summer heat most of the country's been having.
Can you believe it's the last weekend in July?
This summer and year is flying!
Our two younger kids return to school two weeks from Monday and our college sophomore moves into her dorm the week after.
I'm excited for the school year, but I hate to see summer go and am not looking forward to the countless hours the kids will be spending on homework.
I know it's necessary, but the stress that goes along with it, especially for our high school senior, sometimes proves to be too much.
One day at a time, one day at a time.
Giada De Laurentiis' cookbook, Everyday Italian was used for tonight's dinner. It is on pages 79 and 115; publisher, Clarkson Potter/Publishers, an imprint of Crown Publishing Group, a division of Random House, Inc.; ISBN 1-4000-5258-0.
I halved the recipe, and that is what follows.


Baked Rigatoni with Bechamel Sauce – serves 4 – 5
Bechamel Sauce
2 1/2 tablespoons unsalted butter
1/4 cup all-purpose flour
2 cups warm whole milk
1/4 teaspoon salt, plus more to taste
pinch of ground white pepper, plus more to taste
pinch of freshly ground nutmeg, plus more to taste
In a 2-quart saucepan, melt the butter over medium heat.
Add the flour and whisk until smooth, about 2 minutes.
Gradually add the warm milk, whisking constantly to prevent any lumps from forming.
Simmer over medium heat, whisking constantly, until the sauce is thick, smooth and creamy, about 10 minutes (do not allow sauce to boil).
Remove from heat and stir in 1/4 teaspoon of salt and a pinch each of white pepper and nutmeg.
Season the sauce with more salt, pepper, and nutmeg to taste.
The sauce can be made up to 3 days ahead. Cool, then cover and refrigerate.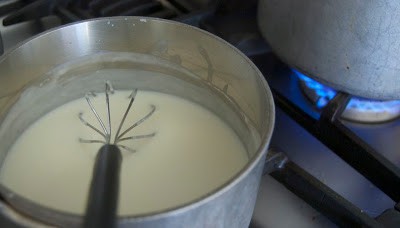 Rigatoni, ingredients and assembly
1/2 teaspoon olive oil
2 cups Bechamel Sauce
1/4 pound thinly sliced prosciutto, cut crosswise into thin strips
1/2 cup freshly grated fontina cheese
1/4 teaspoon salt, plus more to taste
pinch of white pepper, plus more to taste
1/2 pound dried rigatoni
1 1/2 tablespoons unsalted butter, diced
Preheat the oven to 425F.
Generously spray an 8 X 8-inch glass baking dish with cooking spray.
In a medium saucepan, stir the bechamel sauce over medium heat until hot (do not boil sauce).
Stir in the prosciutto, 1/4 cup of the fontina cheese, 1/4 teaspoon salt, and a pinch of white pepper.
Set the cheese sauce aside.
Bring a large pot of salted water to a boil.
Add the rigatoni and cook, stirring occasionally, until almost tender but still very firm, about 5 minutes (do not cook pasta to doneness at this point as it will continue cooking as it bakes in the oven).
Drain the pasta and return it to the pot.
Stir in the cheese sauce and season the pasta mixture with more salt and pepper to taste.
Spoon the pasta mixture into the prepared dish, then sprinkle with the remaining 1/4 cup of fontina cheese and dot the top with the butter.
(The pasta can be prepared up to this point 8 hours ahead. Cover and refrigerate. Uncover before baking.)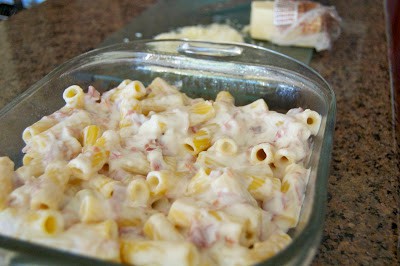 Bake the pasta until the top is golden brown and the sauce bubbles, about 25 minutes.
Serve immediately.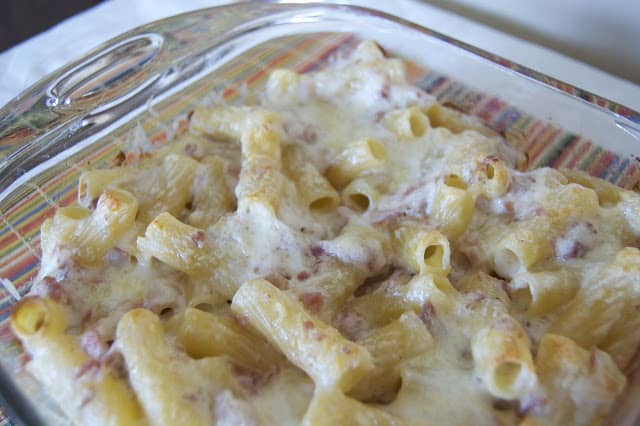 We all really liked this.
I halved the recipe because we aren't big eaters, but I would have added 1 more cup of the bechamel sauce to make it the finished product a little creamier. I like more sauce in my pasta.
I rate my daily bakings on a scale of 1-4 with 4 being the best and Giada's Baked Rigatoni with Bechamel Sauce earned 3 1/2 rolling pins.
This is definitely a dish I will be making again.
Happy baking!