Sausage, Cranberry, Brie Bites are a fun, festive, and delicious starter to any meal. Rolled up in puff pastry, this appetizer has just right amount of savory from Johnsonville Ground Italian Sausage, sweet cranberry sauce, and a salty creaminess from brie. This finger food will make your holiday or any gatherings even better!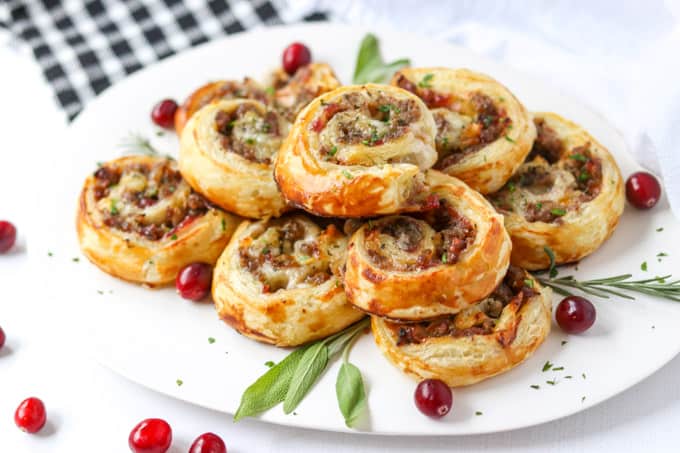 One of the things I love most about the holidays is…
I am proud to be partnering with Johnsonville Ground Italian Sausage for this post. All opinions are 100% my own.
THE FOOD!!
Surprise, surprise, right?
I know.
It certainly shouldn't come as a shocker seeing as how I work with, write about, and photograph it practically 24/7.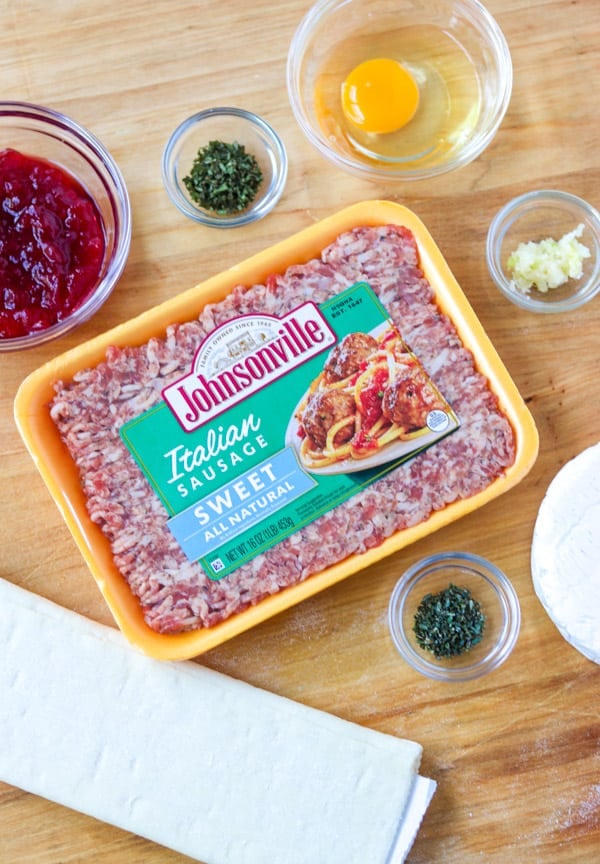 Ok, definitely not that much, but I do tend to have food on my brain a good amount of the time.
And I'm ALL about eating delicious things throughout the year.
But am I wrong here?
Is it just me or does the food like, become that much more spectacular during the holidays??
SAVE THESE SAUSAGE, CRANBERRY, BRIE BITES RECIPE TO YOUR FAVORITE PINTEREST BOARD!
One of the ways I love to make our recipes even better , especially this time of year is by using all-natural and flavorful Johnsonville Ground Italian Sausage.
With three different varieties – Hot, Mild, and Sweet, it's sure to enhance the flavor profile of any recipe I add it to.
Packed with spices and lots of flavor, it can be used in so many different dishes!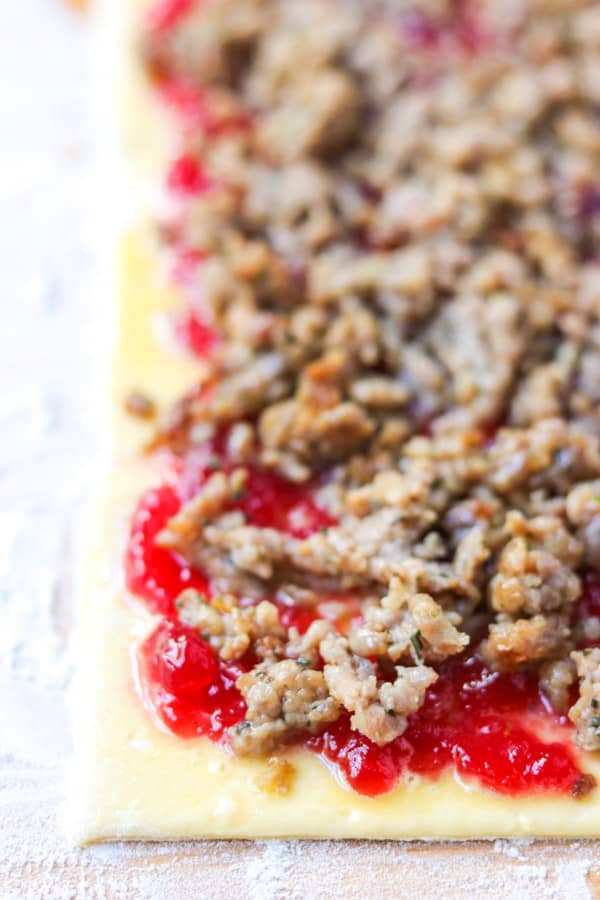 So, pass up that boring ground meat you're used to. It's time to be creative!
Use it in chili, stuffing, breakfast casseroles, appetizer dips, and so much more.
The list is truly endless.
PLUS, you'll impress friends and family with a new version of an old standby made better with Johnsonville Ground Italian Sausage!
Don't want to use the sausage, then just make Cranberry Brie Bites!
Ingredients for Sausage, Cranberry, Brie Bites
Puff pastry sheet
Johnsonville Ground Italian Sausage
either variety – Hot, Mild, or Sweet will work equally well! I used the Sweet.
jellied cranberry sauce
slices of brie
garlic
fresh herbs – sage, rosemary
egg wash – egg mixed with a tablespoon of water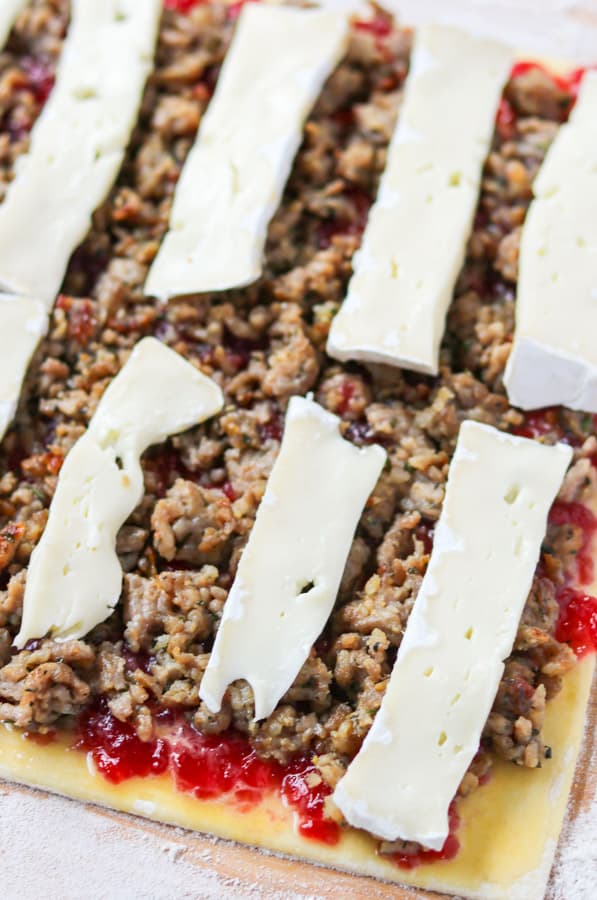 How to make this recipe –
Thaw the pastry dough for 40 minutes.
Preheat oven to 400°F, and line two baking sheets each with a sheet of parchment.
In a medium skillet over medium heat, cook the Johnsonville Ground Italian Sausage, with the garlic until just brown.
add the rosemary and sage and cook for two minutes more, stirring often. Drain fat.
Brush the pastry with the egg wash then spread the jellied cranberry sauce onto the pastry.
Top the cranberry sauce with the Johnsonville Ground Italian Sausage.
Place the slice of brie on top of the sausage.
Roll the pastry up.
Using a sharp knife, cut the roll into 12 slices, and place onto the prepared baking sheets. Brush the top and edges with the egg wash.
Bake for 15 minutes.

Sausage Cranberry Brie Bites

These Sausage, Cranberry, Brie Bites are a fun, festive, and delicious appetizer. With just the right amount of savory from Johnsonville Ground Italian Sausage, the sweetness of cranberry jelly, and a taste of brie rolled up in a puff pastry, this finger food will make your holiday gatherings even better!

Ingredients

1 sheet frozen puff pastry
8 ounces Johnsonville Ground Italian Sausage I used Sweet, but you can use Mild, Hot or Sweet
2 cloves garlic minced
1 tablespoon freshly chopped sage *plus additional see below
2 teaspoons freshly chopped rosemary
1 egg
1 tablespoon water
½ cup jellied cranberry sauce
4 ounces brie rind removed and sliced thin
1 teaspoon freshly chopped sage for garnish before baking

Instructions

Thaw the pastry sheet for 40 minutes or as directed on the box.

Preheat the oven to 400°F., and line two baking sheets with a sheet of parchment.

In a medium skillet over medium heat, cook the Johnsonville Ground Italian Sausage with the garlic until brown, breaking it up as it cooks. Add the rosemary and sage, and cook for an additional three minutes, stirring occasionally. Drain fat.

In a small bowl, whisk the egg and the water together to make an egg wash. Place the thawed pastry dough onto a lightly floured work surface, and brush it with the egg wash, going out to all four edges.

Spread the cranberry sauce evenly over the dough.

Place the cooked Johnsonville Ground Italian Sausage over the cranberry sauce.

Evenly space the slices of brie on top of the sausage.

Beginning at an end of the dough where you're looking at the brie slices horizontally (as opposed to vertically), slowly and carefully roll it up to resemble a jelly roll.

Using a sharp knife, Slice the roll into 14 slices, each about ¾ - 1 inch in thickness. Transfer to prepared baking sheets.Brush the tops and sides with egg wash, sprinkle with remaining sage, and bake for 15 minutes.

Nutrition

Serving: 1g | Calories: 201kcal | Carbohydrates: 12g | Protein: 6g | Fat: 14g | Saturated Fat: 5g | Cholesterol: 32mg | Sodium: 220mg | Potassium: 71mg | Fiber: 1g | Sugar: 4g | Vitamin A: 69IU | Vitamin C: 1mg | Calcium: 26mg | Iron: 1mg

Did you make this recipe?

Share it with me on Instagram and make sure to follow me on Pinterest for more recipes.

I love using Johnsonville sausage in my recipes because it's so versatile, and tastes so doggone good!
The whole family loves the flavor it adds to this Sausage Alfredo Rigatoni!
When I originally made it, it earned 4 rolling pins (the top award!) from each family member back when I was rating my recipes.

I used Johnsonville sausage links to make these Cheesy Puff Pastry Sausage Rolls.
They're a delicious breakfast addition, and a great idea for breakfast on the go!

One of my most favorite ways to eat sausage is on pizza!
And this pizza dough is the only one I use to make ours.

Next time I make this Easy Layered Taco Dip, you can be sure I'm going to be adding some Johnsonville Ground Italian Sausage to it!
I know my family will especially love the Hot variety for that extra kick.

Ground sausage makes this stuffed mushroom recipe that much better.
So good, it's practically impossible to eat just one.

Enjoy a tasty breakfast when you add it to these mini quiches.
Why skip the first meal of the day when you can eat these delicious bites in the morning?

Reader Interactions