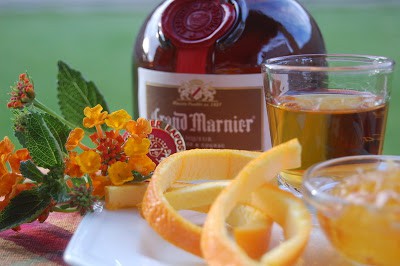 I have to say a big thank you to my friend, Debbie, for her assistance with today's recipe. I couldn't have done it without her because she let me borrow her soufflé dish. I knew I was going to have to purchase one in order to make them for this blog, so I cannot tell you how excited I was when she told me she had one. Debbie, I am so very grateful. Thank you, thank you, thank you!
Orange Marmalade Soufflé with Grand Marnier. Orange Marmalade Soufflé with Grand Marnier. I like the way that rhymes; soufflé, marnier, souffé, marnier.
I adapted this is from my Fannie Farmer Cookbook Thirteenth Edition, p.684,685; author, Marion Cunningham; publisher, Alfred A. Knopf, Inc., a division of Random House, Inc.; ISBN 0-394-56788-9. The original recipe I wanted to use wasn't going to work. I got 3/4 of the way through typing it to the blog and realized I never typed that the oven had to be preheated, so I switched and used the recipe for the Basic Dessert Soufflé, and added orange to it. I also made it gluten free. Not intentionally, but if you read the post from yesterday, you'll remember that I'm out of flour because I spilled it on the floor. So, I substituted the King Arthur Gluten-Free Flour where it called for 3 tablespoons and added a PINCH of xanthan gum.
There is an Orange Marmalade Soufflé with Grand Marnier Sauce recipe in the book, but it isn't baked. Mine is.
Orange Marmalade Soufflé with Grand Marnier
4 egg yolks
¼ cup granulated sugar
2 teaspoons freshly grated orange zest
3 tablespoons butter
3 tablespoons flour
1/8 teaspoon salt
2 tablespoons orange marmalade
1 cup milk
5 egg whites
1 teaspoon vanilla
Preheat the oven to 375ºF.
Butter a 2-quart soufflé dish or baking dish and sprinkle it with sugar. Beat the yolks; slowly add ¼ cup of the sugar, and grated orange zest, beating until thick and blended, set aside.
Melt the butter in a skillet and stir in the flour, and salt. Cook for several minutes over low heat, stirring, then slowly stir in the milk. Stir in the orange marmalade. Cook over medium heat, stirring until the sauce reaches the boiling point and becomes smooth and thick.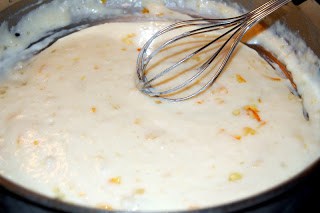 Remove from heat, pour a little of the hot sauce into the yolk/sugar/zest mixture, and stir well. Add the remaining yolk mixture to the sauce, stirring constantly, then return to the heat and cook for another minute; remove and let cool.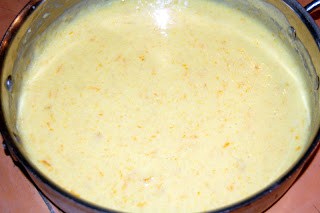 Put the 5 egg whites in a large bowl and beat until foamy. Slowly add the remaining ¼ cup of sugar and beat until the whites are stiff but not dry.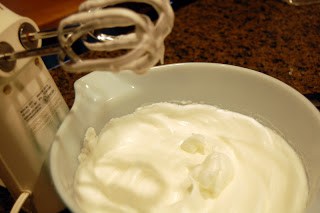 Whisk a fourth of the whites into the sauce to lighten it, then fold in the remaining whites. Stir in the vanilla.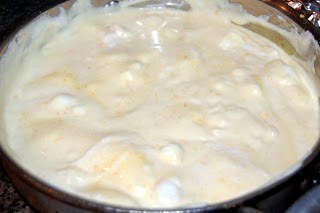 Pour into the soufflé dish. Bake for 35 minutes if a slightly runny center is desired and 45-50 minutes for a dry soufflé.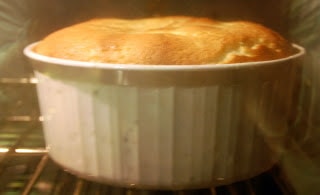 After being in the oven for 30 minutes. 15 minutes to go.
Sauce
1 egg yolk
3/4 cups confectioners' sugar
1 tablespoon Grand Marnier
½ cup heavy cream, whipped to soft peaks
For the sauce, put the egg yolk into a medium bowl and whip it with a fork. Stir in the confectioners' sugar and the Grand Marnier and whisk until it is smooth and blended. Fold in the whipped cream. Refrigerate until used. Spoon sauce over each serving.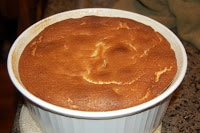 Right after removal from the oven.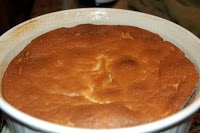 Less than 5 minutes out of oven.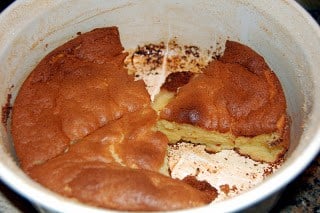 10 minutes after being taken out of the oven. See how much it's collapsed?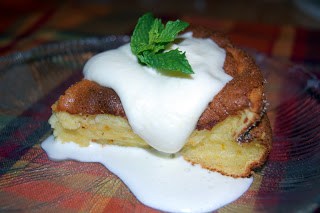 My rating system is based on a scale of 1-4 with 4 being the best and the family decided that this soufflé earned 2½ rolling pins. It smelled absolutely delicious as it was baking, and tasting the batter before it went into the oven, I thought it was really good and was quite impressed. I have never had a soufflé before and decided that I'd be ok if I never had one again. It wasn't that this wasn't good, it's just not my kind of dessert. As my husband said, it's not the type of dessert we would order in a restaurant. The flavor of the orange was just right and that sauce was sweet with that kick of Grand Marnier, but it was a little too eggy for me. This was definitely a more sophisticated adult dessert and I was pleased that my kids couldn't stand the sauce. Hmmm…now what to do with the rest of the Grand Marnier?
Happy baking!