This so wasn't the recipe I had intended to make today. Did a lot of running around the state today and one of those places to which I ran was Gluten-Free Creations Bakery. The place was a little hole-in-the-wall with no windows, tucked away behind a Midas shop. No wonder the sign on the building says,
"You found us!".
I walked into the shop (a little nerve-wracking because with no windows, I don't know what I'm walking into, but took a deep breath and turned the door knob) and everything is like right there. I'm a little claustrophobic from being stuck in an elevator in high school, and that immediate feeling came back. There was room to move around, it wasn't that bad, it just wasn't your regular open, airy-type shop. They have so many baked goods available, and premixed flours which is wonderful for people who do a lot of baking (ahem!). I didn't purchase it, but I did buy some cinnamon raisin bagels which were really, really good! They reminded me of the Raisin-Cinnamon Mochi I used to buy when the kids were little at Bread & Circus (Whole Foods). I'd cut it up into squares, pop those babies in the toaster oven and then put cream cheese in the middle. Oh my gosh, they were so good! Hmmmm…I think I'm gonna have to make a trip to Whole Foods to pick some of that stuff up – now I've got a craving.
Today I also bought my daughter a brownie (which was delicious and tasted like the real thing!), and some pizza crusts which were really, really good, too! Those crusts have been purchased by many pizza places in the area, so that they can offer gluten-free pizzas. I have to say that I was very impressed with all of the items. Who says gluten-free food can't taste great? I would definitely recommend them. I know they ship as well and have a frequent-buyer program, so check them out!
As I said, I hadn't intended to make this Pound Cake today. It was 8 o'clock this evening and I just sat down to eat dinner (everyone had already been fed and was doing their own thing) and realized it was going to take too long for what I had planned, so that will be baked tomorrow. No, I'm not telling you what it is.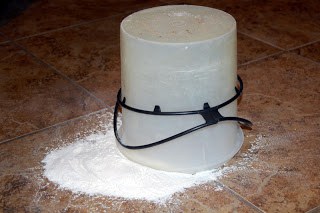 I also had an accident in the kitchen (surprise, surprise), knocked the container of flour to the floor scattering its' contents. Fortunately, there wasn't much left. I wasn't even using flour in today's recipe! I had it out though because I had just rolled out some pizza dough. Oh, well.
This recipe is from The Gluten-Free Kitchen, p. 143; author, Roben Ryberg; publisher, Three Rivers Press, a division of Random House, Inc.; ISBN 0-7615-2272-7.
Chocolate Pound Cake
½ cup softened butter
1 cup sugar
2 eggs
1½ teaspoons vanilla flavoring
½ cup cornstarch
½ cup potato starch
½ cup cocoa
2½ teaspoons baking powder
3/4 teaspoons salt
1 1/8 teaspoons guar gum (I substituted xanthan gum)
3/4 cup milk
Preheat oven to 350ºF.
In a large bowl, cream together butter and sugar.
Add eggs and vanilla flavoring. Mix well.
Add all remaining ingredients except milk. Mix well, being sure to remove all lumps.
Slowly mix in milk.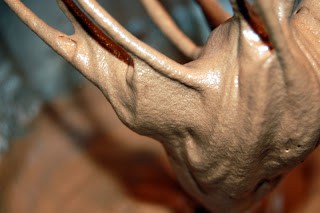 Pour batter into a greased 9 X 4 loaf pan.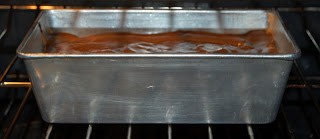 Bake 50 minutes, until toothpick inserted in middle of loaf tests clean.
Allow cake to cool in pan for at least 10 minutes.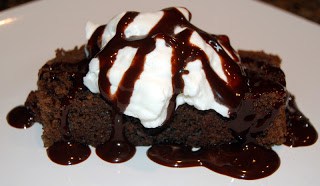 My daughter really loved this cake. I have a rating system of 1-4 and 4 is the absolute best. She decided that this Chocolate Pound Cake earned 4 rolling pins, and she's picky!
Happy baking!