Honey Bread. I like the sound of that.
I hope it tastes as good as it sounds.
This comes from my Fannie Farmer Cookbook 13TH Edition, p. 537; author, Marion Cunningham; publisher, Alfred A. Knopf, Inc., a division of Random House; ISBN 0-394-56788-9.
"Honey Bread has a fine silky texture and the sweet, mild flavor of spice. Very long beating is the secret of its tender grain." – She wasn't kidding about the very long beating.
Honey Bread
2 cups white flour
1 teaspoon baking powder
1 teaspoon baking soda
1 teaspoon salt
½ teaspoon cinnamon
1 teaspoon ginger
½ cup honey
1 egg, slightly beaten
1 cup milk
Preheat the oven to 350ºF.
Butter a loaf pan.
Put the flour, baking powder, baking soda, salt, cinnamon, and ginger in a large bowl.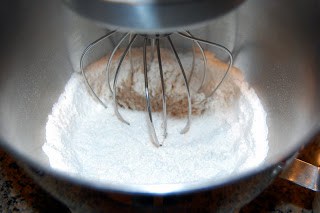 Add the honey, egg, and milk, and beat thoroughly with an electric mixer for about (you ready for this?) 20 minutes.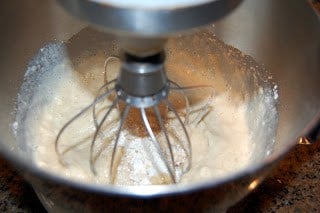 After mixing for 10 minutes.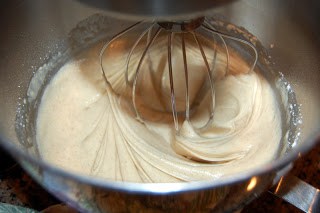 Done mixing after 20 minutes.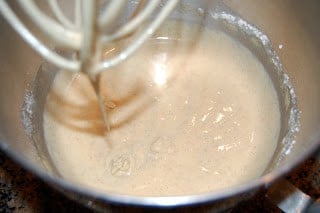 Spoon into the pan and bake for about 50 minutes. Remove from the pan and cool on a rack.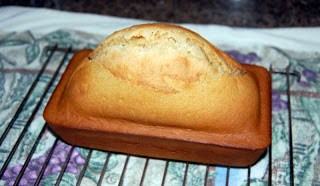 You will then have a Dromedary loaf of bread. What the heck is this?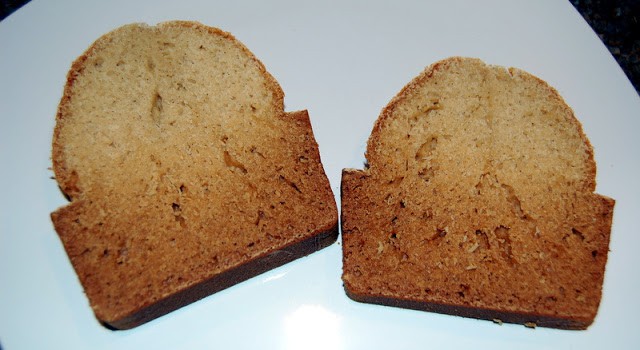 And it's two-toned! Who knew?
20 minutes?! I've never beaten something for 20 minutes, not even my kids. (I am SO KIDDING!!! About the beating part! Don't one of you dare report me to child services, that was a JOKE! You know, like when you want to say the word BOMB at an airport, just 'cause you know you can't.) Twas a LONG time to be beating that batter. I'm just glad I had a stand mixer because I can't imagine holding a hand mixer for that long. Wow!
Going back to the fine, silky texture, that was pretty cool, but I thought the bread was chewier than any bread I had ever had and I chewed it and chewed it. I liked the taste; the combination of the honey and spices was good, and with butter on it, it was even better. I'll try some toasted tomorrow morning.
I have a rating system of 1-4 with 4 being the best and I give this Honey Bread 2 rolling pins. It was ok, it just wasn't great. I don't think I'll be making it again. Why did it come out so funny looking? I've never seen bread do that. That was weird. Something to do with the extended mixing perhaps? It definitely looked like a camel.
Happy baking!