I've made lasagna rolls before, not during this blog, but tonight I made it using gluten-free noodles. It can easily be made both ways, so if you'd like to make it the regular way, all you have to do is substitute the lasagna noodles. If you are going gluten free, make sure the following items you intend to use are in fact, gluten free and call the company phone number listed on the package if you have any questions. I wasn't sure about our store brand ricotta cheese, so I called and found out it was ok to use.
I also called about the lasagna noodles because they say DO NOT PRECOOK and Sarah said that they can't guarantee how they will turn out if they are precooked. She said that more than likely they would fall apart. I've had regular lasagna noodles fall apart when I boil them, how bad could these be? I told her I'd try it and see how it went. And actually, it wasn't too bad. I only boiled them for 5 minutes though, just long enough so that they could be (oh my gosh, I am having such writer's block right now because I am so tired. I can't think of the words I need to use!!) pliable – haha. I wouldn't suggest any longer, such as following directions for a regular lasagna noodle because I really think they might disintegrate; 5 minutes seemed to be key.
Lasagna Rolls (This is the Gluten Free version – just substitute regular lasagna noodles and boil according to directions on package if wanting non-GF) makes 12 rolls (or could have if one wasn't broken in thirds)
1 package DeBoles GF lasagna noodles
1 egg
1 15 oz. ccontainer part skim ricotta cheese
1 10oz. frozen box of spinach, thawed
½ cup grated Parmesan cheese
1 26 oz. jar of Ragu spaghetti sauce
1½ cups mozzarella cheese, shredded
Preheat oven to 375ºF.
Prepare lasagna noodles according to directions. If gluten free oven ready noodles, wow – mouthful, boil for only 5 minutes.
Prepare 13 x 9″ with a non-stick spray.
Pour 1/3 of spaghetti sauce into pan, making sure to coat the entire bottom.
Drain lasagna noodles. If gluten free, remove them from water with tongs and place in colander. (I didn't want to dump them into the strainer for fear they would tear). Rinse with cold water.
Arrange wax paper on counter and spray with cooking spray.
Lay noodles flat on wax paper.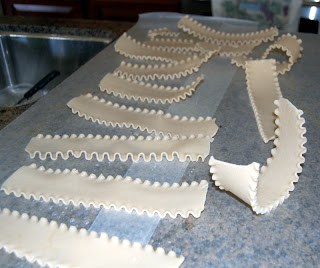 In medium bowl, lightly beat egg. Add ricotta and Parmesan cheeses. Squeeze excess water out of spinach and add to bowl. Mix all ingredients until thoroughly combined.
Using 1/3 – 1/4 of a cup spread mixture along length of noodle. Roll up from one end to the other.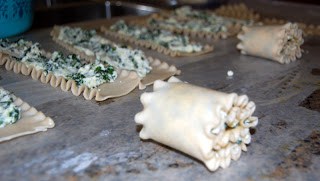 Place seam side down in baking dish.
After all rolls are assembled in dish, pour remaining spaghetti sauce on top and sprinkle with mozzarella cheese.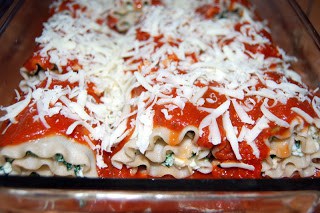 Place in oven and bake for 25-30 minutes.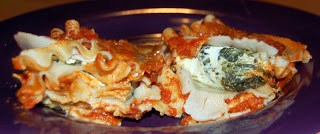 I liked them. I really liked them when we had them unglutenfreed (new word), but these worked well, too. My daughter, who is on a gluten free diet, liked them, but wasn't nuts about the spinach. They're easy to make and not as time consuming as making a full-fledged lasagna. I like that, too.
My rating system is on a scale of 1-4 with 4 being the best. My daughter and I decided these should be given 3 rolling pins. I also didn't have them when they came out of the oven because I was at a baseball game and came home to them lukewarm. They were still good. I like the consistency of the regular noodles best though.
I admit I'm very tired tonight and am so very grateful for spellcheck! If this post has been confusing, or if you have any questions, please don't hesitate to contact me. My e-mail is lafbaker@gmail.com.
Happy baking!