Today's recipe, Baked Chocolate Custard comes from my Fannie Farmer Cookbook Thirteenth Edition, p. 673; author, Marion Cunningham, publisher, Alfred A. Knopf, Inc., a division of Random House; ISBN 0-394-56788-9.
Baked Custard – serves eight

2 egg yolks
3 eggs
½ cup sugar
1/8 teaspoon salt
3 cups very hot milk
1½ teaspoons vanilla
Nutmeg
Preheat the oven to 325ºF.
Butter a 1-quart baking dish or 8 ramekins.
Set a shallow pan large enough to hold the baking dish or ramekins in the oven, and fill it with one inch of hot water.
Beat the yolks and eggs together just enough to blend.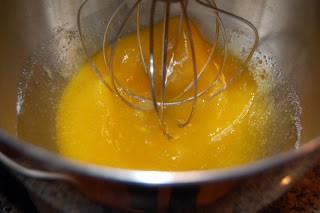 Stir in the sugar and salt and slowly add the hot milk, stirring constantly.
Add the vanilla.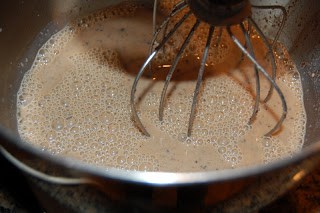 Strain into the baking dish or dishes and sprinkle with some nutmeg.
Put in the pan and bake about 45 minutes; the custard is set when a knife inserted comes out clean.
Chocolate Custard. Melt 1½ ounces unsweetened chocolate in the milk while it is being heated to make the custard.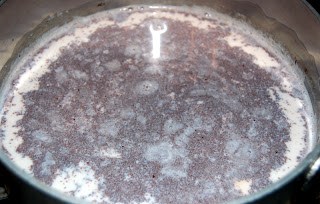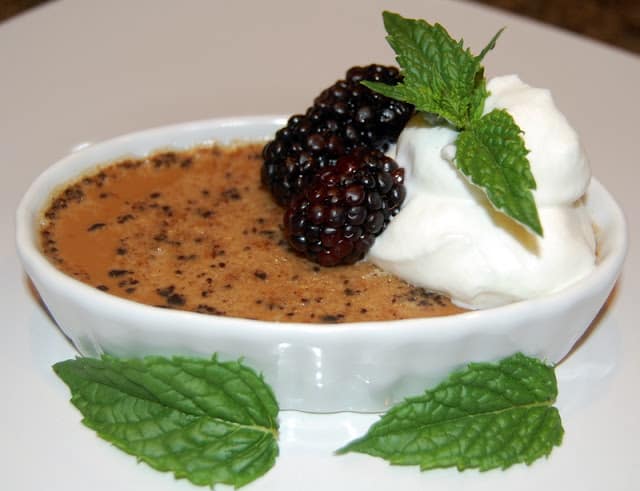 As I was making this, I had a horrible memory and it made me gag. Maybe I shouldn't tell you this, but I have to share. If you have a queasy stomach, just skip over this part and read the next paragraph. Tonight, I had just started heating the milk and melting the chocolate in it, then broke apart the eggs and separated the yolks. The milk was heating up quite nicely, so I went to stir it, and when I did this aroma of hot chocolate completely overtook me. Now, for most people, the smell of hot chocolate elicits wonderful memories of snow, snowmen, cabins, fireplaces and maybe even Christmas. For me though, it makes me ill. See, when I was probably about 8 years old we went to visit friends in Connecticut. One day we all went sledding, had a wonderful time and drank hot chocolate. On the way home, while sitting with my friend in the back of their station wagon, she threw up. Hot chocolate. To this day, I CANNOT drink or smell it. Even when my kids were little I must admit that they were deprived and probably didn't drink as much of the concoction as their friends because of their mother. I had to hold my nose whenever I made it for them. Sitting in the back of that car with that smell is a memory I would so like to forget, but know it is stuck with me forever. Funny how certain things can take you right back to a moment in time, hunh? BLECH!
Well, The picture certainly turned out nice, but we didn't like the end result of the custard. Maybe we were spoiled by that Créme Brulée I made on Day 20. That was the bomb! This chocolate custard thingy? Not so much. The texture was well, custardy. Haha. I guess we're just not used to eating it. This was everyone's first time tasting custard and I think we were all expecting something different like pudding or a chocolate type créme brulée. We also weren't nuts about the way the chocolate was melted into it. It made it grainy and a bit gritty. Which I guess is fine if you're into that. I don't prefer it. I want smooth, velvety, roll over my tongue, delectable, chocolaty pudding stuff. Hmmmm…Oh well.
My rating system is on a scale of 1-4 with 4 being the best. My husband thought this should be rated 2 rolling pins, but my daughter upon hearing that thought it was extremely generous and thought it should be given a 1. I'll compromise and give it 1½ rolling pins. But, if you like custard, give it a try and let me know what you think. Just because we weren't nuts about it doesn't mean somebody else won't like it. Also, I'd love for you to post pictures of the recipes you make from 365 Days of Baking on my Facebook page, that way we can all share in your success! Ok, even if there isn't success, I still want to see!
Thanks for stopping by! Happy baking!