Today is my daughter's 19th birthday and since she's home from college for the weekend I wanted to bake her a birthday cake. She really loved the movie "The Lion King" and I wanted to find a Simba cake pan, but didn't have any luck. I thought that would have been cute for a 19 year old. Maybe I'll be able to find one for her 20th. If any of you know where I could locate one or if you have one sitting around collecting dust, please let me know and we can give it a new home.
The cake I made her is the Boston Favorite Cake on page 571, and I marbled it (marbled, is that a verb? If not, I just made it one.). The recipe suggested I use a Maple Frosting or a Creamy Chocolate Frosting. I went with the Chocolate which is on page 599. I used my Fannie Farmer Cookbook Thirteenth Edition; author, Marion Cunningham; publisher, Alfred A. Knopf, Inc., division of Random House; ISBN 0-394-56788-9. I don't know why it's called "Boston Favorite Cake", there was not explanation, but I wish I knew. Maybe it's a favorite cake of the Boston Red Sox.
Boston Favorite Cake
6 Tablespoons butter
1 cup sugar
2 eggs, separated
1½ teaspoons vanilla
1 3/4 cups cake flour
2 teaspoons baking powder
½ teaspoon salt
2/3 cup milk
Preheat oven to 350ºF.
Butter and lightly flour two 8-inch cake pans.
Cream the butter until softened and slowly add the sugar, beating until light.
Add the egg yolks and vanilla and beat to blend well.
Sift the flour, baking powder, and salt onto a piece of wax paper.
Alternately blend the dry ingredients and the milk into the butter mixture in three stages.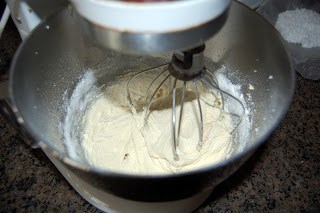 Beat until smooth.
In a separate bowl, beat the egg whites until stiff but not dry.
Stir a third of the egg whites into the cake batter and gently fold in the remaining.
Spoon into the cake pans.
Bake for 30-35 minutes, or until a straw inserted in the center comes out dry.
Cool in pans for 5 minutes before turning out onto racks.
Fill and frost with Creamy Chocolate Frosting (p.599) or Maple Frosting (p.600)
Marble Cake. Divide the batter in half. Melt 1 ounce unsweetened chocolate in a bowl over simmering water and add it to half the batter. Fill the pans using large spoonfuls and alternating between the plain and the chocolate batters.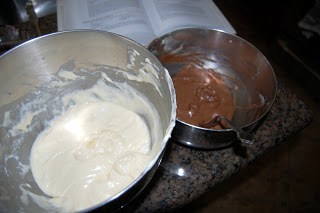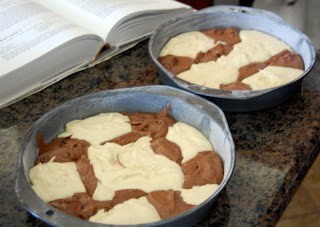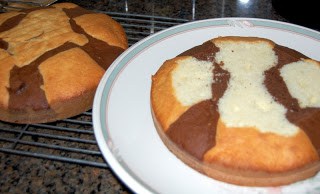 Creamy Chocolate Frosting
2 ounces unsweetened chocolate, grated
1 cup sugar
3 tablespoons cornstarch
1 cup boiling water
1 tablespoon butter
1 teaspoon vanilla
1/8 teaspoon salt
Combine the chocolate, sugar and cornstarch in a heavy-bottomed pan.
Stir in the boiling water, and cook over moderate heat about 2-3 minutes, stirring constantly, until thick and smooth.
Remove from heat and add the butter, vanilla and salt. Beat well.
You will have enough to fill and frost and 8- or 9-inch two layer cake.
Ok, I had no problems with the making of the cake, it was the frosting I wanted to heave out the window. Expectations of a delicious cake for a daughter on her birthday. Ugh! That frosting, man. Don't make it. I can't remember which recipe it was from this cookbook, but something else I made from here didn't turn out either. Very frustrating. The frosting was in no way creamy, it was runnier than heck! There was no way this stuff was thickening. And I say this after I added hmmm…let's see, 2 more tablespoons of cornstarch, 1 tablespoon cornstarch mixed with two tablespoons of water , 2 cups of confectioners' sugar, and 12 tablespoons flour before it finally thickened to a point where it could have been spread over a cake. BUT, at that point it tasted like cake batter itself, so I scrapped it. My dear daughter offered to go to the store to pick up some (choke) canned frosting. It felt like a cop-out, but she was leaving to back to school soon and I couldn't very well let her leave without having some of her own birthday cake!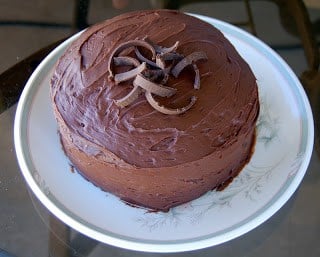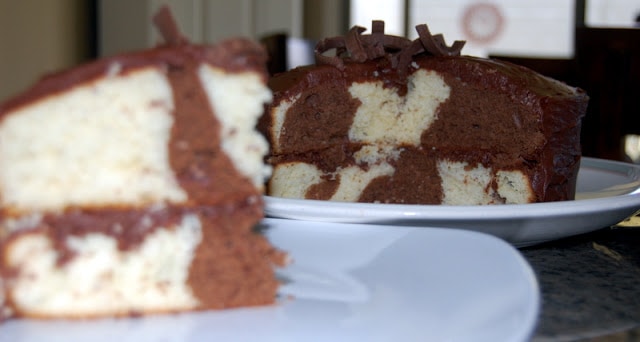 She was happy and like it. My rating system is on a scale of 1-4 with 4 being the best. She voted that it should be given 3 rolling pins. The frosting was delicious. Haha. I thought the cake was just a tad bit dry. I like how it marbled though. I don't think I'll be making this one again. Oh, and the chocolate curls on the top from the Hershey bar were quite delicious, too.
Happy baking!