I made two kinds of chicken parmigiana tonight – one was based on the Eggplant Parmigiana recipe I made on Day 5 of this blog and the other one needed to be gluten free for my daughter. I needed to change the breadcrumbs I usually use with something that was gluten free. I was going to buy some gluten free bread crumbs, but figured they'd be pretty expensive as most gluten free products are, so I decided I"d do some searching online. One site (I looked at so many, I can't remember which was which) said that a Japanese Panko crumbs could be made from crumbled Rice Chex cereal it doesn't contain gluten. I didn't have the Rice, I had Honey Nut. Since i was going to be eating it with her, I didn't want my Italian chicken tasting honeyish.
My daughter has been eating these Blue Diamond Pecan Nut Thins. They are really quite good! Since she likes them so much I decided to take about 25-30 of them (which made about 1/2 cup) and pop them into the food processor which I had never used with any gluten containing products. This is important because you don't want to use the same toaster, food processor, etc. for concern of cross-contamination. I made this for three, but I'll give it to you for four servings.
All of the specific items I used tonight were gluten free. If this is important for you, please check your labels or if you have any questions, contact the company of the product you are concerned about directly. That is the easiest way to find out and I've discovered that most are extremely willing to help with any dietary questions. It is much better to check than just assume, and then have issues later.
Gluten Free Chicken Parmigiana
2 tablespoons olive oil (plus more if needed)
4 skinless, boneless chicken breasts
1 egg, lightly beaten
3/4 cup Pecan Nut-Thin Cracker Crumbs (approx. 40 crackers)
3/4 cup grated Kraft Parmesan Cheese
1 1lb.10 oz. jar of Ragu Spaghetti Sauce
8 oz. block of mozzarella cheese
Preheat oven to 375ºF.
Combine cracker crumbs and parmesan cheese on a plate.
Grate or slice mozzarella cheese.
Dip one chicken breast into beaten egg, coating both sides. Dredge in crumbs/parmesan mixture. Repeat with remaining chicken.
Heat oil in large skillet over medium-high heat.
Add chicken to skillet and brown on both sides for about 4 minutes each. I recommend using a spatula to scrape under the chicken before turning so that the coating won't stick to the pan.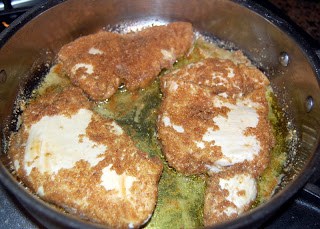 Can you tell I didn't use the spatula before flipping like I told you to?
Pour 1/3 of the spaghetti sauce into a 9 X 13″ baking dish to cover the bottom.
Arrange chicken pieces in pan.
Cover with remaining sauce.
Sprinkle mozzarella cheese over top.
Bake for 25-30 minutes or until bubbly.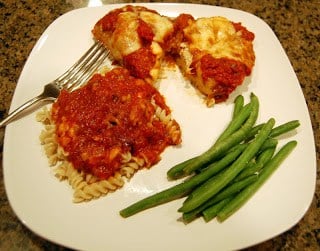 Usually I'll use shredded mozzarella cheese, but I've read that some, unless noted that it is gluten free, may contain gluten. Purchasing the block and slicing it myself also saved some money instead of buying the specific gluten free shredded cheese.
In the past, the breadcrumbs I've used are Italian style and contain herbs. To be honest, I completely forgot to add any oregano, or basil to the cracker crumbs, but I really couldn't taste a difference. I think it may have been because there were enough spices in the spaghetti sauce. The great thing about this meal is that you can just substitute those bread crumbs for the crackers if there aren't any dietary concerns.
I really liked the taste of the chicken. It was coated nicely with the crackers and had a very slight nutty flavor. My daughter really couldn't tell a difference from the bread crumbs, so I'll be making it for her this way again. We both agreed that this gluten free chicken parmigiana deserves 3½ rolling pins. I use a rating system of 1-4 rolling pins with 4 being the best.
Happy baking!