I decided something extremely important today. And yes, it has to do with baking. I absolutely CANNOT, MUST NOT do any of my baking for this blog while the Red Sox are in the middle of a baseball game, especially when they are playing the Yankees. And especially when David Ortiz comes up to bat with Kevin Youkilis on third base. I was in the middle of measuring the flour, baking soda and salt into the sifter, and usually I'll put like half the flour in and then the other dry ingredients followed by more flour so that everything is sifted in together nicely. Yeah. I was measuring, the tv was on, and I knew Big Papi was up to bat. I measured the flour, half or all I wasn't sure, and had done the salt and baking soda, then heard the hit and the crowd erupted. Of course, I'm going to drop everything and run to the tv! I know, I can hear you saying, "the team has only one win since the beginning of the season and 7 losses, so it's too early in the season to be so wrapped up in one game". Oh, but this is the Red Sox, playing against their arch rival, the Yankees. These are games we die hard Red Sox fans DO NOT MISS. I also didn't add the milk or the maple syrup before putting in the dry ingredients. So,we can either chalk this up to my preoccupation with the baseball game or that I was having consecutive senior moments even though I'll deny I'm anywhere close to being a senior. It was the game. "That's my story and I'm stickin' to it."
Brown Sugar Drop Cookies came out of my New Doubleday Cookbook, p. 830-831; authors, Jean Anderson and Elaine Hanna; publisher, Doubleday, a division of Random House, Inc.; ISBN 0-385-19577-X.
Brown Sugar Drops – 6 dozen
3½ cups sifted flour (Ha, I forgot to do that, too – sift it before measuring. Yikes.)
1 teaspoon baking soda
1 teaspoon salt
1 cup butter or margarine or ½ cup each vegetable shortening or butter, softened to room temperature
2 cups firmly packed light or dark brown sugar
2 eggs
½ cup sour milk or buttermilk ( I used sour milk: 1½ teaspoons added to ½ cup milk and rest for 10 minutes.)
2 teaspoons maple flavoring (optional) (I used 2 teaspoons of maple syrup)
Preheat oven to 400ºF.
Sift flour with soda and salt and set aside. With a rotary beater or electric mixer, cream butter, sugar, and eggs until well blended.
Mix in sour milk and maple flavoring. Slowly mix in dry ingredients.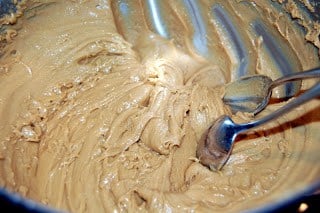 Drop by rounded teaspoonfuls 2″ apart on greased baking sheets.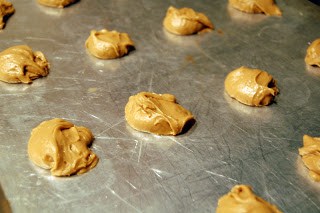 Bake 8-10 minutes until nearly firm (cookie should barely retain fingerprint when lightly touched). Transfer cookies to wire racks to cool.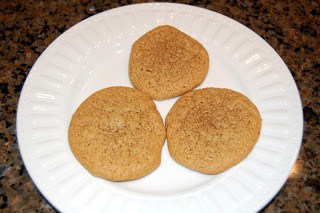 My son absolutely loved these. I rate everything that I bake on a scale of 1-4 with 4 being the best and this crazy kid thought they should be given 4 rolling pins. I'm sorry, I have to disagree. I really thought the kid was off his rocker. I don't think they had any taste. It was after I had added the milk after adding the dry ingredients that I thought for sure I had used an extra cup of flour. The batter just looked. Too. Sticky. It was like spackle and took me a while to clean it off my spoons it was so thick. Yeah, I really think I added that additional cup. See, just like drinking and driving, baking and Red Sox don't mix. Someone could get hurt or at least ill from something made when the chef isn't paying attention. They kind of tasted like cardboard. I have to give them a 1 rolling pin. I'm interested in making a second batch to see what the difference would be, possibly tomorrow. Not sure though, I already have something very important to bake and I have GREAT EXPECTATIONS for it, so I'll NEED to PAY ATTENTION!!
Happy baking!