Yes, I have two children who have birthdays within about a week of each other. I had hoped when I was pregnant with our son (our third child) that he wouldn't be born on his sister's birthday so they wouldn't have to share one. Fortunately, he held out. None of my kids were early arrivals, so I really had nothing to worry about.
I used Martha Stewart's Baking Handbook for the cake recipe, p. 149; author, Martha Stewart; publisher, Clarkson Potter/Publishers, a division of Random House, Inc.; ISBN 0-307-23672-2. The frosting recipe was from the instructions that came with a Wilton 'Winnie The Pooh' cake pan I used when the kids were little. I was going to make Pooh for my son, but when I was browsing at Goodwill I completely scored – a cake pan in the form of a baseball player. It was only $2.99 which is much less than what they go for new. Besides, I'm probably never going to use the thing again anyway. Anyway, the baseball player is so appropriate because he has decided that this school baseball season will more than likely be his last. He would rather play boys' volleyball in high school and both sports are played in the spring here. A tribute to my son and his fantastic baseball career. He loved it. Actually, the cake kind of looked like him, too. It turned out better than I had hoped because I'm not a cake decorator, but of course, could have been improved.
Yellow Butter Cake – makes one 9-inch layer cake using two 9-by-2-inch round cake pans (I used one Wilton shaped cake pan)
2 sticks (1 cup) unsalted butter, room temperature, plus more for pan
1½ cups all-purpose flour, plus more for pan
1½ cups cake flour (not self-rising)
1 tablespoon baking powder
½ teaspoon salt
1 3/4 cups sugar
4 large eggs
2 teaspoons pure vanilla extract
1 ¼ cups milk
Preheat oven to 350ºF. Butter cake pan, dust with flour; set aside. In a medium bowl, sift together flours, baking powder, and salt; set aside.
In the bowl of an electric mixer fitted with the paddle attachment (is this the only attachment she ever uses?), beat the butter and sugar until light and fluffy, 3 to 4 minutes, scraping down the sides of the bowl as needed. Beat in eggs, one at a time, then beat in vanilla. With the mixer on low speed, add the flour mixture in three parts, alternating with the milk and beginning and ending with the flour; beat until combined after each addition.
Pour batter into prepared pan, and smooth with an offset spatula.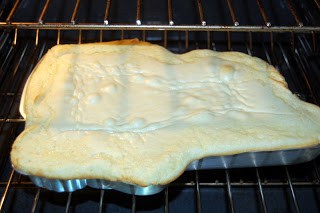 Bake, rotating the pan halfway through, until the cake is golden brown and a cake tester inserted in the center comes out clean, 30-40 minutes.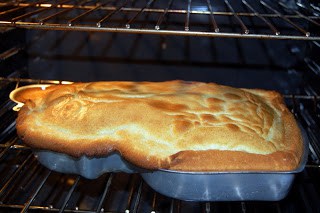 So cake sits level and to prevent cracking, while still in pan, carefully slice off raised center portion. To unmold from pan, place cooling rack against cake and turn both cake rack and pan over. Lift pan off carefully. Coll at least 1 hour. Brush loose crumbs off cake. To transfer cake to a serving platter (I used a cake board for serving), hold a cake board against cake and turn both cake and rack over. Lift off rack. Hold another board against bottom of cake and turn cake over. Be sure to hold cake, rack, and boards close together while turning to prevent cake from cracking.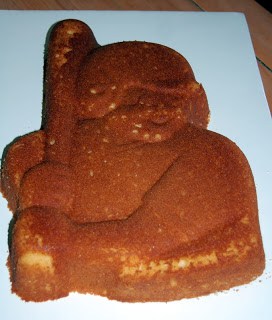 Wilton Buttercream Icing
"The thick but creamy texture of this flavorful icing makes it ideal for decorating. For best results, keep icing bowl in refrigerator when not in use. It can be refrigerated in an airtight container for up to 2 weeks. Rewhip before using. YIELD: 3 cups. I needed a double batch, but didn't use all of it. The following is for a single.
½ cup solid vegetable shortening
½ cup butter or margarine
1 teaspoon Wilton Clear Vanilla extract
4 cups (1 lb.) sifted confectioners' sugar (remember, sift before measuring here)
2 tablespoons milk
Cream butter and shortening with electric mixer. Add vanilla. Gradually add sugar, one cup at a time, beating well on medium speed. Scrape sides and bottom of bowl often. When all sugar has been mixed in, icing will appear dry. Add milk and beat at medium speed until light and fluffy.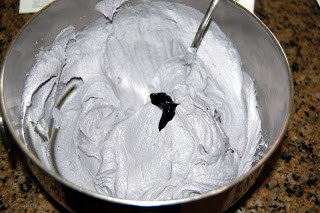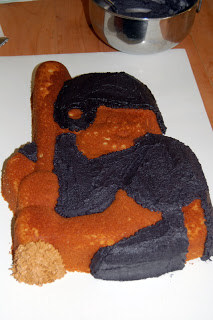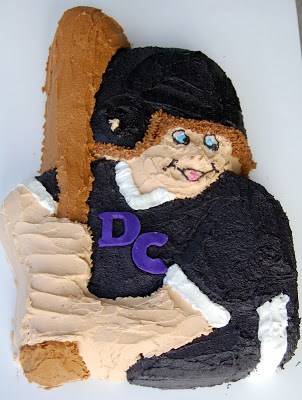 It may not be the most beautiful cake, but it actually looks a little like him. I think it's the curly hair. 🙂
Remember the other day how I told you that Martha likes to do things big? Well, this cake batter was BIG and as I was pouring it into the pan, I was thinking there was too much. And there was. It started to overflow slightly in the oven. Then the edges burned, but I cut them off and nobody knew the difference. I was just concerned that because there was so much batter that the bottom would start to burn before the cake was even set, but everything was ok. I have to tell you that instead of using butter and flour to coat the pan, I used the Wilton 'Bake-Easy' Non Stick Spray. That stuff was AWESOME! The cake came out without any hesitation and nothing was left stuck in the pan. I'm sold on that stuff!
I also used the Wilton icing colors for the frosting as follows: 2 cups of icing with black for the jersey and helmet, 3/4 cup with brown for the bat; 1/3 cup with brown for the hair; 1¼ cup with brown for the skin; 2 tablespoons with blue for the eyes; 1 tablespoon with pink for the tongue. Dip a toothpick into the coloring and swirl it into the frosting. If more color is needed, gradually add more with a toothpick until desired color is achieved. To decorate, I used the decorator bags with couplets and various tips.
I brought the cake and some ice cream cups to the end of my son's baseball practice and needless to say, he was surprised. He usually doesn't like surprises, but I think with this one, especially since I used this for one of my blog postings, he was honored. It was wonderful that he could share it with his friends, too. The re-lighting candles were also a plus. The boys loved it – they devoured it like vultures as young teenage boys are known to do, and my husband loved the piece we were able to save for him as well. I rate my bakes on a scale of 1-4 with 4 being magnificent and this cake with the frosting earned 4 rolling pins!
I really enjoyed doing this even though it took me practically all day to finish. Ok, I had some interruptions, but I was done measuring and NO, the interruptions weren't the Red Sox. I now have a crink in my neck, so I'll have to see my chiropractor tomorrow. And a cramp in my hand from holding the bags, but it was definitely worth every minute. The birthday boy couldn't stop thanking me.
Happy baking!