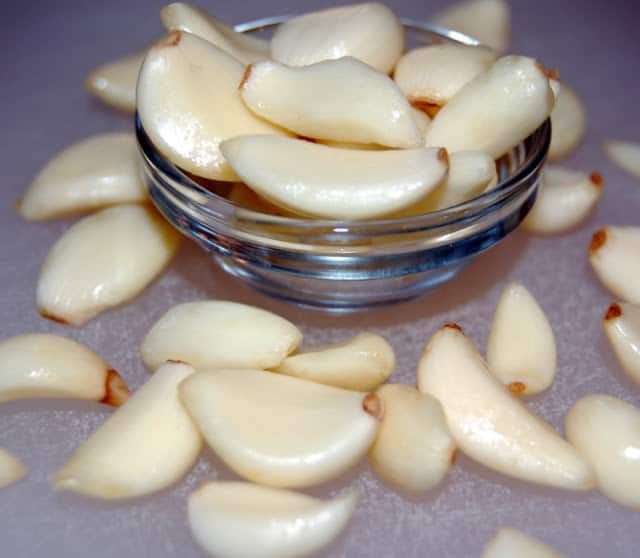 Yay!!! I'll probably be going to bed with my husband tonight!! Not that I usually go to bed with someone else, it's just that it's only 9 o'clock at night and I'm almost finished blogging. Lately, and not to his liking, I've been staying up later than him and he doesn't like it.
Neither of us sleeps well without the other – we anticipate when the missing partner will be coming into the bedroom, turning on the light in the bathroom (which has no door – only out here have we lived in houses that have no door on the master bath. Stupid!), and stealing the covers from the one already retired. I think it also has to do with the fact that, every night ever since I can remember, we hold hands when as we fall asleep.
I know, it sounds corny, but it's just one of those things that we do. And if the other partner is not there to hold your hand, there is definitely something that isn't quite right. So, I understand his discontent with my late nights – he misses me. And I love that about him.
Okay, so go retrieve your heads of garlic and start peeling while you're sitting here reading this post. That way, you can kill two birds with one stone or multi-task, whichever way you prefer to look at it. I have my garlic peeled and it took me all of 5 minutes.
I confess I bought the peeled garlic in the jar. I can't be sitting peeling garlic. That would drive me NUTS except maybe if I watched 'Days of Our Lives' like I used to way back when the kids were nappers. Not to mention the smell I'd probably never be able to remove from my fingers.
I found this on one blog, A Tale of Two Kitchens, but she had gotten it from Alton Brown at the Food Network, but I found this one at For the Love of Cooking and it looked so very delicious that I just had to try it.
Chicken with 40 cloves of Garlic
4 boneless skinless chicken breasts
1-2 tablespoons olive oil
dried thyme to taste
sea salt and fresh cracked pepper to taste
40 cloves of garlic
1 tablespoon butter
1 tablespoon gluten-free flour (all-purpose flour can be substituted)
¼ teaspoon corn starch mixed with 2 teaspoons water
2 tablespoons milk
2/3 white cooking wine
1 cup vegetable broth (use chicken broth if you do not need this to be gluten-free)
1 tablespoon fresh parsley, chopped
Purchase jar of already peeled garlic or if you so desire, peel it yourself. Leave me a note to let me know how long it took you to do that.
Preheat oven to 350ºF.
Place chicken breasts between two sheets of wax paper and pound until ½-inch thick. Season with salt, black pepper and thyme to taste.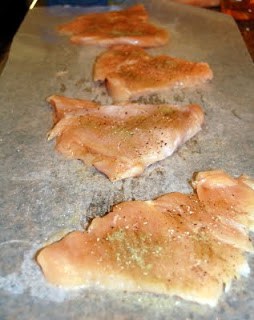 Heat olive oil in large skillet over medium high heat. In batches, sauté the chicken until nicely browned, about 4 minutes on each side. Remove and place in baking dish. After all of the chicken has been removed from the skillet, add the garlic. Lower the heat and sauté for 3-4 minutes, turning often. add the cooking wine and vegetable broth, making sure to scrape all the yummy brown bits off the bottom of the pan. Season with sea salt, black pepper, and thyme, if needed. Pour sauce over chicken in baking dish. Cover with a lid or aluminum foil and bake for 20 minutes.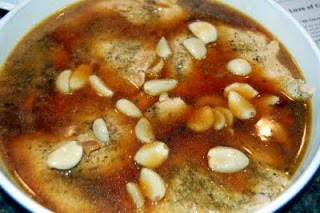 Once the chicken has been baked, carefully remove the chicken and garlic cloves to a platter and cover with aluminum foil to keep warm. Place the sauce in the previously used large skillet or a saucepan. In a small bowl, mix together the water and cornstarch. In a separate small bowl, whisk together the flour and milk with a little bit of the sauce. Once thoroughly mixed, slowly whisk the flour mixture back into the rest of the sauce. Add the butter to the sauce; add the cornstarch mixture to the sauce and raise the heat and boil for 3 minutes or until it is nice and thick. Pour sauce over chicken and garnish with chopped parsley.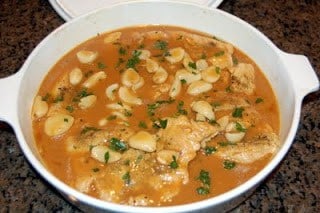 I really enjoyed this dish. I thought it was flavorful and really liked the garlic cloves. Unfortunately, my family didn't agree with me and thought it was just, "eh". My husband said he thought the sauce needed more of a kick and rated the dish a 2.
I rate my dishes/baked goods on a scale of 1-4 with 4 being the absolute best. I'm going to give this 3 rolling pins. Maybe instead of using the vegetable stock, you'll have a better flavor with chicken.