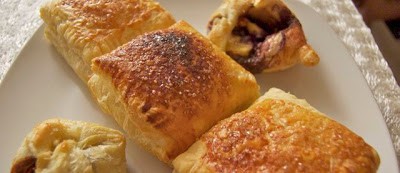 I've been a little challenged the past few days since the oven has been broken.
The good thing is that Mr. 365 has been kind enough to take us out for dinner.
Though last night we had a legitimate reason for dining out – we celebrated!!
No, not that the oven isn't working, but because our youngest daughter received an acceptance letter into the honors program at the college of her choice.
It's very exciting.
She's worked hard to earn it
So, two down, one to go. Only the baby boy is left.
I cannot believe how fast it's going.
I actually found myself going through some withdrawal today because I hadn't baked in a few days.
After some Christmas shopping with my daughter (I think I may have been crazy going to the mall today), I came home and decided I really needed to bake something.
Oven or not.
Unfortunately, the sidewalks in Arizona now are not as warm as they are in summer to bake anything, but we do own THIS…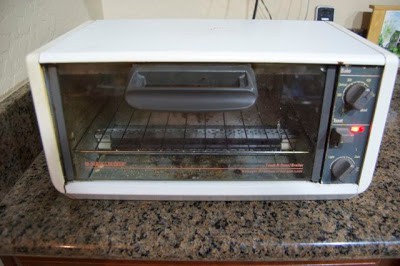 a toaster oven which was able to do the job.
I now present to you…
Banana Nutella Puffs – makes 4 1/2
1 puff pastry, thawed
1 banana, sliced and then halved
4 1/2 teaspoons Nutella, approximately
1 egg
1 tablespoon water
Turbinado sugar for sprinkling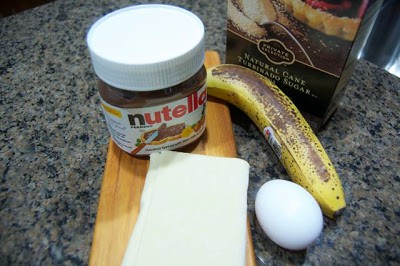 Preheat oven (or in my case toaster oven) to 400 degrees F.
In a small bowl, whisk together egg and water.
On a lightly floured surface, gently unfold the puff pastry sheet.
Using your fingers, press the dough into rectangle so that it measures 9 X 10 inches.
With a pizza cutter, slice the dough into squares measuring 3 X 3 1/4 inches.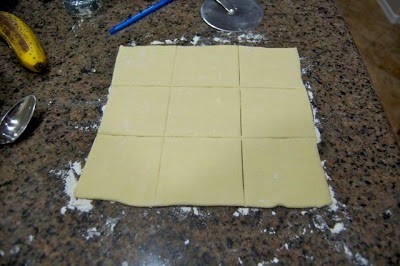 Brush the egg onto the outer edges of one square with a pastry brush.
Put 4 pieces of banana on square and then cover with 1/2 to 1 teaspoons of Nutella.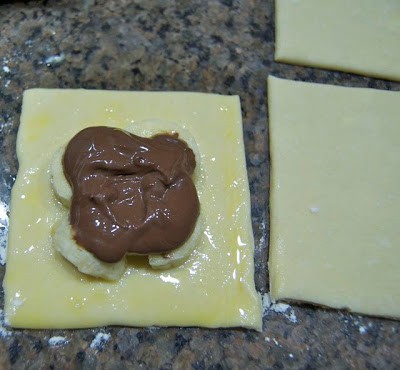 Place another pastry square on top and crimp edges together with a fork.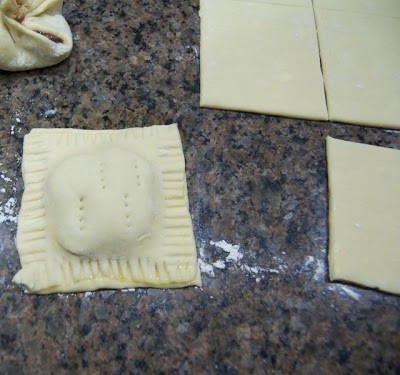 Brush top with egg mixture and sprinkle with Turbinado sugar.
Repeat with remaining dough, bananas and Nutella.
Brush all four sides of the final single square with the egg. Fold the dough over onto itself with two pieces of banana and 1/2 teaspoon Nutella. Crimp edges, brush with egg and sprinkle with sugar.
Or after bushing the edges with egg, pull the corners out a little to make them longer so that you can bring them up and twist them around each other.
OR…
if you used 2 puff pastries, and doubled the banana and Nutella, you would have a total of 9 puffs instead of extra, single piece of dough.
Bake for 15 minutes.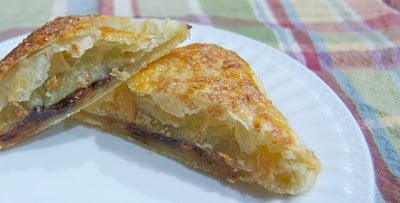 I rate everything I bake on a scale of 1-4 with 4 being the best and these Banana Nutella Puffs earned 3 1/2 rolling pins.
The pastry was light and flaky, the banana and Nutella were a truly delicious combination, and this made a wonderful, tasty, and relatively quick dessert, snack or breakfast.
But you should.
You should really, really make these.
And eat them.
Just do it.
Easy.
Simple.
Delicious.
And, you can even make them in a toaster oven.