Start the holidays off right with a peppermint flavored center in between TWO double chocolate cookies. Savor every bite so you won't have withdrawals soon after.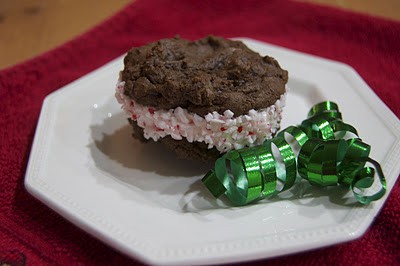 With a whipped cream frosting, these chocolate cookies have everything you need to satisfy that sugar craving.
Hmmm…I think it's about time I started thinking about Christmas shopping. I'm feeling a little overwhelmed at this point. I've put a lot on my plate and I think I've left a bit much til the last minute. That's not something new; I always did that back in school and actually did my best when under pressure.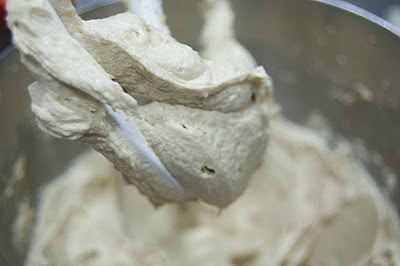 I THRIVE in crisis mode, so Mr. 365 says. So why do I most always do that which ends up giving me a headache and causes me so much anxiety? Geez, I'm out of work now. I'm supposed to be relaxed, taking care of my family and being happy-go-lucky.
SAVE THIS CHOCOLATE COOKIE TO YOUR FAVORITE PINTEREST BOARD!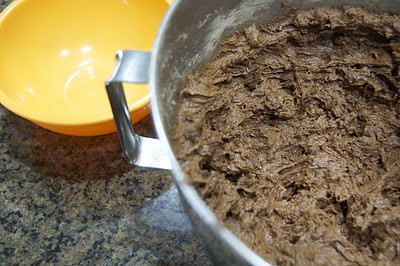 What's that saying? You can't keep doing what you're doing and expect different results. Is that it? It's time to just take a step back, take a deep breath and regroup. Sometimes, I just need to find the balance again and then I'm good to go. I'm thinking this may be one of those times. In with the good, out with the bad, right?
I can't say enough about this toffee creme caramel recipe from an amazing blogger at fussfreeflavours. There are plenty of recipes that I really like, but this one takes the cake for me. You can never go wrong with dessert, especially the one naturallyella has with her pumpkin cheesecake. Get out the fork because you won't be wanting to share this!
I found the recipe for the whoopie pies at Fat Girl Trapped in a Skinny Body and it was adapted from Cookie Madness. The cream filling is adapted from Joy the Baker. You have GOT to go see what she used it for. It looks SO yummy! I almost made that today, but I didn't have 6 eggs, so we went with the "whoopie" pies.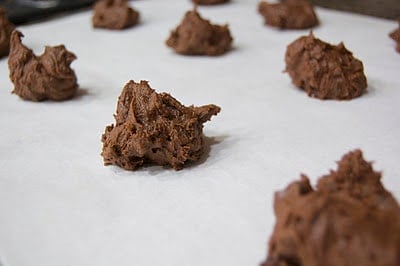 Ok, they were supposed to be whoopie pies, but when I took them out of the oven they were puffy, but then flopped upon cooling and were a flat cookie hence the sandwich cookie. We'll have another go at the whoopies somewhere down the line.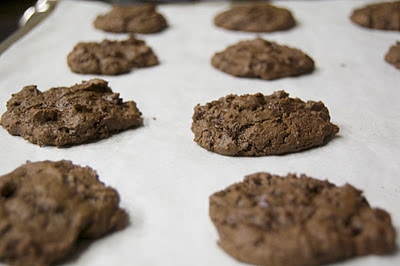 Double chocolate sandwich cookies
Ingredients
½ cup butter, room temperature
¾ cup granulated sugar
½ cup packed dark brown sugar
1 egg
⅓ cup greek yogurt
1 teaspoon vanilla
1-3/4 cups flour
½ cup unsweetened cocoa powder, sifted
1 teaspoon baking powder
½ teaspoon baking soda
¼ teaspoon salt
1 cup semi-sweet chocolate chips
peppermint candies, crushed for rolling
Vanilla bean whipped cream
1 ¼ cup heavy whipping cream, cooled
2 tablespoons granulated sugar
1 vanilla bean, scraped for seeds
1 teaspoon peppermint extract
Instructions
Preheat oven to 350 degrees and prepare a cookie sheet with a parchment paper.

In a mixing bowl, fitted with the paddle attachment, cream butter with the granulated and dark brown sugars.

Add egg and thoroughly combine, then add the greek yogurt and vanilla.

In a medium bowl, whisk together flour, cocoa, baking powder, baking soda, and salt. Gradually add to butter mixture.

Stir in the chocolate chips. Using rounded tablespoons, drop on prepared baking sheet about 2 inches apart.

Bake for 12 minutes and be sure not to over bake. They should look slightly moist when you take them out of the oven, as they will set when they're cooling.
Whipped Cream
In a mixing bowl fitted with a wire whisk, pour in the whipping cream. Add vanilla seed from the scraped vanilla bean.

Add peppermint extract. Beat until soft, somewhat stiff peaks are formed while gradually adding the sugar.

Spread a large tablespoon of whipped cream on the flat half of one cookie, then top with another cookie.

On a small plate, place crushed peppermint candies and roll the outer edges of the cookie so it is covered with peppermint.
Nutrition
Calories: 40kcal | Carbohydrates: 6g | Fat: 1g | Cholesterol: 3mg | Sodium: 25mg | Potassium: 32mg | Sugar: 5g | Vitamin A: 5IU | Calcium: 8mg | Iron: 0.3mg
Did you make this recipe?
Share it with me on Instagram and make sure to follow me on Pinterest for more recipes.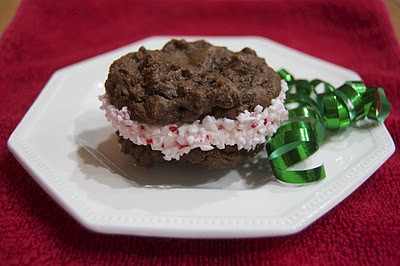 I rate everything I bake on a scale of 1-4 with 4 being the best and these Double Chocolate Sandwich Cookies with Peppermint Vanilla Bean Whipped Cream earned 3 1/2 rolling pins. The cookies were absolutely delicious and so darn fudgy!!
I LOVED them! We actually ended up eating some of those without the whipped cream. They were chewy and fudgy and oh so yummy!
Don't let your taste buds suffer this holiday season. Here are a few recipes I know you need in your life.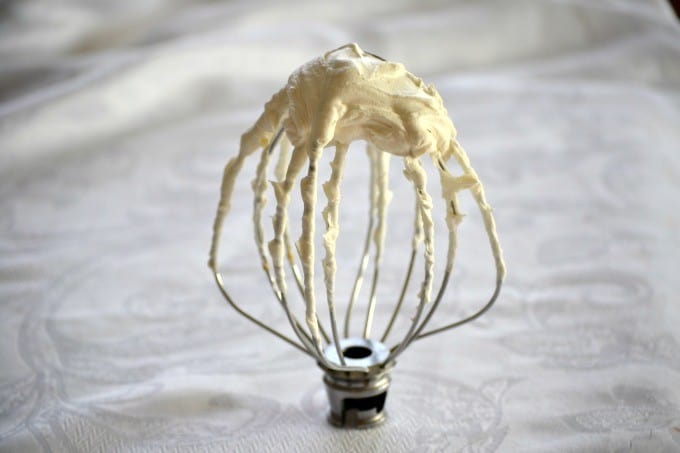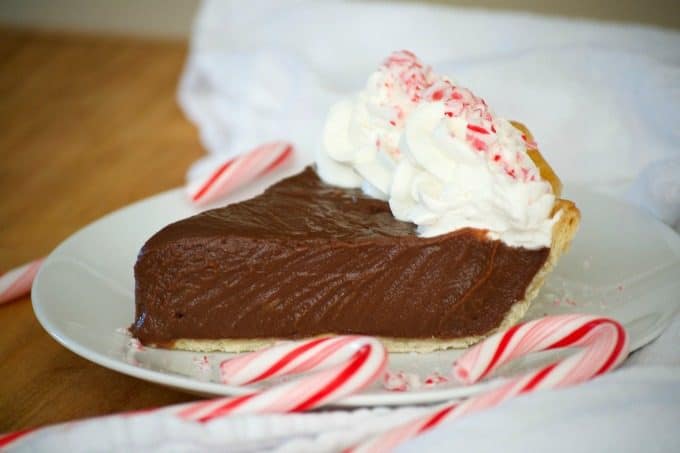 I was literally dropping rounded tablespoonfuls onto the cookie sheet, but when the first batch came out of the oven I thought they were too big for a sandwich (perfect for just one cookie with a BIG glass of milk and maybe a few more cookies), so I just used a little under a flattened tablespoon.
And then I had a slight problem because they were all oddly shaped, not rounded, and didn't exactly fit together as I had hoped for a sandwich, a bit uneven.
I really don't like making sandwich cookies or probably whoopie pies for that matter even though I haven't made them yet for the reason that the middle squirts out in all directions when you bite into it. It just frustrates me. My daughters thought that the whipped cream was too sweet. I originally made it with a little less than the 3 tablespoons called for in Joy's recipe because I was feeling it was going to be too sweet, so I changed it to 2 in the recipe I wrote here.
It didn't need the extra tablespoon with the crushed candies on the outside. I have to say that I'm bummed because they are so similar to the Chocolate Peppermint Frosted Cookies I made on Day 6 of the 12 Days of Cookies just last week or so. BUT, they were really supposed to be whoopie pies. Sometimes, you just have to go with it.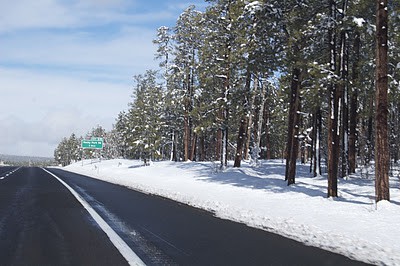 Some people don't even know that it snows in Arizona, so I figured I'd share. Living in Phoenix, we don't have a chance to see it that often except when we head up north.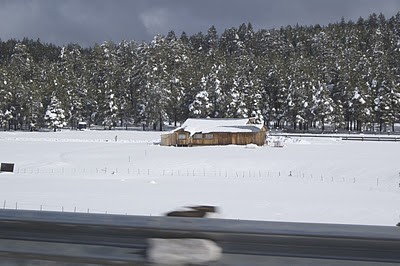 Mr. 365 and I decided to surprise our son and bring some home in a cooler. When we arrived home he came out to greet us and we started throwing snowballs at him. He was pretty psyched!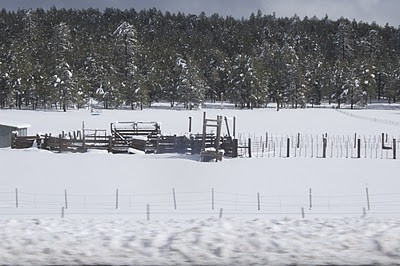 It was sunny and beautiful on the way up, then the storm started rolling in again and it got quite foggy going through the mountains on the way home. Kind of scary when we'd come up suddenly on a tractor-trailer truck.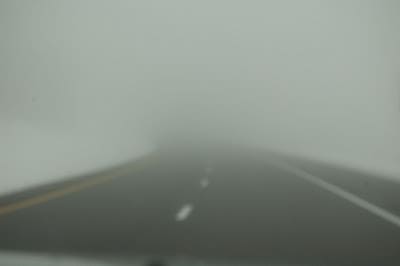 Reader Interactions