So…
what's a baker to do when the most important part of the baking process isn't working?
And no, I'm not talking about the mixer.
It'd be THIS bad boy.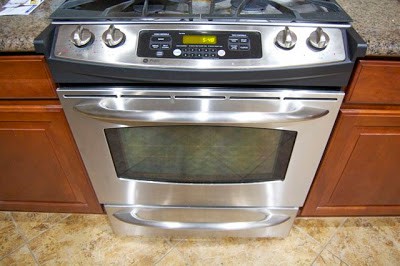 Can you believe it??!!
How in the WORLD am I supposed to BAKE without this oven??!!
Good grief!
I suppose I'll be on the phone tomorrow to customer support.
The gas burners on the stove top are working, but the oven won't heat up.
I tried to flip the breaker to see if that would "fix" it, but no go.
I prepared a recipe today, went through the whole process, put the items on the baking sheet and preheated the oven.
And waited.
And waited.
AND WAITED.
It never moved above 100 degrees F.
It never even felt like it went on.
SOOOOOOOOO………
Until tomorrow….
Hmmm…maybe this will have to turn into 365 Days of Using the Stove – 289 Baking and 76 Days of Stove Top Cooking.
In the meantime, today was a reveal day for The Secret Recipe Club, so take a look at all of these wonderful recipes and visit some of these blogs.
I give you BIG baking hugs and muffins!!