First and foremost, I want to welcome all of my new readers to 365 Days of Baking, and I know there are a whole lot of ya!!
I am so excited and flattered that you're here!
Thank you, thank you, thank you for joining us!
I hope you enjoy what you read and see, and that the recipes you choose to try excite your tastebuds!
I have pictures, but will have to post them tomorrow since I haven't figured out how to load them to this wonderful tablet that I love so much!
NOT.
Pictures are up and a couple are a wee bit blurry. The camera and I are going to become great friends today and we're going to practice, practice, practice on making better pictures!
BUT WAIT!!!
I'm warning you before you even read this post that you might want to skip it.
Today's recipe was THAT bad. Or at least I thought so.
Then again, I was the only one who tried them and I suppose the look on my face deterred any other 365 family members from doing so.
Mr. 365 bought some banana muffins last night and I got to thinking, how would peanut butter in banana muffins taste?
Well, I should have just stayed with that thought and not acted on it.
I now know I don't like peanut butter and banana together. Wasn't it Elvis who liked fried peanut butter and banana sandwiches? I don't know how he ate them.
I baked them, the muffins, not peanut butter and banana sandwiches, so I'm posting the recipe and the pictures. In my quest to bake everyday (or as nearly close to everyday as possible) there have been some not so good recipes, this being one of them, but it is part of the journey. And I'm going to be honest every day I post, letting you know what worked and what didn't and if I think you should make it or not. I'm certainly not going to say, "ooh, yeah, make these muffins, they tasted great!", when in all actuality, I spit them right into the garbage.
I am not lying.
It's like when I was pregnant and something smelled ok, then I went to eat it, and the taste or texture completely revolted me.
Yeah, it was kinda sorta like that.
Peanut Butter Banana Muffins


2 cups flour
1/2 cup uncooked oats
1/2 cup sugar
2 teaspoons baking powder
1/2 teaspoon salt
1/3 cup shortening, chilled
2 medium bananas, mashed
1/2 cup peanut butter
1/2 cup milk
1/4 cup walnuts, chopped
Preheat oven to 400 degreesF.
Prepare a 12-cup muffin tin by greasing it with butter.
In a large bowl, whisk together flour, oats, sugar, baking powder and salt.
With a pastry cutter, cut in chilled shortening until it resembles coarse meal.
In a separate bowl, combine mashed banana, peanut butter, and milk. Mix well.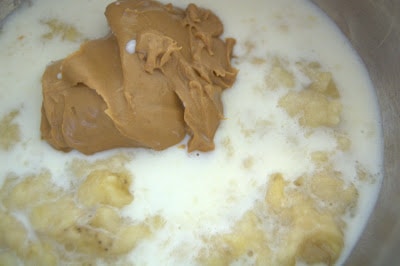 Add banana mixture to flour mixture and mix just until combined.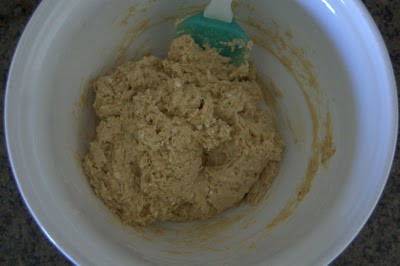 Fill muffin tins to rim with batter.
Sprinkle with chopped walnuts.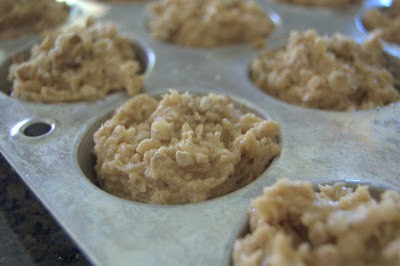 Bake for 20-25 minutes or until a toothpick inserted into the middle comes out clean.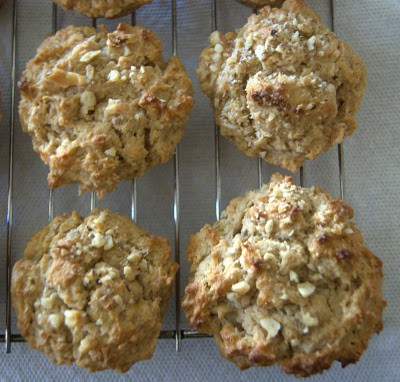 Hmmm…
I was going to drizzle these with Nutella, but Nutella doesn't drizzle very well.
It drizzles slightly. Then it globs.
To make it a better consistency to drizzle, I mixed 2 tablespoons Nutella with 1 tablespoon milk.
Milk doesn't mix well with Nutella.
See?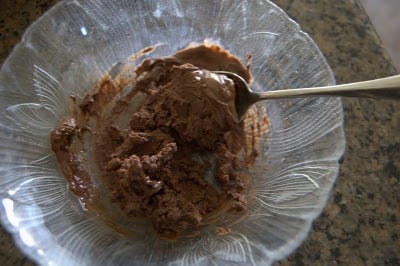 It becomes very dry.
No joke.
Did the complete opposite of what I thought it would.
Microwave, you say?
Yep, tried that, too, and that didn't work either.
Just made HOT Nutella.
So I just ate a couple spoonfuls out of the jar, and said the heck with it.
Then I tasted the muffin.
Oh boy.
And that's not a good, "Oh boy", neither.
A little dry, a little dense, and BLECHY!
I rate everything I bake on a scale of 1-4 with 4 being the best and these Peanut Butter Banana Muffins earned a measly 1 rolling pin.
My suggestion, don't make them, make changes if you really feel the need to make them or better yet, use someone else's recipe altogether!
Really, I won't mind and my feelings won't be hurt.
I'd much rather have you as a happy reader than one who e-mails me saying my recipes are horrid and absolutely can't be eaten.
So,
I'm gonna be up front and tell you that myself.
This is one of those "save your money, save your time by NOT making it" recipes.
Yeah, there are a few of those here on 365. Not many, but a few.
If I were to make these again (which I'm NOT), I would only use 1 1/2 cups flour, 1 teaspoon baking powder, omit the oats, and increase the milk to 3/4 cup.
Maybe.
I'm not saying those changes would even work. I'm just guessing.
And maybe the shortening should be butter.
And maybe it will snow this winter.
Or.
Maybe if you play the lottery, you'll win a couple hundred thousand dollars.
Who knows, it could happen.
I'll stop now.
Dear reader, yes you, thank you for being here, for better or for worse.
And for your devotion, I give you BIG baking hugs and muffins!! (But don't worry, they won't be Peanut Butter Banana ones. 😉 )