I submitted what I thought was my best recipe for the month of September to Your Best Recipe at SpicieFoodie. Follow this link (or NOT because I can't figure out how to get this link to work from this wonderful tablet I'm using! Sorry, you'll have to do the old-school cut and paste) : http://www.spiciefoodie.com/2011/09/30/your-best-recipes-of-september-2011/ and you'll see wonderful recipes my fellow bloggers have submitted. I think I should have submitted the Banana Monkey Muffins, but I had another one of my infamous brain farts. And to see those scrumptious bundles, you'll have to do a muffin search over on the right. Ah, modern technology.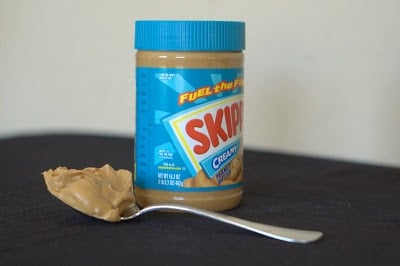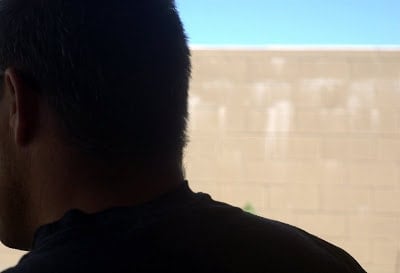 Happy Birthday, Mr. 365!
This guy is not a big dessert eater.
So when I was browsing through Veronica's Cornucopia to pick a recipe for September's Secret Recipe Club, I really wanted to make these cookies for his birthday.
He LOVES Nutter Butters and I knew these would be perfect.
He didn't want us to buy him anything, go out to dinner, or make him a cake.
He's always been this way, and it makes it easy for us, but at the same time, I want to do something to celebrate him.
He had the day off, but always has Thursdays off and just wanted to do nothing but catch up on some reading which he did.
At night, he likes to sit in front of the tv, chillin' with some cookies and a glass of milk.
He's still a little boy at heart and was pleasantly surprised to see that I'd made them since he wasn't expecting anything.
So a big thank you goes out to Veronica for sharing these and for helping to make Mr. 365's birthday special.
I did nothing to change the recipe because it looked delicious and perfect the way it was.
Peanut Butter Sandwich Cookies – borrowed from Veronica's Cornucopia and modified from All Recipes
Cookies
1/2 cup butter, room temperature
1/2 cup peanut butter ,
1/2 cup white sugar
1/2 cup packed light brown sugar
1 teaspoon vanilla extract
1 egg
3/4 cup all-purpose flour
1/2 teaspoon baking soda
1/4 teaspoon baking powder
1/2 teaspoon salt
1 cup quick cooking oats
Filling – I halved the filling because I knew Mr. 365 would want some plain, but I'm giving you the full amount.
3 tablespoons butter, room temperature
1 cup confectioners' sugar
1/2 cup smooth peanut butter
2 1/2 tablespoons heavy whipping cream
Preheat oven to 350F degrees.
In a mixing bowl, cream together the butter, peanut butter, sugars, and vanilla.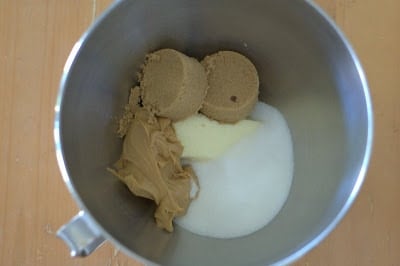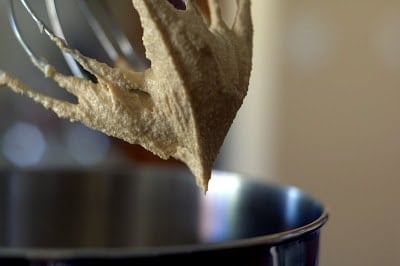 Add egg and beat well.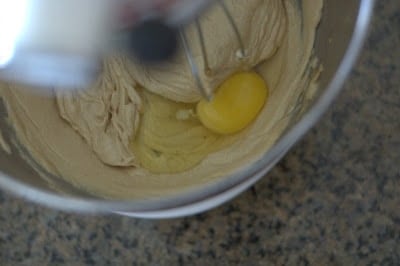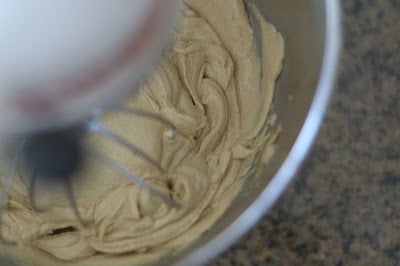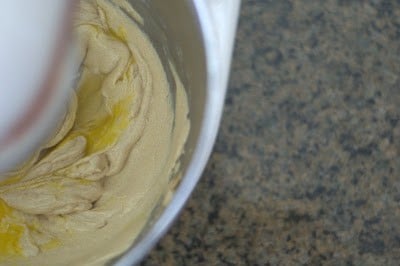 In a small bowl, whisk together the flour, baking soda, baking powder, and salt.
Add the dry ingredients to the butter/sugar mixture and beat until just combined.
Add the oatmeal and continue beating until thoroughly incorporated.
Using a flat teaspoonfuls of dough, roll into balls and place on cookie sheets.
Press a fork on top of each ball in a crisscross pattern so that the cookies are 1/4 inch-thick.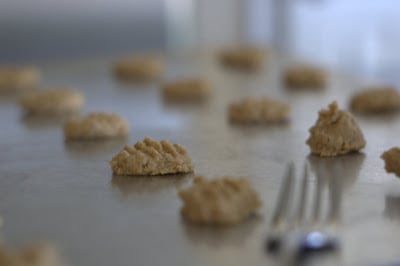 Ok, I had a major brain fart. The first batch I put into the oven I was dropping them by teaspoonfuls, some rounded, some not so much. I neglected to read the directions and thought, "How the heck did she get her cookies to look so perfect?!" DUH!
I think my absentmindedness may also have been due to the fact that I had been having some major hot flashes while in the kitchen. I'd like to say that it was because the oven was on, but who'm I kidding. I was having them before I even turned the darn thing on.
I am so not ready for this next stage of life.
It's TOO early!!!
ANYWAYS…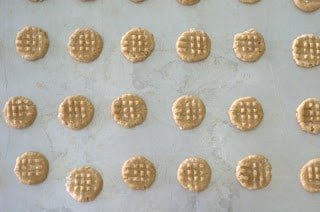 These cookies turned out much better and looked like they were supposed to!
Not to self: read directions.
Bake 5-8 minutes, or until cookies are just set at the edges.
Allow to cool 3 minutes on the cookie sheet before transferring them to a wire rack.
To Make Filing:
In a medium bowl, cream the filling ingredients until well blended.
Spread filling on to the bottom of one of the cooled cookies, then top with another cookie to form sandwiches.
Store in an airtight container in the refrigerator.
Those without the filling…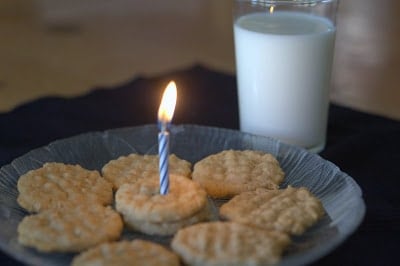 And with the filling.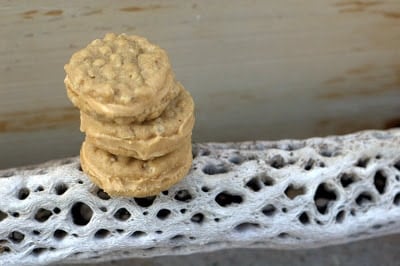 Wow, I must say that these were a definite hit for the birthday boy. He LOVED them!!
I did, too (the 4 or 5 or 6 I had to taste test and then the 2 or 3 or 4 sandwiches I had to try).
Yes, I know. I haven't updated the weigh-in page in a few weeks. I've been lazy.
Just so you know, I weighed myself yesterday and the scale said 121 lbs.
Anyhoo.
I will definitely be making these bad boys again and I'll be eating just as many next time, too!
And you NEED to make these NOW!! Get up, go, go, go!!
Run to your kitchen and grab that peanut butter from the cupboard!
Or put these on your Bucket List!!
I rate everything I bake on a scale of 1-4 with 4 being the best and these Peanut Butter Sandwich Cookies earned…what do you think?
Yippee!!
They earned 4 rolling pins!!!!
Without the filling they were still delicious and would have earned 3 1/2, but the filling was the icing on the cake.
Not a good analogy, hunh?
The bees' knees?
The…the…the…
Ah, I can't think of anything else. Time for bed.
BIG baking hugs (haha, I almost typed in jugs!!! Yes, I'm tired and those hot flashes again. 😉 ), and muffins!