Relive a childhood favorite with this Root Beer Cake. Enjoy a side of vanilla ice cream, and you'll be thinking it's an actual Root Beer Float.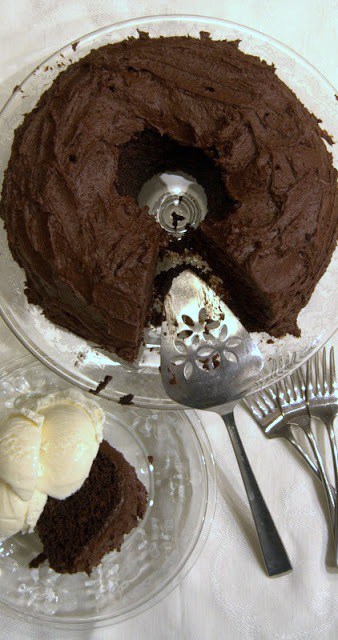 A cake that has a root beer taste to it is never going to disappoint. Just ask the family who devoured it in minutes! 
Root beer, root beer, root beer! Who DOESN'T like root beer floats? I have never met him…or her, and I can't believe that a person who doesn't like them even exists. If you don't like them, maybe you'll like this root beer cake instead. AND, to all those chocolate fans, you won't be forgotten. It's subtle, but you can taste the chocolate.
I was perusing my list of blogs one day and came across this recipe for Root Beer Float Cake on the Brown Eyed Baker. I left a comment telling Michelle how much our family LOVES root beer floats and that I just had to try this. I bought the root beer a few days ago and hid it, but noticed someone had gotten into the stash and the bottles were slowly disappearing. I don't usually buy soda, so I knew I needed to make this ASAP before it ALL disappeared.
Thank you, Michelle, for sharing this!
SAVE THIS ROOT BEER FLOAT CAKE TO YOUR FAVORITE PINTEREST BOARD!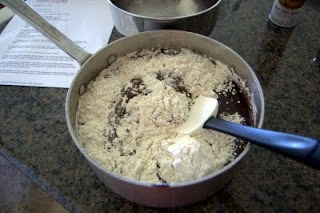 Four out of five family members went to the Arizona Diamondbacks baseball game tonight. They were playing the Florida Marlins. It was fun, and of course, the weather here in sunny AZ was beautiful today, so they opened the retractable roof of the dome. It was 92º outside and I was sitting there watching the game with… goosebumps! We must have been sitting under an air conditioning vent because I was quite CHILLY!
Here are some tips and tricks for making the root beer cake a dessert to remember!
The batter will be slightly lumpy. This is okay. Do not over beat it, as it could cause the cake to be tough.
(If you don't have a food processor, simply throw it all into the bowl of a stand mixer or a large bowl using a hand mixer and mix on medium-low until combined and satiny smooth.)*Note: If you are using a dark, nonstick pan, heat the oven to 300º F. (I used one) (Recipe adapted from Baked: New Frontiers in Baking)
When making the frosting, my food processor is a small one, and my hand mixer is being temperamental, so I just used my stand mixer with the paddle attachment and the frosting came out fine.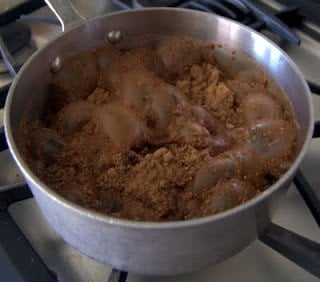 Eventually, I did warm up – just in time for my husband to decide it was time to go  "Let's go, so we can beat the crowd." He does that a lot, I'm noticing. He wants to eat before the big crowds get to whatever restaurant we're going to, leave before the big crowds leave wherever we are… Good grief, we're only in our early – mid-forties for cryin' out loud! What the heck is he going to be like when we're in our 60's?
SIGN UP FOR THE WEEKLY
365 DAYS OF BAKING & MORE 
NEWSLETTER BELOW!
Are we going to be at Denny's eating right at 4 o'clock in the afternoon, just so we don't have to deal with anybody??!! Oy vey! I absolutely love growing old with this man, but seriously? Is this just the beginning of what I have to look forward to when we're in our old age? We'll be sitting home in our rockers because he doesn't want to deal with the crowds!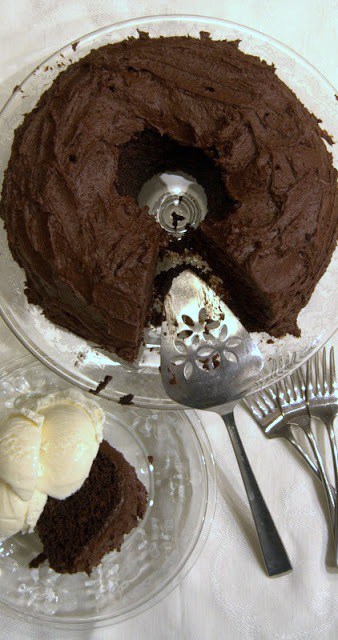 Ingredients
2 cups root beer
1 cup dark unsweetened cocoa powder
½ cup unsalted butter
1 ¼ cups granulated sugar
½ cup dark brown sugar
2 cups all-purpose flour
1 ¼ teaspoons baking soda
1 teaspoon kosher salt
2 eggs lightly beaten
Frosting
2 ounces dark chocolate (melted and slightly cooled)
½ cup unsalted butter room temperature
1 teaspoon salt
¼ cup root beer
⅔ cup dark unsweetened cocoa powder
2 ½ cups powdered sugar
Instructions
Preheat oven to 325 degrees.

Spray inside of the 10-inch bundt cake very well with non-stick cooking spray. 

Place the root beer, cocoa powder, and butter into a medium saucepan, and heat over medium heat until the butter is melted. Add both sugars, and whisk until completely dissolved. You can test this by feeling the mixture with your fingers. It will feel completely smooth and no longer grainy. Remove from heat, allowing it to cool.

Whisk the flour, baking soda and salt together in a medium bowl.

Whisk the eggs into the cooled cocoa mixture until combined. The cocoa mixture must be cooled or it will cook the eggs as you add them.

Gently fold the flour mixture into the cocoa mixture. Do not over mix, we want some lumps in the batter. Over mixing could toughen the cake.

Pour the batter into the 10-inch pan, and bake for 35 - 40 minutes or until a cake tester or sharp knife inserted into it comes out clean. Rotate the pan halfway through the baking time.

Transfer pan to wire rack and let cool.
Frosting
Put all the ingredients in a food processor, and pulse in short bursts until the frosting is shiny and satiny, scraping down the sides of the bowl as you go. A hand or stand mixer can also be used to make the frosting, with all frosting ingredients being mixed on medium-speed until shiny and smooth.

Spread the frosting all over the cake in a thick layer, and allow it to set before serving. 
Notes
If you will be using a dark, non-stick pan for this recipe, preheat the oven to 300°F, and follow the baking instructions. 
Nutrition
Serving: 1person | Calories: 508kcal | Carbohydrates: 84g | Protein: 6g | Fat: 20g | Saturated Fat: 12g | Polyunsaturated Fat: 1g | Monounsaturated Fat: 5g | Trans Fat: 1g | Cholesterol: 68mg | Sodium: 527mg | Potassium: 266mg | Fiber: 5g | Sugar: 60g | Vitamin A: 514IU | Calcium: 41mg | Iron: 3mg
Did you make this recipe?
Share it with me on Instagram and make sure to follow me on Pinterest for more recipes.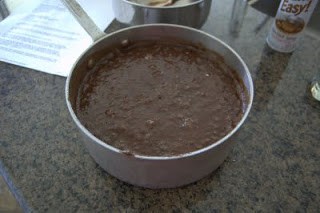 If a root beer cake isn't your thing, try my illustrious easy crepe recipe. Then, put a filling in them or eat them plain. Either way, they're darn good.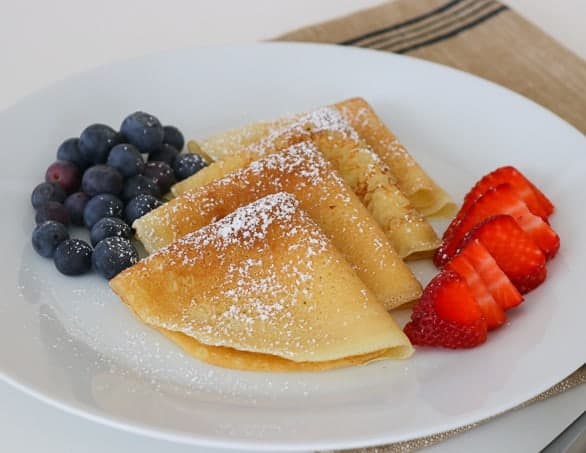 recipe knows how to satisfy someone.
Since we were going to the baseball game, I didn't have time to personally frost it, so I gave that job to my eldest, and I think she did a wonderful job, considering she has never frosted a cake! Way to go, girl! This cake was absolutely delicious! It was definitely a different flavor that I really, really liked. The first taste is chocolaty, but then the aftertaste is definitely root beer. It is so rich that you cannot eat it without the ice cream because it gives it a nice balance I couldn't even finish my piece. Ok, I ate most of it and only left a few bites.
I rate everything that I bake on a scale of 1-4 with 4 being the best. This root beer float cake earned 3½ rolling pins. Root beer, ice cream, and cake. Can it get any better?
Reader Interactions