Summer's started here at our house and we're all taking it easy.
Alright, not all of us, and not that easy.
Mr. 365 is still working (wonderful man that he is) and today we moved him out of one office and into another one.
I hate moving.
Am I the only one that feels this way or do I have people that agree with me here?
I think it's because whenever we move, whether it's from house to house or office to office, he and I each have our own way of packing and transporting.
I admit, I may be a little too controlling concerned about things being mishandled or not packed correctly.
You have to understand moving and everthing it entails is one of those things I'm a little OCD about.
This comes from a woman who packs her grocery cart so that while I'm shopping everything fits "just so". There is NO way I'll just "toss" things into the cart – that is like fingernails on a chalkboard, makes me shudder. Even when I put it on the belt to check out, everything has to fit like a puzzle.
Haha – I should take a picture next time.
Adapted from The Fannie Farmer Cookbook Thirteenth Edition
Apple Oatmeal Muffins

1 1/2 cups flour
2 tablespoons sugar
4 teaspoons baking powder
1/2 teaspoon salt
1/2 teaspoon cinnamon
1/2 cup milk
1 egg, well beaten
2 tablespoons butter, melted
1 cup cooked oatmeal
1/2 cup apple, diced small
Preheat the oven to 400F.
Butter a 12-cup muffin pan.
Combine flour, sugar, baking powder, salt, and cinnamon in a bowl.
In another bowl, stir the milk, egg, butter, and apples into the oatmeal.
Stir until well blended.
Combine the two mixtures and blend well.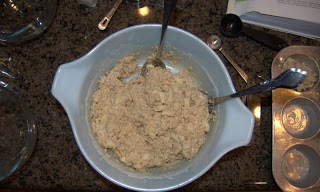 Spoon batter into muffin cups until about two-thirds full.
Crumb Topping
1/4 cup brown sugar
1/4 cup dry oatmeal
2 tablespoons flour
3 tablespoons butter
Combine sugar, oatmeal and flour in a small bowl. Cut butter into mixture using two knives or a pastry cutter. Mix until butter and dry ingredients look like coarse meal. Place about 1-2 tablespoons of topping on each muffin.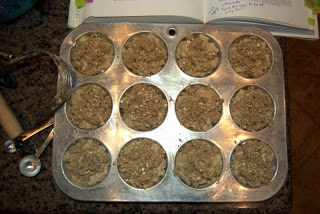 Bake for 20 minutes.

I have to say that I'm pretty excited that these turned out the way they did.
I've had my fair share of mishaps with my "adapted recipes" and I have to admit I was nervous.
These have been added to my list of keepers.
I rate every thing I bake on a scale of 1-4 with 4 being the best. There was discussion on the home front tonight as to whether or not I should keep the rating system. Seems that the family is having trouble rating things from one night to the next. They did decide that I should keep it.
I almost forgot to give the rating – haha – these earned 3 rolling pins. They were moist and were really good with the combination of oatmeal, apples and cinnamon. The crumb topping made them even better, too.
Happy baking!