A beautiful year 'round vacation destination, South Lake Tahoe has something for everyone. Whether you're going as a couple to get away for the weekend or to spend a week with the family there are great places to eat and plenty of things to do throughout the year.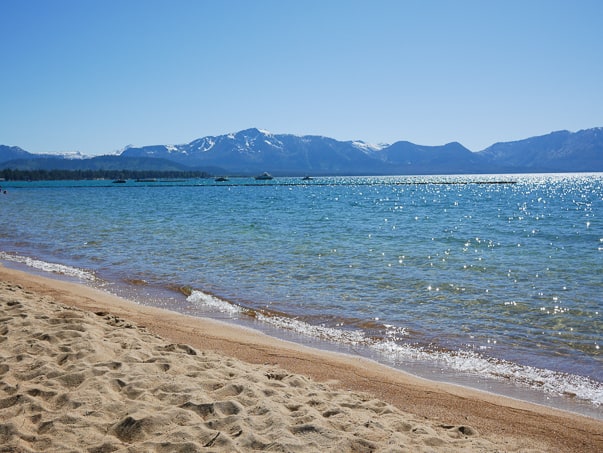 Have you discovered South Lake Tahoe?
My husband and I visited for the first time when we met our son while he was thru-hiking the Pacific Crest Trail and I can't wait to return!
I am pleased to be partnering with Mazda in exchange for this post. Thank you to Mazda for providing our transportation so that we could visit our son on his PCT thru-hike. As always, all opinions are 100% my own.
May.
Kinda seems like forever ago, doesn't it?
I've been so very busy with travel which is why I haven't been able to post this until now. We've had a couple of hectic months here at the 365 home, but it's been fun.
SAVE THIS PICTURE FROM THE TALLAC HISTORIC SITE IN SOUTH LAKE TAHOE TO YOUR FAVORITE PINTEREST BOARD!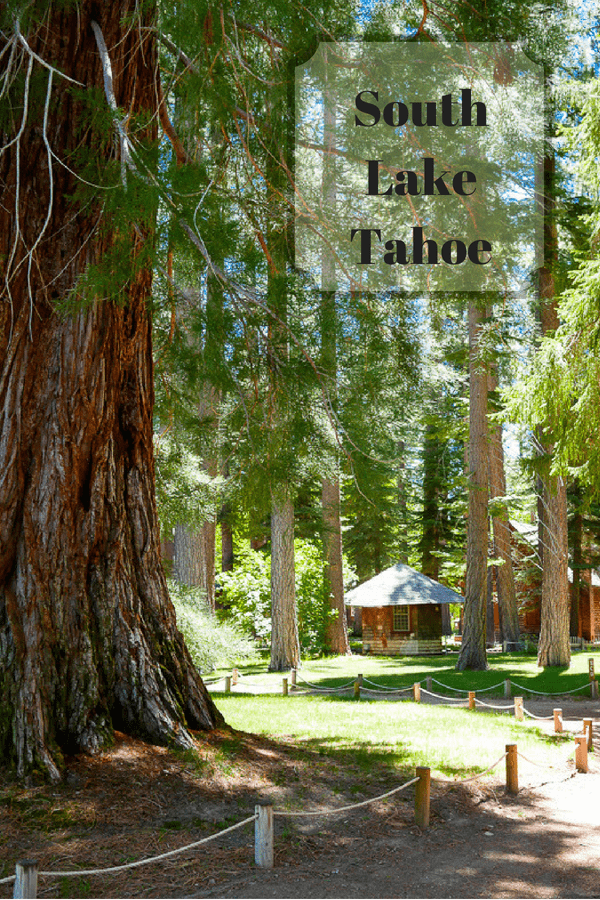 In the middle of May, my husband, Kurt and I went on a cruise to Alaska. It was something I thought we'd never do, but when the opportunity came up, we jumped at it and was so very glad we did! It is a trip that I think needs to be on everyone's bucket list.
From that trip, we arrived home on a Wednesday and flew to Sacremento, CA to spend a few days with Cameron, our son who had been thru-hiking the Pacific Crest Trail (PCT).
He began his solo trek in Campo, CA at the border of Mexico on March 19th. We had stayed in touch with him through cell service and had also received messages from him via a tracking device.
In April, we met up with him when he arrived in Wrightwood, CA. It was a cute little mountain town in the Sierras with tall pines, ski resorts, and a laid-back feel.
One of the things I enjoyed about his hike was that Kurt and I were able to travel a bit and see places that we hadn't been to before while spending some quality time with Cameron in the process.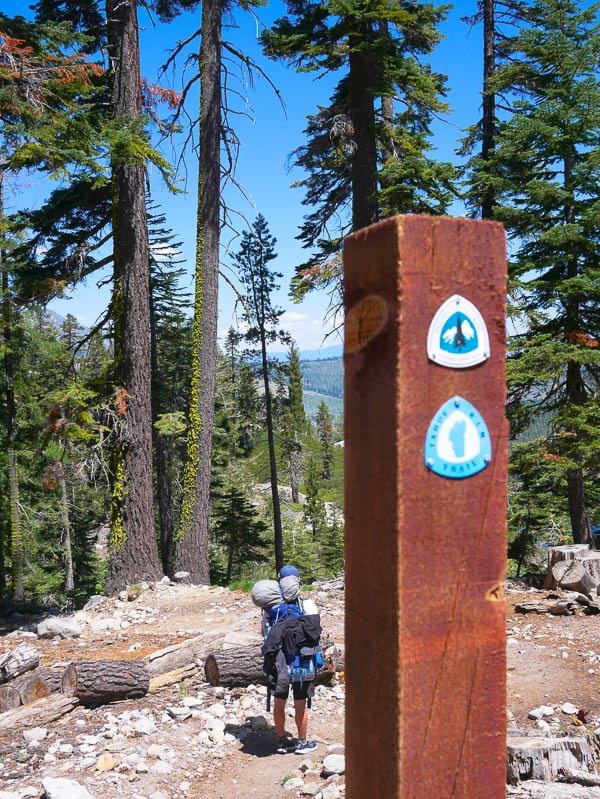 I was so very excited to meet Cameron in South Lake Tahoe. I had missed him so much and couldn't wait to hear more about his adventure. I was also excited to visit somewhere we had never been. as I'd heard a lot about it. I don't ski or snowboard anymore because every time I go I injure myself, so I thought Spring would be the perfect time to enjoy it.
Upon our arrival, we met Cameron Then we went to lunch at Azul Latin Kitchen. And OMG was it AH-mazing!! I had the Pork Carnitas Bowl pictured below. It was topped with a slow cooked egg and those red things aren't tomatoes, they're pickled peppers. They were SO unlike anything I'd ever eaten. They weren't spicy, just really doggone delicious!
After we ate, we drove down to Lakeside Beach. It was a bit chilly while we were there, but the skies were a brilliant blue and I seriously fell in love with the tall pines and the snow-covered mountains. There were some pretty spectacular views and we didn't even see the whole lake!
The water was too cold to enjoy, but there were a few kids that were swimming. BRRRRrrr!!!! Kids always seem to be resistant to cold water temps, don't they?
The three of us walked the beach, listened to the waves and were in awe of the scenery. I really wanted to go kayaking on the lake while we were there, but it was too chilly to do that as well. I was told that the best time to kayak on the lake is in the morning as the wind can pick up in the afternoon. So, that's a good thing to know if you plan on doing that in the future.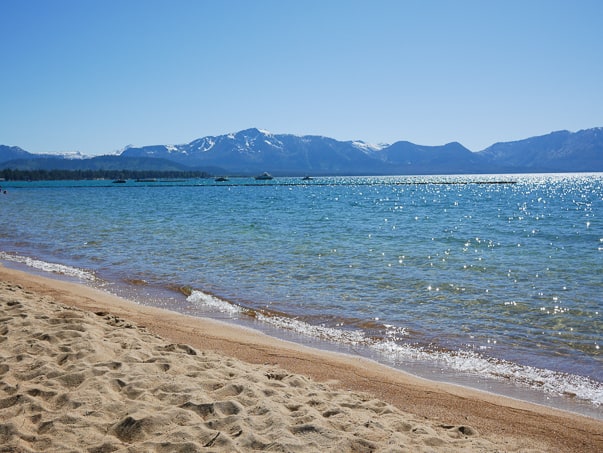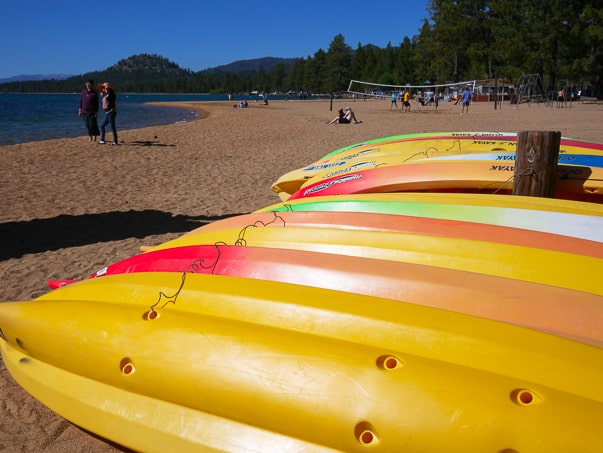 That night I made some Chicken Picatta for dinner at Cameron's request. He'd been missing some home-cooked meals while out on the trail and I was more than happy to oblige.
The next day we took a drive to the Tallac Historic Site and passed the Renaissance Faire. Years ago I'd gone to the one in Arizona with my daughter and knew it wasn't something Kurt or Cameron would be interested in, so I didn't suggest we stop.
The Tallac Historic Site in South Lake Tahoe is made up of three family estates built between 1894 and 1930. It was the summer retreat for three of San Francisco's socially elite families. The grounds are absolutely beautiful and on them, you can tour the residences, view the servants quarters, and take a look inside the boathouse.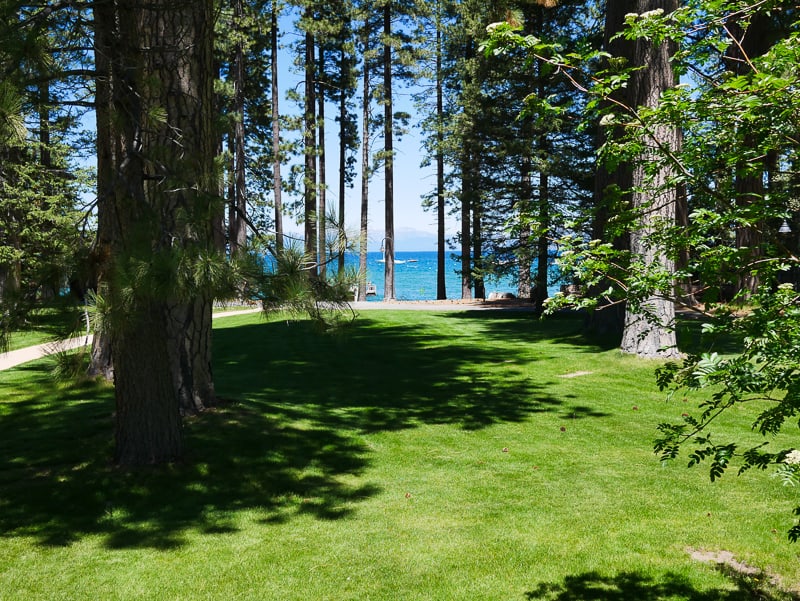 As we visited each site, I could only imagine what life must have been like there at the lake in the early 1900's. It took us about two hours to reach the lake from Sacremento. Looking at the cars on display I found myself wondering how long the drive must have been for them from San Francisco, especially in those early cars that didn't move as fast as they do now!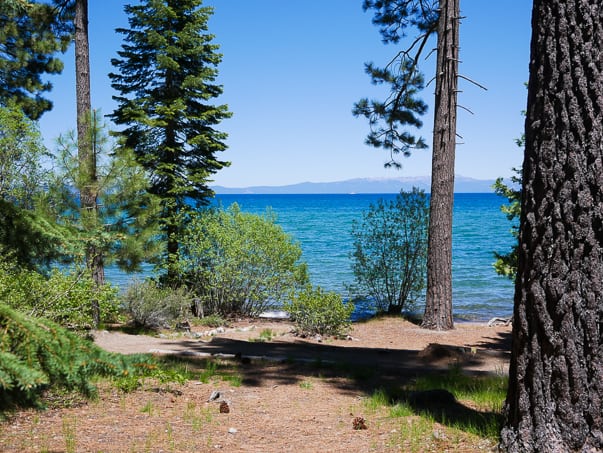 I was so enamored with the green grass, blue skies and beautiful pines that I didn't even take any pictures of the buildings!
Trust me though, they're there.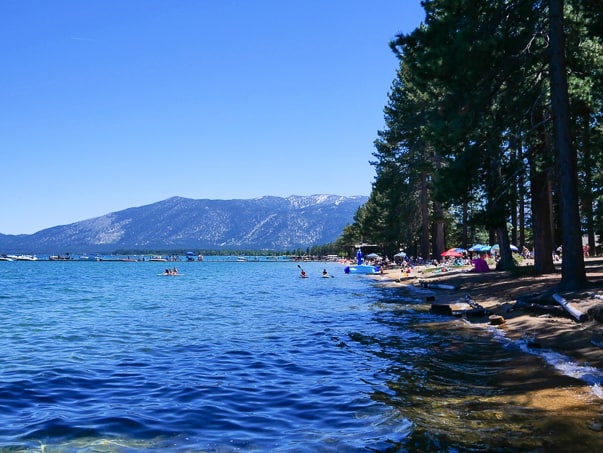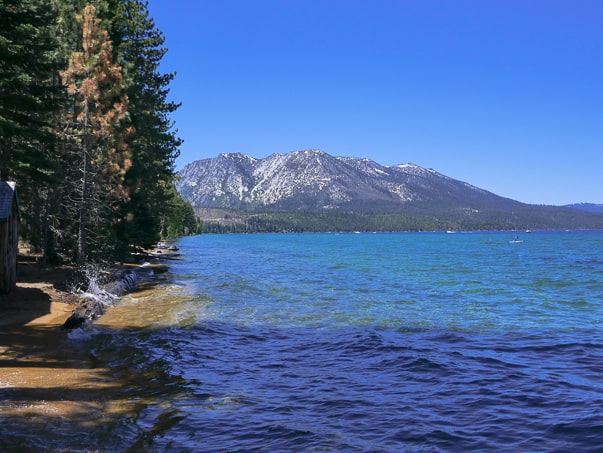 Back then, South Lake Tahoe must have been the perfect vacation to escape city life and just relax at the lake during the summer. Many people do it now as well.
I think we picked a great time of year to go since the winter months are crowded with skiers. We heard the summer months, and especially the 4th of July can be really busy, too.
We later enjoyed some ice cream from Camp Richardson's Ice Cream Parlor as I'd heard it was THE place to go for ice cream. I ordered two scoops – coffee and vanilla. It was tasty, but I've had better, not gonna lie.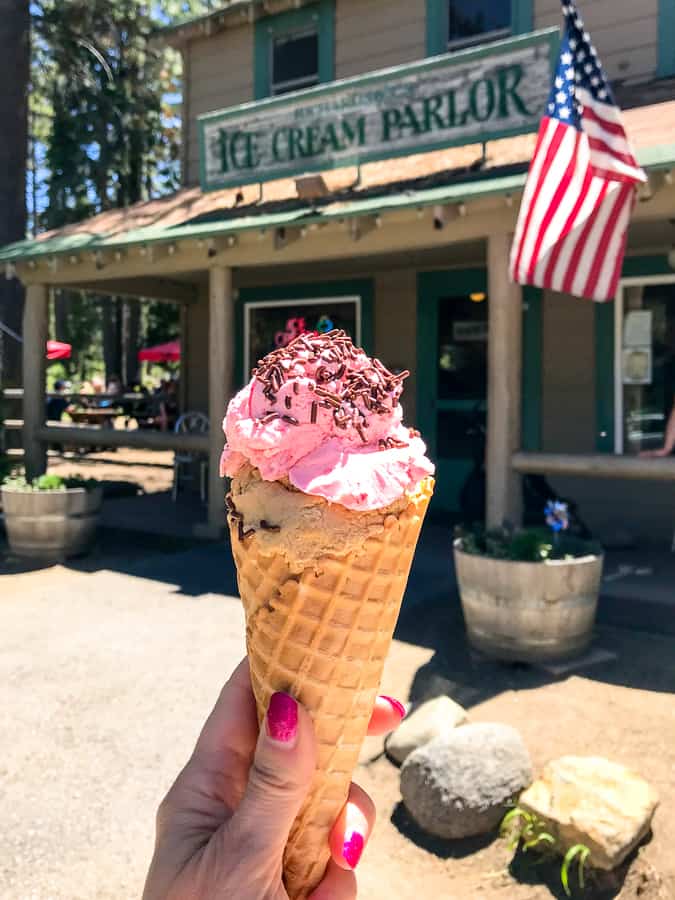 We finished our day with a short drive around the lake to Emerald Lake before heading back to our Airbnb where we relaxed, played cards and watched some baseball games.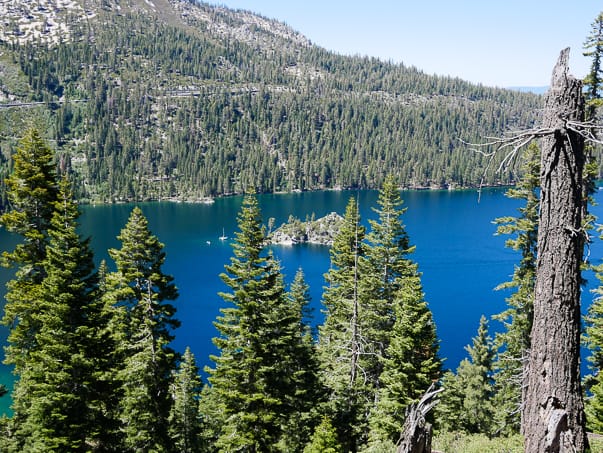 Before we dropped Cameron off at the trail the last day, we had breakfast at the Red Hut Cafe. They have many locations around the Tahoe area and when we saw a line to get in I knew it was a good sign! Kurt ordered the special which included eggs, bacon, and pancakes. I had the strawberry waffle – they're known for their waffles since they've been making them for over 50 years. I didn't take a picture because I was just so gosh darn hungry after we waited. And of course, Cameron devoured his French toast – probably because he wasn't sure when his next real meal would be. haha
We drove around South Lake Tahoe in style! This 2018 Mazda CX-5 Grand Touring AWD, compliments of Mazda was so comfortable. It also had plenty of room for all of us along with our luggage and Cameron's large trail backpack.
I find that road trips are so much better with family because we're able to see and do new things while we're spending quality time together.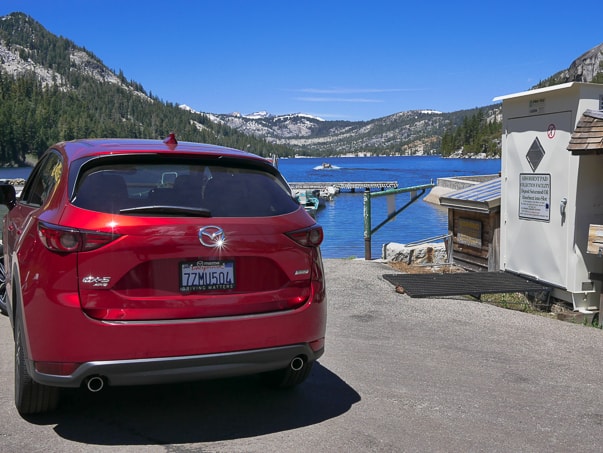 Once again, I really didn't want to say goodbye to him and watch him head off into the wilderness. He'd been struggling both physically and mentally with the snow in the Sierras up to Lake Tahoe and we knew there was more ahead.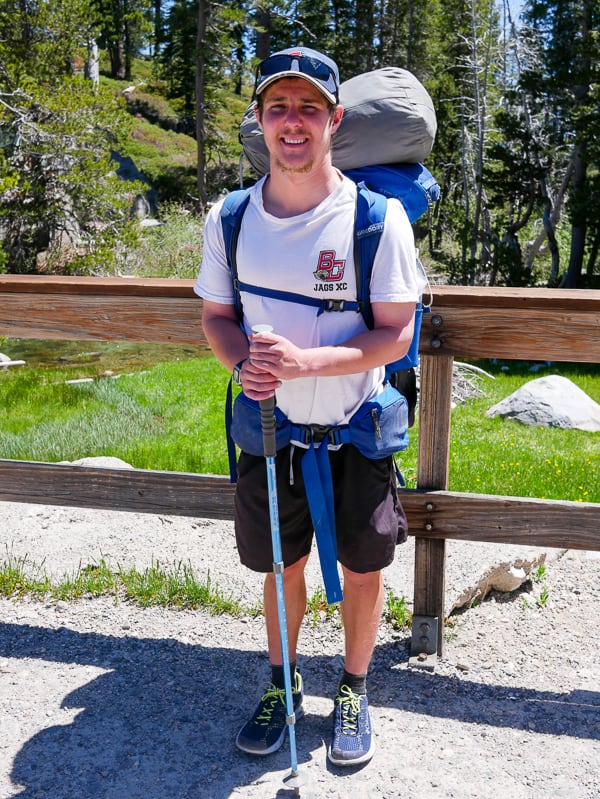 The challenges Cameron faced during his hike make him more confident, self-reliant, and appreciative of life. Seeing mom and dad along the way most definitely picked up his spirits and he was beyond grateful that we did that for him.
I've said to many of our friends that if you want your kids to grow up, send them off on a PCT hike. It is most definitely a life-changing experience.
After we said our goodbyes, Cameron ran into some more issues with the snow, post-holing (stepping in snow and falling in past your foot up to the ankle, knee or hip), cold temperatures and just overall aggravation. He was tired: tired of the daily grind, tired of the crappy food he was living on, tired of the challenge and tired of the snow.
He ended his trail hike at Truckee and we booked him a flight home to Phoenix. I have to say it was great to see him walk through those doors at the airport when he arrived!
I was fearful he'd regret his decision and want to go back. Which he did, want to go back that is not 12 hours after he arrived home. I couldn't believe it. I told him to at least sleep on it and then give it a few days.
Re-entry is hard. He was just going, going, going and the only time he relaxed (if you could even call it that) was at night in his tent. He was always "on" and when he got home it took him at least a week to finally work into a new routine and be a bit more relaxed.
Cameron now lives in Philadelphia with his sister. He's going to job interviews while working part-time for me and writing about his PCT experience, and short stories here on his blog that he started.
I have to say that I'm glad he stopped when he did. There was more snow accumulation in the upper elevation of the Sierra's than had been anticipated and the fires along the way in Oregon have also been an issue. Momma's mind is not at ease that he doesn't have to deal with the elements anymore and that he's at least in a place I can be with him should he need us and not somewhere up in the mountains.
He says he'll go back though. He left his mission unfinished and is determined to complete it or start again from the beginning, probably in 2020. I can't say that I blame him. I know this is something he has to do for himself and I fully support his decision.
And once again, I'll be looking forward to the new places we'll visit when we meet him along the way.