It's been brought to my attention that some people are trying to leave comments, but I am not receiving them. Please make sure when you do post a comment that you scroll down to the bottom of the day's post and where it says 0 comments or 2 comments, click that. 'Post a comment' will come up. Enter your comment in the box then you can preview it or post it. You'll be asked to "Comment as:______ and pick an account or set one up if you don't already have one. It's really pretty simple. Also, you will have to type in a security word for spam purposes, and I moderate all comments before they are posted. It sounds complicated, but I gave you play by play instructions. This is important because of my upcoming announcement. (DRUMROLL!) In celebration of my 100th day of baking, I will be doing a giveaway here on the blog! So, stay tuned for rules and requirements.
I hope everyone had a wonderful, blessed Easter and were able to spend it with family and friends! If you didn't celebrate it, I hope you had a really wonderful weekend and were able to spend it with people you really love and care about.
We had a quiet one here. Yes, the Easter Bunny brought some treats to the teenagers, and brought an extra Cadbury Creme Egg for mom (I'm looking forward to when they go on sale tomorrow!). Since our daughter was heading back to college today, I decided I'd surprise the kids and make them the strawberry (of course, strawberry! It seems like those and lemons are really the only fruits I make things with.) blintzes they love so much. It requires a good 2-3 hours of prep work between making the crepes, filling, and frying, but it's well worth it and I only do it 3 times a year at the most for those "special occasions". I started putting all the ingredients together before the three of them woke up. As they walked into the kitchen at separate times they saw that I was busy, but never even put two and two together or asked what I was doing which was odd, but I like flying under the radar. So, the look on my son's face was priceless when I told him I was making them! His jaw dropped, his eyes were huge and he was speechless. He then ran over to me professing his love for his mother and wouldn't stop hugging. It was very funny. His sister just kept looking at him as if he'd lost it.
Since it was a long morning in the kitchen, and I'm starting to feel feverish again (really thought I was kicking this bug), I decided to take it easy on the baking today and made popovers to go with the tri tip roast we had for dinner. Having never made them before, I imagined that they'd bake up pretty high and would be delicious like the Yorkshire Pudding I had made years ago. I found this recipe in my New Doubleday Cookbook, p. 662; authors, Jean Anderson and Elaine Hanna; publisher, Doubleday, a division of Random House, Inc.; ISBN 0-385-19577-X.
Popovers – makes 6
1 cup sifted flour
½ teaspoon salt
¾ cup milk
¼ cup cold water
2 eggs
Preheat oven to 450ºF.
Beat all ingredients in a small bowl with a rotary beater until just smooth. Scrape bottom of bowl with a rubber spatula once or twice during beating.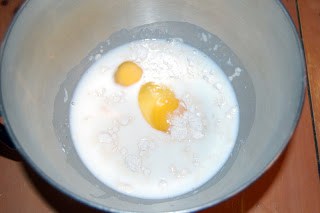 Spoon into a well-greased muffin tin, filling each cup two-thirds.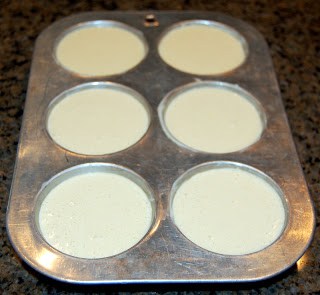 Ok, not two-thirds, more like really close to the rim!
Bake 40 minutes until well browned, puffed, and firm.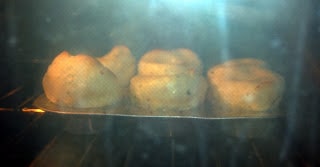 (Note: For dry, crisp popovers, bake 35 minutes, quickly cut a small slit in the side of each popover so steam can escape, and bake 5-10 minutes longer.)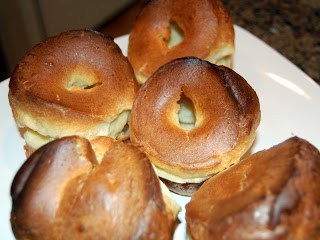 Serve immediately with plenty of butter.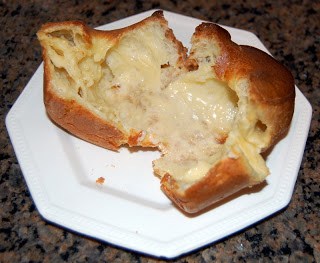 With butter…YUM!!!
I didn't use a small bowl or a rotary beater. I used my Kitchen-Aid which worked just fine. My rotary is making funny noises and me thinks it's time to retire it, especially since with funny noises comes a certain burning smell. I filled the muffin tin just below the rim as you can see in the picture, and still had some batter left over, but I didn't want to completely fill them. Also, I baked them for 35 minutes, thought they were becoming too brown, put a slice in the top (because I can't follow directions) and left them in for only another 5 minutes.
We thought these were really good and earned 3½ rolling pins! My rating system is on a scale of 1-4 with 4 being the best. My husband didn't like the fact that they didn't have much flavor, but they're to accompany a meal and complement it, not detract from it. They were really tasty plain, but quite delicious with the butter.
Happy baking!