This household needs a day's break from desserts, so today it's dinner. This recipe comes from a good friend and old neighbor, Michelle P. We had wonderful times with the neighbors in our old cul-de-sac. So many, many stories and memories – countless water balloon fights with a launcher that resulted in a dent in our car, our weekly fireside chats and get-togethers, Michelle calling 911 when I passed out and smacked my head on the sidewalk (THAT was a fun night for me, and no, I had not been drinking! I have a history of fainting.), burning the Christmas trees in the fire pit which became a towering inferno because the trees were so dry, and chalk on driveways, etc. And I love Michelle despite the fact she is a Yankees fan.
She has told me that she is a daily reader of 365 and for that I am extremely grateful. She shared this recipe with me a few years ago and it's been a hit ever since – the family LOVES them! A big thank you, Michelle!
Chicken Enchiladas
10-12 chicken tenders
1 large chopped onion
Lawry's or cajun seasoning
1 jar Cheez Whiz
1 small can chopped jalapenos
1 can refried beans
1 can sliced black olives (optional)
2 cans Macayo's Enchilada Sauce
2 bags shredded Mexican cheese
2 packages flour tortillas
Preheat oven to 350ºF.
Cook chicken in large frying pan over medium heat.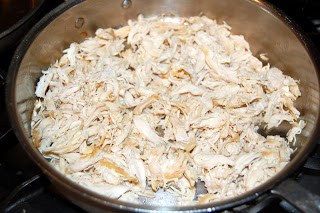 Shred chicken in pan as it is cooking.
Add onion, and salsa – enough to cover meat, but not so much that it is runny.
Add desired amount of Lawry's or cajun seasoning.
Add jar of Cheez Whiz, ½ teaspoon of jalapenos (or more if desired, or you can omit)
Add enough refried beans to thicken the mixture.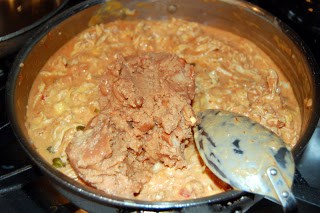 Bring skillet contents to boil and simmer until mixture thickens.
Add olives if desired.
Coat bottom of two 13 X 9-inch baking dishes with some of the enchilada sauce.
Fill tortillas with mixture, roll and place in pan, seam side down, side by side.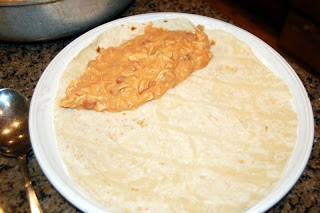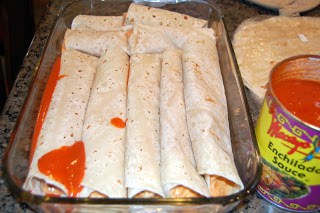 Completely fill both pans and pour remaining enchilada sauce on top.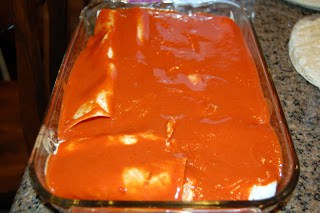 Cover with foil and bake for 30 minutes. They will be finished when it appears as if the sauce has soaked in.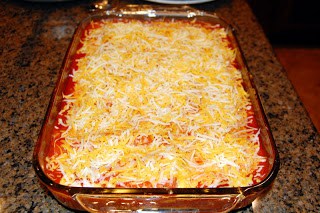 Completely cover with shredded cheese and bake uncovered for another 10 minutes.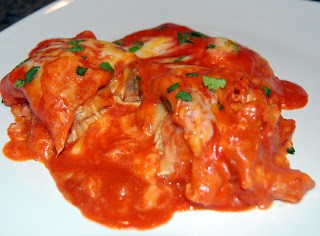 It's been a while since I made this and I spaced when I purchased the tortillas. I bought ones that were too big and didn't fit in the baking dish the way I wanted. So, I suggest using the small tortillas.
This is a big hit with the family and I like that it makes two large servings. That way I can make it for a large gathering (ok, I haven't done that yet), or freeze one dish so that we can have it on a busy activity night.
I use a rating system of 1-4 with 4 being the best and this dish earns a 3½. The flavors are wonderful and it can definitely be spiced up if you like it hotter.
Happy baking!