Are they SAFE to eat?
The muffins are in the oven and I guess you could say that this was one of my "experimental baking days". Uh-hunh. I had strawberries sitting in the fridge because it has been "strawberry week" since they were on sale, so I wanted to incorporate them into something tonight. I'm pressed for time, seeing as how it is now 10:30 pm and this is the first time I've been home all day for more than 45 minutes. I left around 8 am to pick my daughter up at college for the weekend, and returned home around 1:30 to take my other daughter down to the DMV so she could take the road test for her driver's license. Of course, any trip to the DMV is not a short one and requires a lengthy waiting period. It is a very good place to people watch though, just like the airport. After a good three hours, including travel time, waiting, and actual test taking, I am happy to report we now have a new driver in the family (happy at least until we receive the next month's statement for our car insurance). Since we have all three kids home for the weekend we decided to go out to dinner and then go to a movie. WHEN AM I SUPPOSED TO BAKE?! My husband thought I should skip it for a day, but morally, I just don't think I can do that. I said I was going to do this EVERY day.
But everything worked out, at least my having time enough to put something into the oven and blog about it. I really have no idea how these are going to taste. I remember having strawberries with balsamic vinegar and it was pretty good; in a muffin though, I'm not too sure. I mixed the batter, added the vinegar, and started to notice that the baking powder was "working". I then added the strawberries and popped them into the oven. As I was cleaning up, I remembered back in junior high doing this really cool experiment where we built a volcano and used baking powder, vinegar, and red food coloring. We put the baking powder in the mouth of the volcano, the red food coloring on top of that and then poured the vinegar into it. WOW!!! That thing was spurting red, bubbly, foamy, runny, goop! For kids in junior high, in the early 80's, in a small town in Rhode Island, it didn't get much better than that. So, remembering this experiment, I decided to look the combination of baking powder and vinegar up and this is what I found:
Baking powder is sodium bicarbonate (NaHCO3) and some other stuff, vinegar is mainly acetic acid (CH3COOH) in water.
Na+HCO3– + CH3COOH → CH3COO–Na++ CO2 + H2O
The resulting gas is carbon dioxide, you also get some water and some aqueous sodium acetate.
Rosy – The Naked Scientists.com
This explains why I named them Strawberry Balsamic Carbon Dioxide Muffins. I think the use of carbon dioxide really starts people wondering, don't you think?
Oops! There goes the timer! I'm off to retrieve these from the oven! It does smell kind of yeasty and weird in the house.
Strawberry Carbon Dioxide Muffins – makes 6 muffins
1 cup white flour
1½ teaspoons baking powder
¼ teaspoon salt
1 tablespoon sugar
1 egg, slightly beaten
½ cup milk
2 tablespoons melted butter
1 tablespoon balsamic vinegar
½ cup diced strawberries
Preheat the oven to 350ºF.
Butter muffin pans.
Mix the flour, baking powder, salt, and sugar in a large bowl.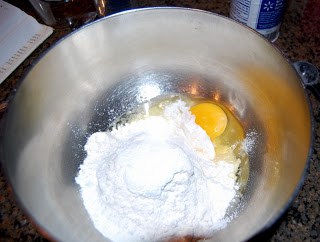 Ok, BRAIN FART! Since when do you add an egg to your dry ingredients?!
Add the egg, milk, butter, and balsamic vinegar, stirring only enough to dampen the flour; the batter should not be smooth.
Gently fold in the strawberries.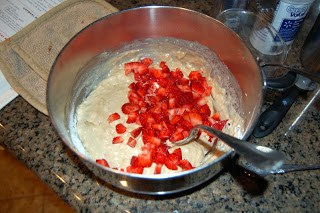 Spoon into the muffin pans, filling each cup over two-thirds full.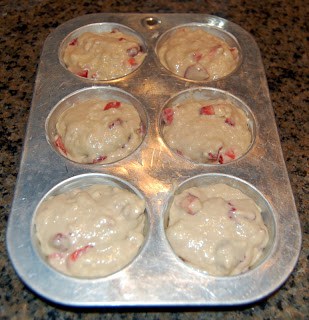 Bake for about 20-25 minutes until golden brown.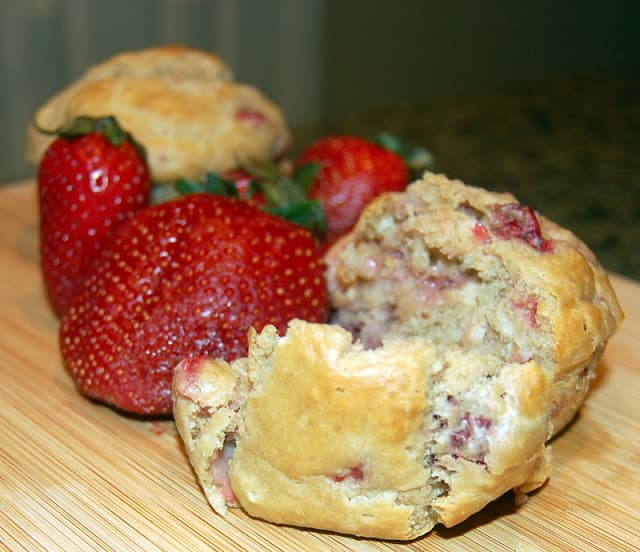 The strawberries were a nice addition because I really liked the flavor and they made the muffins really moist. The vinegar, I have to say, gave the muffins a little kick. They weren't bad, just different. However, I don't know if I'd make them again unless to improve them, and I'm certainly not making them for company.
I have a rating system of 1-4 with 4 being the best and I have to give these 2 rolling pins. No one else is awake to try them, so other opinions will have to wait until tomorrow morning along with the pictures. Sleep well, everyone.
And yes, they are safe to eat.
Happy baking!