After I dropped my son off at school this morning, I decided to go to Starbucks and order a cup of coffee. On the way over there I remembered that a local grocery store was having a sale on strawberries for 97¢ / lb! Woo Hoo! Hence the Strawberry Pie. So, I decided before I stopped at Starbucks, I'd hop (Easter Bunny reference) on over to the store first. I was walking into the store when I realized I had my slippers on. Now, they aren't just solid colored slippers and no, they aren't big fluffy slippers with bunny ears either, but a person can definitely tell that they are slippers. They're stripped with pink, maroon, tan and brown and they aren't the most attractive things. But when I bought them I thought, "Heck, they're comfortable and I'll only be wearing them around the house, so who cares what they look like? It's not like anyone's going to see them on me anyway." HA!
Yeah. They are so comfortable I didn't even realize I had them on my feet. I went into the store anyway. I have never done this before. I'm thinking it must be a sign of old age and that I'm really moving into an era of my life where I don't care what people think. I have now become "one of those people" who I always looked at funny when they wore their slippers into the store. Today's occurrence made me a little more compassionate. Don't judge us by what we wear on our feet, who knows what the circumstances are or what life is like for us right now. Actually, if people walked around in their slippers there might just be happier people in the world.
This is a long one tonight – I'm making up for the last two days, so I'm much obliged for your patience. So, I'm at the check-out and I also bought a light bulb. I said to the supervisor checking me out that I'll finally now be able to replace the bulb. He said, "Yeah, it's like when our oven was out and I wouldn't fix that for the longest time. Finally, I did it myself; $47 dollars for the part and half an hours worth of work."
I asked, "How long were you without it?"
You ready?
"A year," he says.
A YEAR???!!!!! Now how the heck can anyone go without their oven for a WHOLE year??!!! I just can't put my head around THAT one! Ok, I know it's because I'm using mine EVERY DAY, but c'mon, seriously? He went on to say that they only ever really used it for "warming up the kids' chicken nuggets", so that was when it was really an issue. And what about Thanksgiving? Maybe they went to Grandma's or had really nice neighbors and they only had to bring drinks. I know, not everybody cooks or bakes, but I'm just, just…speechless.
Wow, this is going to be the longest post in the history of blogs. I'm still not done yet. hee hee.
I'm sure people saw me in my slippers, but I really didn't care (BIG step for me!). So, off I went to Starbucks to get my coffee, feeling pretty good and quite content with the day I had planned. I decided while sitting in that long drive-thru line that I would pay for the person behind me. It's something I've done occasionally and just like to make someone's day a little brighter. The way I see it is, if I'm happy darn it, why can't somebody else be, too? Hopefully it inspired others to "pay it forward" and helped others, too. Think about something you can do today to help someone else, even if it's just offering a stranger a smile (though be careful which stranger you pick). You might just make someone's day.
So, busy day of baking pie crusts; one for today's recipe and one for the lemon meringue pie I'm making in the morning. That one's for the teachers' luncheon at my son's school.
Today was a good day. I love days like today!
Now on to business. I used The Gluten-Free Kitchen today, pages 228-229, 232; author, Roben Ryberg; publisher, Three Rivers Press, a division of Random House, Inc.; ISBN 0-7615-2272-7. The only thing you need to change to make it, I don't know, non-diet friendly (haha), is the pie crust. You could use a refrigerated one or make it from scratch.
Strawberry Pie
Traditional Piecrust
½ cup shortening
½ cup potato starch
3/4 cup cornstarch
1 teaspoon sugar
1½ teaspoons baking powder
3 teaspoons xanthan gum
¼ teaspoon baking soda
¼ cup plus 1 tablespoon milk
Preheat oven to 400ºF.
In a medium bowl, combine all ingredients. Mix very well to remove all lumps.
If dough will not stay together, blend in an extra tablespoon of milk.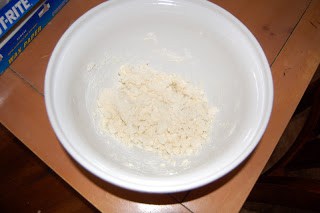 Roll out the dough on floured surface or between two sheets of wax paper. Circle of dough should be about 1½ inches larger in diameter than the pie plate.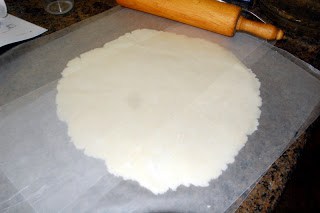 Remove top sheet of wax paper (if using) and place piecrust into pan. Trim excess dough and pinch edges at top of pie pan to form a pretty border. Prick piecrust all around with a fork.
Bake 10-14 minutes until crust is golden brown. Allow to cool.
Strawberry Pie
Fresh whipped cream for topping (optional)
For 1st layer of filling
1 cup milk
3 eggs
¼ cup sugar
½ teaspoon vanilla
1 tablespoon cornstarch
In small bowl, add ¼ cup of the milk to the cornstarch. Stir until dissolved. In a medium saucepan, cream together cornstarch mixture, remaining 3/4 cup milk, eggs, sugar and vanilla.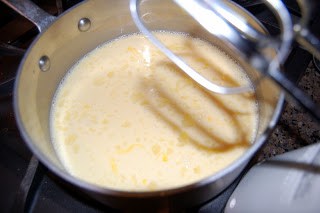 Heat over medium heat until mixture begins to thicken, whisking constantly to avoid curdling Spread evenly on bottom of piecrust. Allow to cool to room temperature.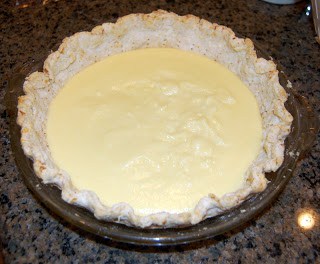 For 2nd layer of filling
3 cups fresh strawberries, washed and hulled
Arrange fresh whole strawberries, tops down, in pleasing manner on top of 1st layer. Set aside.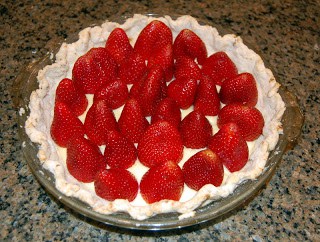 For 3rd layer of filling
1 cup fresh strawberries, smashed or puréed
3/4 cup water
2 tablespoons cornstarch
2 tablespoons sugar
Put cornstarch into small bowl, add water and stir until dissolved.
In a small saucepan, combine ingredients for 3rd layer. Stir well.
Cook over medium heat until mixture thickens.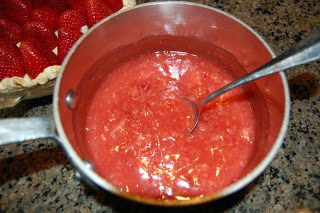 Spoon evenly over berries. Refrigerate at least two hours to chill.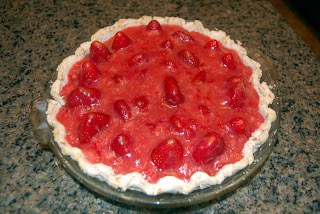 Top with fresh whipped cream before serving, if desired.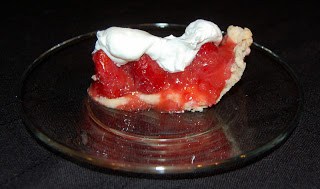 It definitely was not the crust that we are used to when eating a pie, but I thought it was ok. I really liked the cream on the bottom and the sweetness of the third layer. The whipped cream on top was a nice balance, too. My husband and my daughter didn't like the crust, but thought the pie itself was ok. My son absolutely loved it, but remember, he is a teenage boy, and at this point will practically devour anything you put in front of him.
I use a rating system of 1-4 with 4 being the best and we unanimously decided that this Strawberry Pie earned 3 rolling pins.
Happy baking!