Life has been uneventful (except for some illnesses) which is good because there is nothing to report. So, here I sit typing my blog, watching tv and waiting for 'Chopped' to come on. It's a new episode tonight, so I'm excited!
This came from my Fannie Farmer Cookbook Thirteenth Edition; author, Marion Cunningham; publisher, Alfred A. Knopf, Inc., a division of Random House, Inc.; ISBN 0-394-56788-9.
True Sponge Cake
5 eggs, separated
1 tablespoon lemon juice
1 cup sugar
¼ teaspoon salt
1 cup cake flour
Preheat the oven to 325ºF.
Line the bottom of a 9=inch tube pan or two 8-inch round cake pans with wax paper, cut to fit.
Beat the egg yolks with the lemon juice until pale and thick.
Gradually add 3/4 cup of the sugar and beat thoroughly.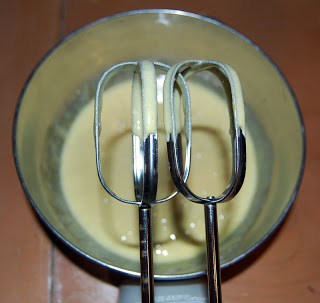 Beat the egg whites until foamy, add the salt, and continue beating until the whites hold soft peaks, then slowly add the remaining ¼ cup sugar and beat until stiff but not dry.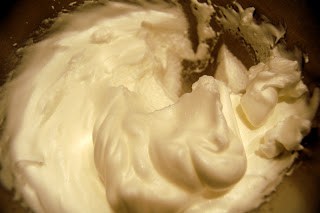 Stir a fourth of the beaten whites into the egg yolk mixture.
Spoon the remaining whites over the yolk mixture and sift the flour on top.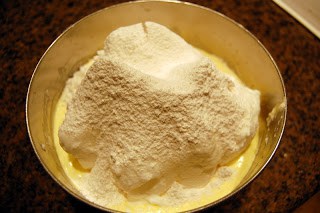 Gently fold until blended. Spoon into the pan or pans.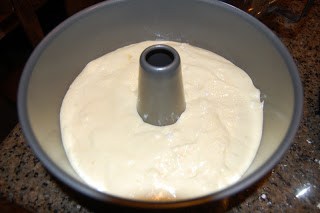 Bake for 45-55 minutes in the tube pan, 25-30 minutes in the layer pans, or until a toothpick or straw comes out clean.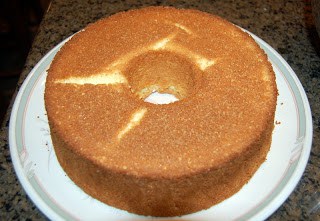 Invert the pan or pans on a rack and let the cake cool completely before removing from the pan. Dust with confectioners' sugar, sifted through a strainer.
We're big on strawberries and whipped cream here at our house, so that's what I decided to garnish it with. If you remember, I also used it on the Pound Cake on Day 32.
I rate all of the items that I bake on a scale of 1-4 with 4 being the best. My husband, son and I decided that this True Sponge Cake earned 3½ rolling pins! It was definitely spongy and had very good flavor. I would definitely make this when we have guests come to visit. Not that we ever have many guests visit, but I would make this for them.
Happy baking!