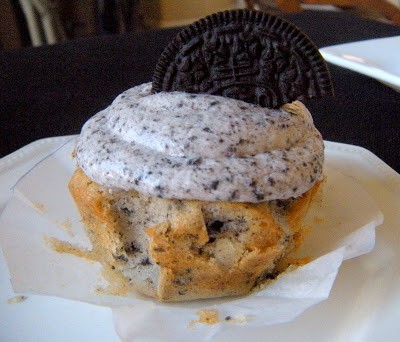 Did you know that the Oreo is 100 years old??!!
That is just CRAZY!!
They look GREAT for their age, don't they??!! (Hope I look that good when I'm 100, but come to think of it, I won't be filled with artificial preservatives, so it's not gonna happen.)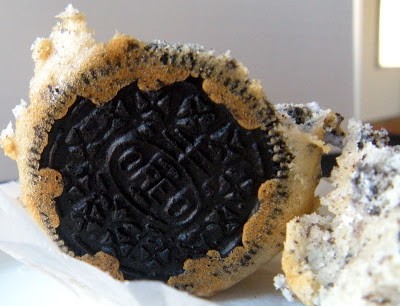 So, let's wish the Oreo a very Happy Birthday by celebrating and beginning the seven day countdown to the end.
Of my baking.
Every.
Single.
Day.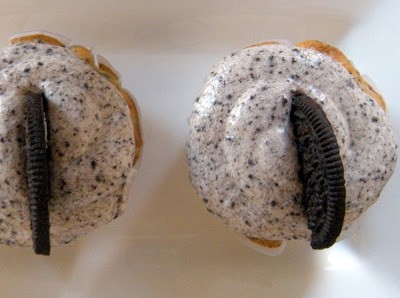 This recipe comes from Cate's World Kitchen.
Oreo Cupcakes – original recipe makes 24, but I only made 12 and that is what follows
4 tablespoons (1/2 stick) butter, room temperature
1/2 cup milk
1 teaspoon vanilla
1 cup plus 3 tablespoons flour (1 tablespoon will be for tossing with cookies)
1/2 teaspoon baking powder
1/4 teaspoon salt
3/4 cup sugar
2 egg whites, room temperature
25 Oreo Cookies
Frosting
3 tablespoons butter, room temperature
1 1/2 cups confectioners' sugar
1 teaspoon vanilla
crushed Oreo crumbs
1-2 tablespoons milk
Preheat oven to 350 degrees F. Prepare a 12-cup muffin tin by lining it with cupcake liners.
Gently twist apart 12 Oreos. Eat the ones you break.
Place the halves with the filling into the cupcake liners, filling side up.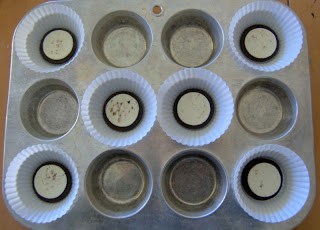 Cut six of the plain Oreo sides in half to use for a cupcake topper.
Place the remaining six chocolate halves into a plastic bag and crush them with a rolling pin to use in the frosting. Set aside.
Chop the remaining Oreos into uneven pieces.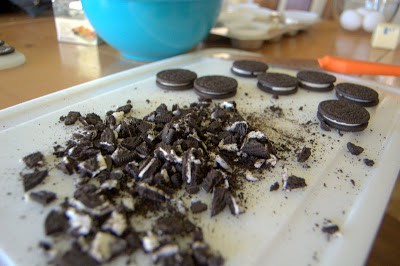 Combine in a small bowl with 1 tablespoon of flour; set aside.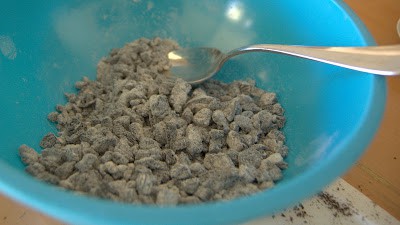 In a medium bowl, whisk together the flour, baking powder and salt.
In the bowl of an electric mixer fitted with the paddle attachment, cream butter until light and fluffy.
Add milk and vanilla.
It won't really blend too well, but don't worry, it will come together after you add the flour mixture. Have faith.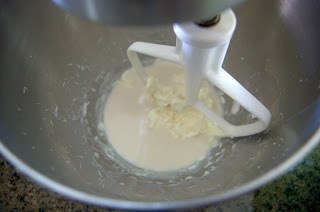 Gradually add the flour mixture until just blended. It's going to look really weird and be very tacky, like bread dough.
Add sugar and beat on low speed for 30 seconds.
Add the egg whites, increasing speed to medium and beat for two minutes.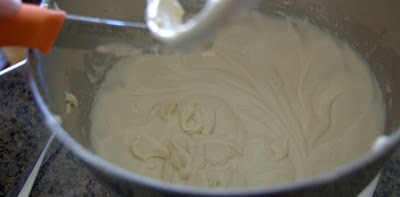 Fold in the chopped Oreos.
Fill the cupcake liners about 2/3 full with the batter.
Bake for 18-22 minutes or until they are lightly golden and a toothpick inserted in the middle comes out clean.
Leave cupcakes to cool in the pan for 10 minutes. Remove to a wire rack to cool completely before frosting.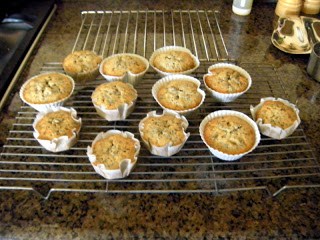 Frosting
In the bowl of an electric mixer fitted with the paddle attachment, cream butter with the confectioners' sugar, and vanilla.
Yeah, that looked a little weird, too, but it will start to look more like frosting and less like spackle after you add some milk.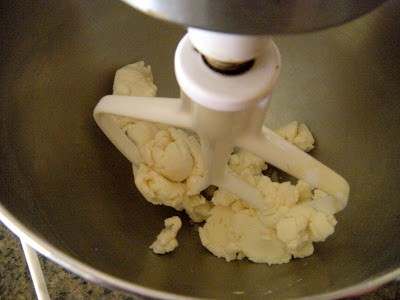 Add the milk, 1/2 teaspoon at a time until the frosting is smooth and easily spreads.
Mix in the Oreo crumbs.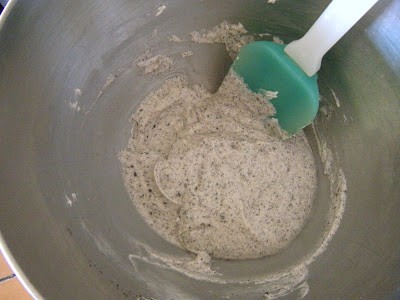 Frost the cupcakes and garnish with the plain Oreo cookie half.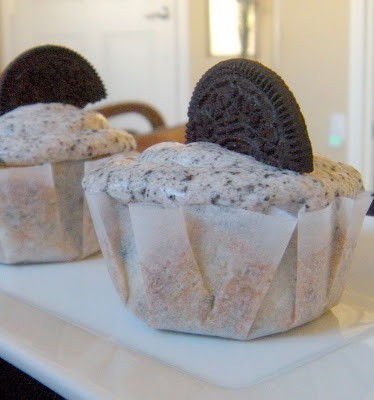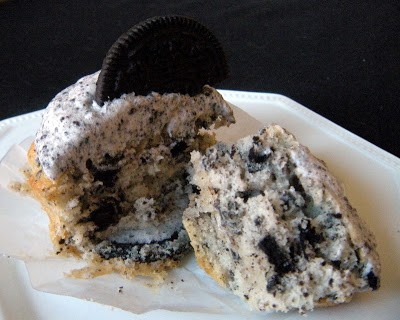 I rate everything I bake on a scale of 1-4 with 4 being the best and these Oreo Cupcakes earned 2 1/2 rolling pins.And even though they were only 2 1/2, I'll make them again. They'll be better.
I really liked them and think they could have earned 3 if not, 3 1/2 rolling pins had I not overcooked them. When I checked them at the 18 minute mark, they were no where near done, so they went in for another 3 minutes. Still no, another few minutes. Then I think I put them in for another few and that may have been the straw that broke the camel's back so to speak.
They were rather hard.
Some of them.
Hard like hockey pucks.
On the outside anyway.
The inside was moist and delicious. Those cookie pieces were so yummy!!
The frosting, there's another story. I added too much milk.
I also didn't like how sweet the frosting was combined with the cookies. It was overload for me.
I think a cream cheese frosting might do the trick. I'll try that next time.
I was just really not paying attention today when I added the extra milk.
My camera stopped working mid-recipe, so I had to take some pictures with my oh-my-gosh-I-love-you-so-much-and-I-am-so-very-glad-I-purchased-you-you're-the-best-thing-ever-NOT tablet, and on my daughter's point and shoot.
OH, I ALREADY MISS MY CAMERA!!!
I have to work on fixing it tomorrow. We'll see how that goes.
Also, I almost forgot to tell you! Notice those really cool white cupcake liners?
We made them!
So easy and so much fun.
I'll show you how in about 8 or 9 days when I can do any kind of post!
I'd put it up now, but I think I"ve already gone over my posting limit.
Not that there is one, but this is pretty long and I don't want to put you, my dear reader to sleep.
I love you too much to do that.
Nighty, night!
I give you BIG baking hugs and muffins!!